Driving from Switzerland to the Italian Lakes has to be one of the most gorgeous drives in the world. The scenery is awe-inspiring in both countries. Changing from Alpine views to those of lakes, there's no shortage of Kodak moments from start to finish.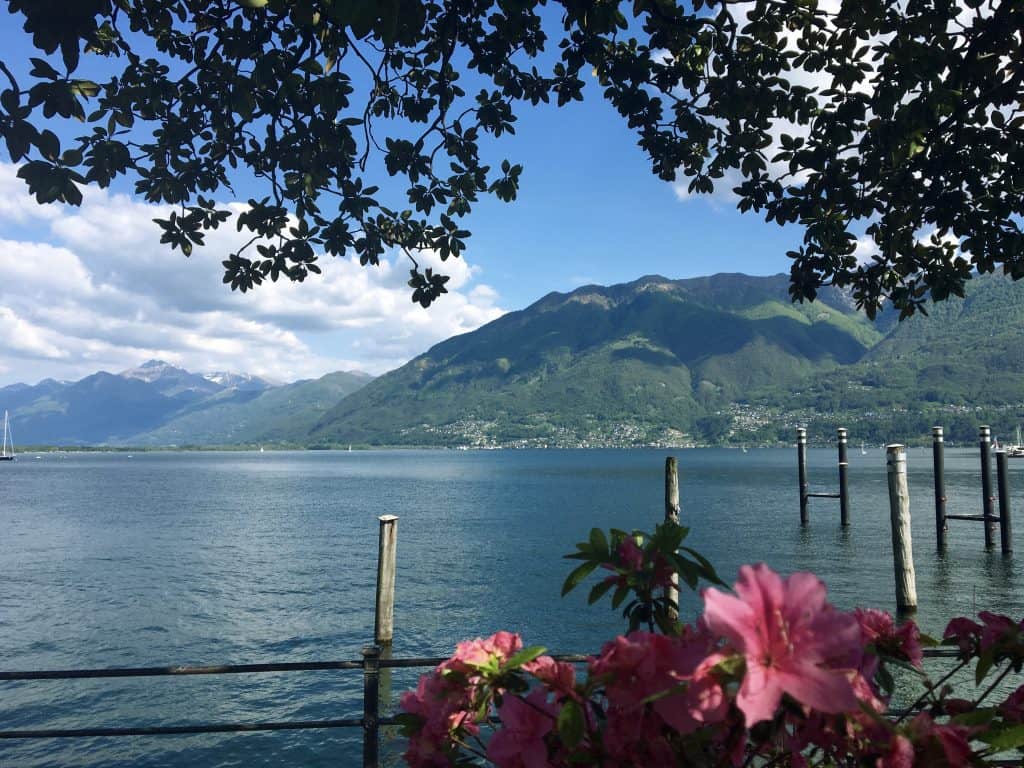 In my last post, I had just told you about our fantastic stay at the Hotel Alemannenhof on Lake Titisee in the Black Forest. I also shared some photos that my mother and I had taken along the drive from Germany into Switzerland. Remember these lovely Swiss ladies?
As a Booking.com affiliate and an Amazon Associate I earn from qualifying purchases.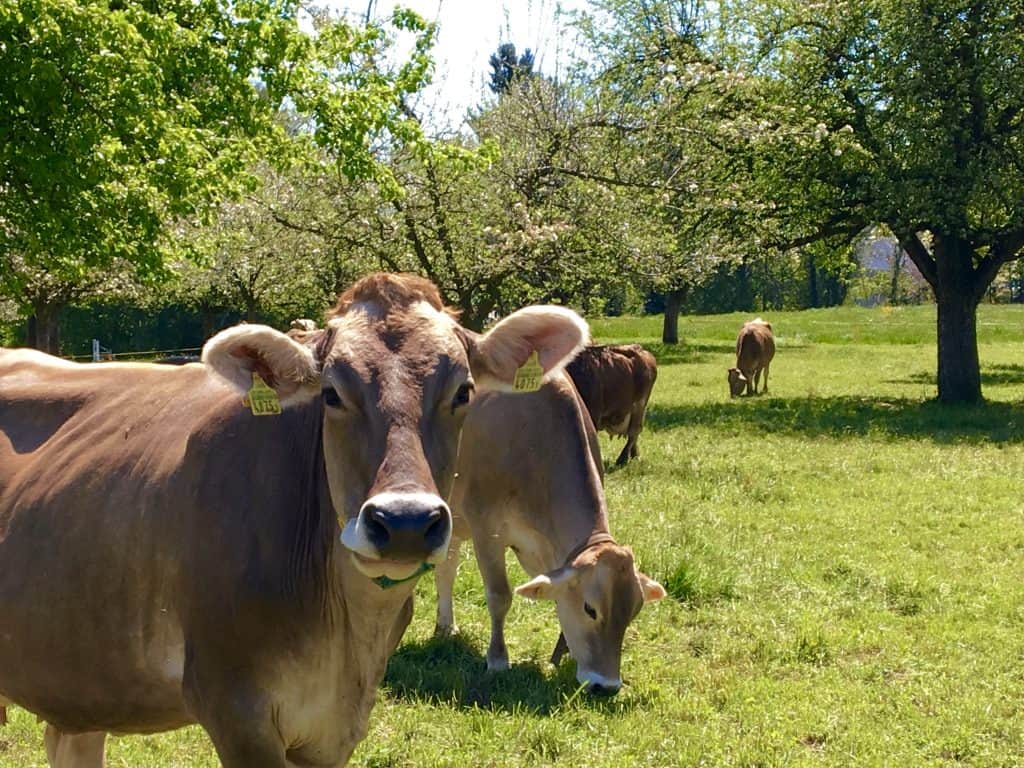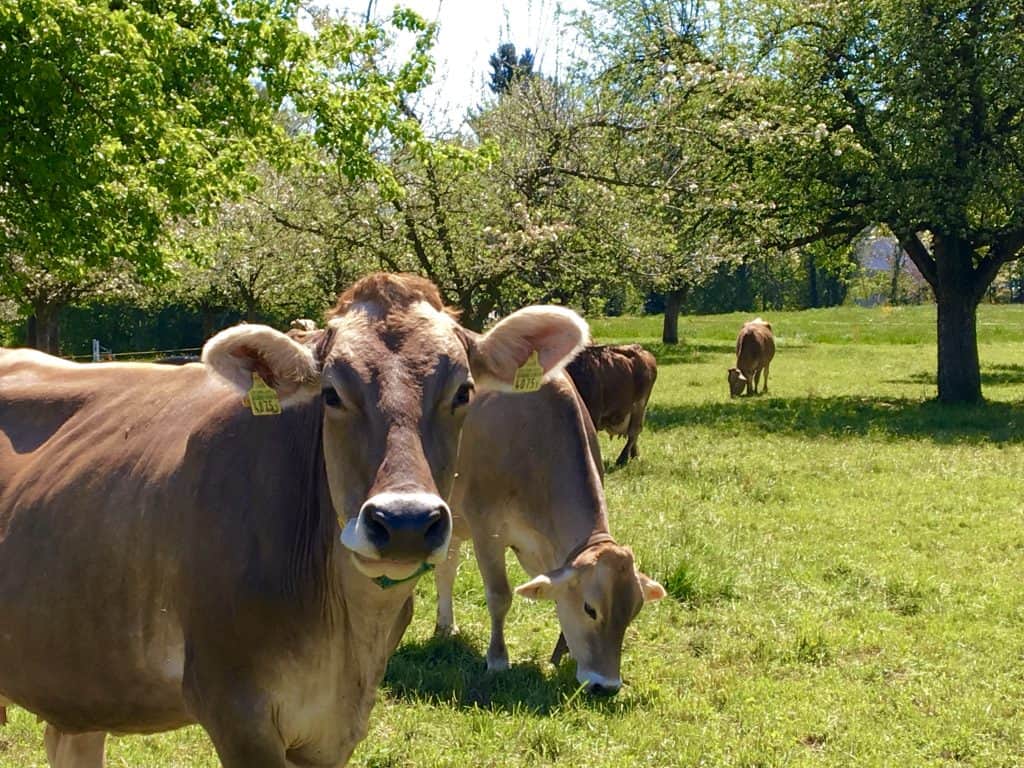 Disclosure: my car rental was sponsored by Auto Europe and travel insurance by Travelex, both brands I have used and loved in the past. All opinions are always my own.
I also gave 5 reasons why I believe renting a car in Europe is a fabulous way to see the continent:
Ease
Navigation/Directions
Flexibility
Proximity of Countries
Cows (you'll have to read my post for this explanation!)
Driving from Switzerland to the Italian Lakes
When we got back on the road, it wasn't long before the Alps could be seen more distinctly.
Our destination that day was Porlezza, Italy, on the west end of Lake Lugano. Given that our entire driving time from Lake Titisee (where we'd started that morning) to Porlezza was under four hours, you could say we had some flexibility in our day. Both Mum and I were elated that we had such a perfect day, weather-wise. Our luck hadn't been great up until then.
Lucerne, Switzerland
One of the cities I thought we could drive through was Lucerne, and we did. We just drove straight through, slowly, as it was so congested! We knew something was happening (we later discovered it was a national holiday)–I love the flexibility of driving!
Mum and I weren't hungry because we'd had a massive and very filling German breakfast that morning at Hotel Alemannenhof.
Soon, the Alps were looking enormous and the views just kept getting better and better! (Darn light pole.)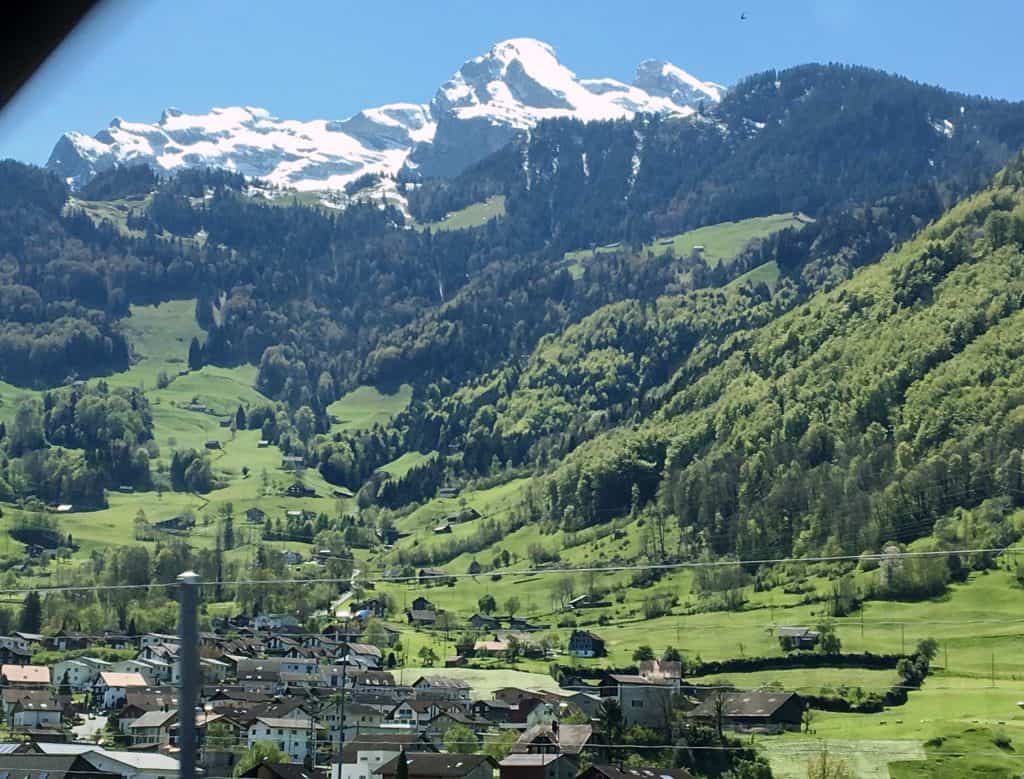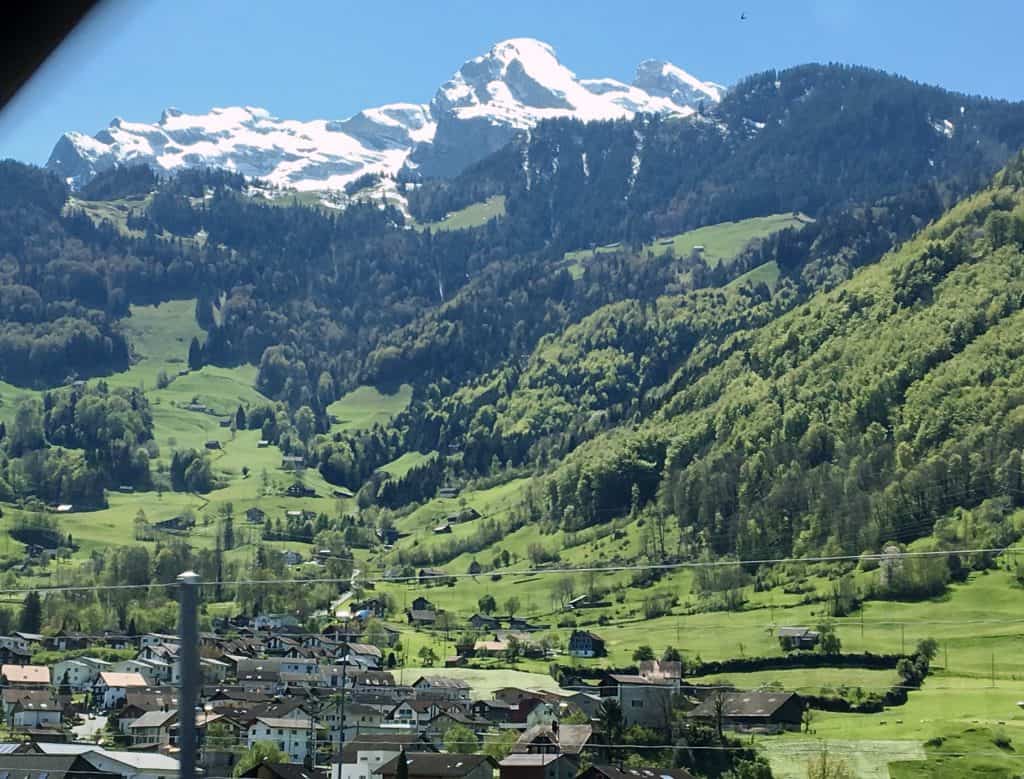 Since it was early May, the only choice we had for driving from Switzerland to the Italian lakes was through the San Gotthard Tunnel. This is because the pass over the Alps is only open in the summer (due to the snow).
You may have heard of the San Gotthard Tunnel as it used to be the longest tunnel in the world when it was constructed in 1980. At 10.5 miles in length, it is one of the major tunnels connecting the the northern side of the Alps with the southern side.
Again, because it was a holiday weekend (which we didn't know about, there was about an hour delay to go through the tunnel), but we had plenty of time and weren't in a rush. It's not everyday that you can have fun taking pictures from the car on a motorway in Switzerland while you're in the driver's seat!
Eventually it was our turn to enter the tunnel.
After the ten and a half miles in the tunnel (it was pretty cool, I must say), we continued on our way towards Porlezza. You might say I'm spontaneous, because when I saw a sign for Locarno, I took the exit! I didn't even ask my mother what she wanted to do! Locarno was a very good place to stop before heading to our final destination of Porlezza. Lots of people were enjoying the holiday and the gorgeous weather in this Italian-speaking resort city in southern Switzerland.
Locarno, Switzerland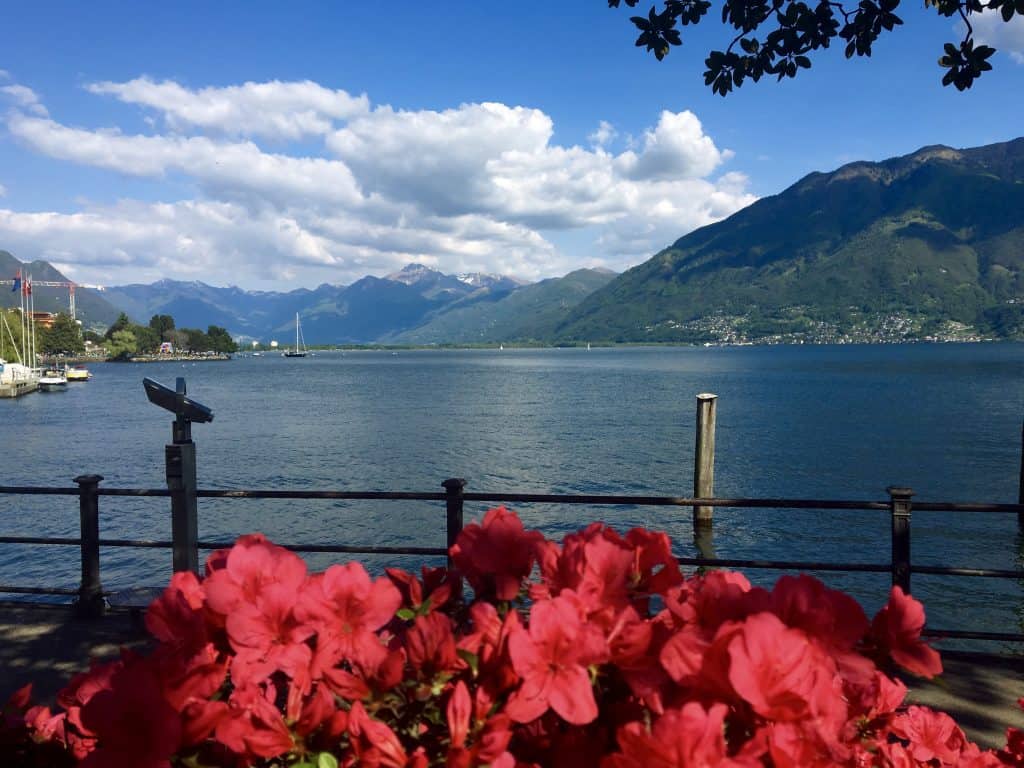 It was a beautiful place to take a break and stretch our legs. We were definitely sorry we couldn't stay (returning for longer is a MUST), but we were now eager to get to Porlezza, have dinner and get settled into our hotel. If you're interested in planning a trip in Switzerland, here are some guides from The Invisible Tourist to inspire and aid you.
We left Locarno on Lago Maggiore and drove to Porlezza, on the east end of Lake Lugano which took about an hour and twenty minutes. Here is a map to show you how close a few of the Italian lakes are to each other.
The views of Lake Lugano were dreamy.
Soon after this tunnel, we crossed the border into Italy without any fuss or formality.
Porlezza, Italy
Porlezza is small, in fact it's just a comune in the Province of Como in the Lombardy region of Italy. Mum and I had never been there before, and we were happy to add it to our travel maps.
We checked into our hotel, which was perched on a little hill with breathtaking views of Porlezza, as you can see from the photo above. However, due to the service and other issues, it's not a place I would recommend. For dinner that evening, we had a fabulous antipasto of meats and cheeses with some lovely bread, at a restaurant named Zenzero (Ginger.)
Although my pasta was delicious, I had ordered Penne Arrabiata (spicy pasta), but it wasn't the slightest bit spicy, which was disappointing. My mother enjoyed her mushroom pasta, and the local wine was good, so overall it was an enjoyable meal (I added my own hot pepper).
We walked along the lakeshore before driving back to our hotel about a mile away. It was so incredibly peaceful.
These are the views that greeted us the next morning.
We checked out of our hotel and drove back into Porlezza for a coffee and to go to the post office. This is the kind of place where you feel you could fit right in and stay for months without missing anything back home; such tranquility and beauty everywhere we went.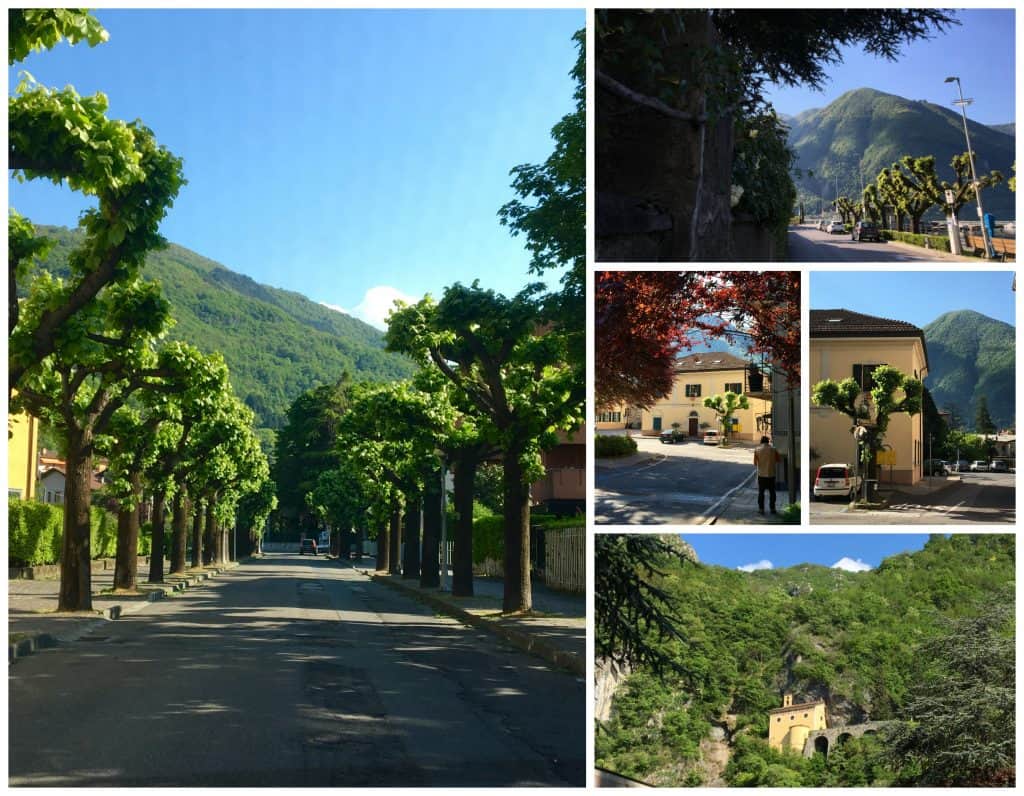 At this point, I hadn't told my mother where we were going next. All she knew was that it was a surprise and with my history of surprises, she just had to wait to see where we would go.
Lake Como was less than 10 miles away, but I don't think my mother realized this. This was the road we were on if you're interested in what it was like to drive there. I would suggest having a smaller car, as there are some places where it's a tight fit. However, any car is fine as large buses even go through these villages.
Lake Como
We stopped at a place by the roadside to admire the views of Lake Como as soon as we could. If you've been to Italy, you know how remarkably beautiful the entire country is. However, if you've never been to the Italian Lakes, it's simply another world.
It's no wonder that so many celebrities and people who can buy homes anywhere in the world, choose to buy them here. In fact, George Clooney's villa was a few minutes further south (I checked after I came home since that was a question everyone asked me).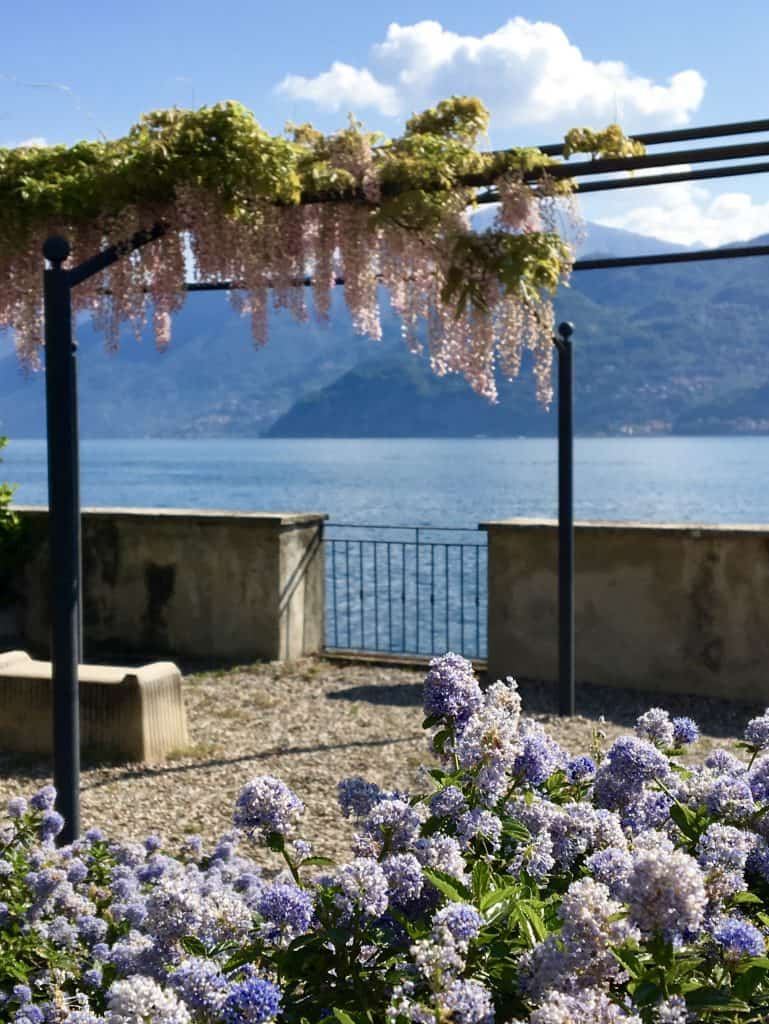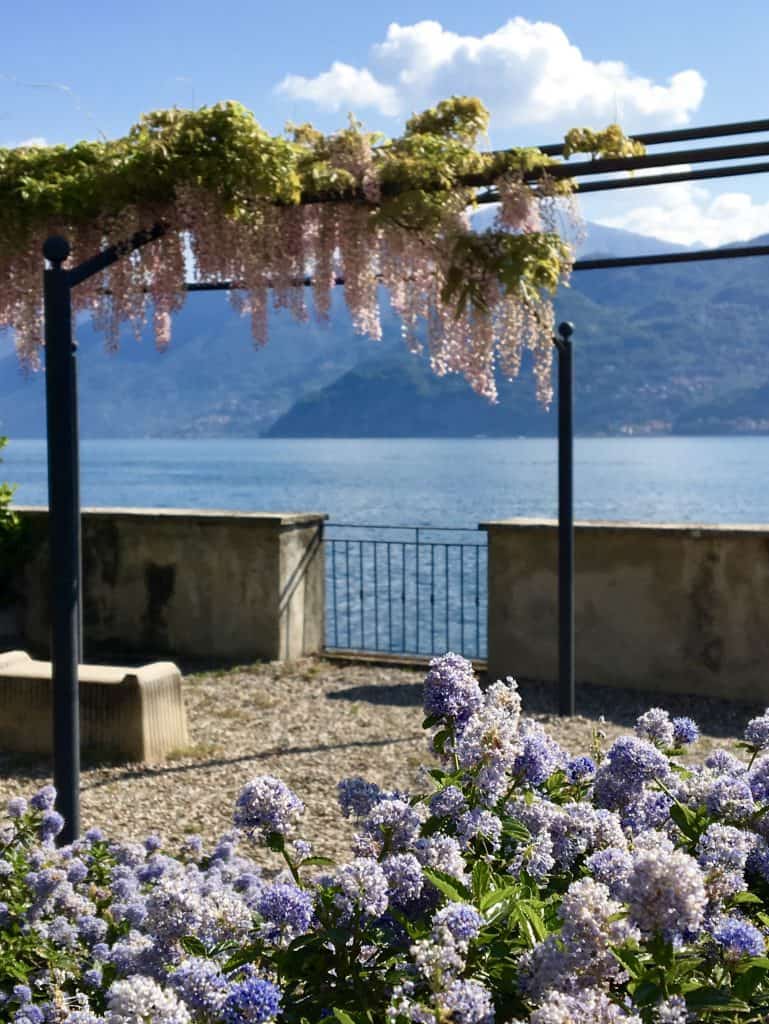 Note: some people say, "Como" meaning the lake, but there is a city called "Como" on Lake Como as well as many other towns and cities. If you are visiting the city of Como, I can recommend (firsthand) Albergo Terminus. It's a stunning hotel, with fabulous service and views.
Tremezzo, Italy
We drove a bit further south to a town called Tremezzo and parked so that we could walk along the lakefront. Driving from Switzerland to the Italian lakes region is simply a little bit of paradise.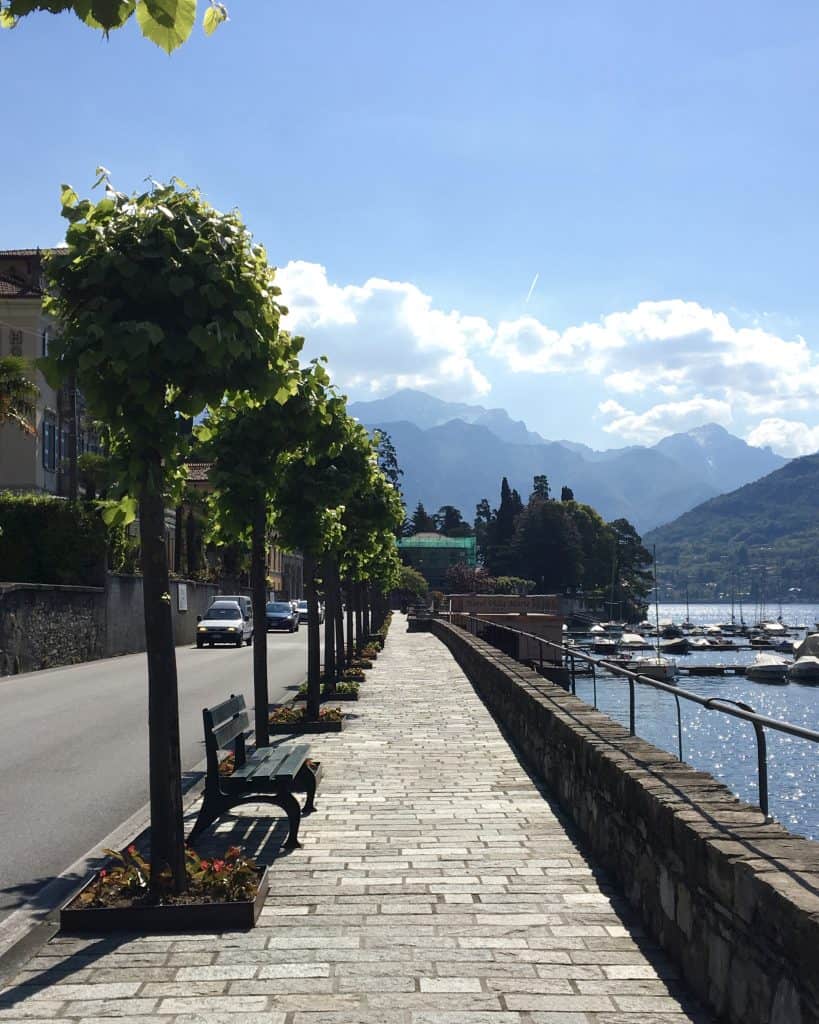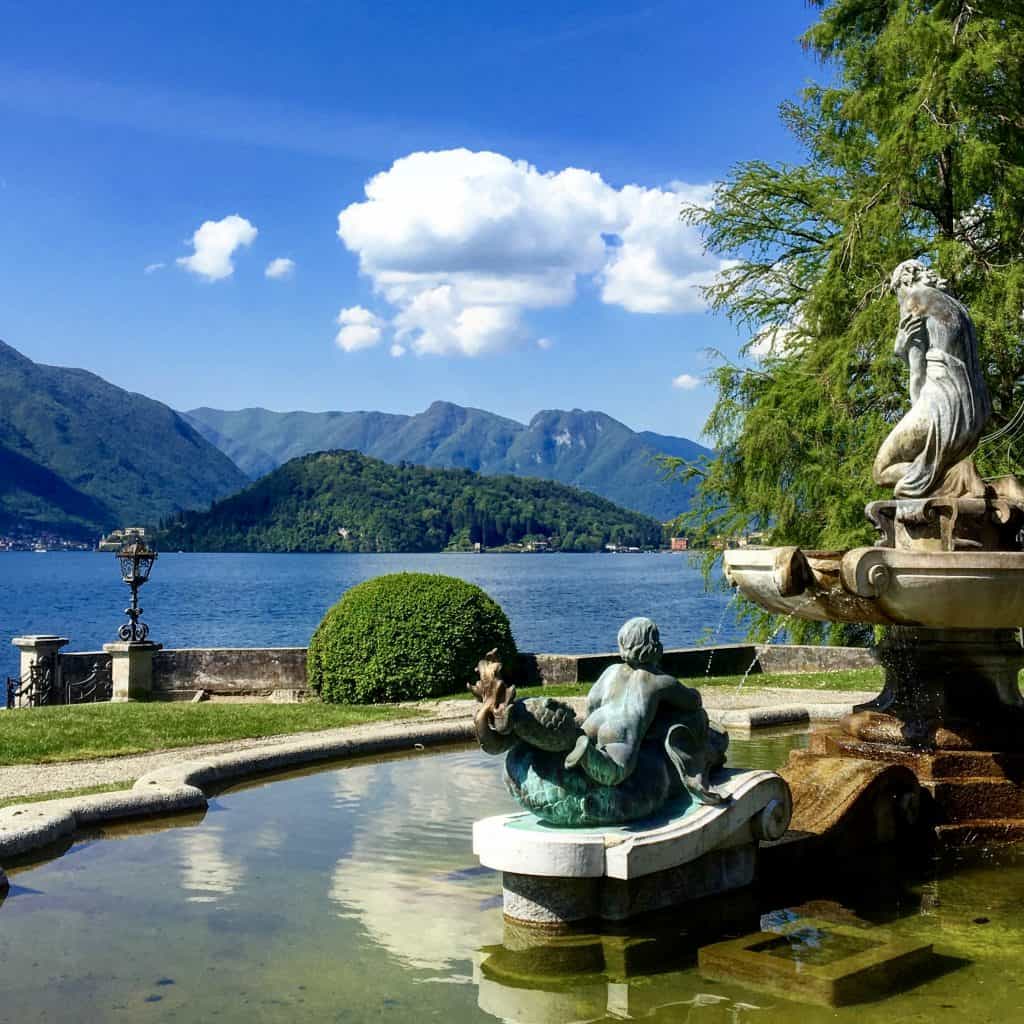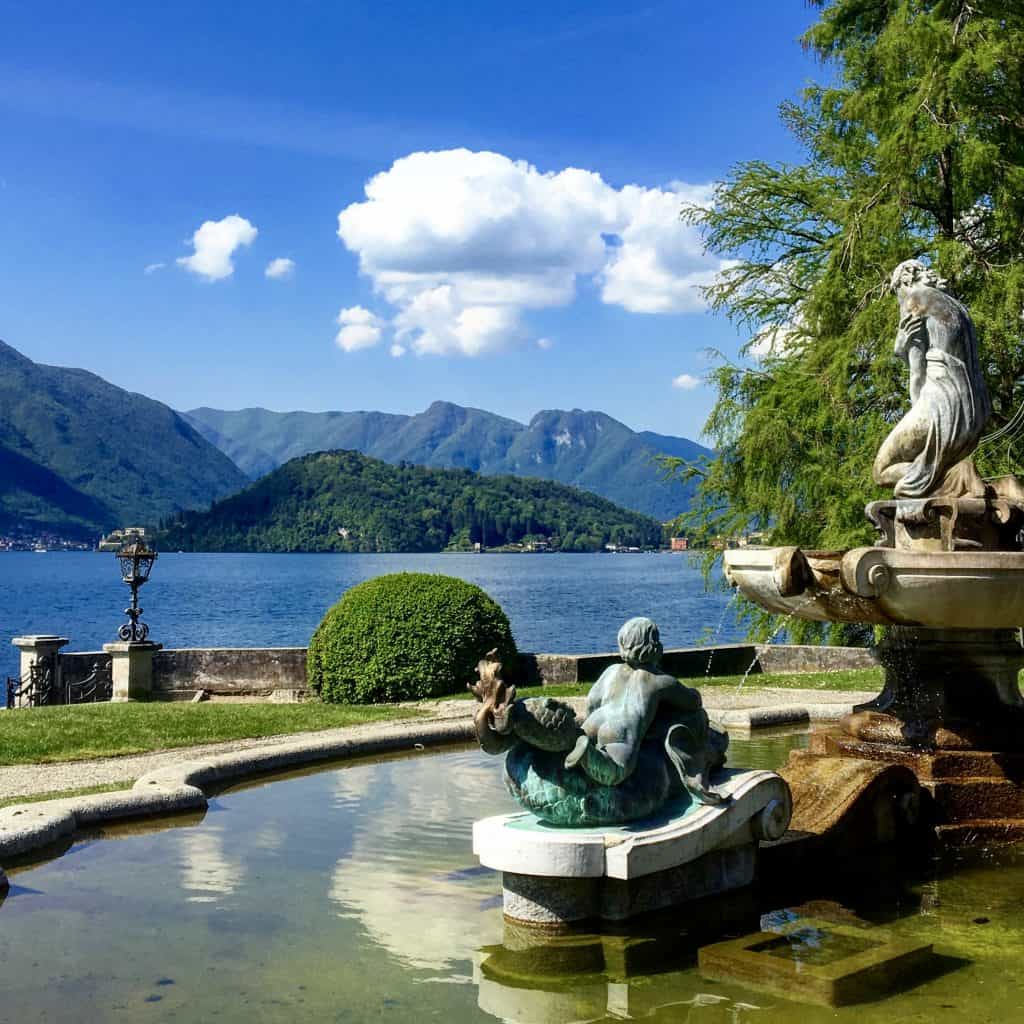 After our walking tour of Tremezzo, we drove back to Griante to catch a ferry across the lake!
We were heading to BELLAGIO–the original Bellagio! Sadly, the one in Las Vegas seems to have taken over the first page of Google! Many Americans only know of the casino when I've spoken to them about this tiny Italian comune, known as the "Pearl of the Lake".
Ferry from Griante to Bellagio
We were first onto the ferry–that's our Volvo in front.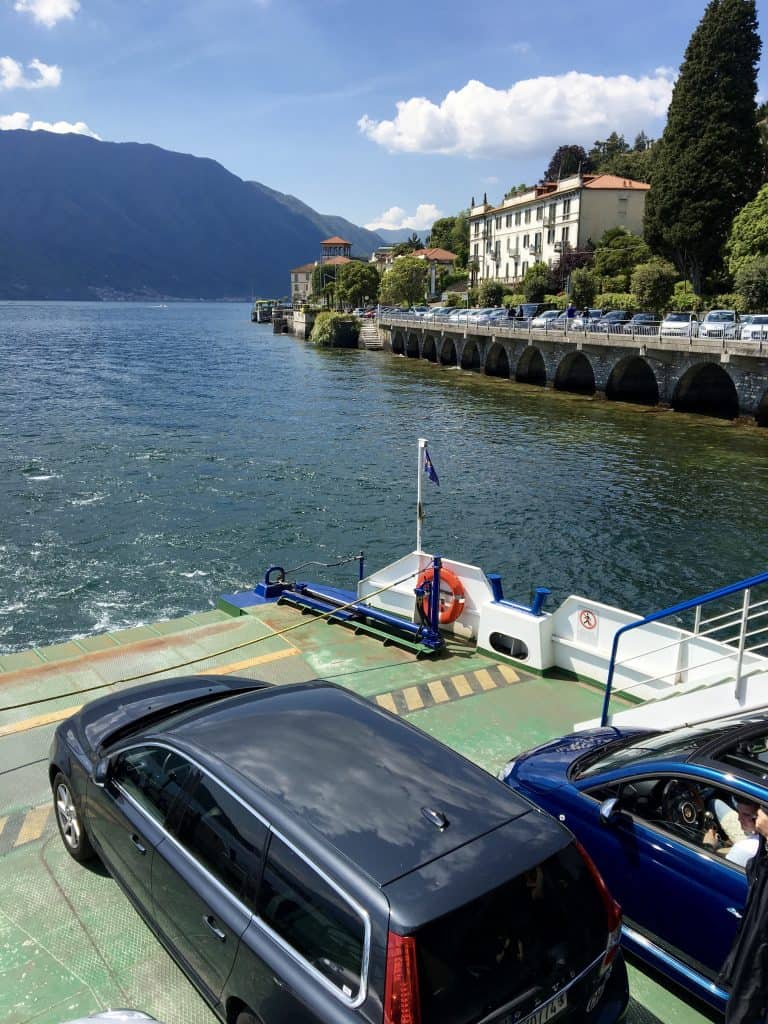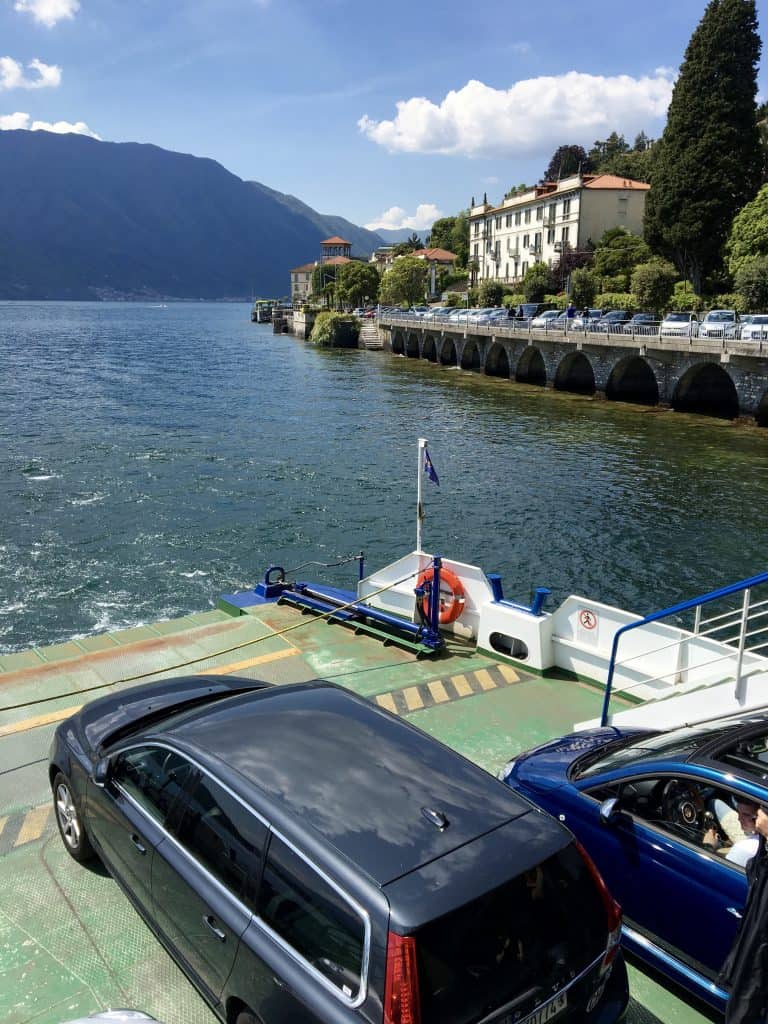 It only took minutes to load all the vehicles and passengers onto the ferry (under $30 for the car and two adults). We left Griante behind and made our way across Lake Como on this spectacular day. My mother was beside herself, and was just so happy to be seeing all the gorgeous sights. Click HERE to watch a video clip of our view from the ferry.
We could see Bellagio more clearly as we drew closer.
As we were almost ready to dock, I pointed to The Grand Hotel Villa Serbelloni, the farthest yellow building to the left. I told my mother, "There's our hotel." (Click the photo below.)
Continued HERE
I hope you enjoyed my post on driving from Switzerland to the Italian lakes. I'd love to hear any of your tips below in the comments.
Disclosure: my car rental was sponsored by Auto Europe and travel insurance by Travelex, both brands I have used and loved in the past. The Grand Hotel provided accommodation for my mother and me. No conditions were made for positive reviews and all opinions are always my own. I am disclosing this in accordance with FTC regulations.
Christina's Cucina is a participant in the Amazon Services LLC Associates Program, an affiliate advertising program designed to provide a means for sites to earn advertising fees by advertising and linking to Amazon.com.
Driving from Switzerland to the Italian Lakes