So if you're thinking what I think you're thinking, I think you're wrong.
I may be going out on a limb here, but I bet many of you have already decided that "Chicken Cacciatore" is just too difficult or complicated for you to make, especially on a weeknight.
Well, I'd like to prove you wrong. In fact, this is such an easy dish, that if you chop the veggies the night before, making it the next day is a piece of cake. As a matter of fact, you could brown the chicken and veggies and put everything in a crock pot, and have dinner ready to serve by the time you come home!
I haven't made this in such a long time (don't ask me why, because I don't know!), so I looked up a recipe; but I wanted an authentic recipe…so I used this one.
It's in Italian, but I think you'll find my translation below much easier to follow…unless of course, you read Italian!
Mediterranean Chicken, Mushrooms and Rice Recipe
Chicken Cacciatore (Pollo alla Cacciatore)
Hunter's Chicken (adapted from Giallo Zafferano)
one whole chicken, cut up, preferably organic
one clove of garlic, minced
2 carrots, diced
1 onion, diced
2 or 3 stalks celery, diced
4-6 tbsp. extra virgin olive oil
1 1/2 cups (14 oz or 400g) tomato puree
fresh rosemary
1 glass of red wine (about 8 oz)
salt and pepper
chopped fresh parsley, a few sprigs (to garnish)
In a very large saute pan over medium high heat, heat the extra virgin olive oil until hot, then add the chicken pieces (don't remove the skin as it adds flavour.) Sauté for about 5 minutes each side or until it begins to brown. It should not be thoroughly cooked.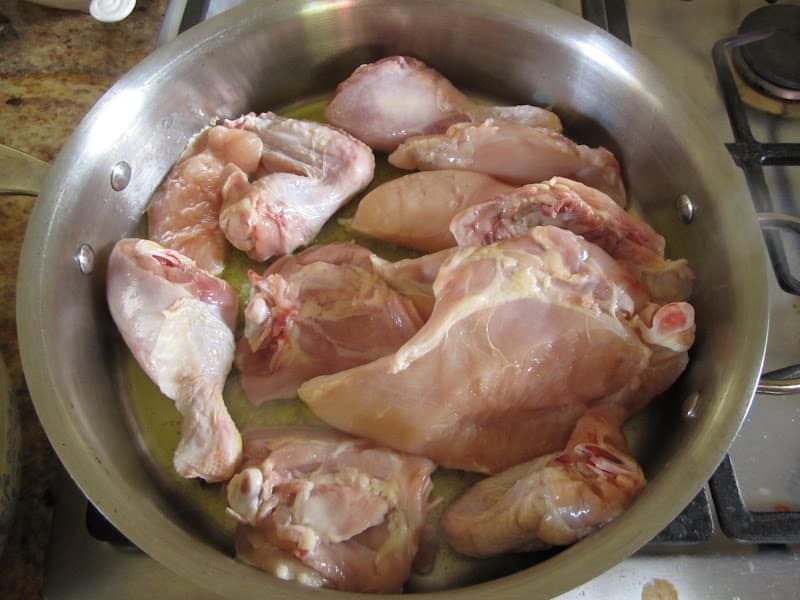 Add, the diced onion, garlic, carrot, celery, about 3/4 tsp. of Kosher or sea salt (less if regular) and some ground black pepper.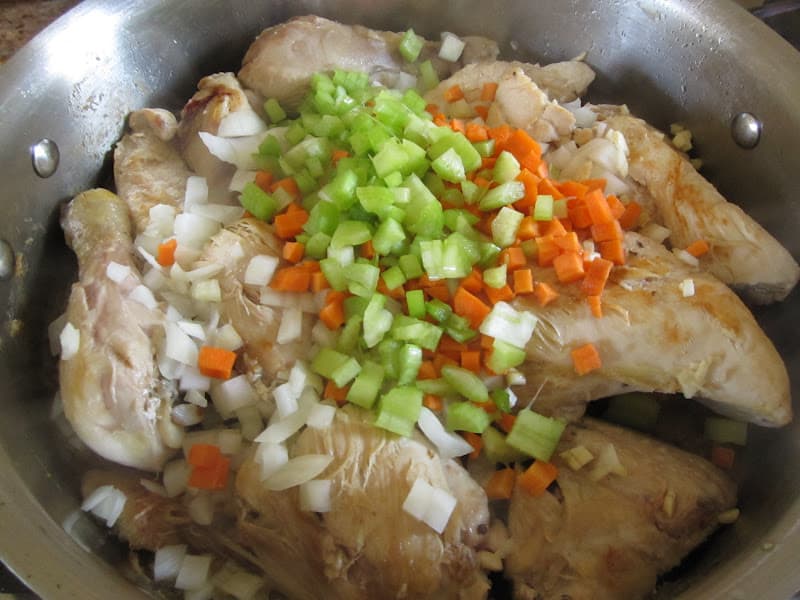 Next, add the rosemary and let cook for about 5 minutes.
See how easy this is? You haven't even broken a sweat yet, right?
(If you want to use a crock pot, do so at this point and just add the wine, tomato puree and a cup of water or chicken broth, and set it to low.)
When the vegetables are nicely colored, add the wine and let it evaporate.
Once the wine has evaporated, add the tomato puree. Stir well and allow to simmer for at least 30 minutes or until the chicken is tender and the vegetables are almost a soft sauce. If the chicken starts to dry out, add some water or chicken broth. (I let mine cook closer to an hour, and no liquid was necessary.) Taste for salt and pepper and add if needed.
When ready to serve, garnish with chopped parsley and accompany with polenta, on it's own with a salad afterwards (I garnished it with rosemary and served it with bread and salad.)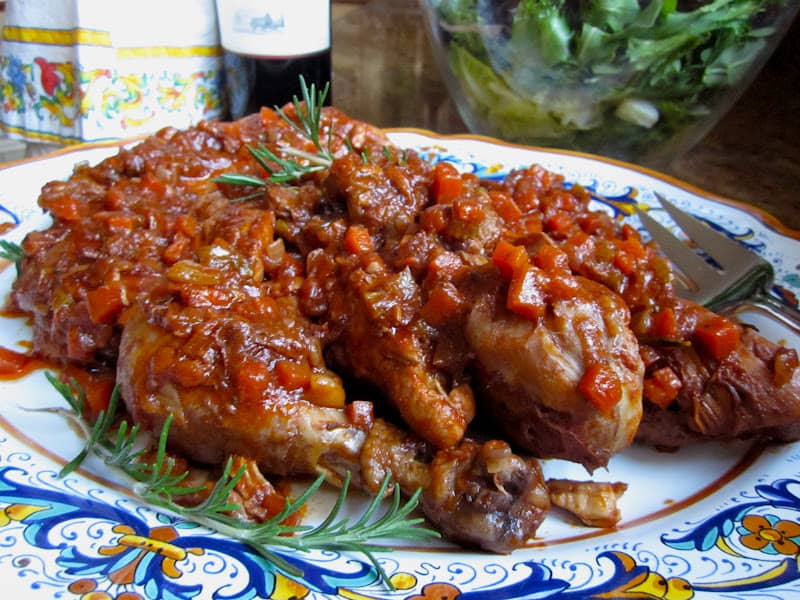 Now, honestly, besides the vegetable chopping taking a few minutes of time, how complicated was that? I don't know about you, but I'd give it a 2, meaning NOT difficult at all! However, if we're rating the taste, I can assure you, it will definitely NOT earn a 2!
If you try this Chicken Cacciatore recipe, please let me know what you think of it.
Don't miss another recipe or travel post; sign up for my free subscription below!
(I promise not to sell or share your info, ever!)
Chicken Cacciatore (Pollo alla Cacciatore)
Author:
Christina's Cucina adapted from Giallo Zafferano
Ingredients
one whole chicken, cut up, preferably organic
one clove of garlic, minced
2 carrots, diced
1 onion, diced
2 or 3 stalks celery, diced
4-6 tbsp. extra virgin olive oil
1½ cups (14 oz or 400g) tomato puree
fresh rosemary
1 glass of red wine (about 8 oz)
salt and pepper
chopped fresh parsley, a few sprigs (to garnish)
Instructions
In a very large saute pan over medium high heat, heat the extra virgin olive oil until hot, then add the chicken pieces (don't remove the skin as it adds flavour.) Sauté for about 5 minutes each side or until it begins to brown. It should not be thoroughly cooked.
Add, the diced onion, garlic, carrot, celery, about ¾ tsp. of Kosher or sea salt (less if regular) and some ground black pepper. Next, add the rosemary and let cook for about 5 minutes.
(If you want to use a crock pot, do so at this point and just add the wine, tomato puree and a cup of water or chicken broth, and set it to low.)
When the vegetables are nicely colored, add the wine and let it evaporate.
Once the wine has evaporated, add the tomato puree. Stir well and allow to simmer for at least 30 minutes or until the chicken is tender and the vegetables are almost a soft sauce. If the chicken starts to dry out, add some water or chicken broth. (I let mine cook closer to an hour, and no liquid was necessary.) Taste for salt and pepper and add if needed.
When ready to serve, garnish with chopped parsley and accompany with polenta, on it's own with a salad afterwards (I garnished it with rosemary and served it with bread and salad.)