Mediterranean Chicken, Mushrooms and Rice is a recipe that you'll end up memorizing as I bet it will become one of your "go-to" weeknight dishes.
This used to be one of the dishes I used to make on a regular basis when I was first married.
I don't remember where the recipe came from, as it wasn't something my family ever made. One evening, when I had family visiting from Canada and England (there were 11 of us in total and I just wasn't used to cooking for that many people), I made a very large batch, but it obviously wasn't that large, because there just wasn't enough for everyone! I was mortified, especially since one of my guests was my Zia Francesca who always cooked enough for an army!
I'm guessing that this event traumatized me in a way, because even though I loved this recipe, I lost track of it and didn't make it again for almost 20 years! Last year, I decided to try to make it from memory as I just couldn't find anything like it online. It was close, but no cigar. I've made it another couple of times since then, and by Jove, I think I've got it!
It's great for a weeknight meal as you just use one pan for the entire meal; no cooking of a side dish, as the rice cooks in the sauce with the chicken.
I hope you'll try it as everyone who has tried it really loves it. Just make sure to make more than you think you'll need if you're making it for 11 people!
Mediterranean Chicken, Mushrooms and Rice
serves 4 to 6
Ingredients
1 1/4 lbs chicken breast, cut into bite sized pieces
1/3 cup (about 1.5 oz) flour (substitute another GF flour, if making gluten-free)
1/2 tsp salt
3 to 4 tbsp extra virgin olive oil
1 large onion, diced
1 small red bell pepper, diced
8 oz mushrooms, sliced
1 cup (8 oz) tomato puree
2 1/2 cups ( 20 oz) chicken stock, homemade or organic
1 cup (6 oz) white rice (preferably Arborio or Carnaroli)
2 to 3 tsp sea or Kosher salt
black pepper, freshly ground
Place flour and 1/2 tsp salt in a rimmed plate, and dredge the chicken pieces well.
Put 2 tbsp of oil in a large saute pan over medium high heat, then add the chicken pieces.
After about 3 minutes, turn the chicken and cook for another 3 to 4 minutes or until the chicken just begins to brown. Remove from pan and set aside.
In the same pan, add 1 or 2 more tablespoonfuls of olive oil and add the onion and red pepper. Saute for about 5 minutes, stirring frequently. Push the veggies to one side of the pan and add the mushrooms to the other side.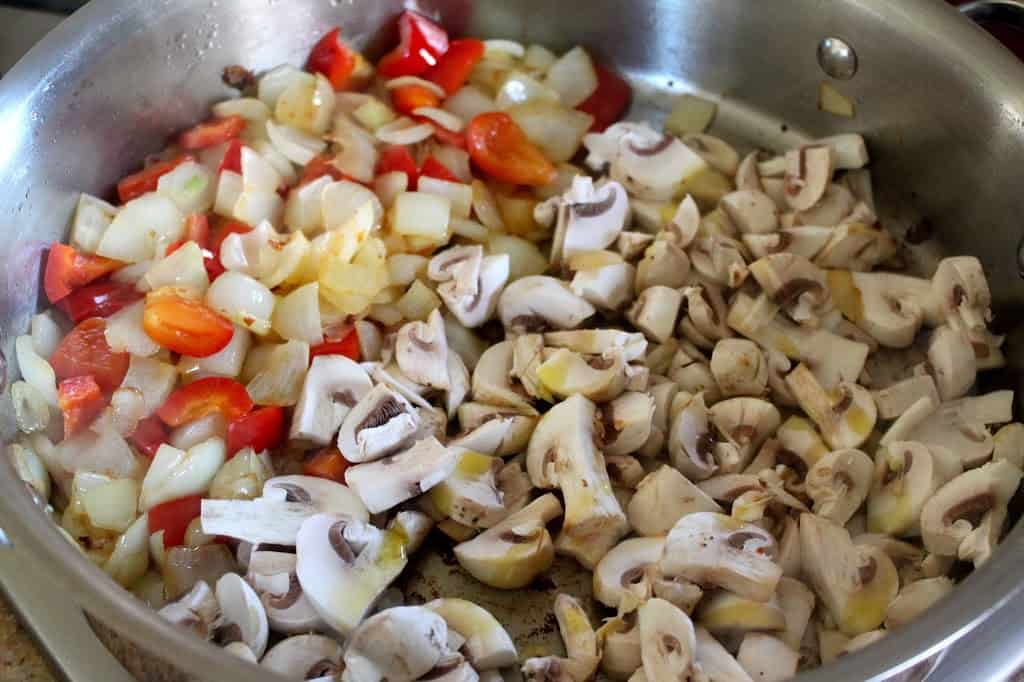 Saute the mushrooms for a few minutes, adding more oil if necessary, then mix everything together and continue to cook for a few more minutes. Add a teaspoon of salt and stir well.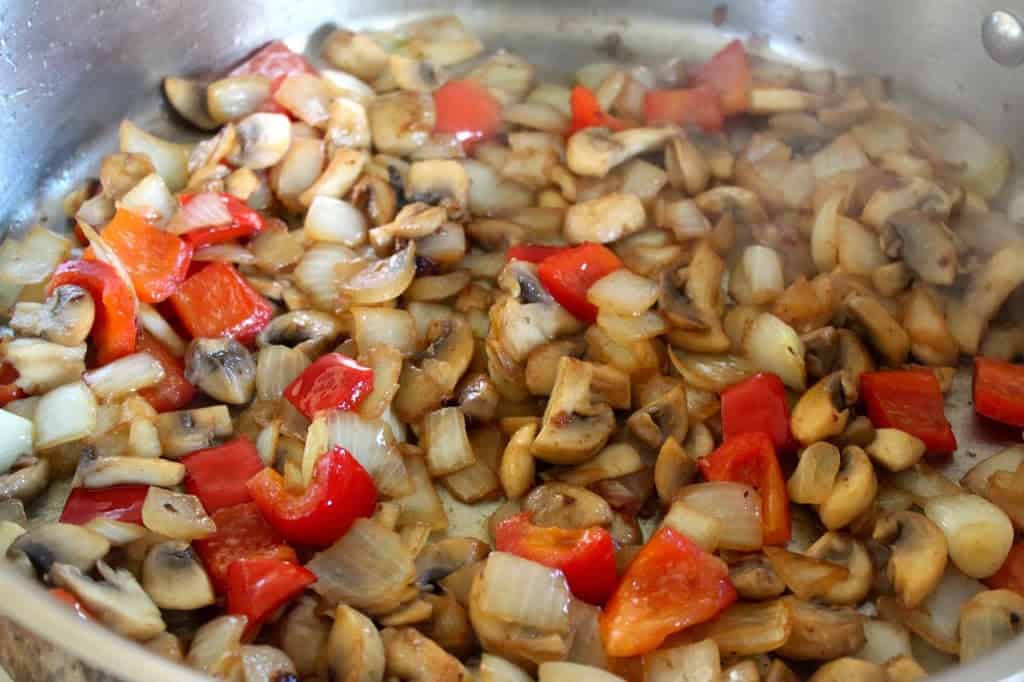 Add the tomato puree, and stir well.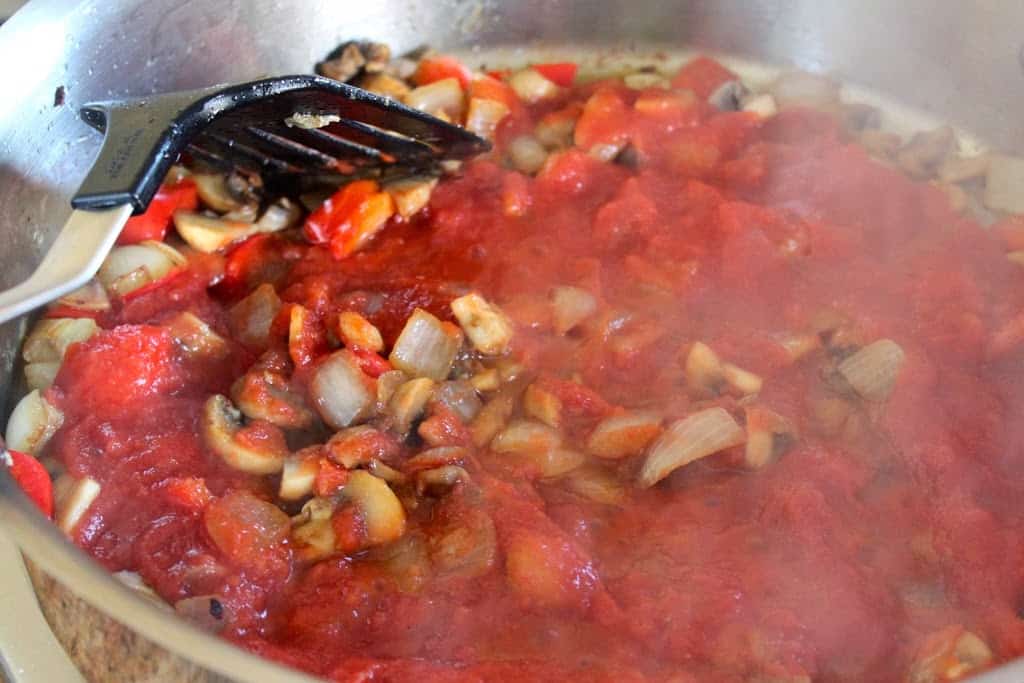 Next add the stock, another teaspoon of salt and some black pepper and the rice.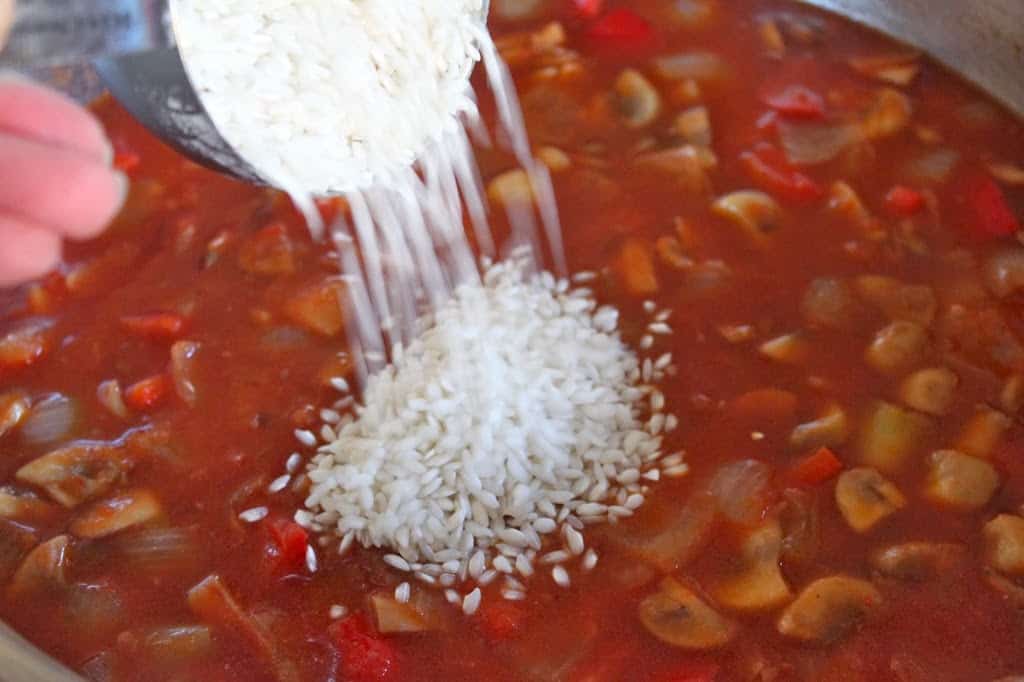 Bring to a boil, stir well, then lower the heat to a simmer, and add the reserved chicken.
Stir and cover. Stir frequently, but more so when the rice begins to grow.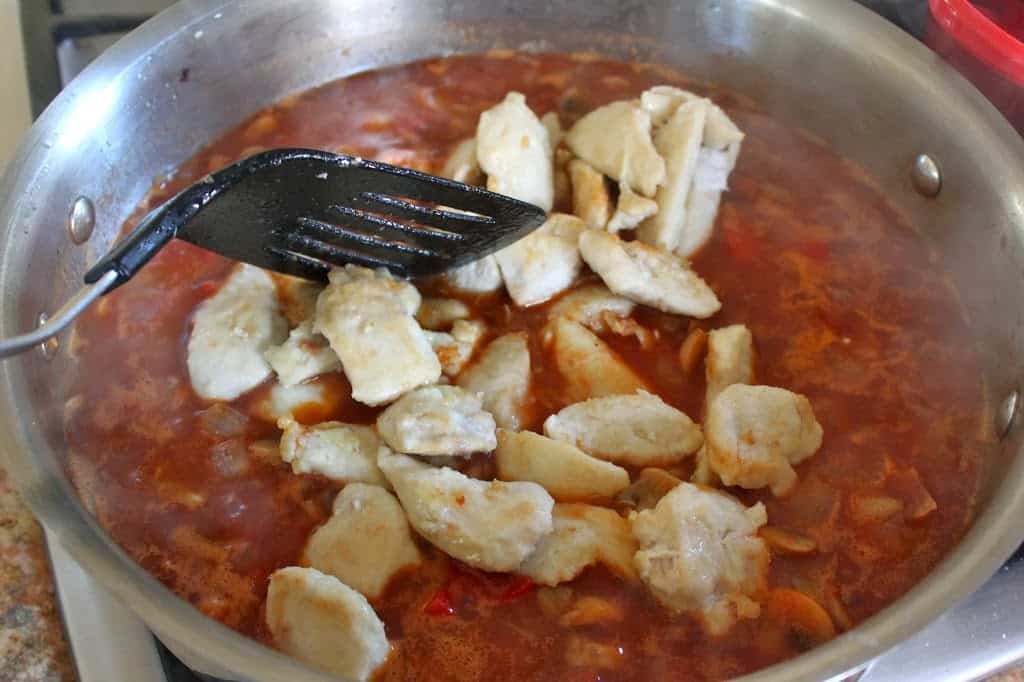 If the rice sticks or becomes too dry, add a little water, but it should not be necessary.
After about 25 minutes, the rice should be ready. Taste the dish and add salt and pepper as needed. Serve immediately, or reheat before serving.
Don't miss another recipe or travel post; sign up for my free subscription below!
I promise not to sell or share your info, ever.