The Rocco Forte Balmoral Hotel, a Scottish Luxury Hotel in the Heart of Edinburgh which is Doing Everything Right: You Just Won't Want to Leave.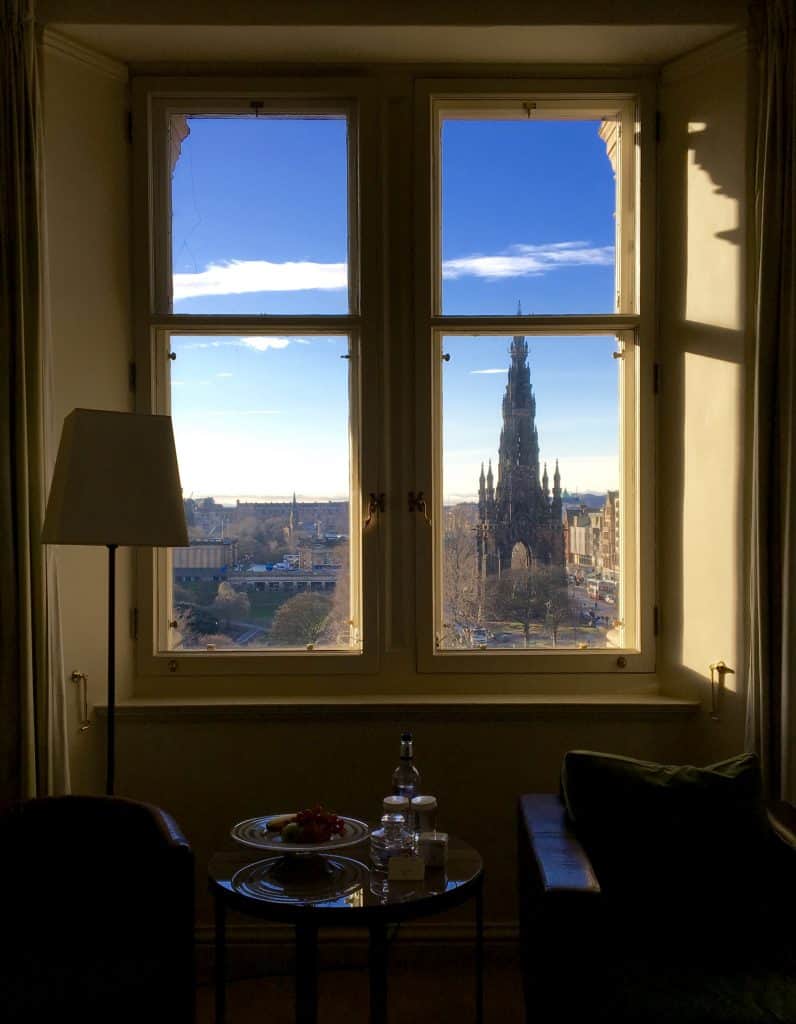 When you know you'll be visiting Edinburgh, the first thing you need to do is book at least one night at the luxurious Balmoral Hotel on Princes Street, trust me on this.
Afternoon Tea at The Balmoral Hotel
Last year, I had afternoon tea at The Balmoral with my mother and daughter; it was a truly memorable and delicious experience, but it was only a taste of what the Rocco Forte Balmoral Hotel has to offer.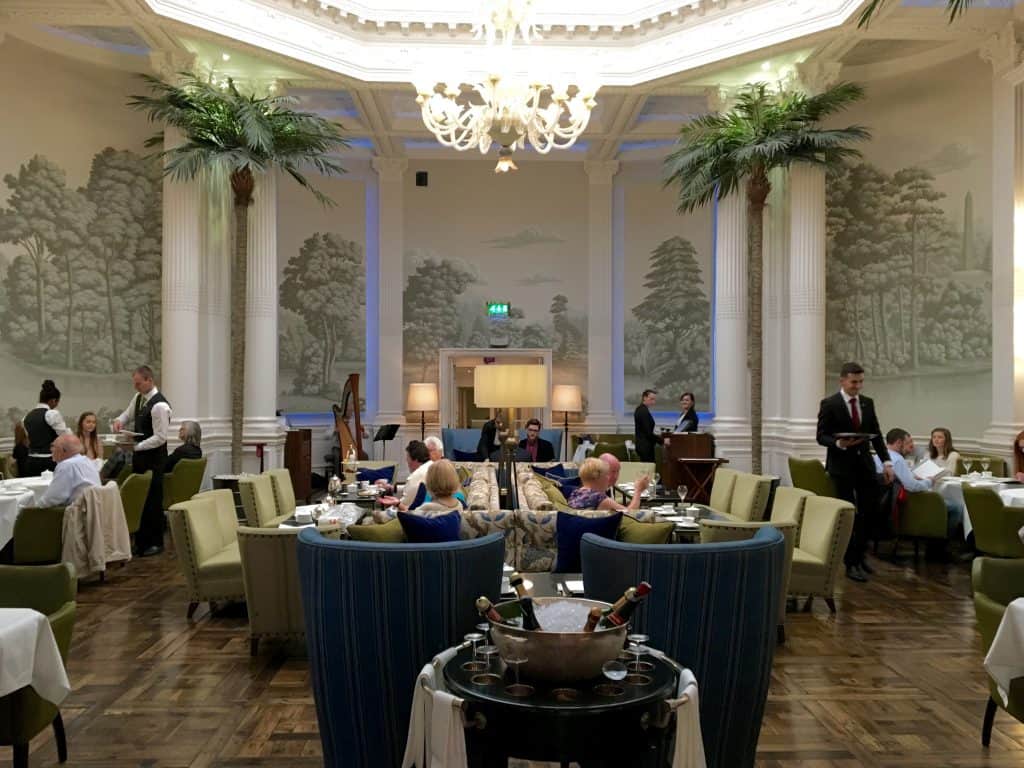 Disclosure: I was hosted for two nights at The Balmoral Hotel with full Scottish breakfast. I paid for my own spa treatment. As a Booking.com affiliate, I earn from qualifying bookings. All opinions are always my own.
On an early Sunday evening in January, my daughter, Denisa, and I arrived in Edinburgh by train. Waverley Station is actually connected to The Balmoral Hotel–the ultimate in convenience. It's also interesting to note that since 1902, The Balmoral clock has given travelers a spare three minutes so that they don't miss their train! My daughter and I were already inside the warm and inviting hotel lobby of The Balmoral in no time after alighting the train.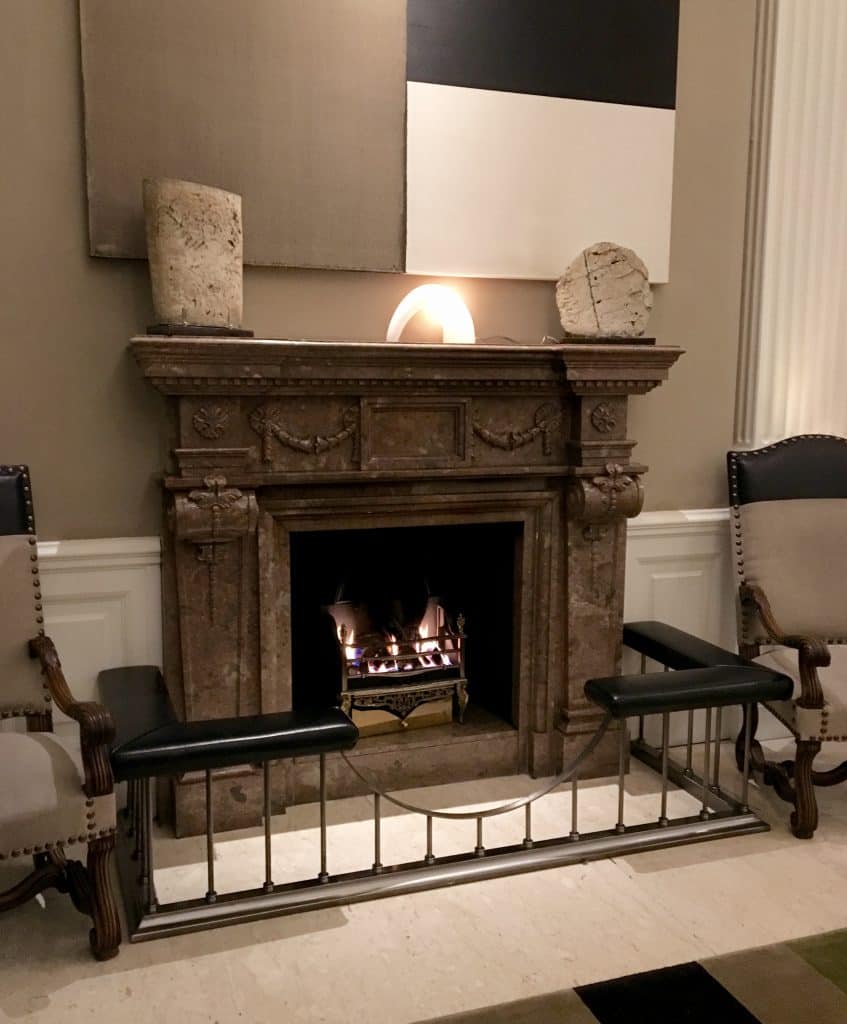 My stay at The Balmoral was one of the most pleasant and comfortable hotel stays I've ever had; so much so, that I honestly didn't want to leave. Not only is The Balmoral Hotel a stately, elegant and historically significant building in the center of Edinburgh, but the staff transforms it from being "just a hotel". I felt at home here, and reveled in a truly relaxing and pampered stay.
Denisa, accompanied me for the first night's accommodation (as you may remember, she is studying at St Andrews University for a semester). Maybe a uni student staying at The Balmoral before moving into a university dorm room wasn't the best idea? :)
The Balmoral Hotel

As you can see, the decor at The Balmoral is clean and elegant, and creates a haven of comfort. (It's no wonder that JK Rowling decided on The Balmoral as her hideaway to finish off her last book!) The rooms follow suit, as do the restaurants, comfy bars, luxurious spa, and of course, sumptuous Palm Court.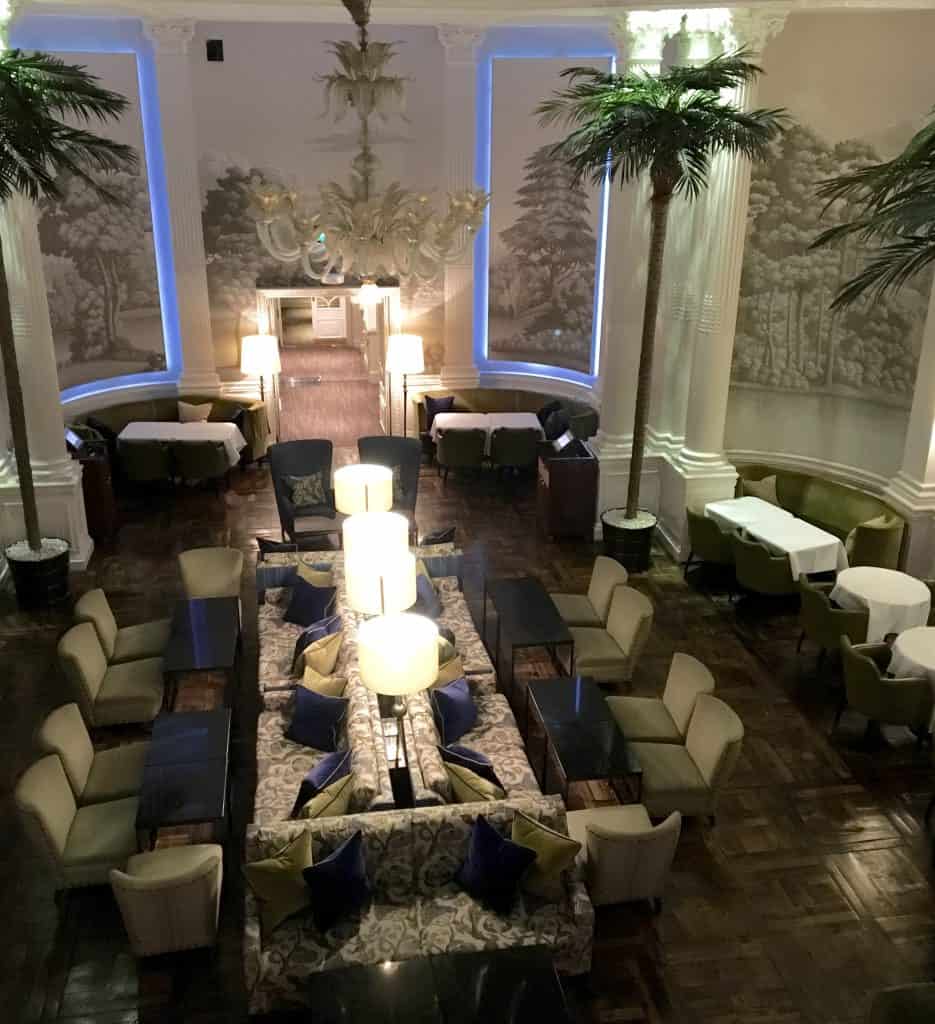 If you read my Balmoral afternoon tea review from last year, you may remember that Sir Rocco Forte's father, the late Lord Forte, was interned for a short time with my own grandfather, as they were both Italians living in Scotland during WWII. One of Sir Rocco Forte's younger sisters, the incredibly talented designer and hotelier, Olga Polizzi, is responsible for the hotel's elegant decor, as well as individually designing each and every room.
The Lobby
See the balcony in the photo below, you can have a quiet drink and nibble while enjoying art that is curated by The Scottish Gallery, the oldest fine art dealer in Scotland. The exhibitions change seasonally.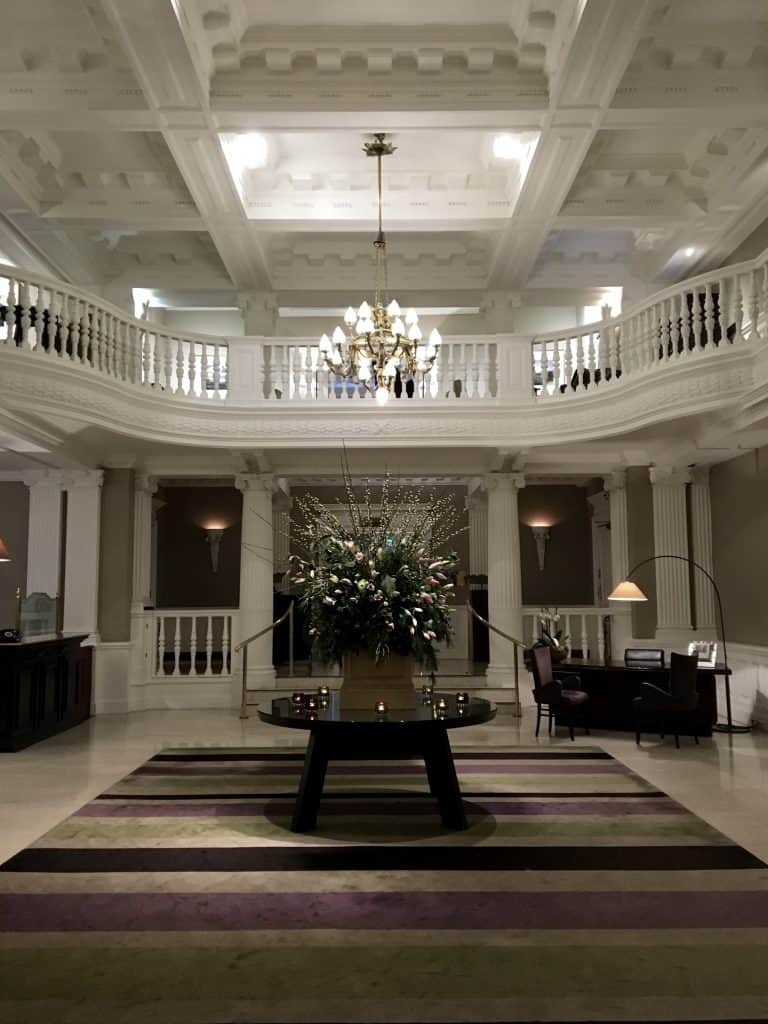 Since I've followed The Balmoral on Instagram for over a year, one of the highlights of their feed, and something I really look forward to, is seeing the "changing of the flowers" in their lobby. Planet Flowers designs of all the stunningly beautiful creations which grace the lobby table. Denisa and I were fortunate to see a "changing of the flowers" in person, especially since it was a very special floral arrangement! (You'll soon see why it was so special.)

We were checked in at the front desk by a lovely lady who could be Jennifer Aniston's double (no lie). The porter then helped us with our bags, and showed us to our spacious and tastefully decorated room with one of the most beautiful views of the city.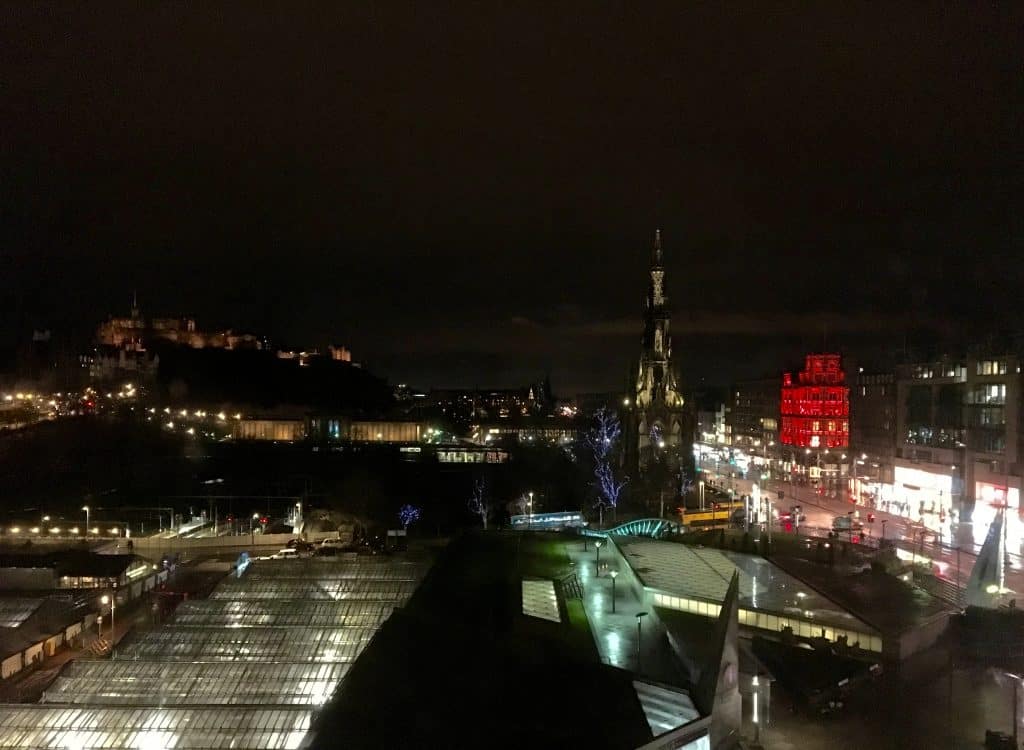 We explored our room, as one does upon checking in, and were simply delighted. The spacious bathroom was decorated in white marble, had heated floors and a James Bond print on the wall; simply stunning. The deluxe rooms range in size from about 300 to 400 square feet (27-37 square meters) and include a sitting area. Our king bed looked so comfy, and there was plenty of closet and storage space, including an in-room safe and bar. (Photos below.)
Edinburgh at Night
Even though it was raining, Denisa and I decided to go out for a walk. We had brought our umbrellas with us, but when we went downstairs, we realized that we'd left them in the room (California girls)! This turned out to be a good thing as The Balmoral's "umbrellas-to-borrow" were much more substantial than the flimsy ones we had brought.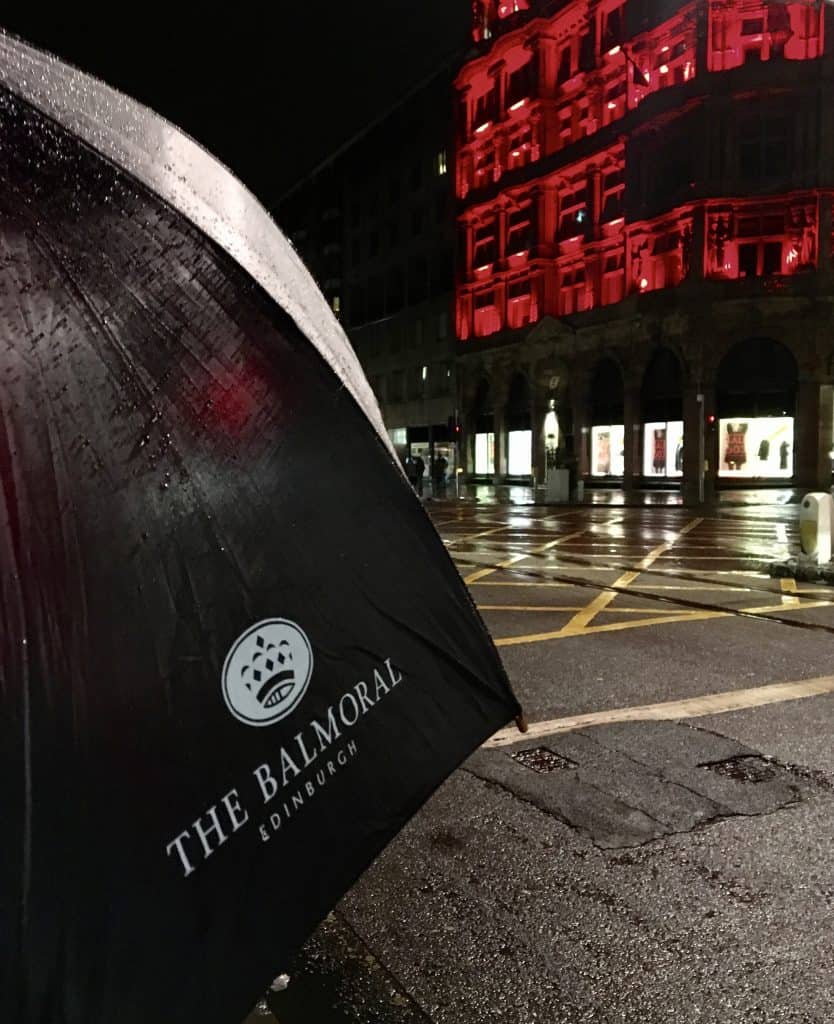 We popped into a few shops on Princes street and admired the Scott Monument. We decided to walk up to the Royal Mile which stretches between Edinburgh Castle and Holyrood House (the Queen's official residence in Scotland). The rain stopped, and I was able to capture a few shots of a dark, and very wet Edinburgh. I loved the moody atmosphere and the glistening reflections upon the wet pavement.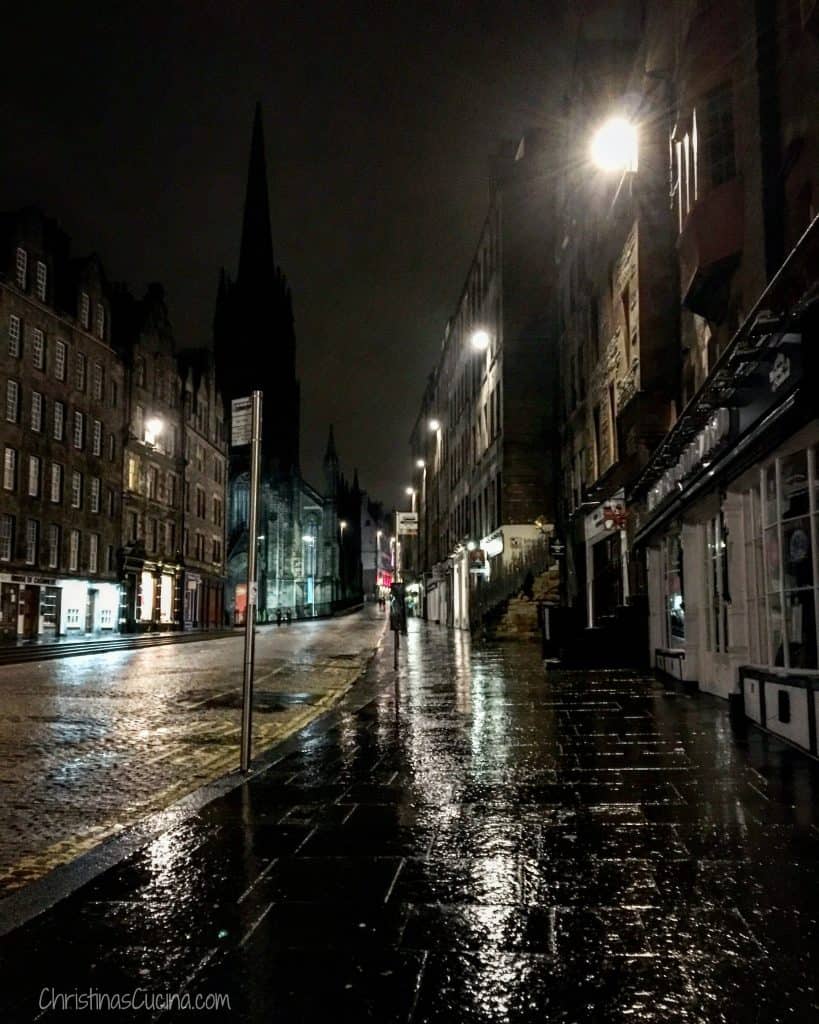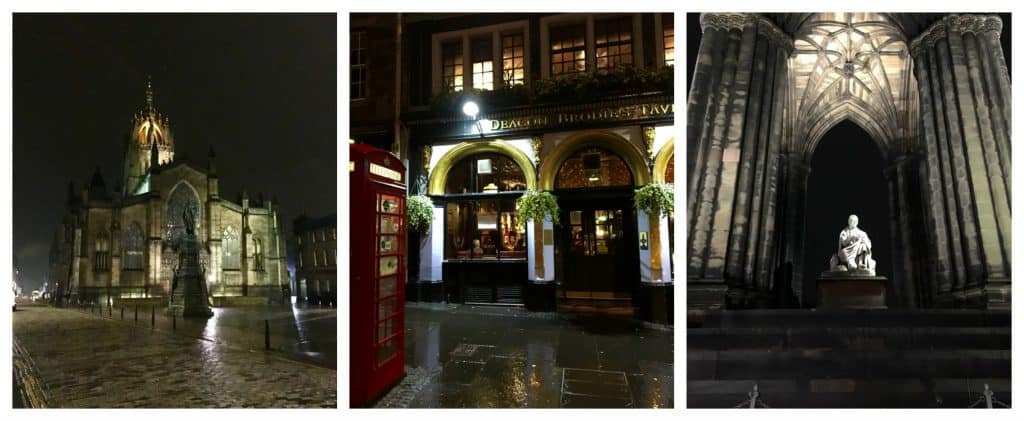 We returned to our wonderfully cosy room at The Balmoral and enjoyed a peaceful night's sleep (not a sound could be heard), and dreamt of our full Scottish breakfast the next morning (at least I did). :)
Rooms at The Balmoral
Before I tell you all about breakfast, I want to give you a tour of our superior deluxe king room. Of course, the following photos were taken after room service did their magic later in the day, but isn't it a lovely space?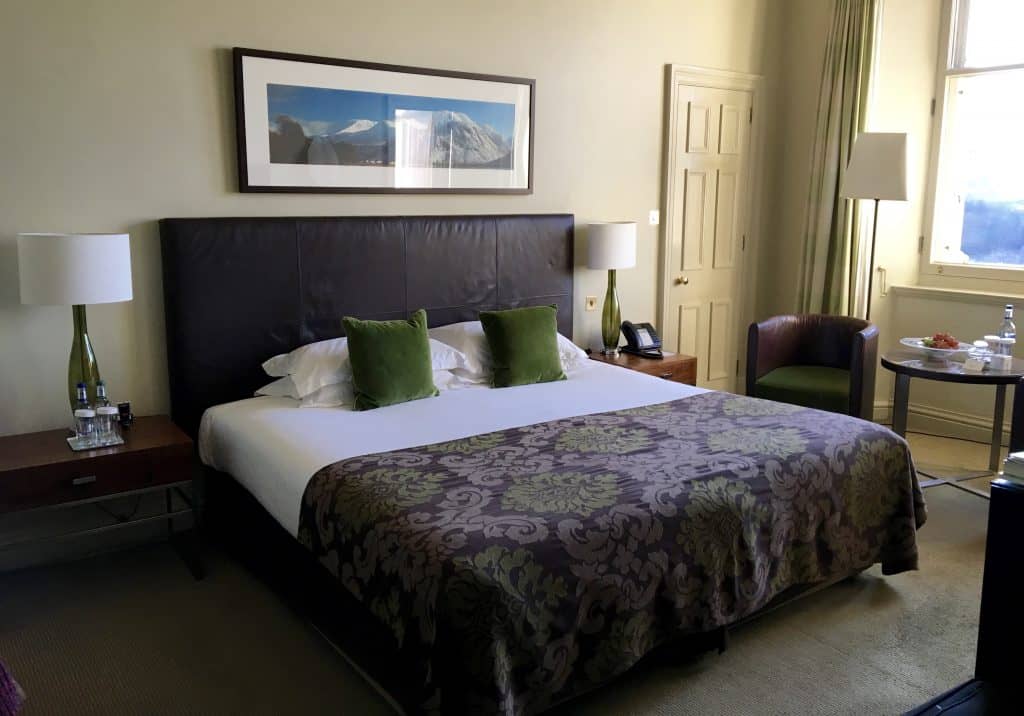 Yes, that's a Nespresso machine and a kettle for us tea lovers! There was sparkling and still, Scottish bottled water, and a lovely little tin of Balmoral's own shortbread with the recipe, which was the nicest touch. It's the little details, such as these, which sets great hotels apart from the exemplary.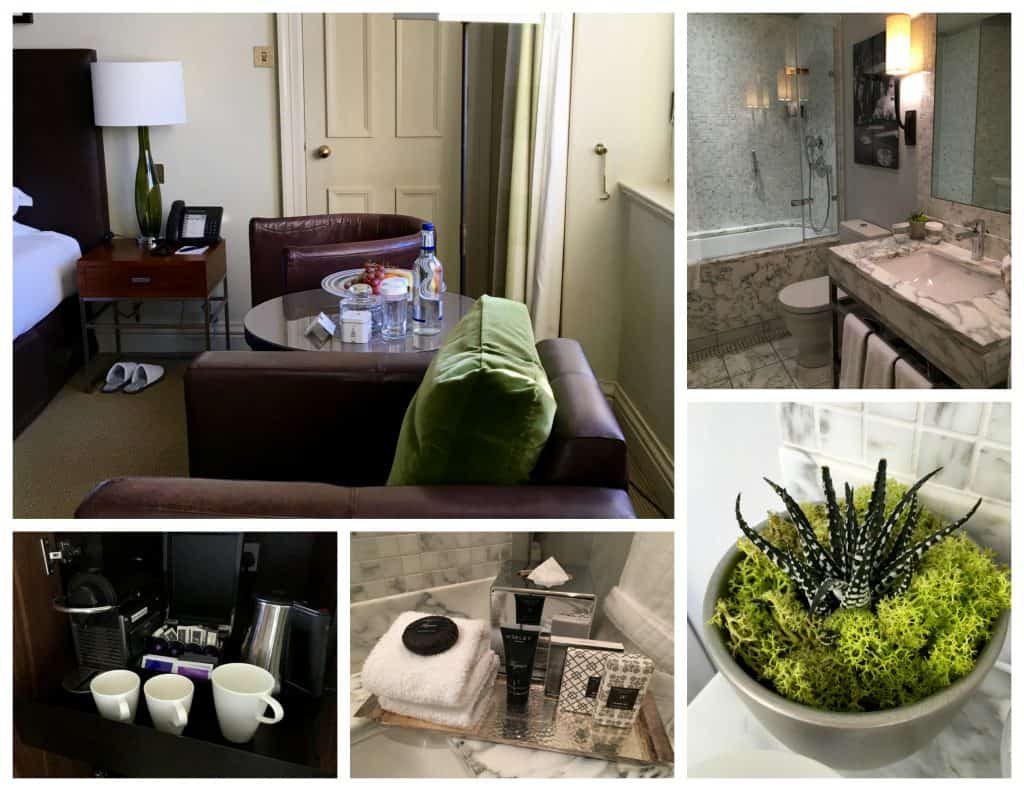 All rooms at The Balmoral include free WiFi for up to five devices. I have to add that the WiFi was fantastic throughout the hotel, including our room. I wish I could say the same for other hotels that claim to offer free WiFi, only to have it constantly dropping or not work at all unless one is in the lobby. It can be a big problem, especially for those who need it for their work.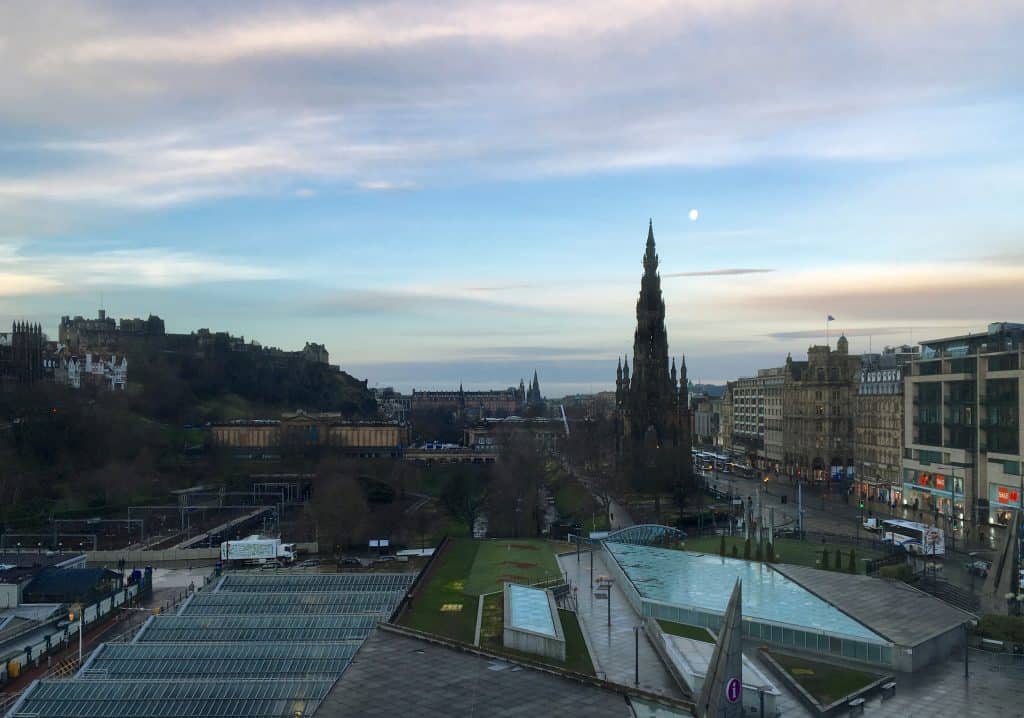 After taking in the morning view and getting ready for the day, Denisa and I went downstairs to Hadrian's Brasserie, where breakfast is served at the hotel, in a contemporary, casual setting. On our way through the lobby, we noticed the floral arrangement had changed! It had a mysterious Harry Potter theme so we had to ask the concierge what it represented.
Unbeknownst to Denisa and me, it was the 10th anniversary of JK Rowling's completion of her last Harry Potter book, right here in The Balmoral! (You can read more about her escape to The Balmoral in order to finish her book here.)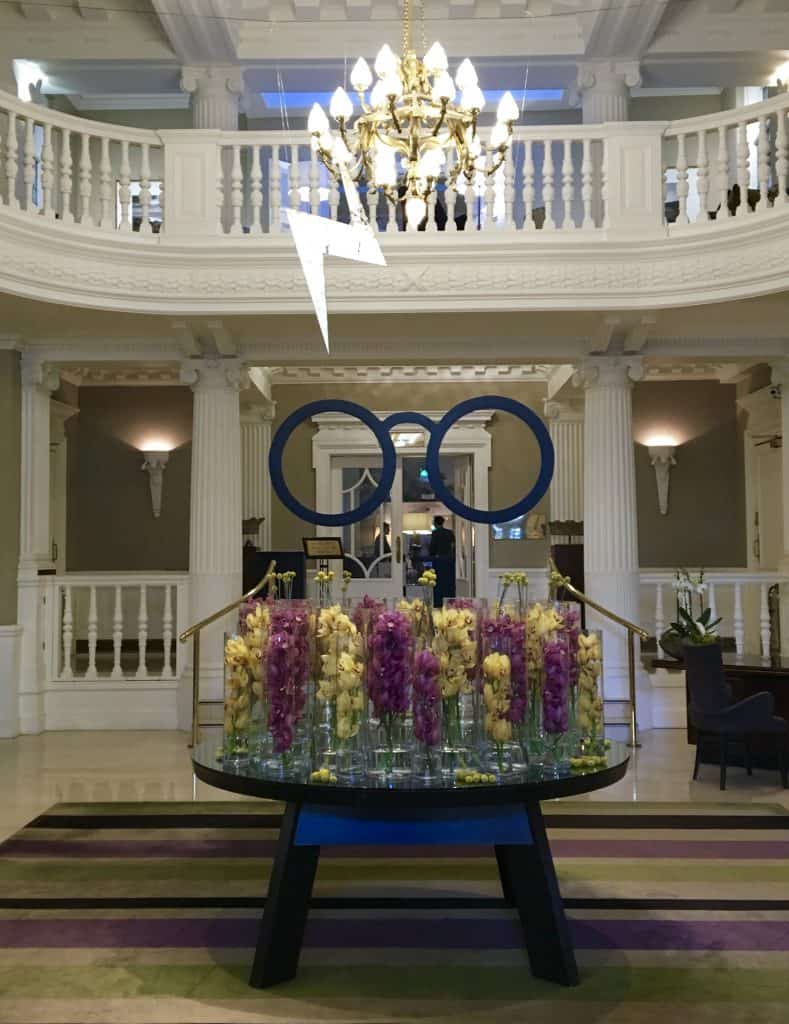 Our curiosity satisfied, we made our way down the hall to Hadrian's Brasserie.
Note: The Balmoral has two restaurants, the second is called NUMBER ONE, and it's probably no surprise for you to hear that it has been awarded a Michelin star 14 years in a row.
Breakfast at Hadrian's Brasserie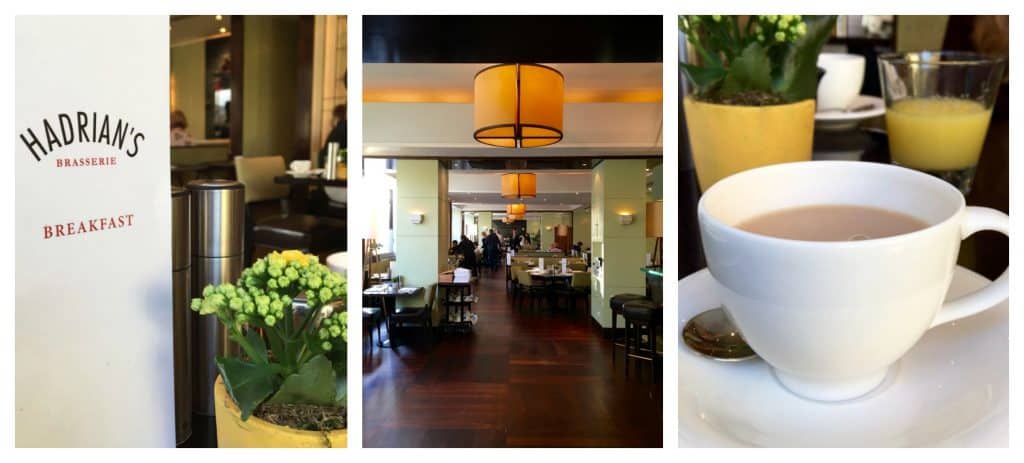 The Continental Buffet Breakfast
We were seated and our orders taken quickly. In addition to ordering the full Scottish breakfast which is made to order, the superb breakfast buffet is also included. I didn't realize this until the next morning, which was partially my fault for not reading the menu properly, but it would have been helpful if the server had mentioned it, too. Despite this, my full Scottish breakfast was so fabulous and filling, I didn't need one more bite from the buffet; more than anything, I was just disappointed that Denisa had missed it.
Know that if you order a full Scottish breakfast at Hadrian's, take advantage of the extensive Continental breakfast buffet, too (or you can choose to skip the fry up and just enjoy the buffet). I would also commend the servers on how professional and attentive they were without being overbearing. They provided notch service that shone.
The Continental buffet is a fruit lover's paradise. There were so many choices, from grapes, berries and citrus, to figs and tropical fruits. The next morning I had a fresh fruit plate which included a perfectly ripe passion fruit which was simply heavenly.
Alternatively, or in addition to the selection of fruits, you can choose to go the European route with lots of meat, cheese and breads. (Don't forget that Scottish smoked salmon, though.)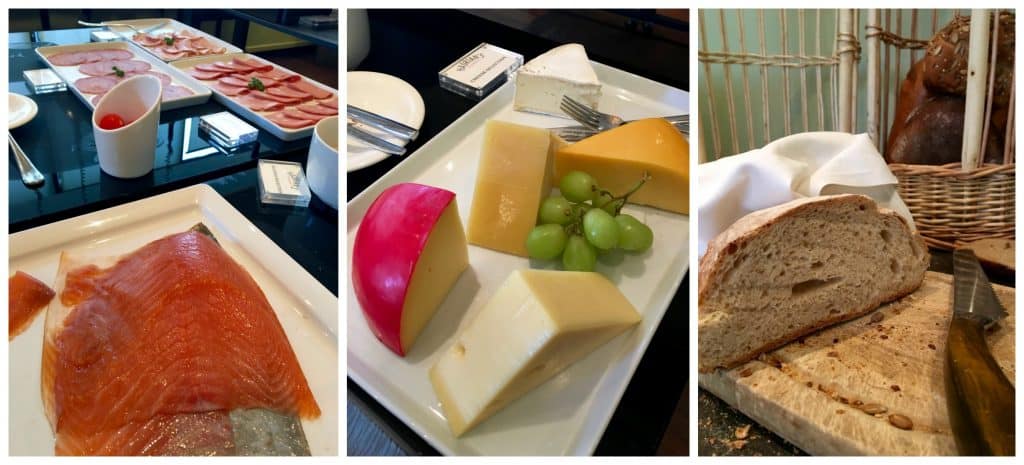 On to a plethora of cereals to pick from, plus plain yogurt and more toppings than you can shake a stick at. Of course, porridge is available, as well as Bircher muesli and real honeycomb!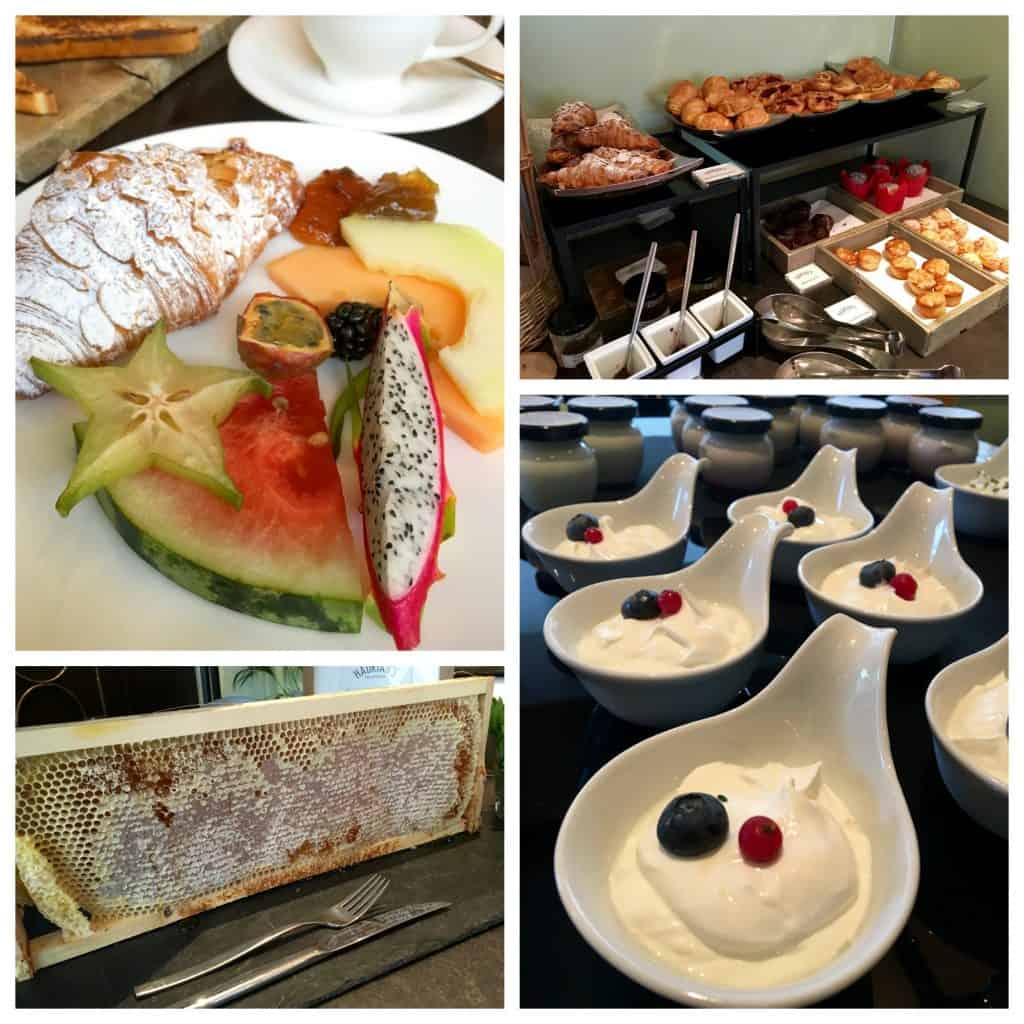 Full Scottish Breakfast
But wait until you see the pièce de résistance: the Full Scottish Breakfast (this plate is what I chose, but there are other options, too). My poached egg was perfect, and the bacon, sausage and black pudding were fantastic, but I was a bit surprised with the hash browns on my plate as they're not typically served with British breakfasts.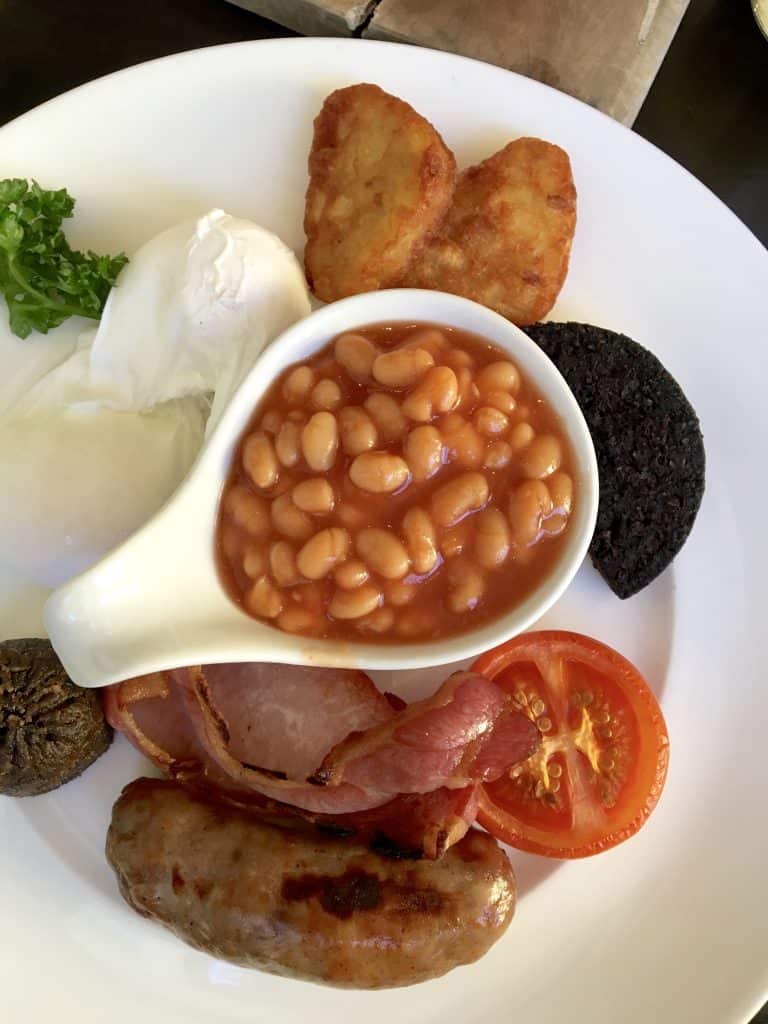 However, the next morning I asked about potato scones, and lo and behold, look at what appeared on my plate as part of my Full Scottish breakfast! Of course, a choice of freshly squeezed fruit juices (the orange was excellent) and tea or coffee accompanied this fantastic plate.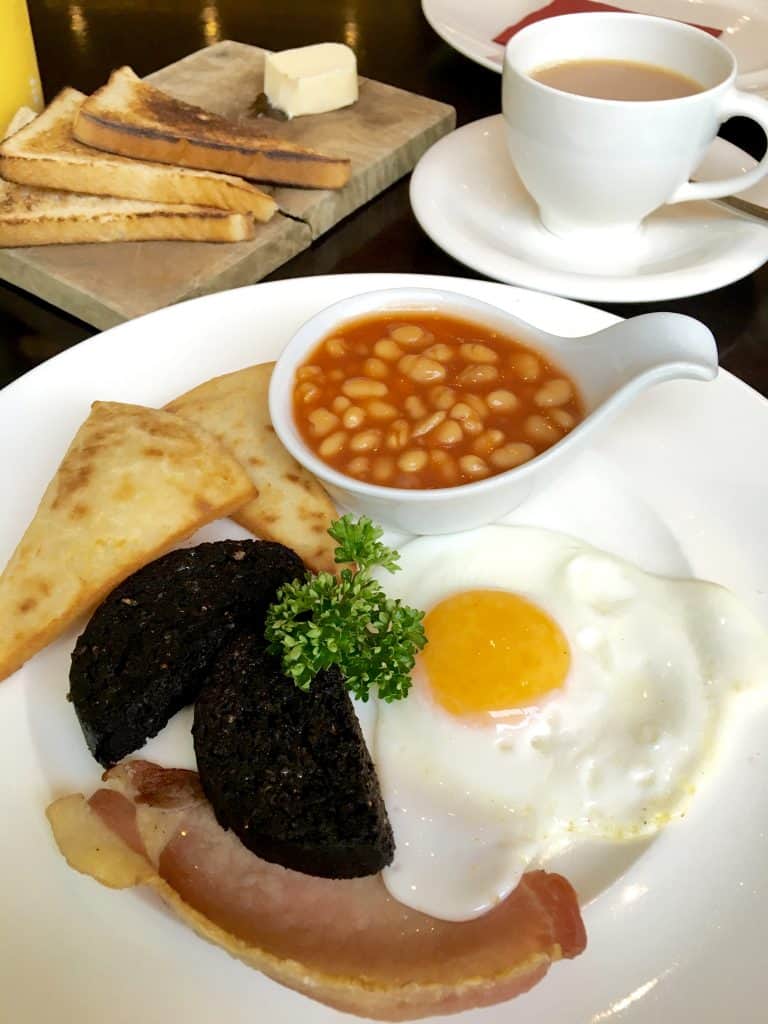 After our breakfast, fully satiated and primed for our day, Denisa and I decided to go for a walk up to Calton Hill. We had time before she had to check in for her study abroad program later that day.
One of the most charming members of the Balmoral staff is Pete the doorman. He stands as a sentinel in his tartan garb; a marvelous Scottish touch. We had a great conversation about cooking and baking!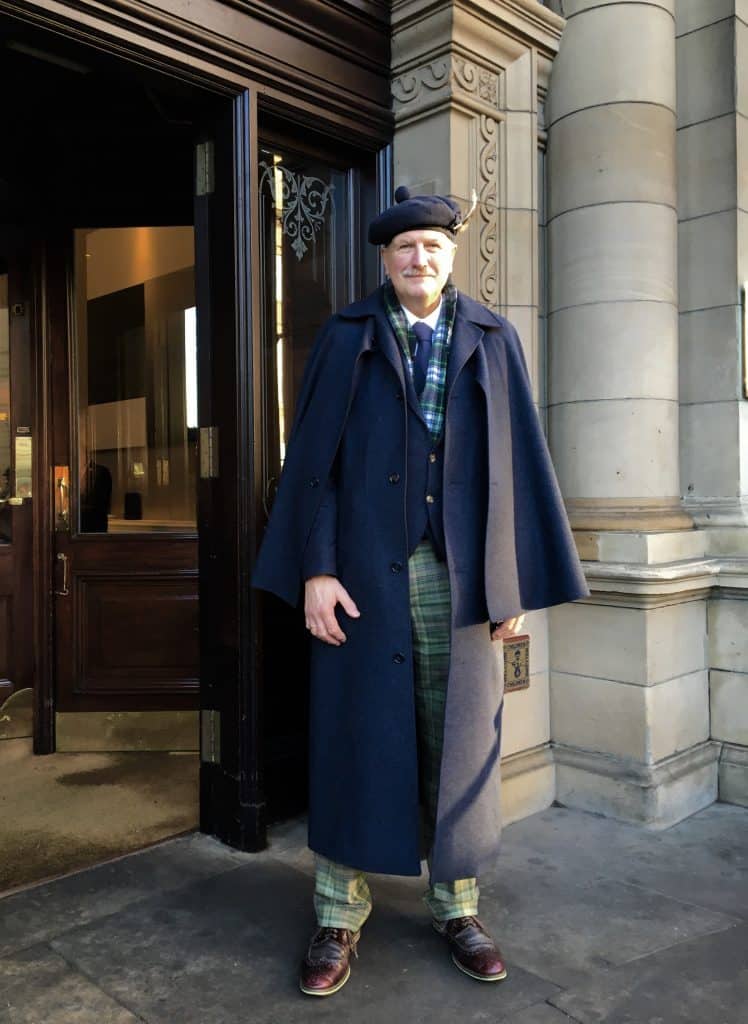 Calton Hill
The views from the top of Calton Hill are outstanding, and a "must see" when in Edinburgh. I highly recommend talking the walk to enjoy the view (not strenuous or difficult at all).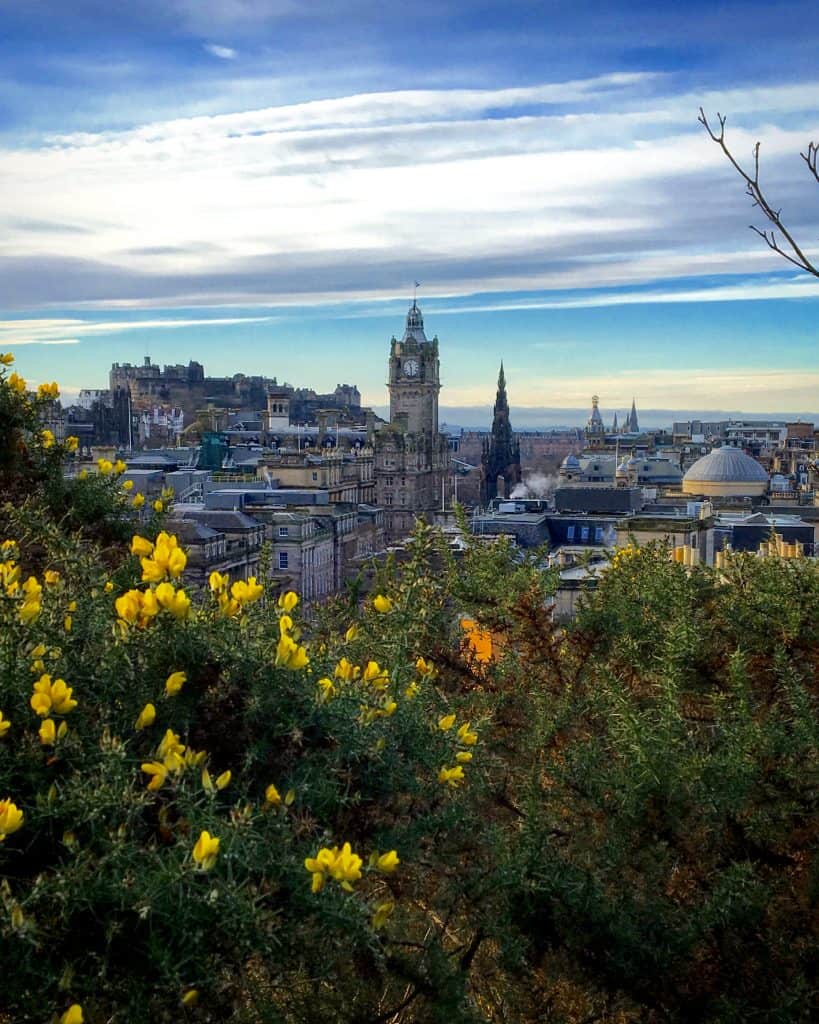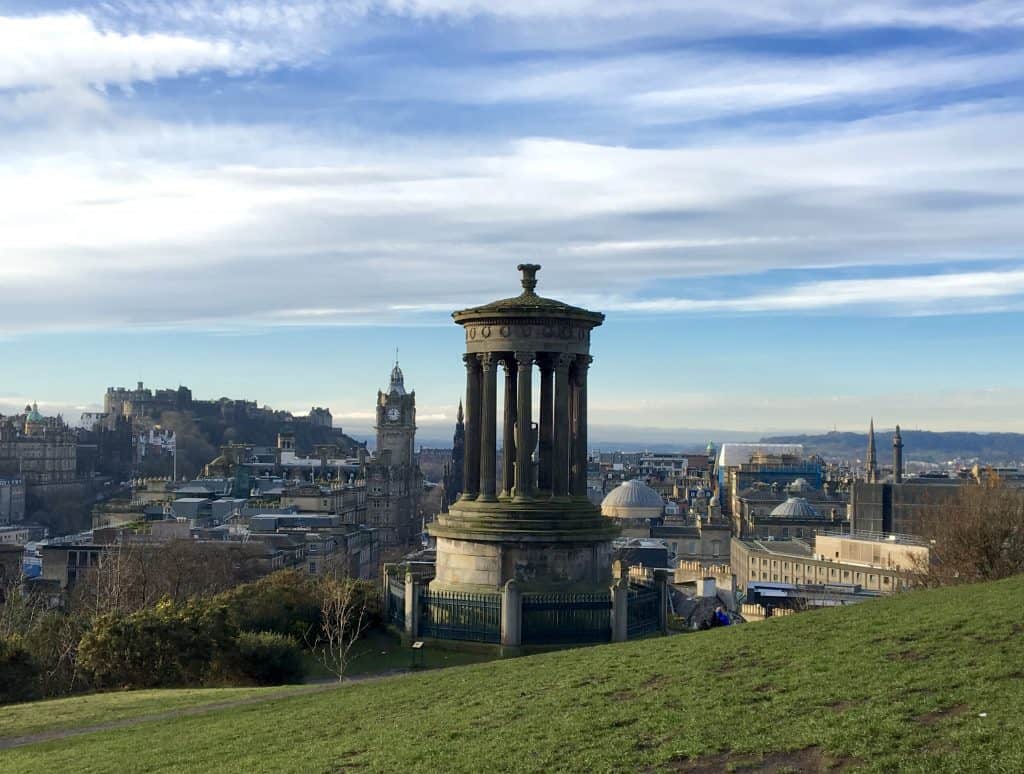 We were quite fortunate with the weather, as it was warmer on that January day than it was in Spain! Denisa and I spent more of the morning roaming the city of Edinburgh. I was delighted to realize just how many places of interest were within a relatively short walking distance from The Balmoral.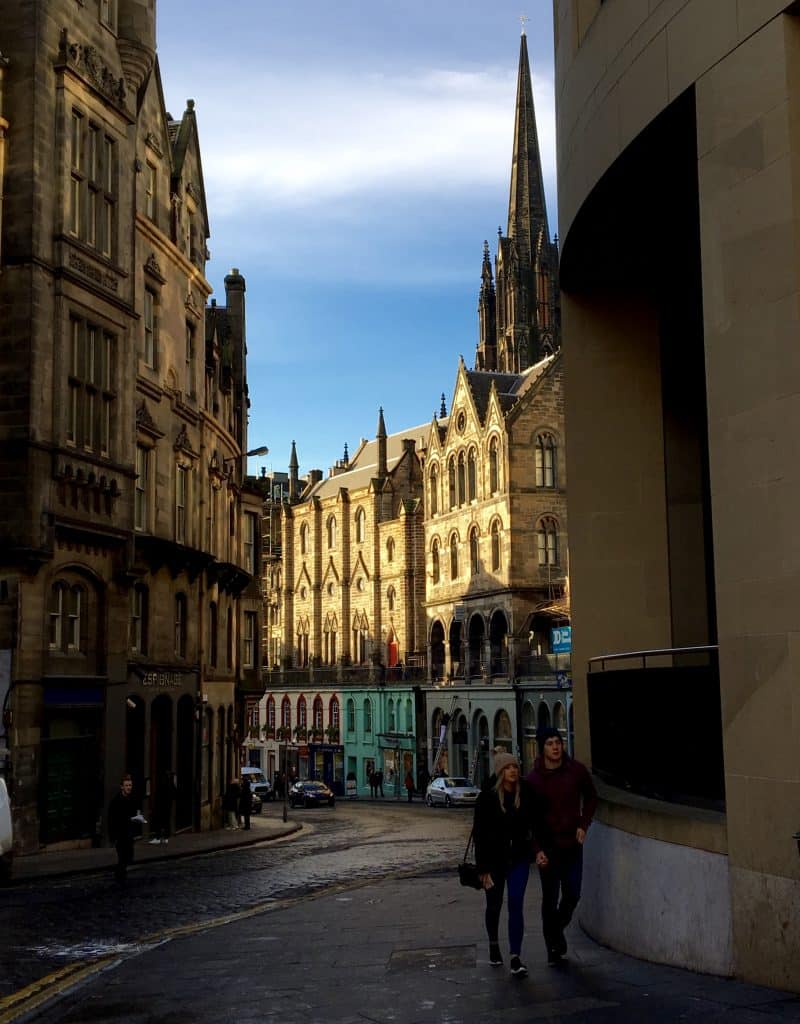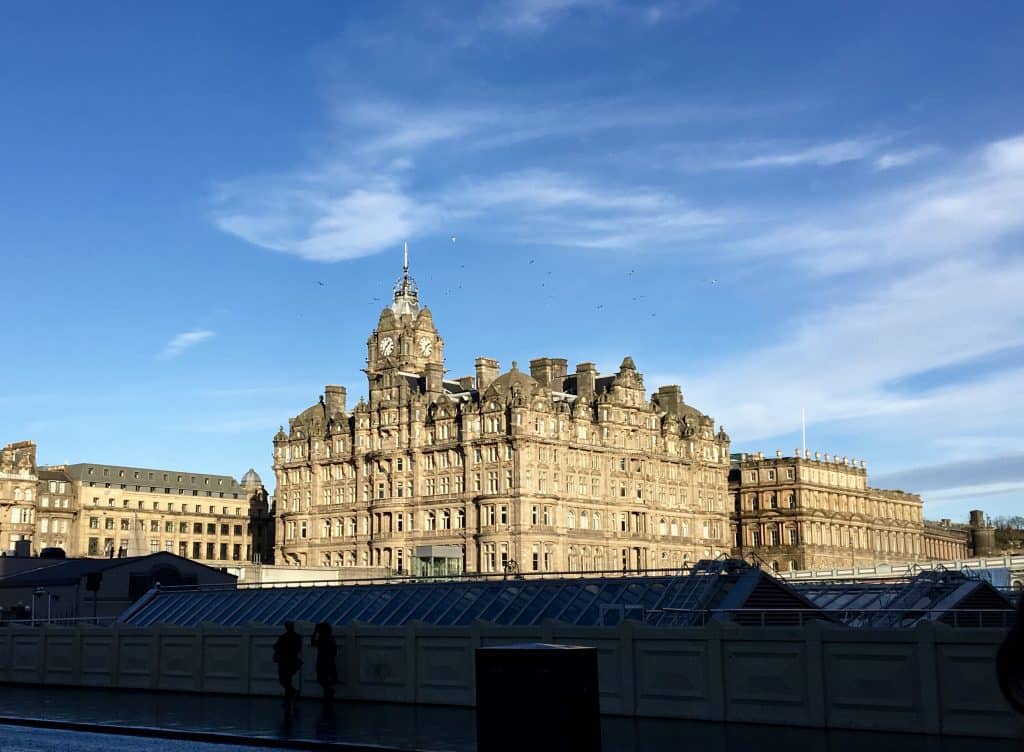 After lunch, it was time for Denisa to check into her study abroad program. We were incredibly lucky that the meeting place was just on the other side of Waverley Station. You can probably imagine, she had quite a bit of luggage for a five month stay. We had one last photo taken together in the lobby of The Balmoral before saying goodbye.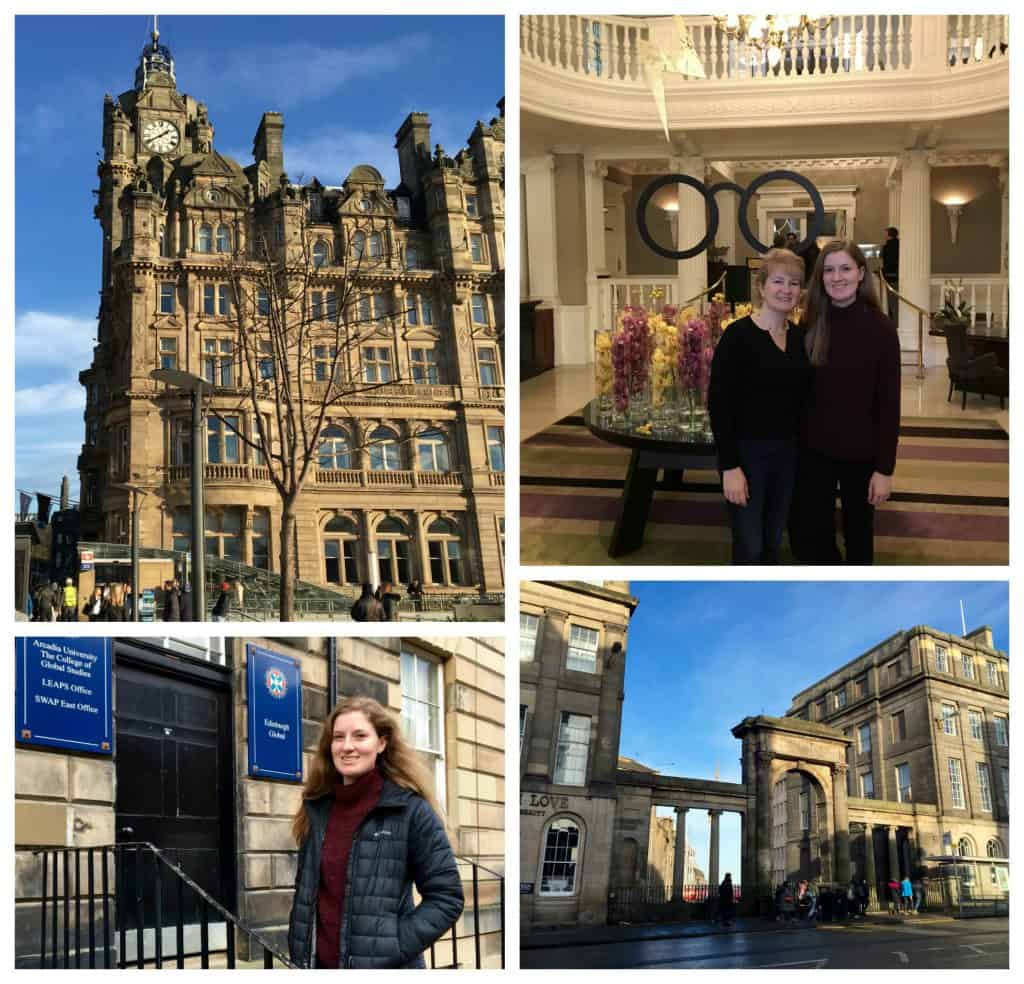 I was then on my own which meant Denisa wasn't there to pull me away from the window anymore. I was just a wee bit obsessed with that incredible view from my window; but honestly, can you blame me?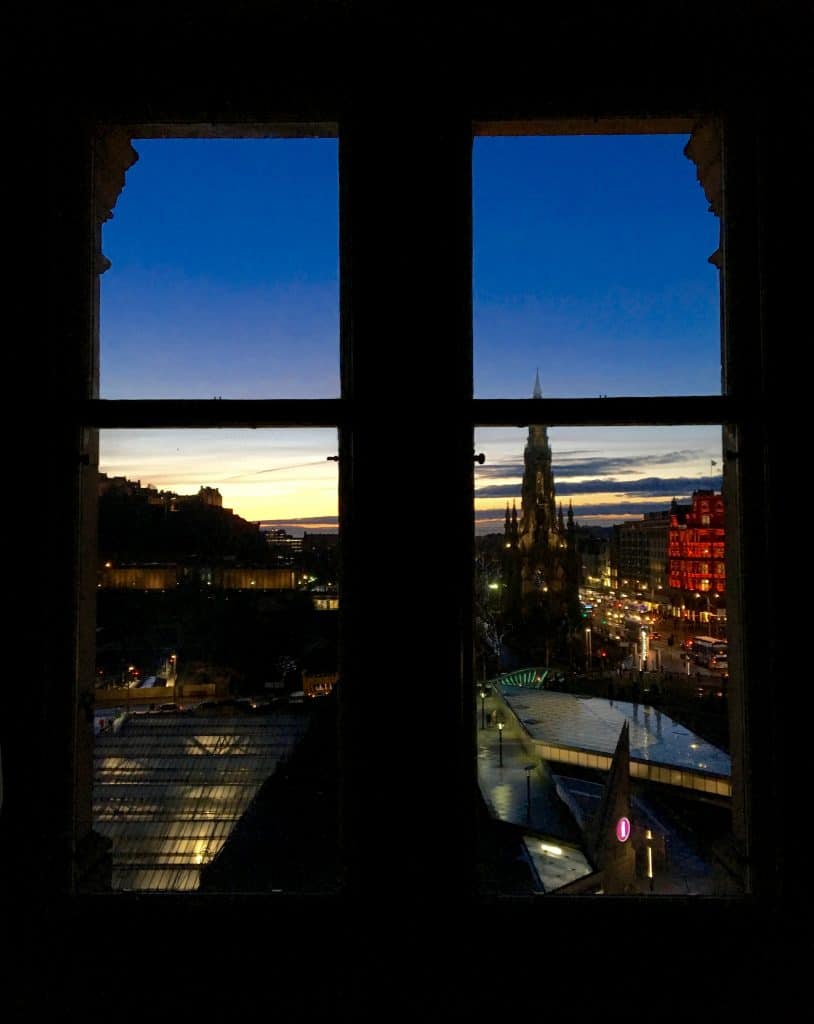 The Balmoral Whisky Bar
After dinner with family, including a surprise having Denisa join us, I popped into The Balmoral Whisky Bar to try a whisky. A loyal reader, Ralph from New York, had suggested I taste a whisky whilst in Scotland, and I wanted to oblige.
Note: The Balmoral Whisky Bar is not to be confused with The Balmoral Bar. The latter is where guests can enjoy a wide variety of wines, beers and spirits from around the world, as well as expertly crafted cocktails.
Chuck and Kiril, two fabulous young men, were the whisky ambassadors in the bar that evening. I really enjoyed spending some time chatting with them about whisky, and food, because somehow that second topic came up, too.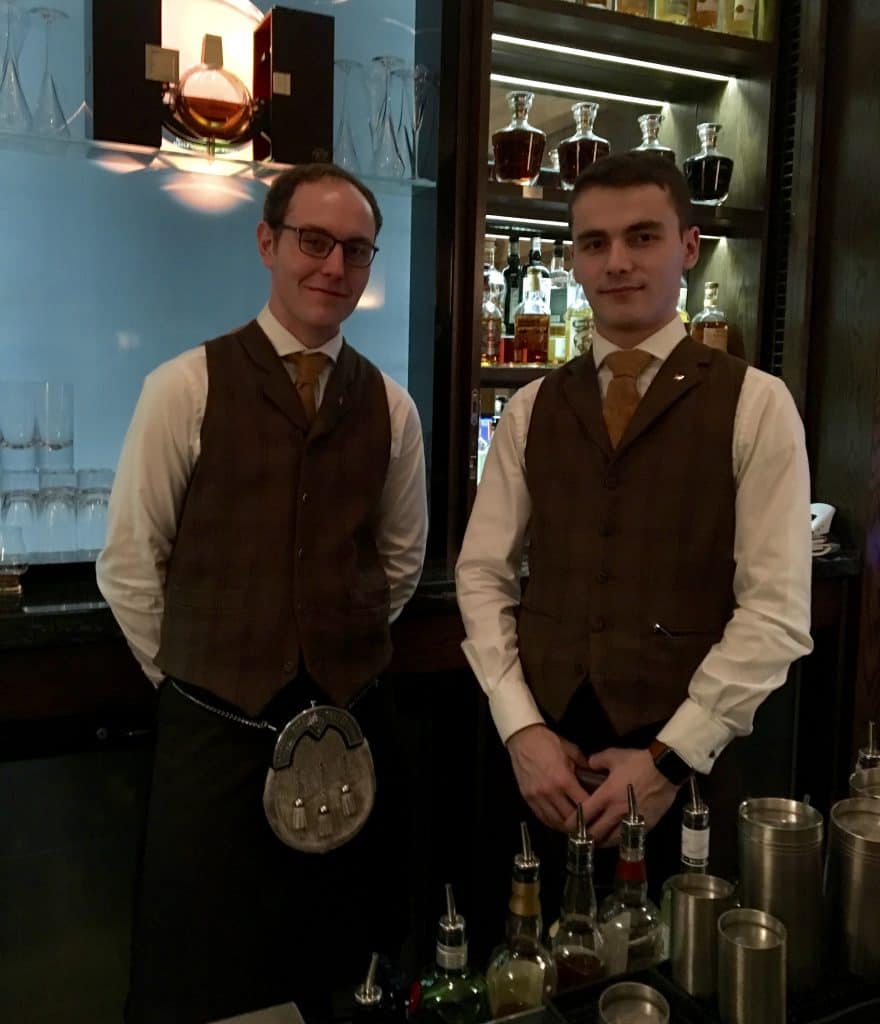 The whisky Ralph had suggested was Scapa Skiren from the Island of Orkney and I really enjoyed it. Thank you, Ralph!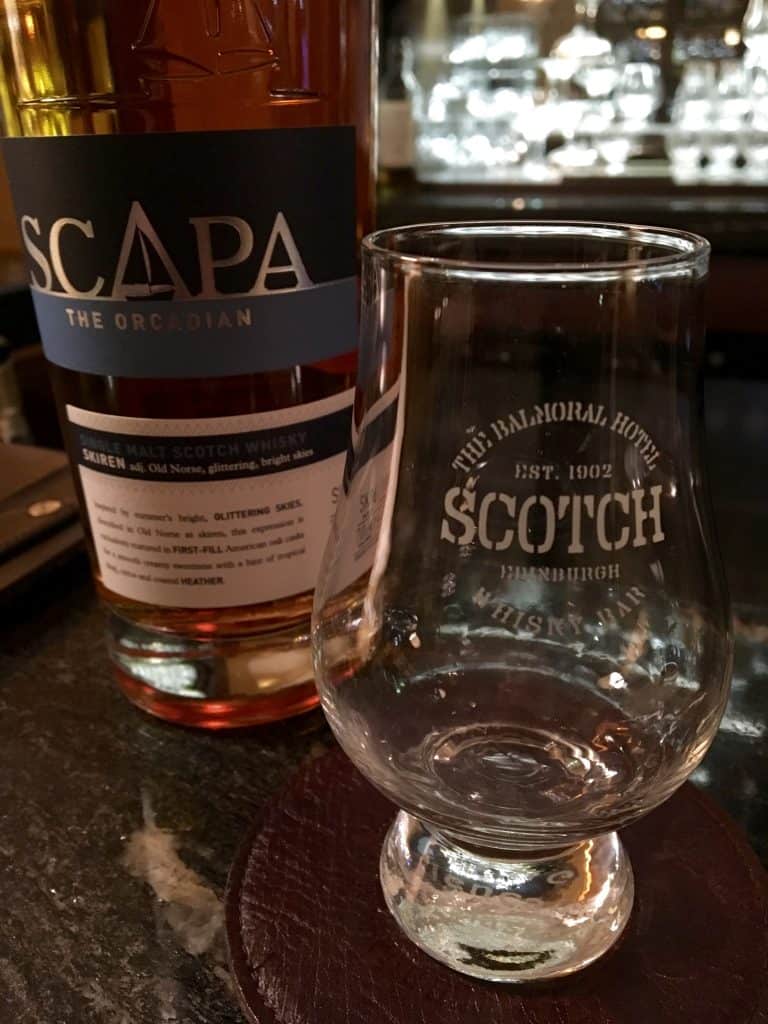 I wasn't surprised that they had this particular whisky. Chuck told me that the Balmoral Whisky Bar currently has 460 different whiskies, all from Scotland. So if you're a whisky fan, put this bar on your checklist when you go to Scotland. (This bar should entice you to visit Scotland!)

Did you know that Scotch "whisky" is spelled without an "e" and other whiskies are spelled "whiskey", with an "e"?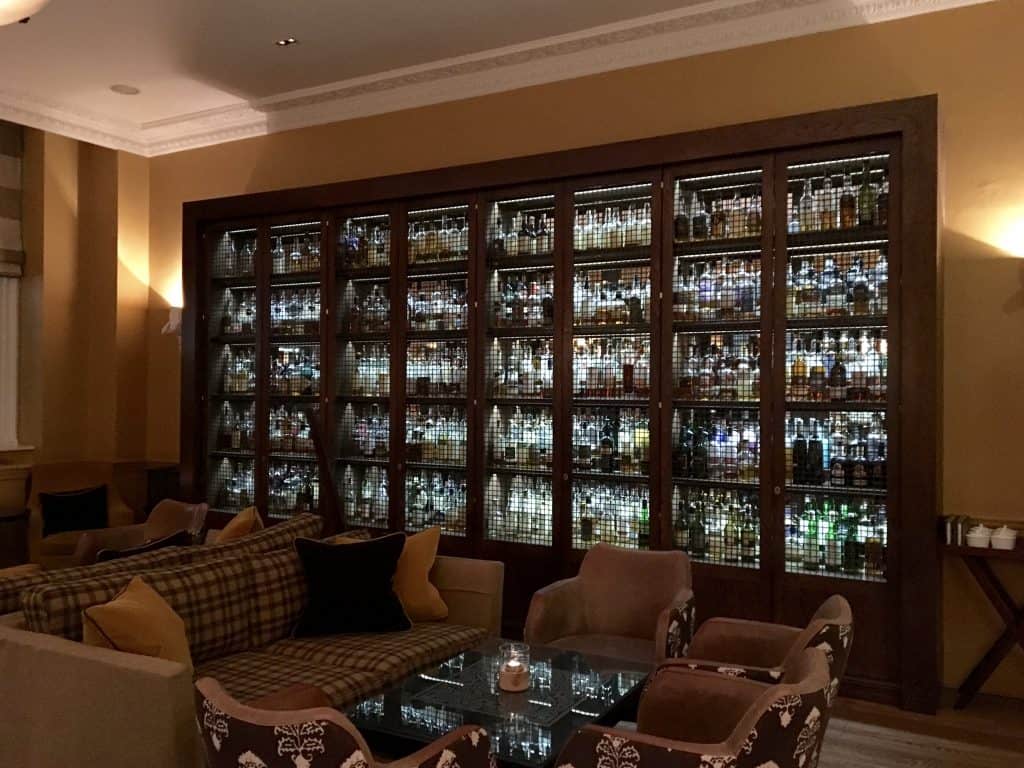 The Concierge
Another friendly face at The Balmoral is Steven, one of the many helpful and courteous concierges who staff the desk in the lobby. Steven was a joy to talk to, went above and beyond to make sure Denisa and I had everything we needed. He was quite simply an especially helpful concierge.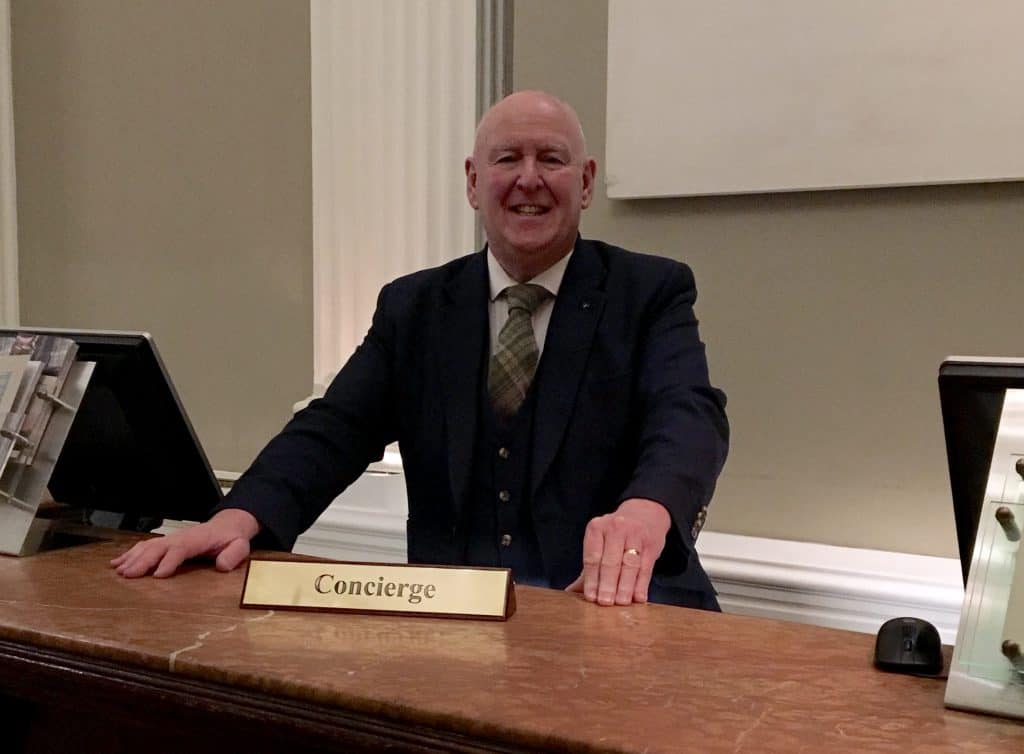 I noticed that each and every guest was treated the same way. Overall, I simply cannot say enough about the phenomenal and friendly staff at The Balmoral.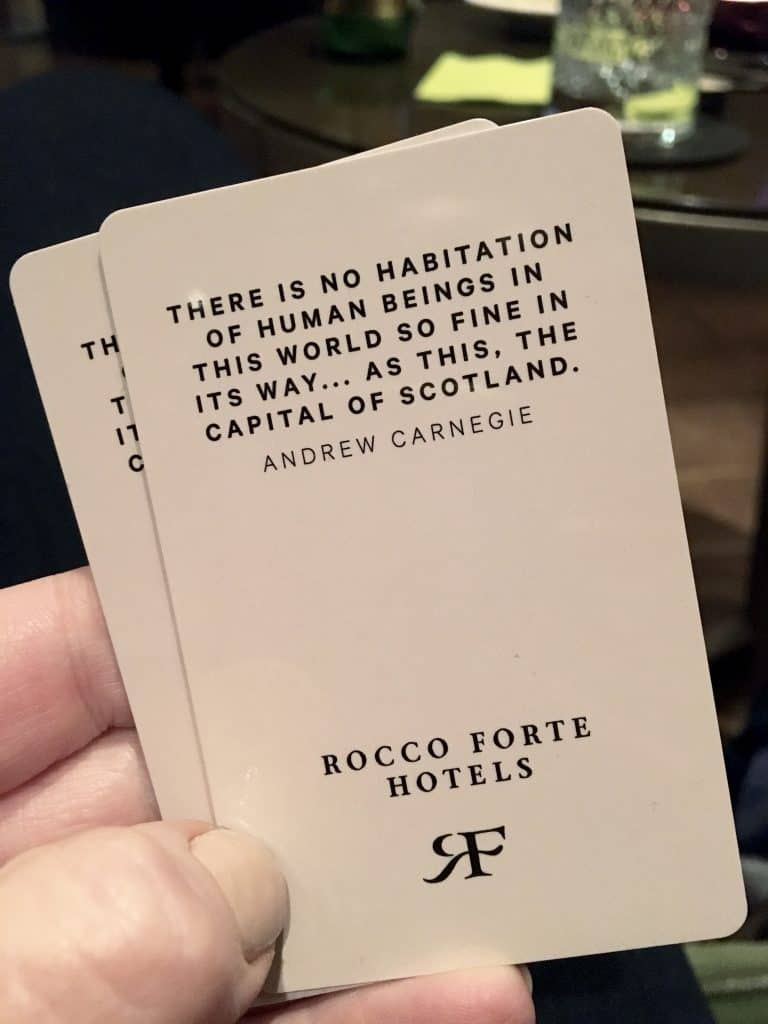 Again, I had a perfect night's sleep; I don't know how anyone couldn't sleep like a baby in this environment!
I was looking forward to spending the next morning at the spa. I'd made an appointment for a massage after spotting a fantastic deal on Facebook. However, I was not looking forward to checking out afterwards (insert sad face here)!
Stay tuned for more on the outstanding Balmoral Hotel and the scenic city of Edinburgh in my next post!
Click on the links below for more information or to book a stay.
ROCCO FORTE HOTELS & RESORTS WORLDWIDE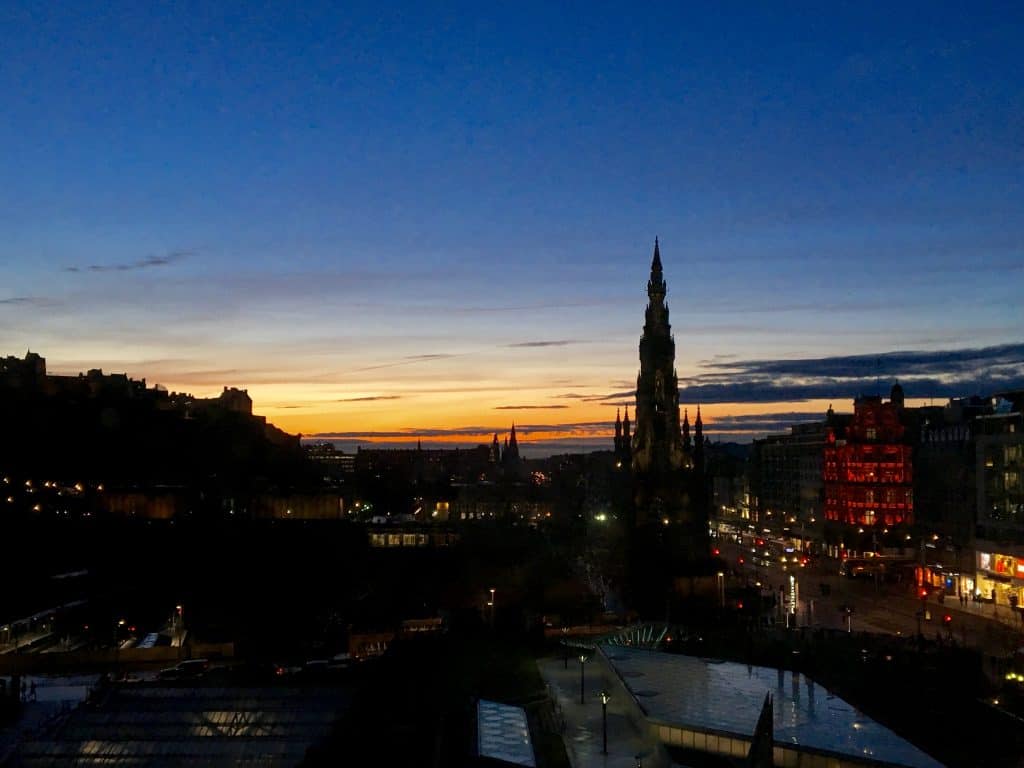 Don't miss another post! Sign up for my FREE subscription below.
(I promise not to sell or share your info, ever!)

Disclosure: Thank you to the Rocco Forte Balmoral Hotel for hosting my daughter and me for a two night stay with full Scottish breakfast at their phenomenal hotel. No conditions were made for a positive review and all opinions are always my own. I am disclosing this in accordance with FTC regulations.