Cruising the Rhine Gorge in Germany with its vast number of castles, and visiting Rüdesheim, a highlight of the area is easy to do on an AmaWaterways Enchanting Rhine river cruise!
I woke up realizing that we were moving, pulled back the curtains and this was my view–what a beautiful way to start the day.
We had been in Koblenz for the night and were leaving the Moselle River to continue on the Rhine towards the famous Rhine Gorge, a UNESCO World Heritage Site. On this day, we would see the greatest concentration of castles in one area, in the world. Of the 40 or so castles, we would be seeing no less than 30 of them and ultimately docking in Rüdesheim.
Disclosure: my mother and I were hosted for an Enchanting Rhine river cruise courtesy of AmaWaterways. No conditions were made for a review and as always, my opinions are solely mine.
We had a great view of the William I monument in the German Corner, and also the Fortress Ehrenbreitstein among other sights along the Rhine.
Not too far from Koblenz is the Stolzenfels Castle which is no longer a castle, but a Gothic-revival palace.
Remember I told you that I had a croissant with Nutella for breakfast every day of the cruise? I wasn't lying.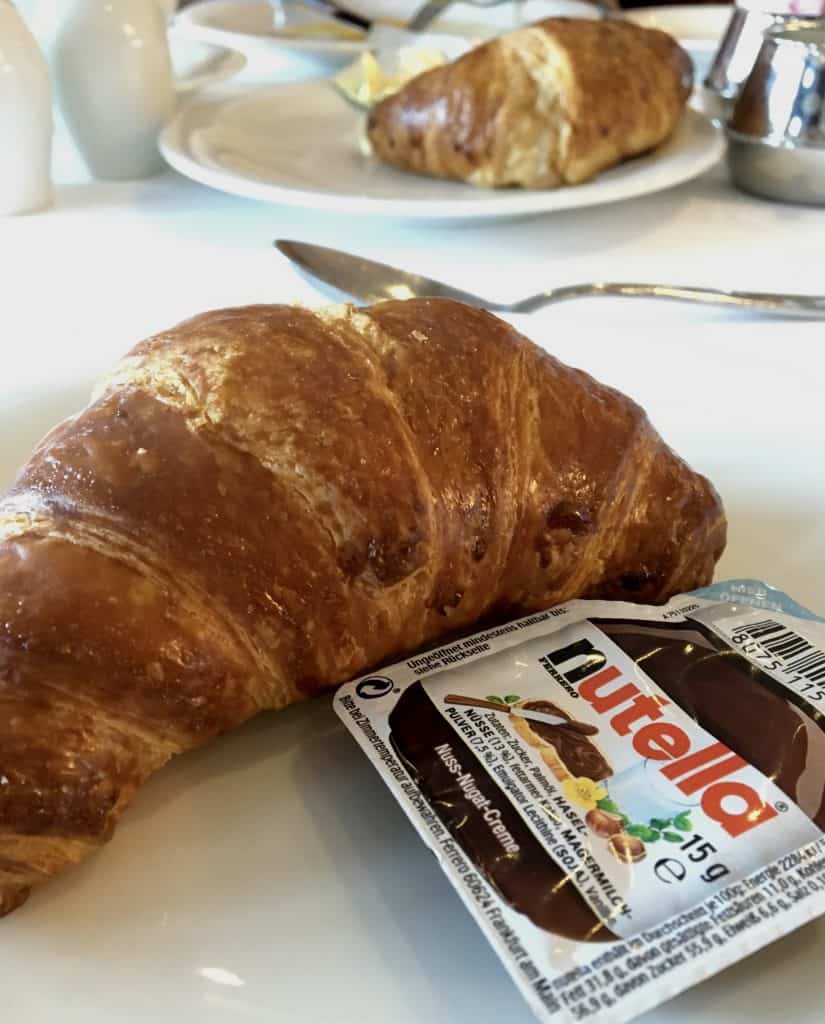 The croissants were just too good to pass up! However, that's not all I ate for breakfast, I usually also had half a grapefruit, fresh fruit salad, yogurt and sometimes an egg, and smoked salmon–there were so many choices, including cooked to order dishes such as omelettes. My mother didn't have quite as many croissants as me, but she loved them, too.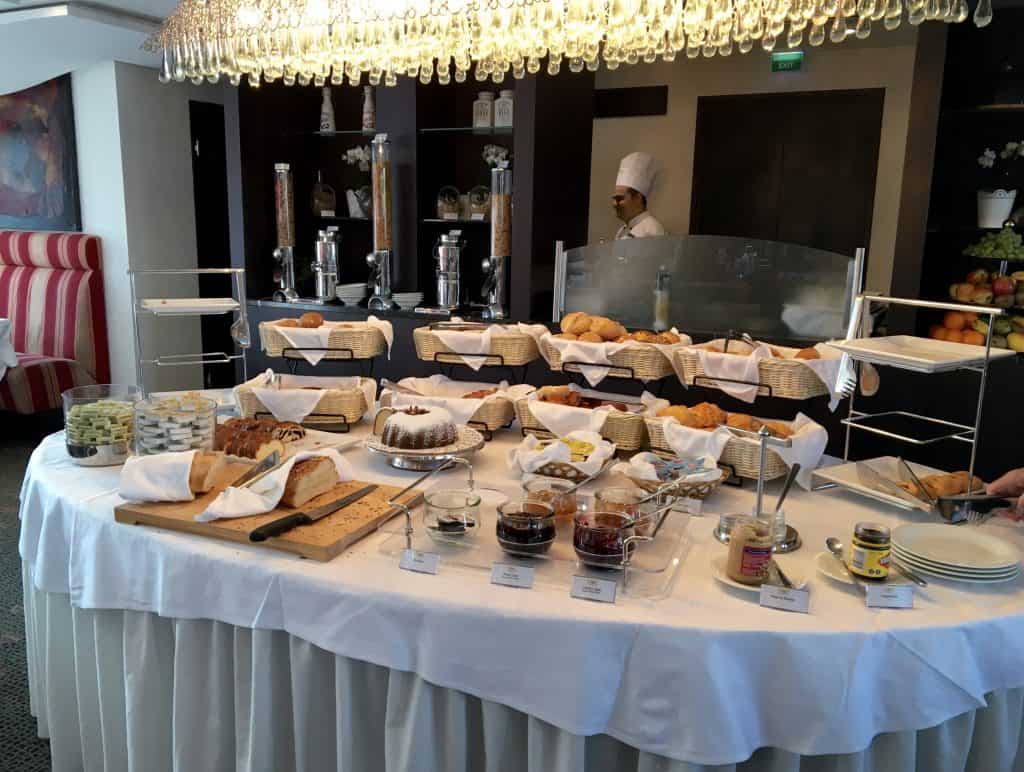 After breakfast we headed up to the sundeck of the ship for a better view of the castles and towns along the Rhine. Luckily, the weather seemed to be getting progressively better each day, and it wasn't too cold at all. Some guests were walking around the "track" for exercise.
I have to add that by this point we had met so many lovely people on board, and would often chat with them, or eat a meal together. Both Mum and I really enjoyed this aspect of the cruise as it's unlike the experience on a large ocean cruise with thousands of passengers.
Armed with our map of the Rhine Gorge Castles, Mum and I were ready for professional-level castle-watching! The attention to detail, such as this map, and other maps of the cities and towns we visited, is one of the characteristics that tells me that AmaWaterways truly thinks of everything so that guests need not worry about anything–it's all taken care of, always.
I wanted to make sure I got a good view of the little town of Boppard whilst cruising the Rhine Gorge as my family had spent a weekend there once when my children were about 4 and 7 years old. They still remember it as it was one of our most memorable trips, and we took many of them. Here are some of the views before we reached Boppard.
Do you see the gondolas going up to the top of the mountain? That was one of my family's activities the weekend we were in Boppard, as well as visiting the Marksburg Castle (the only castle on the Rhine that wasn't destroyed.) It was a very hot day in April, and once we reached the top, we were afforded the best view of the largest bend in the Rhine River and the sleepy little town of Boppard.
Here are a couple of photos from that trip. My children are now 18 and 22! As you can see, I have it in a frame as it's one of my favorite photos. You can see the Rhine and Boppard in the background.
Just around the bend was Boppard! I was so happy to see it once more, and definitely must make it a point to visit once more, hopefully with the whole family again. Here is a video clip I took while we cruised passed the little town.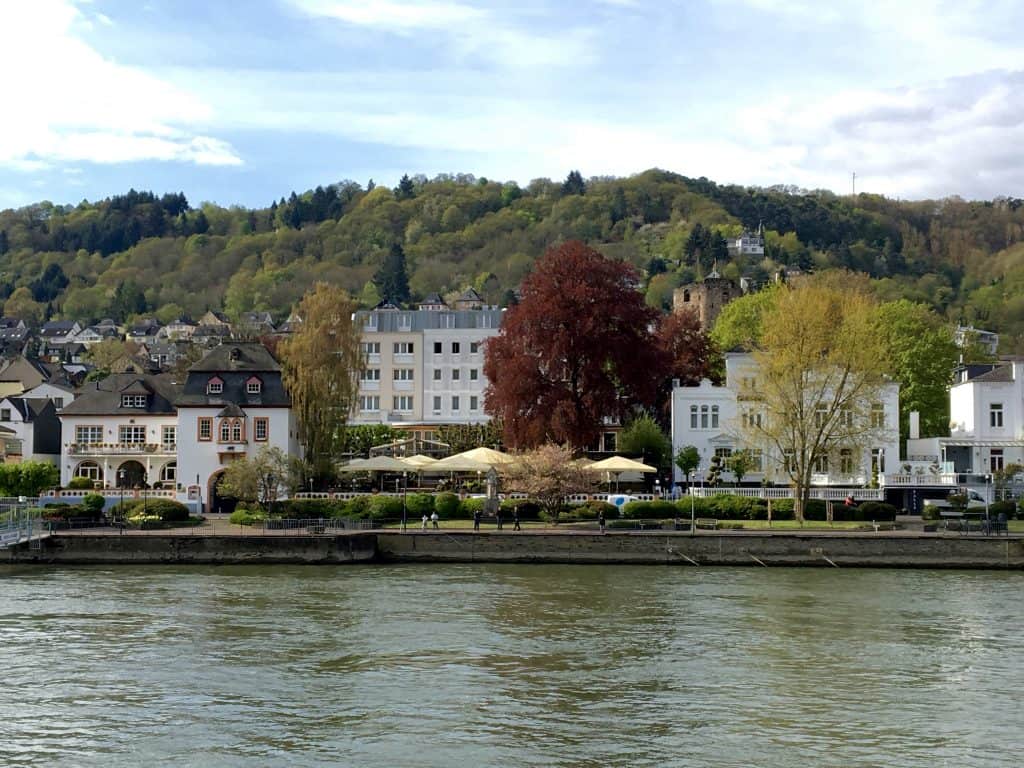 After passing Boppard, we began to see castles more frequently. In fact, this wasn't the first time I had cruised down this stretch of the Rhine as we had taken a short cruise to the Loreley Rock during our stay in Boppard.
The castles and pretty little towns and villages just kept coming, and my mother was over the moon–cruising the Rhine Gorge had been her dream for many years!
The Rhine has many curves and bends in the river as you can see from this panoramic photo.
Here is a view of the sundeck with a castle in the background. You can imagine that in warmer weather, the umbrellas would be open.
As we were approaching Loreley Rock, a famous large rock on the bank of the Rhine River, Edward, our cruise manager had told us they had something special for us. It was a sample of what was to come later that evening: a Rüdesheimer Coffee–coffee, sugar, brandy and whipped cream, so what's not to love!
Located in the narrowest and deepest part of the Rhine River, Loreley Rock has inspired many tales and folklore due to the murmuring sound which echoed from the sound of a waterfall. The rock was not difficult to see as we approached it, simply due to its size.
Edward had been giving us ongoing commentary about the sights while we cruised during the morning. Whomever wanted to hear the information would turn on their QuietVox set and could hear Edward explaining what we were seeing–it is a brilliant system. Mum and I listened and really enjoyed all the facts and history about the places we passed.
We continued cruising the Rhine Gorge , making our way to Rüdesheim, where we would dock for the evening.
As you could see, the clouds just couldn't stay away for too long. The castle in the following photo used to be a hotel, but is no longer in operation. You can also see the vineyards, which dotted the riverside all along our route.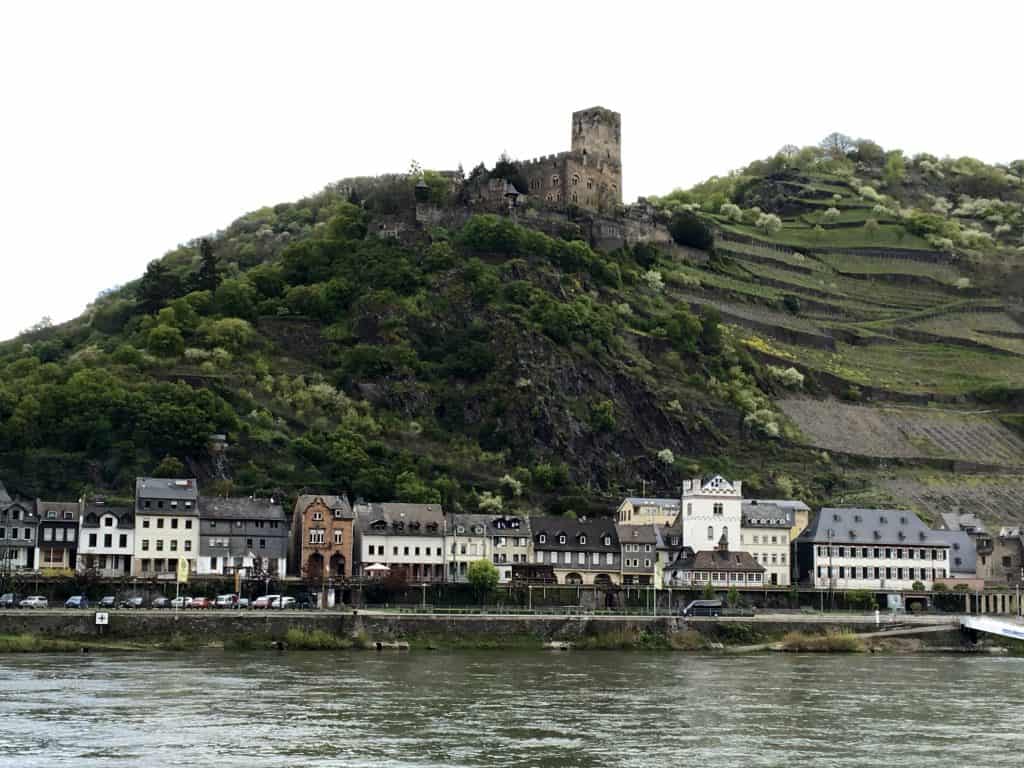 There was one castle, the Pfalzgrafenstein Castle that was not on the hillside, but in the middle of the Rhine! Apparently, it made it very convenient to collect tolls from passing ships.
There were many more castles while cruising the Rhine Gorge, but at about one o'clock, everyone headed down to the main restaurant for lunch. We didn't have to worry about missing the scenery, because this photo was taken from the restaurant.
Today's menu was a typical German lunch which included sausages, roasted pig, sauerkraut, pretzels and much more. I want to note that although AmaWaterways requests written allergy information well before the cruise, the staff was excellent about asking for allergies. I really appreciate this because of my daughter's serious nut allergies.
Here is my plate full of German deliciousness! Everything was wonderful–honestly, I sound repetitive, but it was all so tasty!
And more!
I took a photo of the Black Forest Cake, but both Mum and I were so full, we just couldn't manage dessert! I did have some lovely white wine, though and asked for a pretzel that hadn't been cut to take a photo. Mission accomplished.
We docked in Rüdesheim about 2 pm, and shortly thereafter, everyone went into town for their respective tours. We could have walked into town as it wasn't far at all, but there was a "train" that took us directly to the winery. Edward called it a "choo-choo", and when I saw it, I knew why. :)
Mum and I had chosen the wine tasting option, but others were taking a gondola ride (a bike tour was also an option, but due to the weather, no one was taking the chance.)
We walked down into the cellar of the winery and took a seat for the tasting. Hans, our host was hilarious; if you know The Two Ronnies, this German winemaker has a penchant for the mannerisms and speech of Ronnie Barker.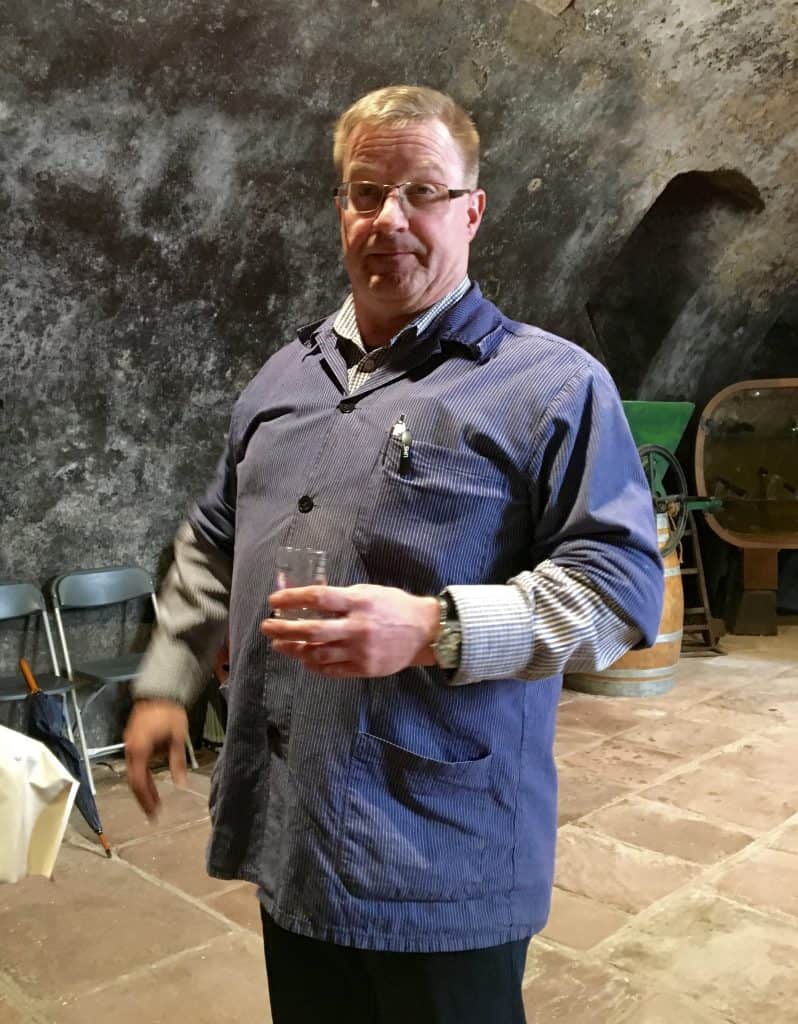 We had three wine tastings, starting with a strong, dry Reisling, which had flavors of yellow and green fruits: a good choice with seafood (16%.) I liked this wine, and was eager to try more. We were given a pretzel (brezel) to eat between wines to cleanse our palates.
We got more of a history lesson with the second and third wines. The next wine was made from a Reisling-Sylvaner grape which was introduced by a Professor Müller. Most of the vineyards in Germany are planted on steep slopes (as you saw in the photo above) which means that grape picking must be done by hand. The second white wine was an 11% medium Reisling, from Dragonstone Vineyard, also from the Rüdesheim area and it was a lighter, very palatable wine with notes of pear.
The last wine was the sweetest by far, made from grapes which are picked in October. We were told that many years ago, before 1775, the monks weren't allowed to harvest the grapes without authorization from the archbiship. When the grapes were ready to be picked, they'd have to send a messenger to the archbishop, and that messenger would have to bring back the permission before the grapes could be harvested, but by then, it was too late!
This eis wine (ice wine) needs an Indian summer to be made, and a condition called "Noble Rot" gives the wine a concentrated flavor, but it can also ruin the grapes if the conditions are not right. In order for grapes to be made into eis wine, they need 3 consecutive nights of frost or -7 degrees C, so it's understandable that under these conditions, there is an average of only 3 eis wines made each decade. It was a very good dessert wine, and both Mum and I and our friends at the same table really enjoyed it.
We were free to explore Rüdesheim on our own, and later head back to the ship for dinner.
Soon we came upon something I recognized from a video my friend Cynthia from What a Girl Eats had shared from her recent trip to Prague: baumstriezel, or chimney cakes! They have different names in different countries or regions, but are basically a sort of dough, rolled onto a cylinder and baked with different flavored toppings. What they are is incredibly tasty! Click here for a video of how they are made.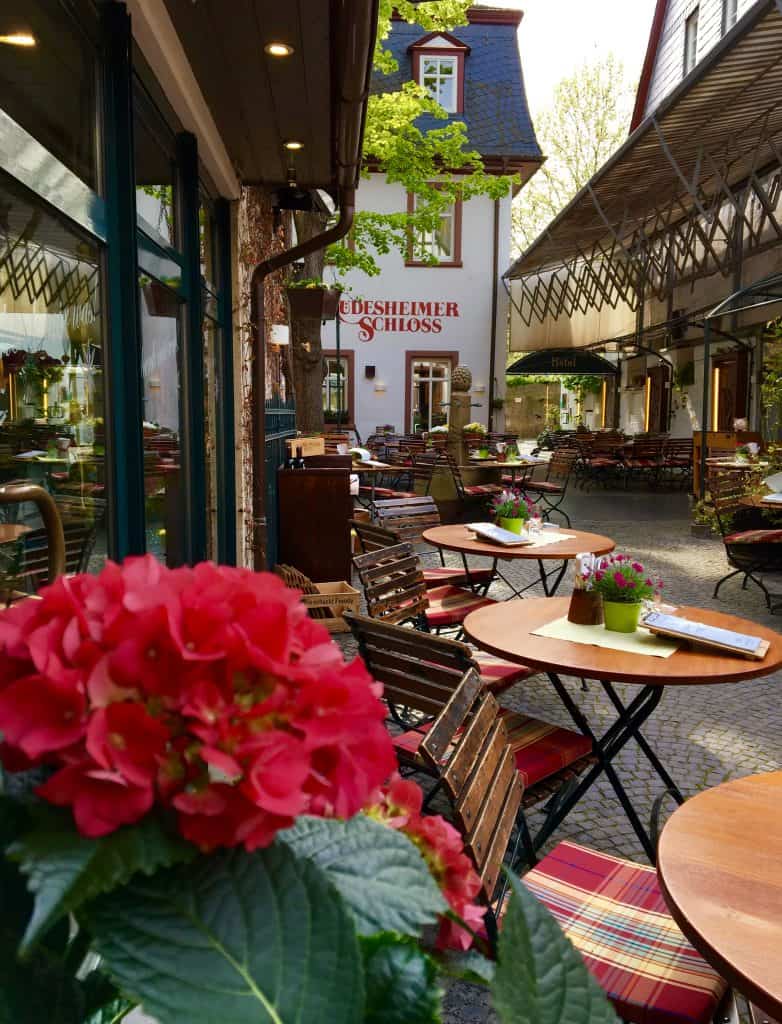 Mum and I were able to see so much of the picturesque town and even went to mass at the local Catholic church.
We walked the short distance back to the ship for another lovely dinner. This is an example of the menu we would have every evening, along with a list of the Chef's recommendations. I had the fish and my mother had the beef that evening. Impeccable service and scrumptious food, as you can see from the appetizer and dessert alone.
After dinner on the ship, there was an option to go back into Rüdesheim to visit Siegfried's Mechanical Music Museum (the largest collection of mechanical music boxes) or to Rüdesheimer Schloss for an authentic Rüdesheimer coffee (this was our choice after tasting the one on the ship earlier!) We joined Edward and took the "train" back into the lovely town and walked to the Rüdesheimer Schloss. It was even more charming at night.
The restaurant was very welcoming with its high beamed ceilings, warm candlelight and carved wooden details throughout, while live accordion music drifted to the front door as we entered. The lively atmosphere was a surprise compared to the quiet, empty streets outside. We were seated immediately, and Edward put in the order for over 20 famous Rüdesheimer coffees! It was fantastic to watch them being made, especially since there were so many being prepared at once. Click on the photo below to see the brandy being added (I think it's so funny that Scotland the Brave is being played by the musicians!)
As I explained earlier, Rüdesheimer coffee is a concoction of brandy, sweetened coffee and whipped cream, but it's not just put in a cup. First of all, an authentic Rüdesheimer coffee is served in a special handle-less, footed cup (I wish I could have bought two to bring home). The brandy is poured in first and lit before the sugar cube sweetened coffee is added, then the whipped cream and chocolate tops it all off. It tastes as phenomenal as it sounds, believe me! Here is another clip showing the server stirring the flaming brandy–just click on the photo.
After the coffee is poured over the brandy, the whipped cream is added along with shaved chocolate.
Everyone had a great time and some of the guests even had a second coffee. I was tempted, but my ever-tightening waistband had the last say!
Afterwards, Mum and I joined Edward and a few others for our ride back to the ship, but others stayed at the Schloss as they were such having a great time. And so ended the fourth day of our brilliant cruise, in Rüdesheim.
I hope you enjoyed my review on cruising the Rhine Gorge on the Enchanting Rhine River cruise!
More information about the beautiful AmaCerto or AmaWaterways
Don't miss another recipe or travel post, sign up for my free subscription below!
Continue to Day 5: Heidelberg, Germany
______
Disclosure:my mother and I were hosted for an Enchanting Rhine river cruise courtesy of AmaWaterways.
No conditions were made for a review and as always, my opinions are solely mine.
I am posting this in accordance with FTC regulations.