With these 6 things to do in 16 hours in Charlotte, North Carolina, you'll have a nice list to go on if you ever get stranded as we did.
As you may or may not know, I haven't posted in quite a while because my son just graduated from Georgetown University.
As an Amazon Associate I earn from qualifying purchases.
A Georgetown University Graduate
I just can't believe how fast those four years went by. However, Steven graduated at 20, so this really shouldn't have happened for another one or two years.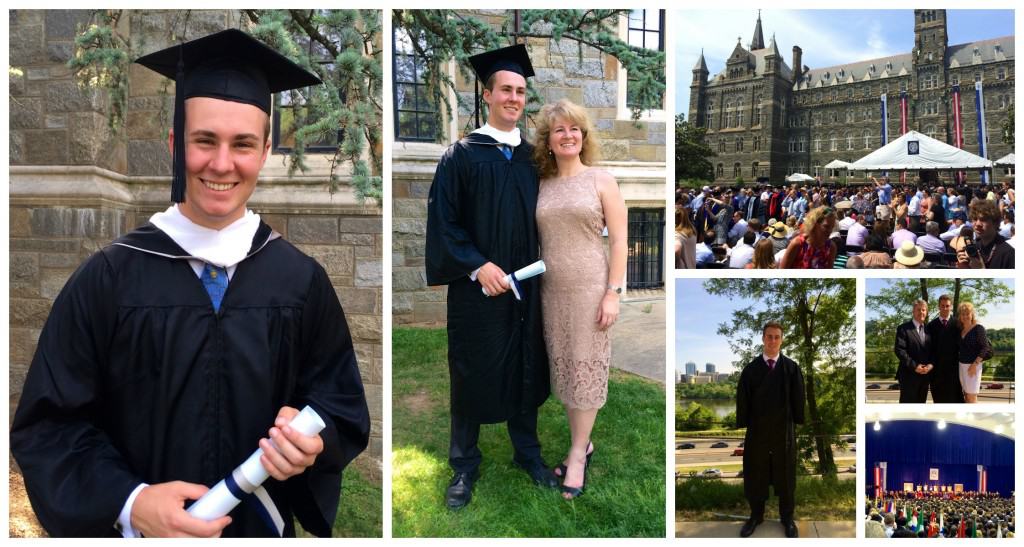 Between all the planning and travel problems beforehand, and getting ready for my daughter to go to her prom and graduate from high school in less than two weeks, I really haven't had time to publish anything. I found out our airline tickets had been cancelled three days before leaving. I don't even have a menu planned for my daughter's graduation party, yet!
Disclosure: City Smoke hosted my husband and me for lunch; we paid for everything else and, as always, all opinions are my own.
If you follow me on social media, you'll already know that on our flight home, my husband and I were stranded in Charlotte, North Carolina overnight and well into the next day. This was due to weather issues. However, instead of it being a major inconvenience, it actually turned into a lovely stopover.
Charlotte is a very beautiful and clean city. Although it was forecast to rain, we awoke to a clear, blue sky. We were in Charlotte for a grand total of 16 hours (8 of which we slept through) so truly, there is plenty of time to be able to do all of these things in this time frame.
Without further ado, here are~
6 Things to do in 16 Hours in Charlotte, North Carolina
✧
1. 7th Street Public Market
This is a wonderful indoor market featuring locally sourced products from regional farmers as well as food artisans and entrepreneurs. You can find a bakery, creperie, juice bar, and eat sushi, pizza and so much more. Not Just Coffee had been recommended to us and I'm so glad it was.
My husband had a pour-over coffee which he enjoyed, and I ordered hot chocolate which was really good! I can't say that very often when I order hot chocolate in the US as it's usually not my cup of tea (ha ha!).
The flavor was honest-to-goodness chocolate, which is not always easy to find. I just added a little of my husband's coffee to make it a little less sweet, and more to my liking. Chris and Erin, The Not Just Coffee crew, were very friendly and spoke to us as we waited for our beverages.
Tanner, the barista, even created the foam art on my hot chocolate near me so I could film it. Click on his photo to see the short clip~
2. Bar Cocoa
Is located in the lobby of the Ritz Carlton in Charlotte. I am including Bar Cocoa on this list because it looked much too good to pass up, and just reading about it on their website makes me want to book a flight right back to Charlotte; I could kick myself for not going back later for a takeaway!
3. The EpiCentre
Is in uptown Charlotte is not really a shopping center as there are very few shops, but it's more entertainment venues and restaurants. We popped in to walk around for a while as it still wasn't quite time for lunch. There was a very kind gentleman at the Greek IOS Kitchen restaurant who gave me a bag to replace a torn one I had. Both my husband and I noticed that people in Charlotte were extremely friendly and helpful.
4. City Smoke.
This restaurant was on a list that a Facebook follower sent me (thanks, Ed) of the best BBQ places in Charlotte, North Carolina. Coincidentally, it just so happened to be directly across the street from our bus stop! Was it a sign? City Smoke is centrally located in uptown Charlotte, and is my kind of restaurant because they make everything in-house. We arrived before noon, so it wasn't very busy then, but it filled up quickly.
Our lovely waitress, Dezzaray, helped us navigate the menu and we decided to try the sampler platter. It included pulled pork, Texas dry rubbed ribs, Kansas City ribs and brisket along with homemade mac and cheese, collard greens, 2 different types of cole slaw and jalapeno corn bread. It was a lot of food!
I had spoken to the manager, Stephanie, when we'd gone across the street earlier to look at a menu. She encouraged us to come back and told me that their food was so good it would win me over. I explained to her that I had very high standards, but she held her ground.
After tasting everything on the platter, I understood why Stephanie was adamant about the fact that we'd be sold with their food. Everything I tasted was superb. My husband just had a hard time waiting for me to take pictures before he could dig in.
The Ribs and Sides
I'll admit that I did think there would be few things that wouldn't win my favor, but I was very wrong! My favorite meat was the Texas style ribs with City Smoke's own barbecue sauce which is savory and smoky and little bit spicy. (I LOVED this sauce, and if I could have bought a bottle, I would have. Unfortunately, we were flying with only carry-on bags so TSA would have confiscated my City Smoke bottle of goodness!)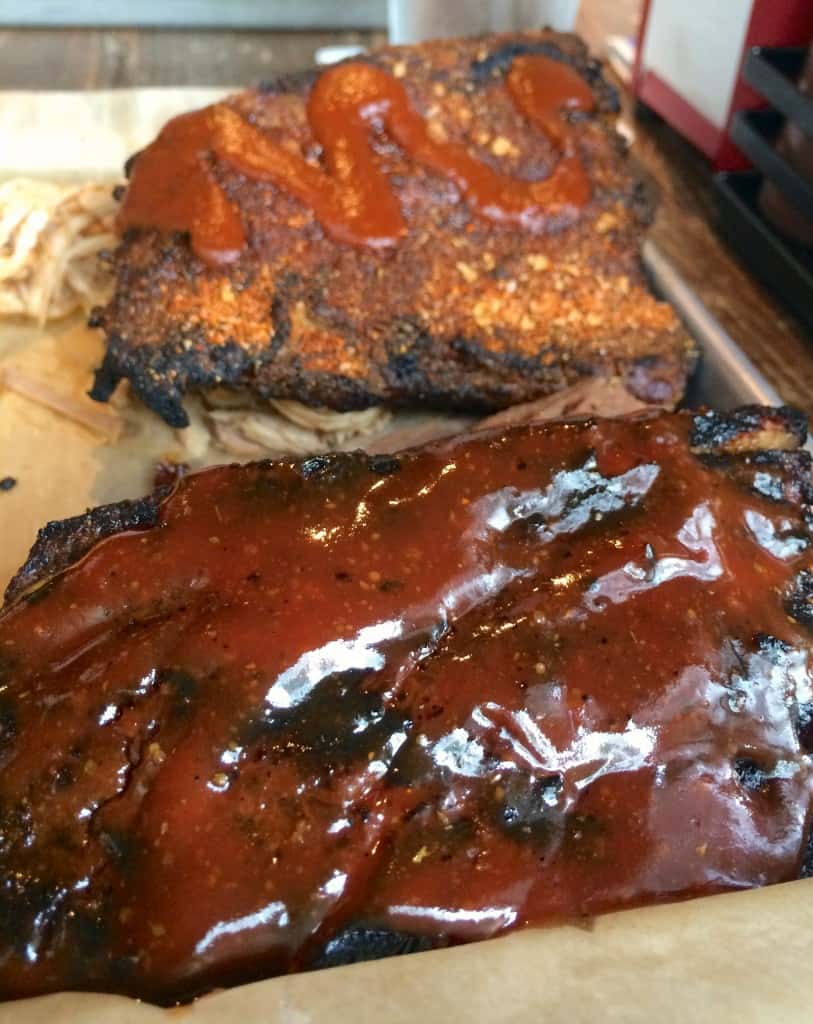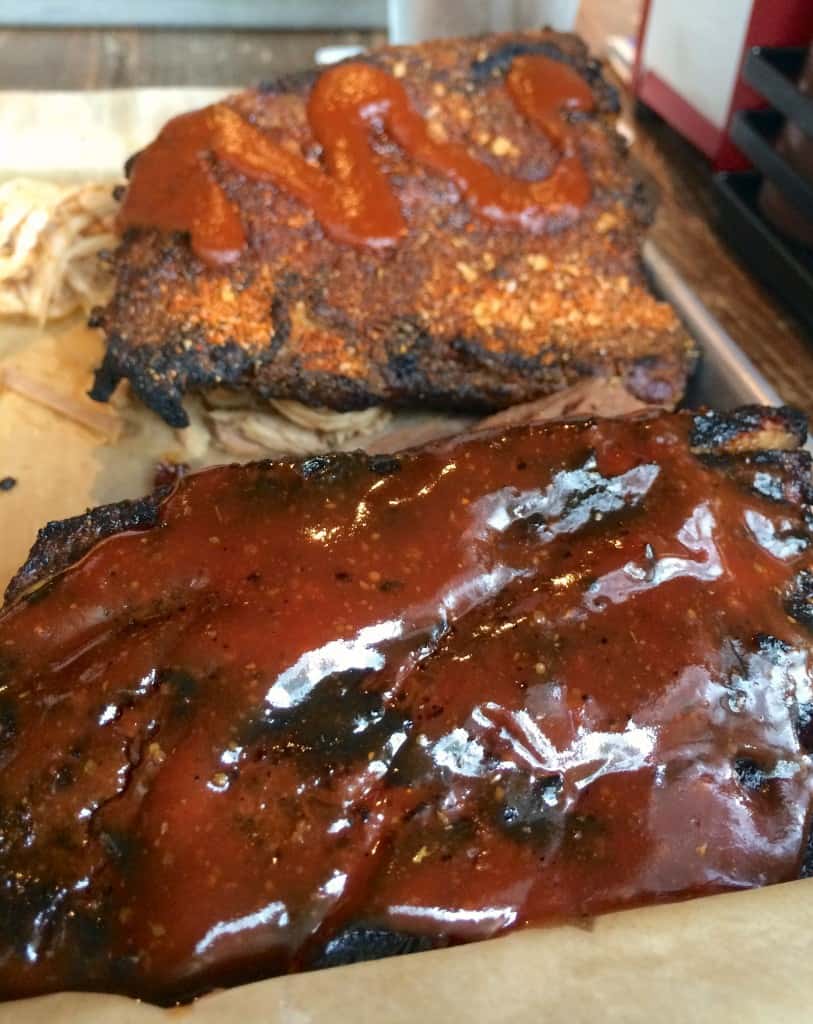 The cornbread was moist and perfectly sweetened. The flavor of jalapeno just made me want to add jalapenos to my next batch that I make at home!

The macaroni and cheese was creamy and delicious, and again: homemade. Many sauces and basting marinades had a vinegar base, which you may not know, but I'm a real vinegar fiend, so this made my taste buds very happy.
Case in point was the Lexington cole slaw, which had a lot of vinegar. Apparently, the pulled pork is served with a vinegar sauce, too! Who knew? (You can find my very own "vinegary" cole slaw recipe here). Last, but not least, were the collard greens, which I have enjoyed only a handful of times in the past, and this was no exception.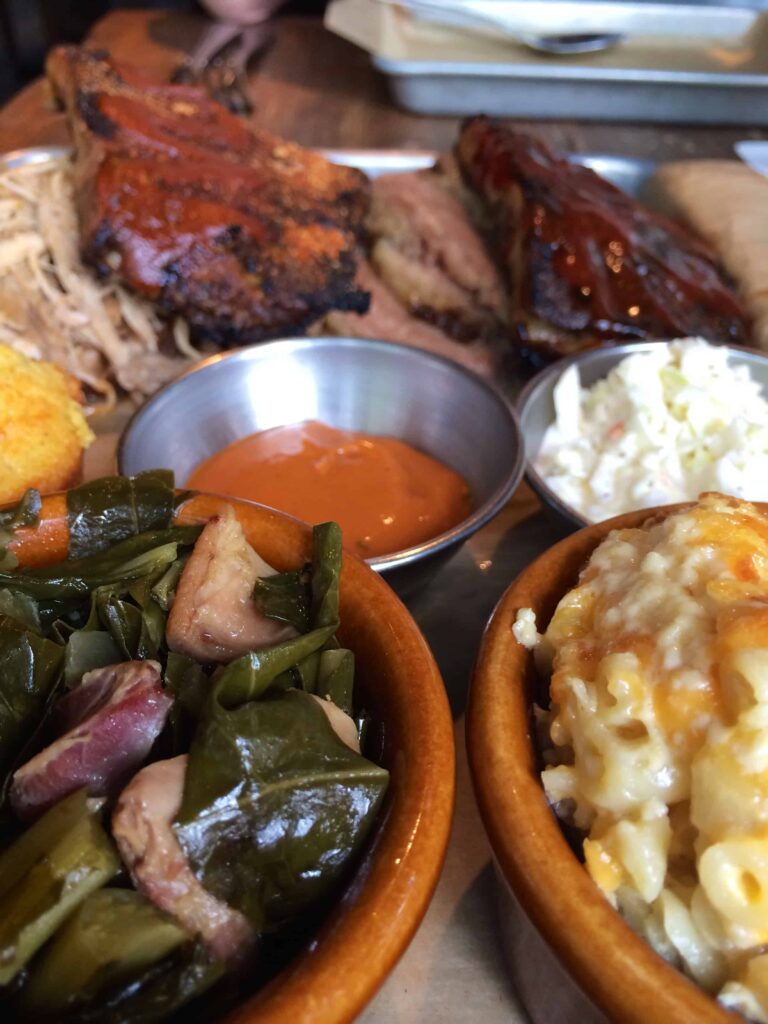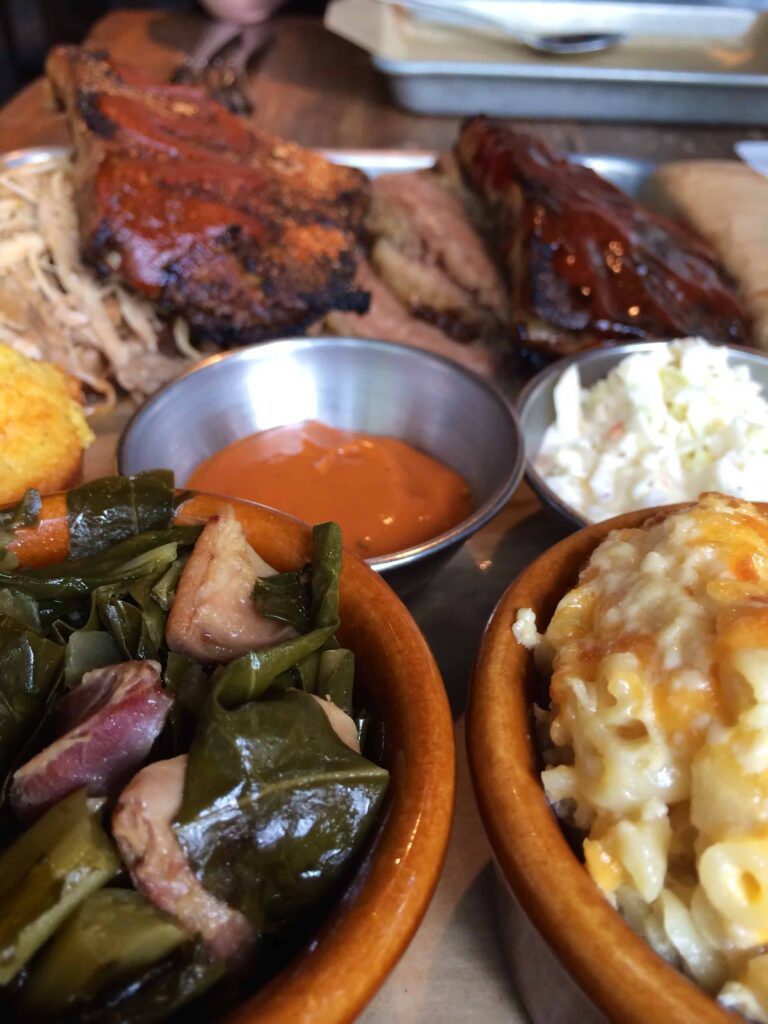 You can see in the photo below that our meal was served on paper lined aluminum trays. I thought that it added to the unique barbecue experience, which was my first time trying bbq in the South.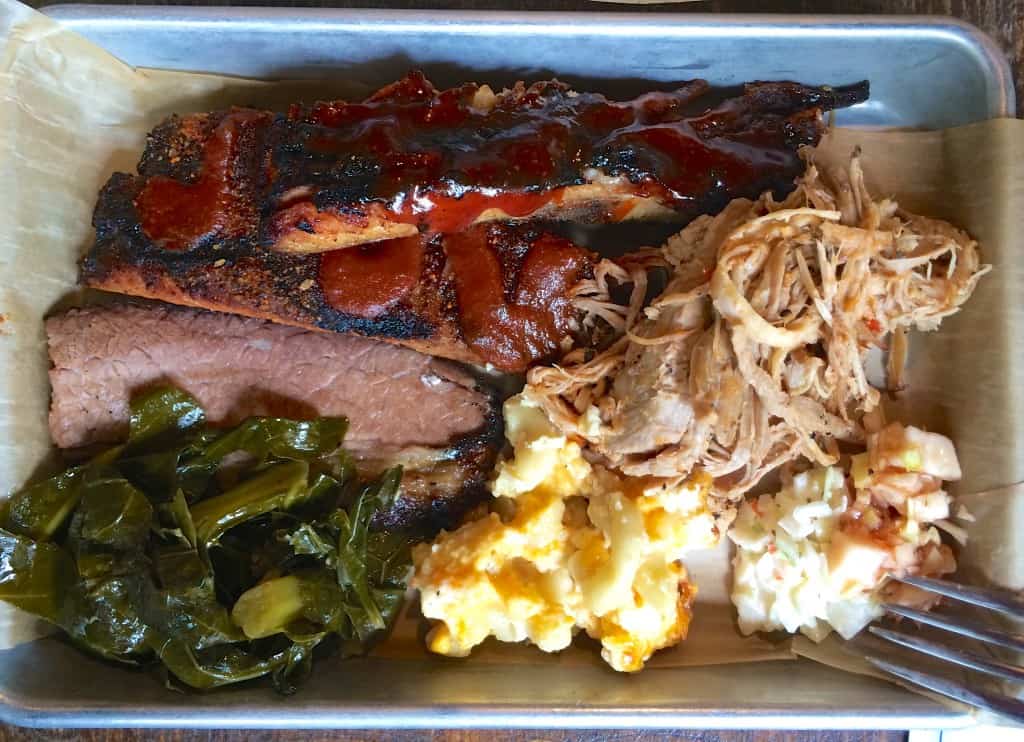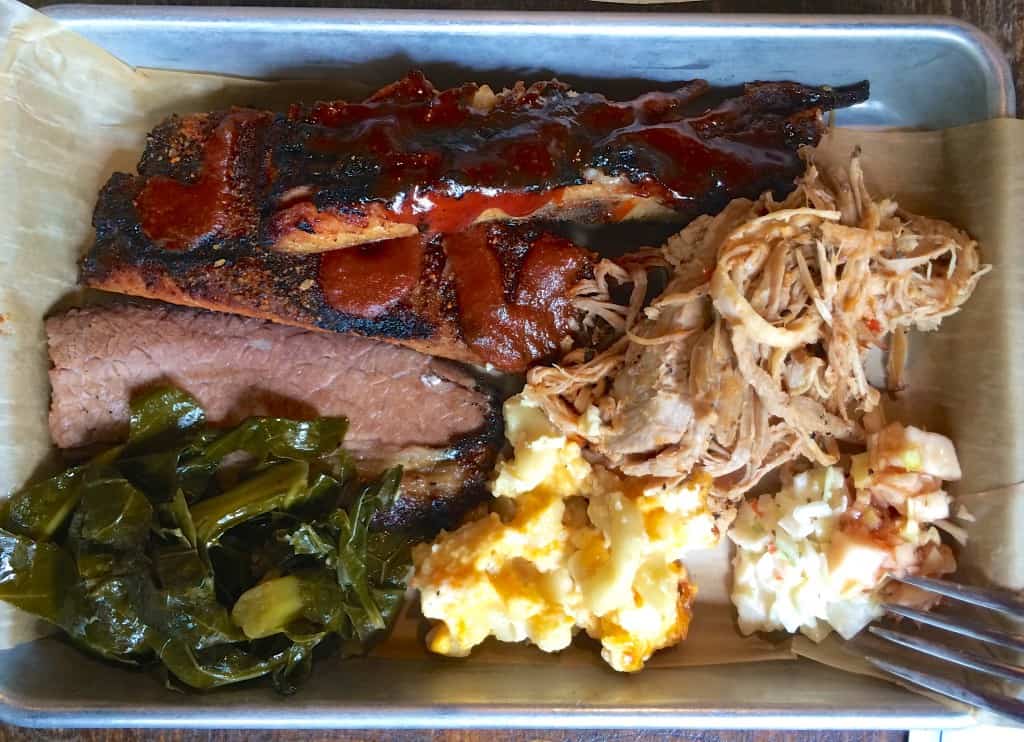 Dezzaray gave us more background on the subtle and major differences of barbecue in the regions of the south, including mustard and vinegar usage. Her descriptions just made me want to try it all. I was now disappointed that we had a flight back to LA in the afternoon! We really did finish everything on our trays, then Dezzaray asked if we'd like to try their dessert.
Classic Banana Pudding
My first thought was that I really didn't want dessert as I was already so full. The other reason is that I'm actually not crazy about banana desserts (except for Banoffee Pie). However, since it was their traditional, homemade version, and I heard something about a "Bourbon sauce", we asked for a very small piece, just to try.
Well, if this was a small piece, I would say the large one might feed a small family of four! However, we polished it off all the same because it was sooo good! The first piece I put in my mouth immediately brought me back to being a little girl in Scotland.
This dessert was so similar in flavor to Banoffee Pie. Banoffee Pie has sliced bananas in a pie crust and caramelized, condensed milk poured on top, with a cream topping. And can I tell you that I could have eaten a bowlful of that Bourbon sauce? See City Smoke's website below. Here's a recipe for Southern-style homemade banana pudding if you'd like to give it a try.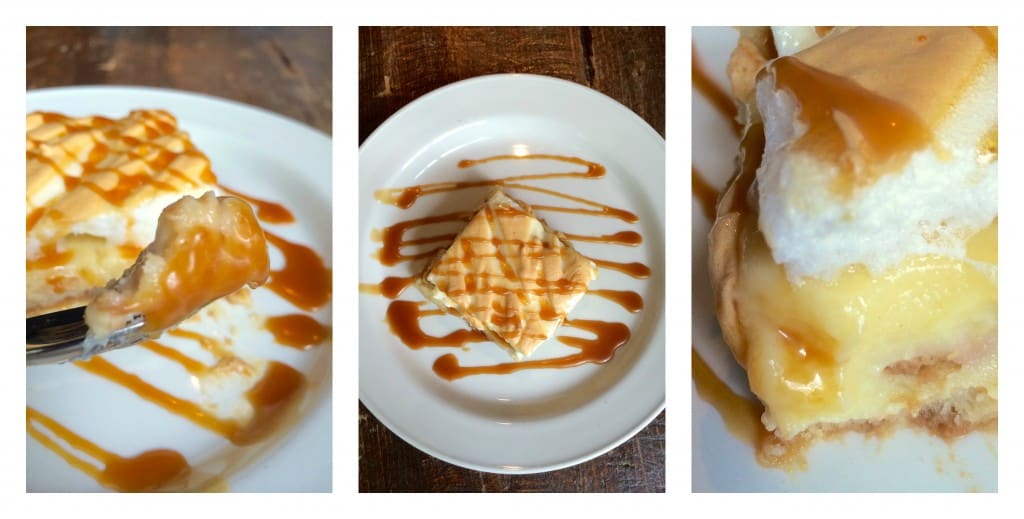 5. Charlotte Liberty Walk.
We discovered this walk when we saw the stone markers in the sidewalk, and I became so excited! I'm a history nerd, but I have to say that I was very disappointed that we couldn't take the entire walk. Why? Because my walking shoes went to LA in my checked bag without me! I had to walk in high heels which not only needed repair, but were giving me blisters ?. If you do plan to take this walk, check out the website as it has a really cool interactive map.
6. Tour Charlotte by bike.
Once again, due to not having my proper shoes, we weren't able to rent bikes. There is so much to see in the small part of Charlotte we visited, that it would have been great to venture further. I do hope to be able to go back to Charlotte, North Carolina at some point in the near future. I'm sure there's much more we have yet to discover. They're not kidding when they say "Charlotte's got a lot"!
For more information on visiting Charlotte, North Carolina, go to the official Travel & Tourism Board HERE, and you can order a visitor's guide. It just so happens to have
City Smoke's barbecue tray on the cover!
Don't miss another recipe or travel post; sign up for my free subscription below.

Disclosure: City Smoke hosted me for lunch, however there were no conditions for a positive review and as always, all opinions are my own (you'd know how true this is if you really knew me). I am disclosing this in compliance with FTC regulations.
Christina's Cucina is a participant in the Amazon Services LLC Associates Program, an affiliate advertising program designed to provide a means for sites to earn advertising fees by advertising and linking to Amazon.com.