Update 2018: (This is one of my VERY first posts when I had even LESS of a clue what I was doing on here!)
A list of things I love in my kitchen.
As an Amazon Associate I earn from qualifying purchases.
First is my Diamond Crystal Kosher salt, yes, there is a difference in brands. I have tried others, and I don't like them. I use this for all my cooking, and actually do use it for Koshering meat, too.
Next is my Lodge Logic 5 qt cast iron Dutch oven for making my no knead bread. Totally worth buying this item, just for baking bread!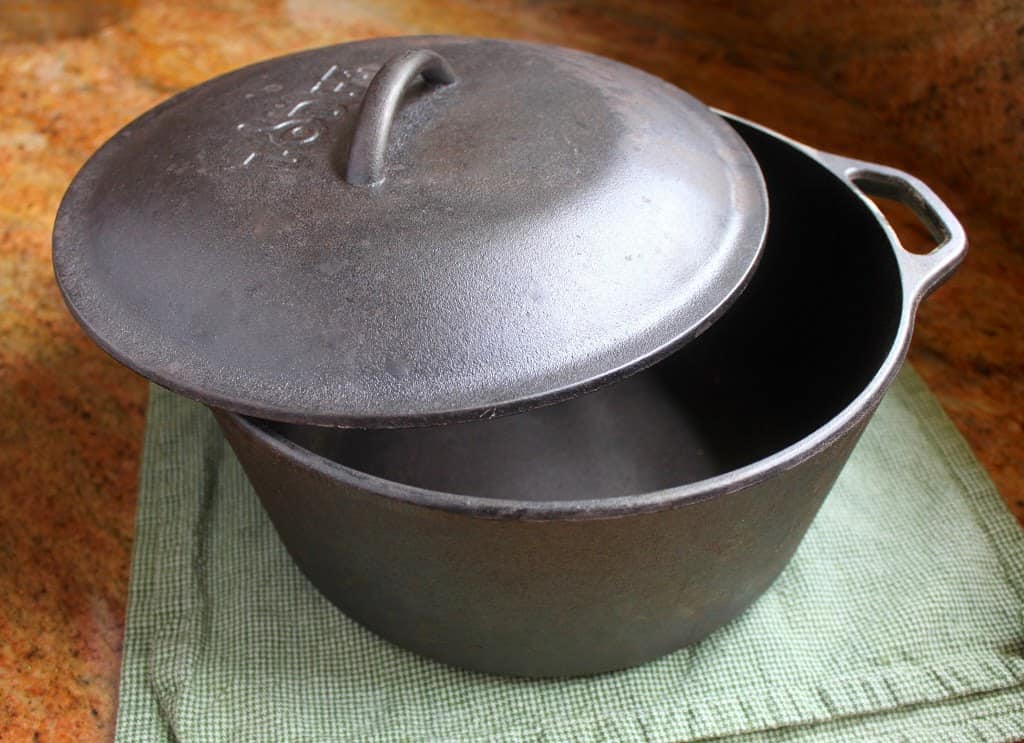 Then there's Better Than Bouillon, which exactly describes itself. No MSG and tons of flavor; I prefer the reduced sodium version. Comes in lots of flavors, but I stick to the chicken and beef bases for soups like Leek and Potato, Cream of Broccoli, and Spinach Soup.
Another kitchen "must have" is a stick blender (immersion blender). The time and effort it saves is phenomenal! I use it for blending up tinned tomatoes to make spaghetti sauce, and it's fantastic for soup blending directly in the pot (no blender use or washing necessary). Made lumpy gravy? No problem, stick blender to the rescue (and no one has to know about your lumps)!
If you are wondering what the contraption below is for, and you love to bake and decorate cakes, you are in for a wonderful surprise! It's another one of the things I love in my kitchen.
This inexpensive little cake slicer helps you make the most professional looking cakes so easily.
Just adjust the wire to the height you want the cake layer to be, whether it's cutting a cake in half or just leveling the top so that it is completely flat and even, then saw through the cake; the results are fabulous!
I used to use a knife, but never was able to get the layers completely even, now all my cakes look perfect!
Super fresh garlic makes such a difference in all your dishes-try to buy it at a local farmer's market. It will last a long time in your fridge, so its not something you have to buy constantly.
Make sure you are not buying garlic from China (rules are too lax) which I have seen in stores quite frequently. Not to mention the fact that the world's garlic capital is Gilroy, California. Why are we importing garlic from China in the first place? Fresh garlic is definitely one of my top favorite things I love in my kitchen!
This is one of my greatest loves: vinegar. However, Sasso* vinegar surpasses all other store-bought vinegars which I have ever tasted.
I grabbed a bottle off the shelf on my last trip to Italy (I couldn't help myself) and little did I know it would taste almost as good as my uncles' homemade vinegar (sorry, Zio Carmine and Zio Sabatino.)
This baby's 7.1% acidity is partly why it's so amazing, but unfortunately this vinegar is very hard to find. After years of researching this (not kidding,) as far as I know, IB Foods on the East Coast is the only place left which still sells it in the US.
*UPDATE: I found SASSO vinegar at my local Claro's Italian Market! I'm jumping for joy! (2/1/2015)
Last, but not at all least, is my handy-dandy ISI cream whipper. There's a long story behind why I first got this gadget, but just trust me, its an amazing thing! It's definitely not a "must-have" for every kitchen, but it is a thing of joy for a cream lover! And the one in the box is a spare, for when my black one dies–I swear! You can see how I used it for the cream in my Semlor.
The best part about this whipper is it puts SO much air into the cream, you feel as if you are eating a big serving of cream, when in fact it's mostly air! Therefore, big satisfaction with low-calorie intake! The cream lasts about a week in the whipper in the refrigerator.
I would advise against buying a 1/2 pint model (mine are 1 pint) because you will use twice as many N2O cartridges.
Don't miss another recipe or travel post, sign up for my free subscription below!
Christina's Cucina is a participant in the Amazon Services LLC Associates Program, an affiliate advertising program designed to provide a means for sites to earn advertising fees by advertising and linking to Amazon.com.
things I love