Homemade Cinnamon Rolls will fill your home with the most incredible aroma; and no one will complain about doing those little chores you've wanted done for so long!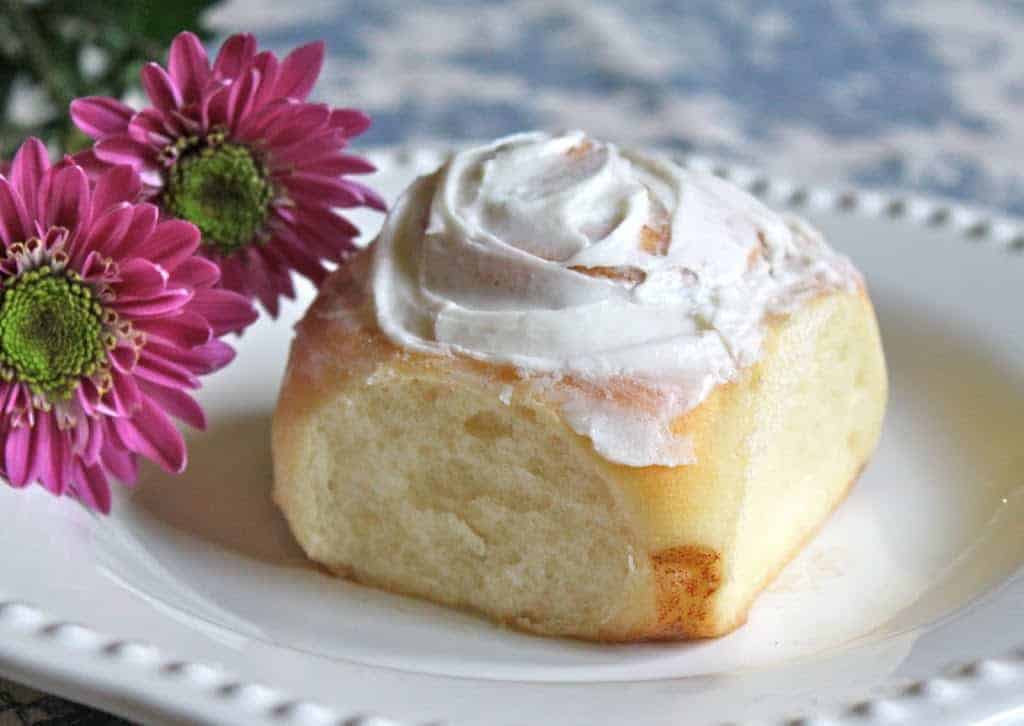 How many of you remember your very first time on the internet?
Do you recall what you did, or what you found? I do. Somehow, I came upon the alleged recipe for Cinnabon Cinnamon Rolls. I have no idea what site it was, or where I found the recipe, but I wrote it into my recipe binder. I found the same recipe (except for the icing) on Allrecipes, so that's where I'm giving credit.
Whether this is the original Cinnabon recipe or not (I doubt it), I really don't care, because I've been making these babies for over 15 years and everyone who has tasted them, practically swoons when they eat them. My father constantly asks me to make them when he's visiting, and my son, who doesn't really go looking for sweets, loves these buns! It's definitely a great recipe, but keep in mind what I keep repeating over and over: if you don't use the best ingredients, your homemade cinnamon rolls won't be "swoon-worthy"!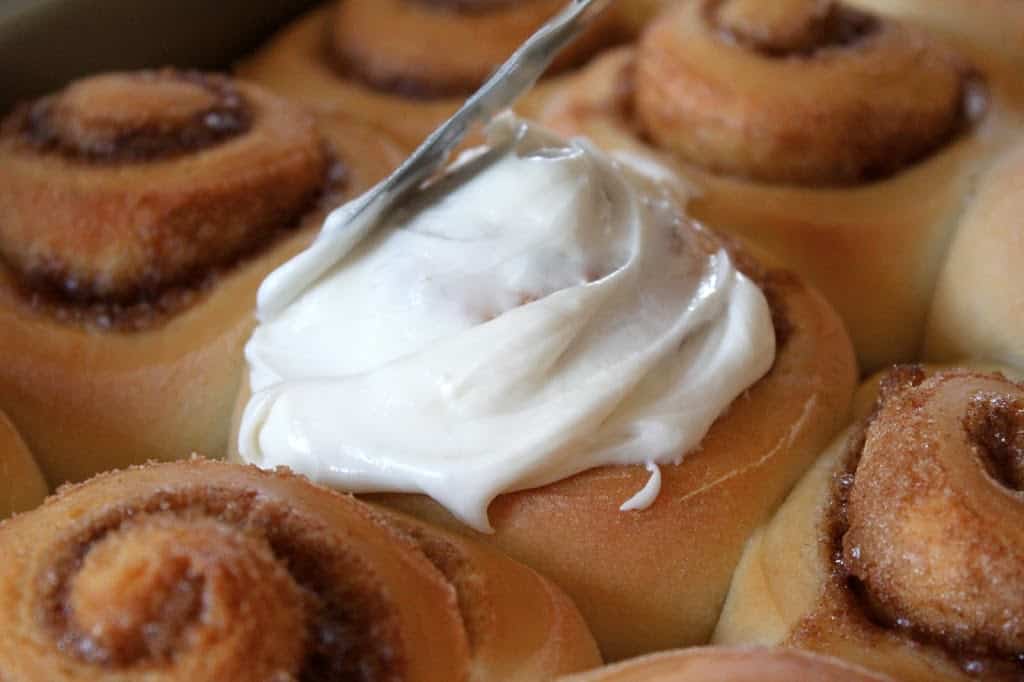 When I made these yesterday morning, I don't think I was quite awake when I started measuring ingredients. I wanted to double the recipe, but instead of one cup of water and buttermilk, I accidentally used two cups of each liquid, essentially quadrupling the recipe instead!
All I can say is that some neighbors and the firemen at the local fire station were happy campers yesterday! I would strongly advise against making 4x the recipe, unless you need about 50 homemade cinnamon rolls and plan on staying in the kitchen for hours! Because I was making so many cinnamon rolls, I iced them when they were completely cool. If you ice them while still warm, they will have more of a glaze on top, as the icing slightly melts. You could even drizzle it on, whatever your preference is.
Another recipe using a very similar dough: Scottish Cream Buns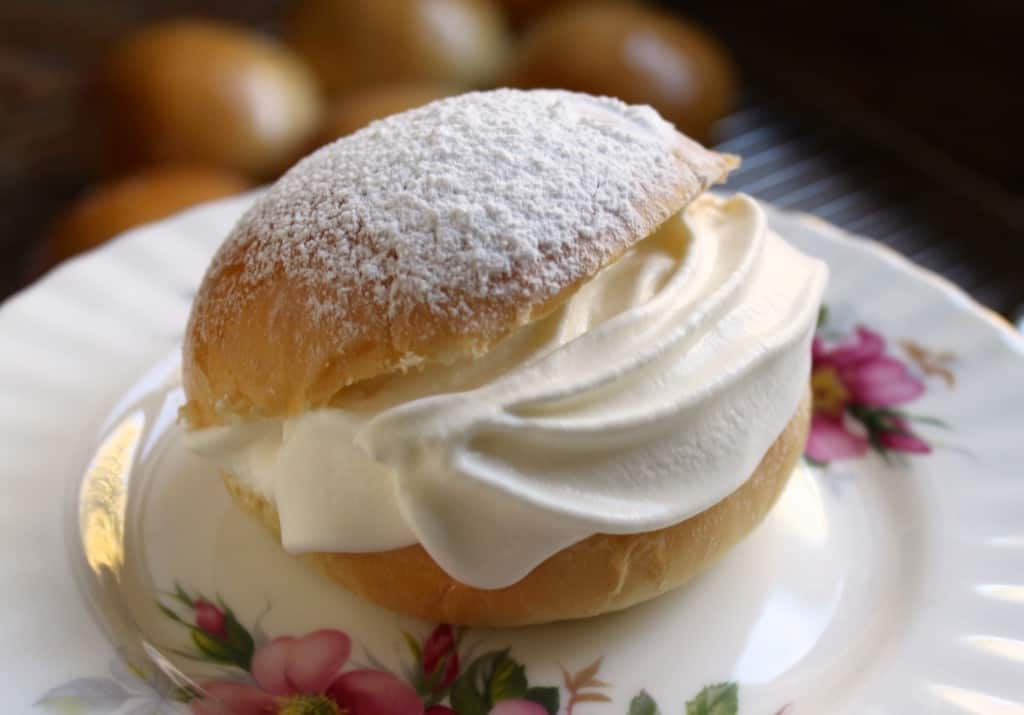 I make half the amount of icing as the original recipe as I personally don't like an inch of 'sweetness' on top of my cinnamon roll, but feel free to adjust it to your own liking.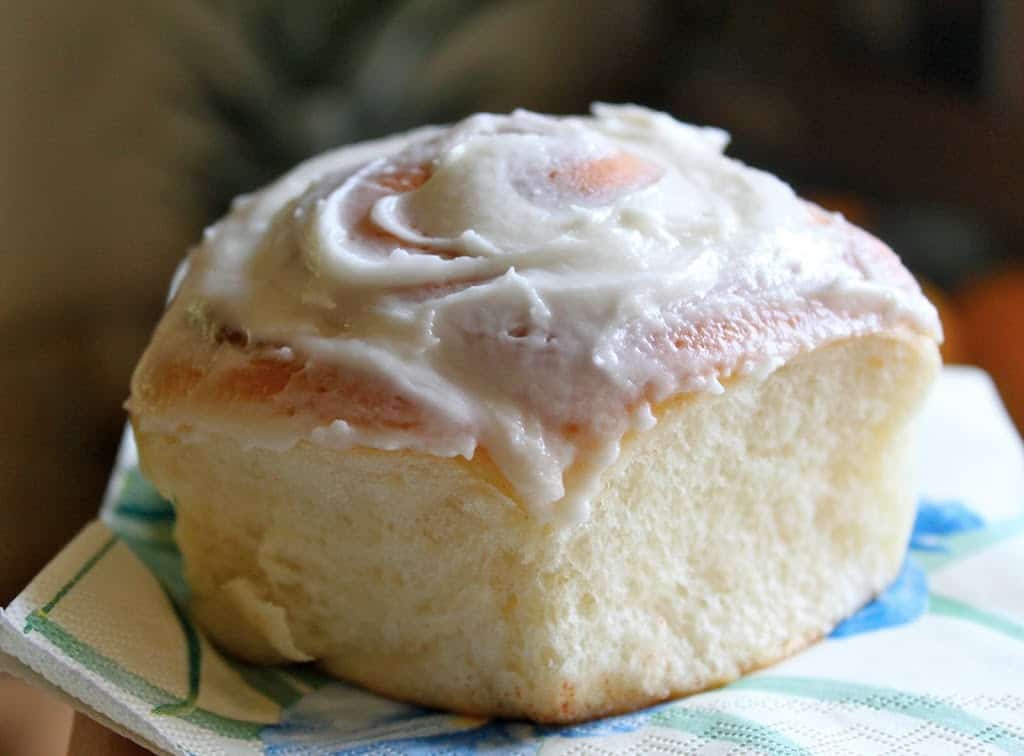 Homemade Cinnamon Rolls
slighly adapted from an Allrecipes recipe
makes 12 rolls
Ingredients
Dough
1 packet (1/4 oz) of yeast (I have used less with perfect results)
1/2 cup (4 oz) warm water (105-115ºF)
1/3 cup (2 1/2 oz) sugar (plus 1/2 tsp)
1/2 cup (4 oz) warm milk (I use buttermilk)
1/3 cup (2 1/2 oz) melted butter
1 tsp salt
1 egg, slightly beaten
about 4 cups (17 1/2 oz) all purpose flour (more or less to attain a firm, yet slightly sticky dough)
Filling
1/4 cup (2 oz) melted butter (good quality, like Kerrygold) plus more for trays
1/2 cup (3 1/2 oz) brown sugar
1/4 cup (2 oz) sugar
1 1/2 tsp cinnamon (if you don't use good quality cinnamon, your rolls will not taste good!)
Brush the inside of two 8″ or 9″ round tins, or a 9″ x 13″ tray with melted butter.
NOTE: I made these homemade cinnamon rolls in my stand mixer. If you are using a bread machine, simply put all the wet ingredients in first, and top with the flour, placing the yeast in a well in the center and run on 'dough cycle'.
Stand mixer (or by hand) instructions: place the water, yeast and 1/2 teaspoon of sugar in a large mixing bowl and set aside. Combine the milk, 1/3 cup of sugar, melted butter, salt and egg in another bowl or measuring jug. Stir this mixture well, then add to yeast and water in bowl.
Add half the flour and beat until smooth, using the dough hook. Add the remaining flour until the dough is firm, but will be slightly sticky. Cover, and let rise until doubled in size.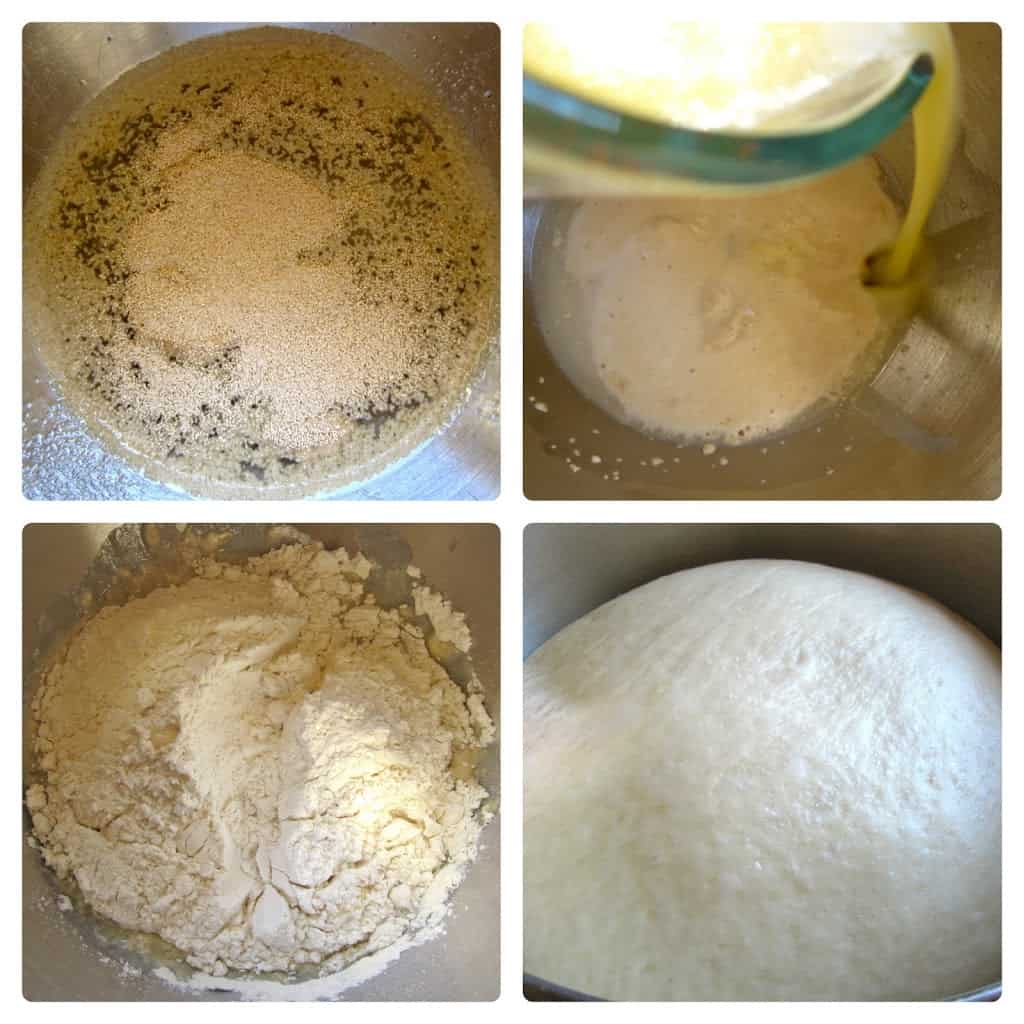 Punch down dough after it has risen and let rest for 5 minutes.
Meanwhile, mix the cinnamon with the brown and white sugar in a small bowl.
Roll out the dough with rolling pin into a 7″ x 10″ rectangle. Spread the 1/4 cup melted butter on the dough, then sprinkle with the cinnamon sugar mixture, going almost to the edges. Pinch the edges to seal. Roll the dough, starting from the longest edge (see below.)
Cut into quarters using dental floss (unflavored), then cut each quarter into 3 equal pieces. Place into two 8″ or 9″ round buttered tins or a rectangular baking tray, and place in oven (unheated) for about half an hour or until doubled in size.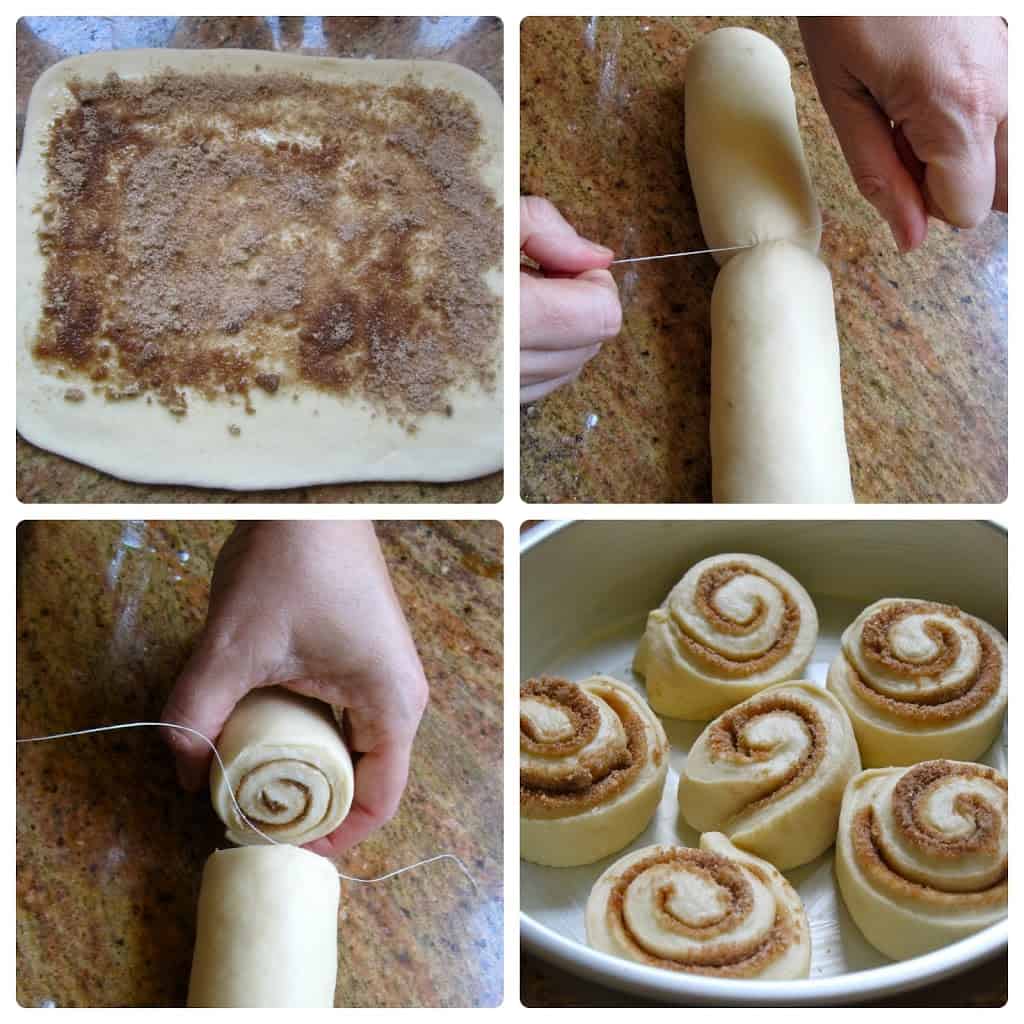 Once risen, remove from the oven and preheat oven to 350ºF.
When ready, place the rolls in the center of the oven and bake for 20 to 25 minutes.
While the rolls are baking, make the icing.
Icing for Homemade Cinnamon Rolls
Ingredients
1/4 cup (2 oz) good quality butter (I love Kerrygold, and it's most important in the icing!)
1 1/2 cups (6 1/2 oz) powdered sugar
1/2 tsp vanilla
1 to 2 tbsp warm milk or water
Mix all ingredients together, until the icing has a smooth spreading consistency.
The rolls will rise and be golden brown when ready.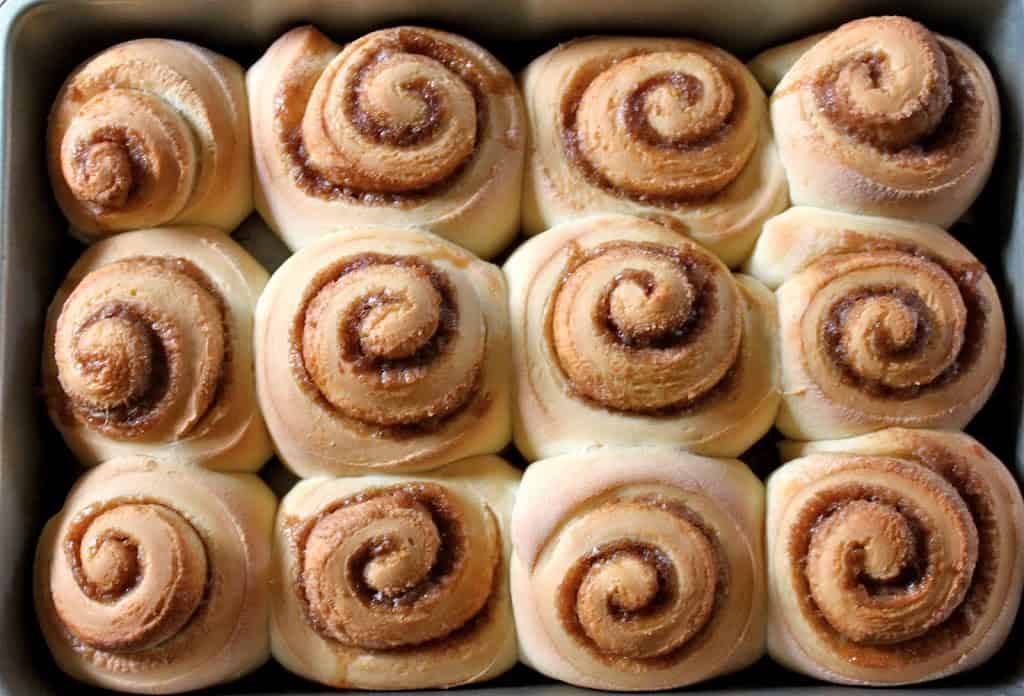 Aren't they lovely?
While still a little warm, spread with the icing.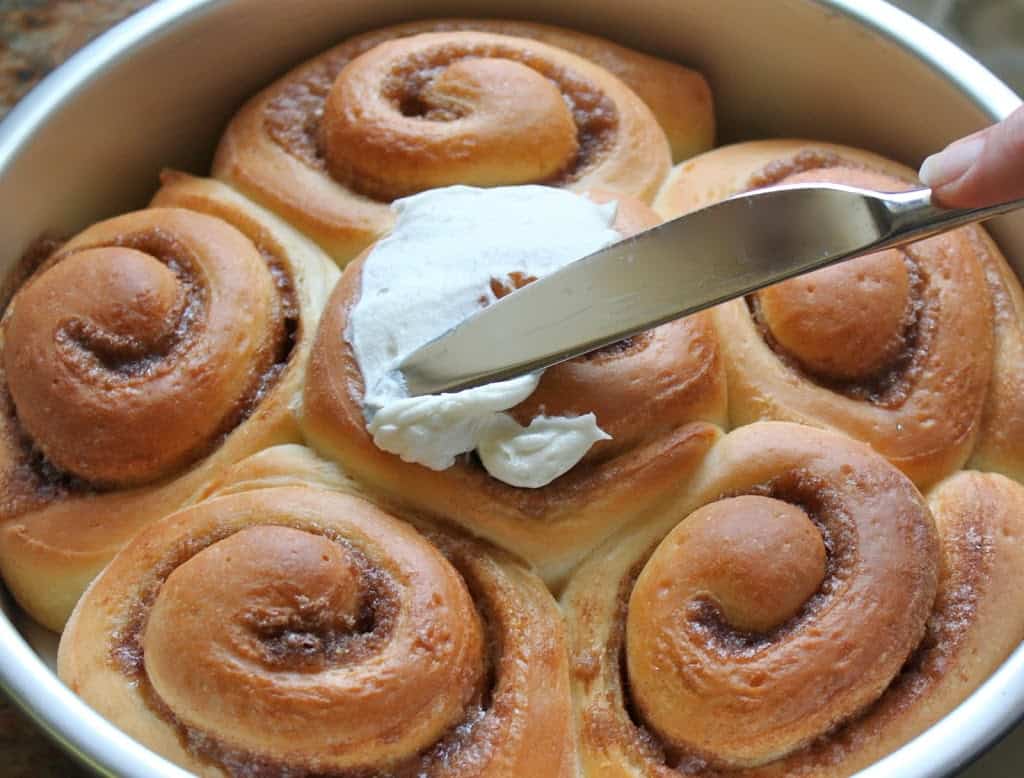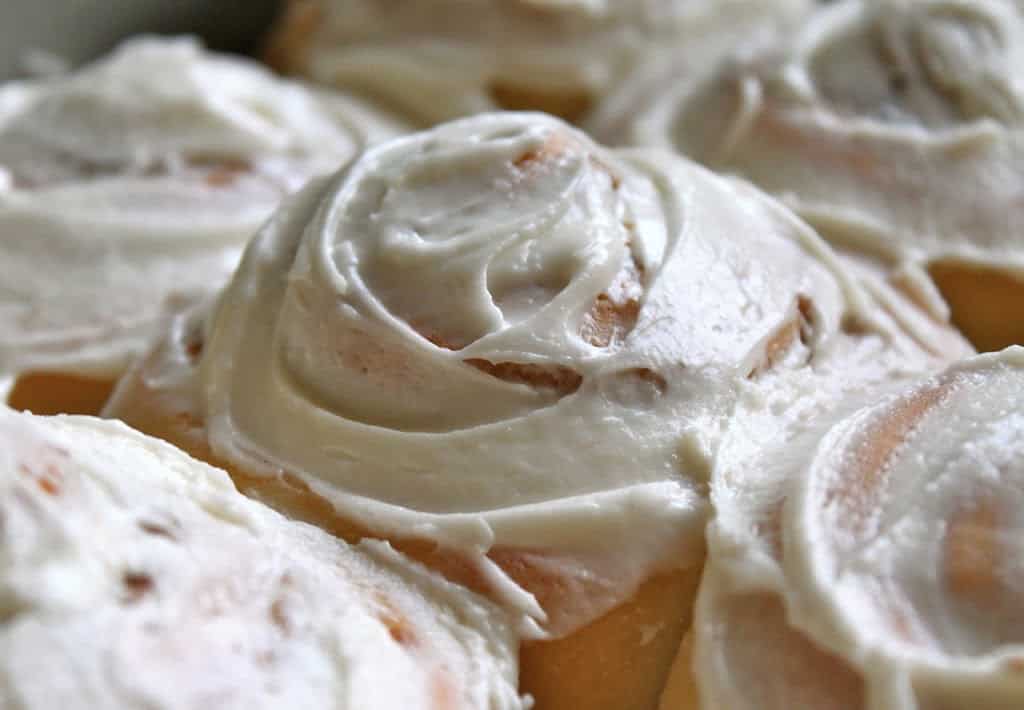 Now enjoy the "rolls" of your labor!
Don't miss another recipe or travel post; sign up for my FREE subscription below!
(I promise not to sell or share your info, ever!)