Leftover turkey fried rice recipe from Fleming's Prime Steakhouse, and an introduction to Fleming's Prime Steakhouse and Wine Bar in Pasadena, California is what I'm sharing with you today!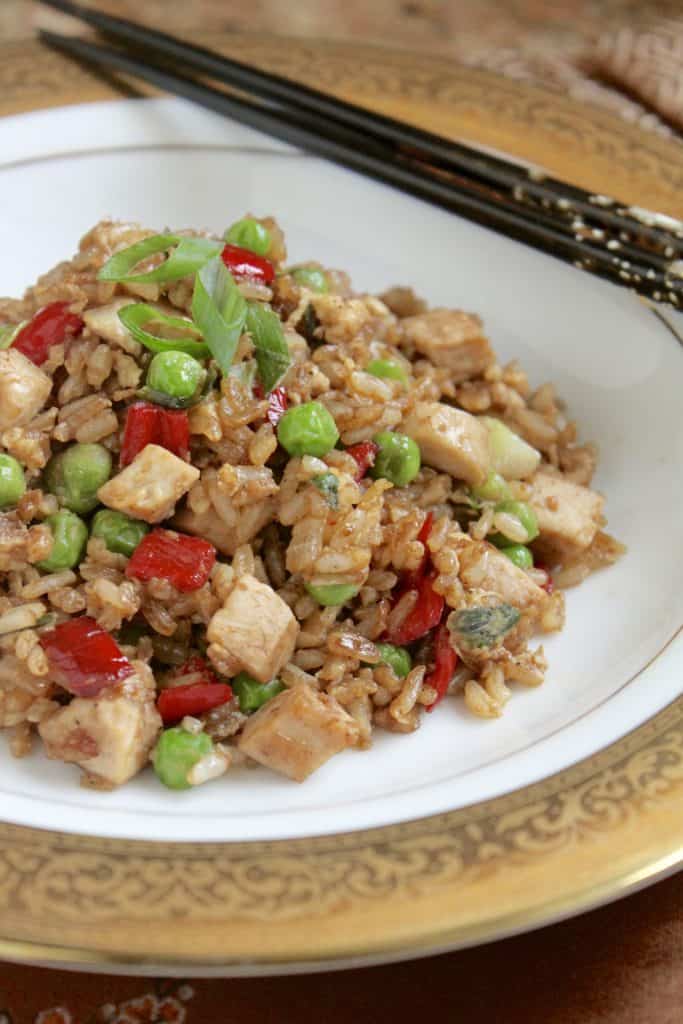 I am very excited to share this leftover turkey fried rice recipe, and tell you about the new Fleming's Prime Steakhouse and wine bar in Pasadena (California), especially since they've given me a $100 gift card to give to one of YOU! (Gift card is redeemable at any Fleming's location.) UPDATE: Giveaway has ended.
As an Amazon Associate I earn from qualifying purchases.
Disclosure: Fleming's Prime Steakhouse Pasadena hosted me for a pre-opening event provided me with a $100 for me and for a reader giveaway. All opinions are my own, and there was no expectation for a positive review.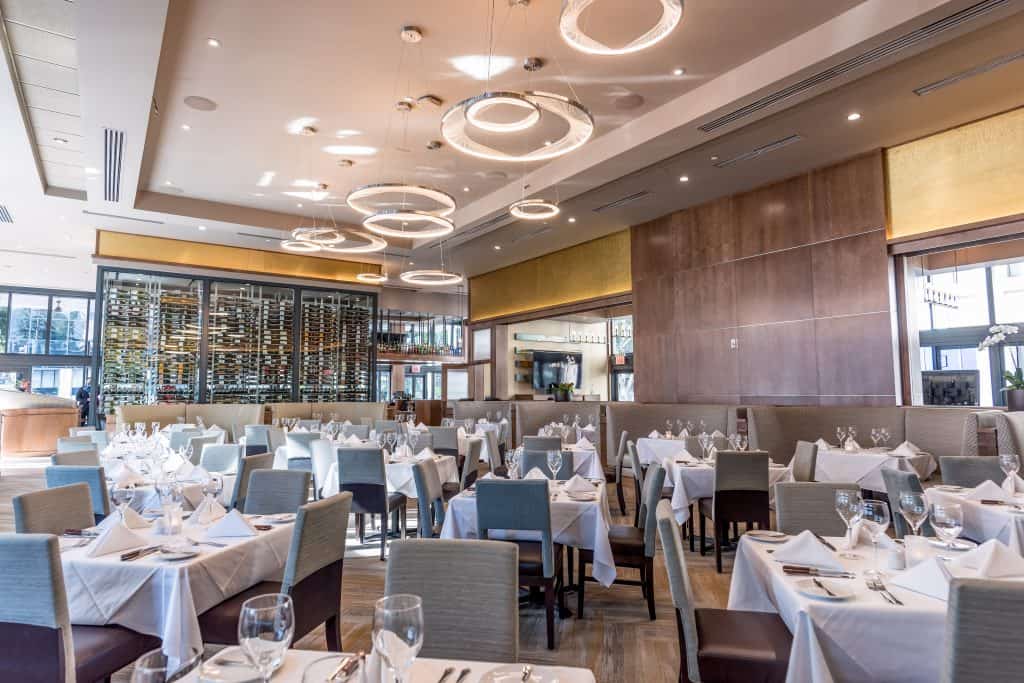 Since they opened in mid October, I've had the pleasure of dining at the Pasadena location, but have also been to another Fleming's location in El Segundo, CA. Everyone at the Pasadena restaurant were treated like VIPs, but as I've learned, this is just how Fleming's treats all of their guests! As a reader commented on one of the photos I shared on Facebook, Fleming's is a place she and her husband return to again and again because they are always treated like family. It's very easy to see when standards have been set so high.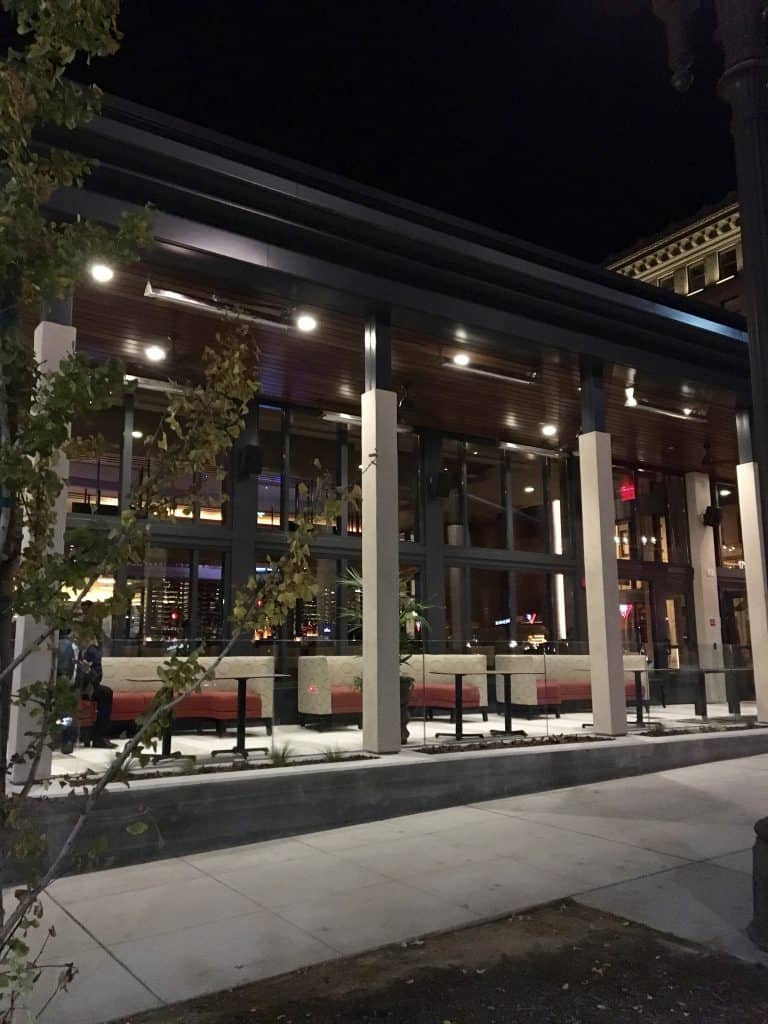 My friend, Cynthia, from What a Girl Eats, and her husband, Spencer, celebrated their anniversary (I remember because it's the same day as my birthday!) at Fleming's Prime Steakhouse and Wine Bar in Pasadena last month. She's still talking about it, and you can read her review here.
Let me tell you a little about my experience at Fleming's in Pasadena, then I'm going to share a Turkey Fried Rice recipe from Fleming's own Chef Russell (perfect for that leftover Thanksgiving turkey).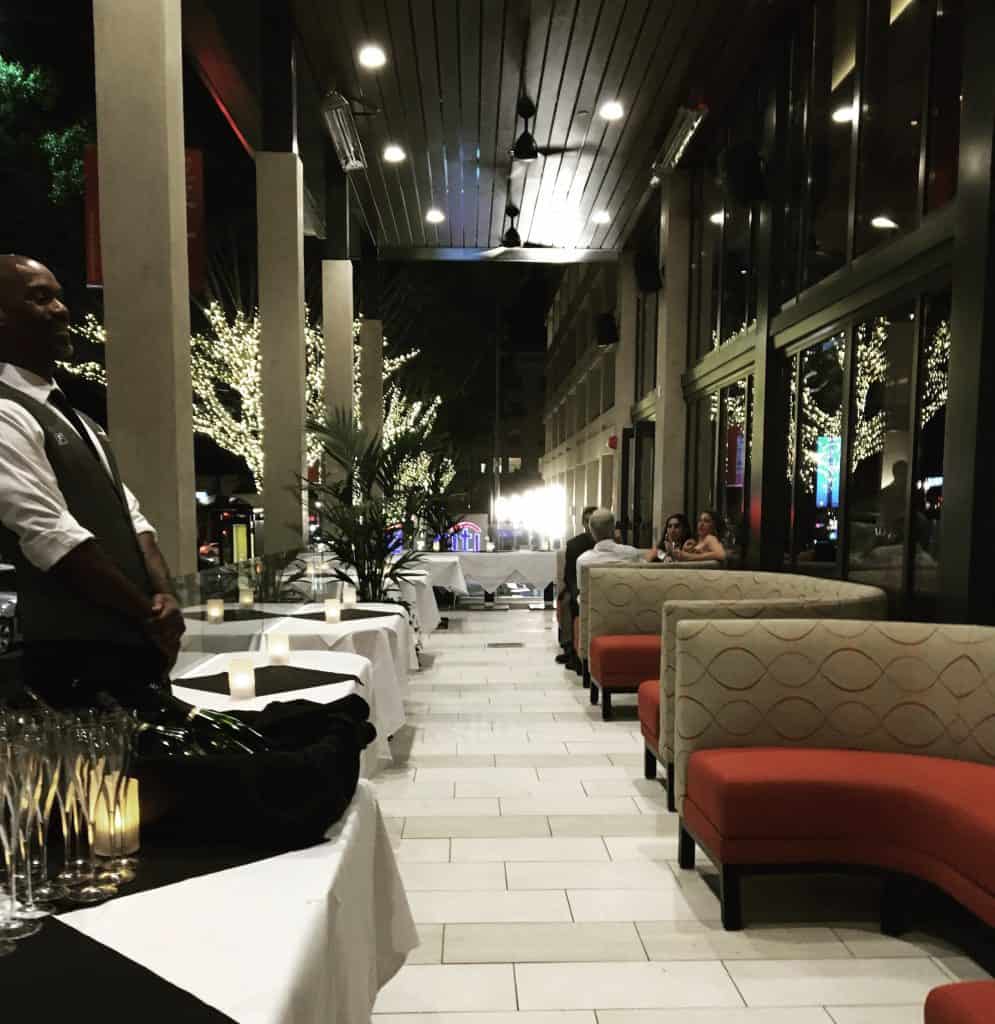 From the moment we arrived, we could tell the evening was going to go well. I arrived with my friend, Marie, and after taking some fun photos with a polaroid camera which was set up, we were invited to join everyone else inside the bar or enjoy the lovely patio area outside. My friend, Cathy and her husband were already at the bar, so we joined them. We all loved one of the appetizers so much, Cathy shared the recipe for Fleming's Maple Glazed Slab-Cut Bacon.
There was a chilled seafood buffet, Sangria bar and lots of passing appetizers which we enjoyed with our cocktails. After hearing from the new owners and other Fleming's staff, we were invited to go "wine tasting" with their 100 wines by the glass! Can you imagine? If you go to Fleming's you can choose from 100 wines on their iPad app. If you can't find something that appeals to you, or are too overwhelmed don't hesitate to ask. That's why Fleming's staff is there, to assist you.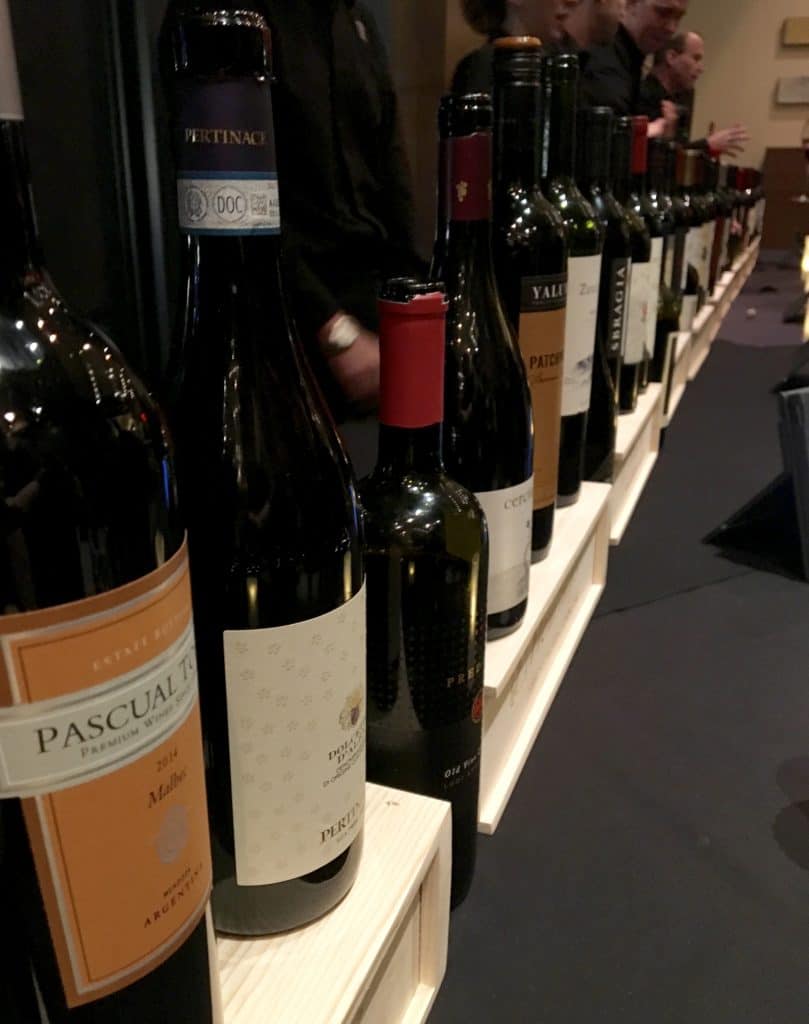 After the wine tasting, we were seated in the elegant dining room for a three course meal which began with a choice of salads. I chose the Fleming's Salad: candied walnuts, dried cranberries, tomatoes, onions, herbed crostini, lemon vinaigrette which was very good. Others chose the New Wedge Salad and all I heard was how good it was.
Read about my afternoon tea at The Langham in Pasadena, CA
Next, we chose our entree and everyone at our table decided on some cut of steak, filet mignon, ribeye or NY strip steak. The side dishes came family style, and I have to say, my favorite by far was the Fleming's Potatoes. Apparently, this is their house specialty with cream, jalapeños and cheddar cheese!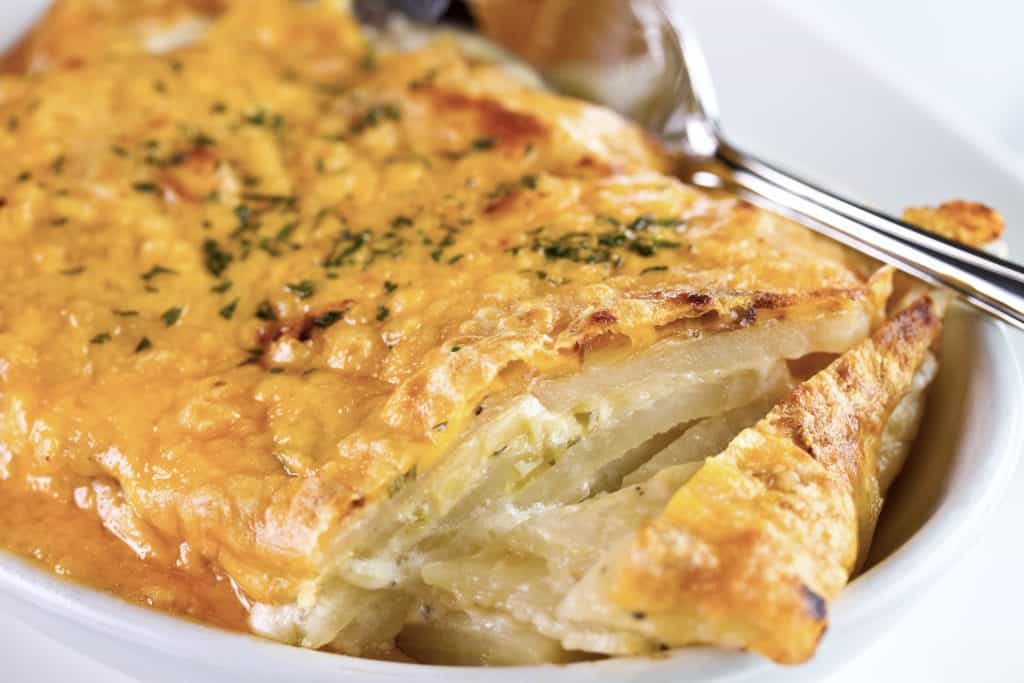 Everyone enjoyed the steak they'd chosen, and we had a lovely dinner together with two other guests we met at our table. Fleming's offers lots of options on their steaks, such as rubs and steak companions like truffle-poached lobster and diablo shrimp.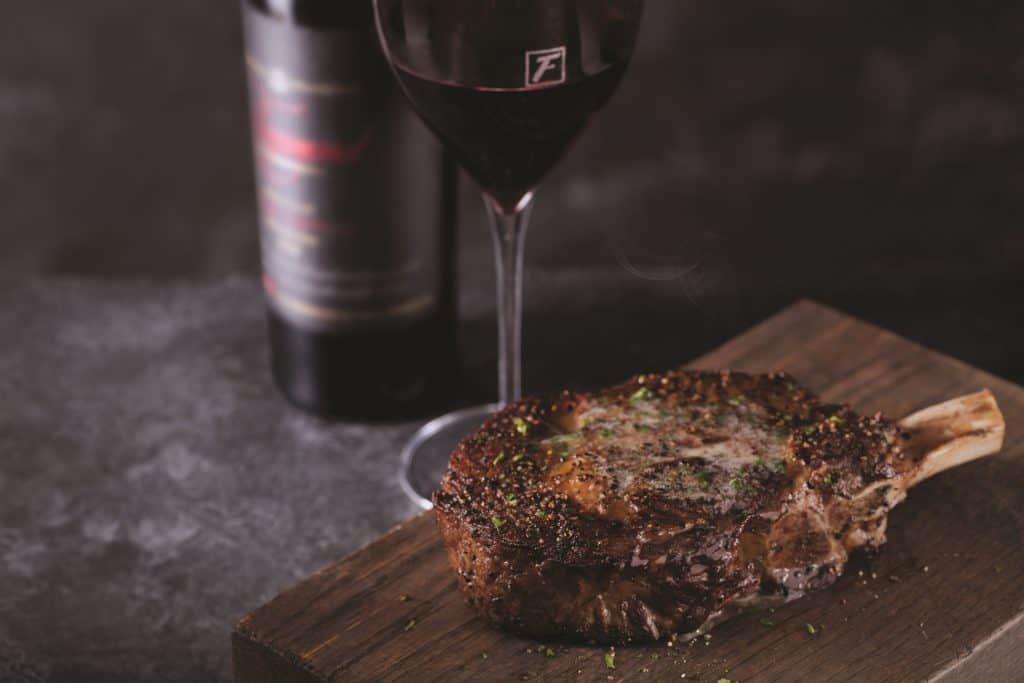 We had a choice of desserts to finish off our elegant meal, classics like crème brûlée, carrot cake and walnut turtle pie were served. The consensus was that we couldn't eat another bite at the end of our meal! We were all very full, and even took some doggie bags home.
The wait staff and managers had done an excellent job in taking care of us and nothing was amiss. I have already recommended Fleming's to many friends since they opened. I am also quite sure those friends will be recommending it to their friends, too! Too bad Marie and I didn't enjoy ourselves, as you can see in the following picture!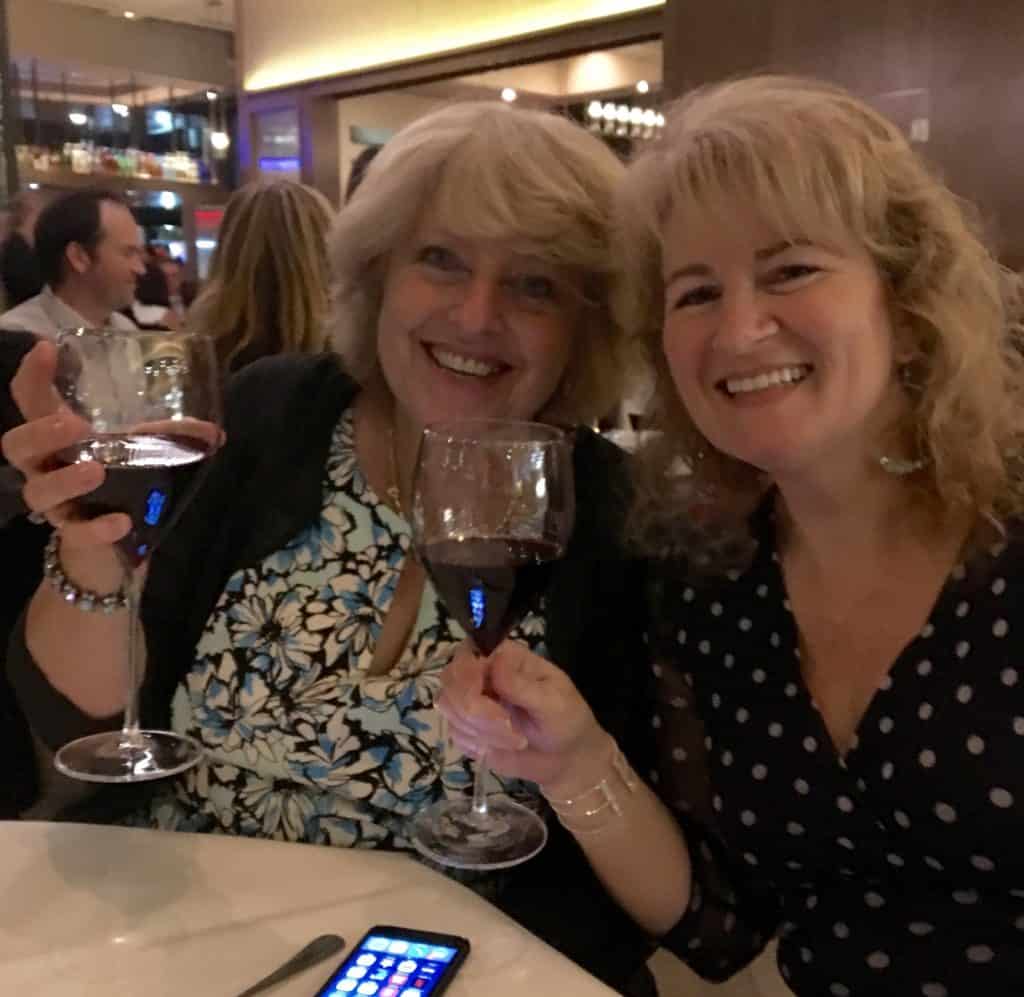 Here's a tip: you can become a member of Fleming's DINE REWARDS which offers 50% after every 4th visit!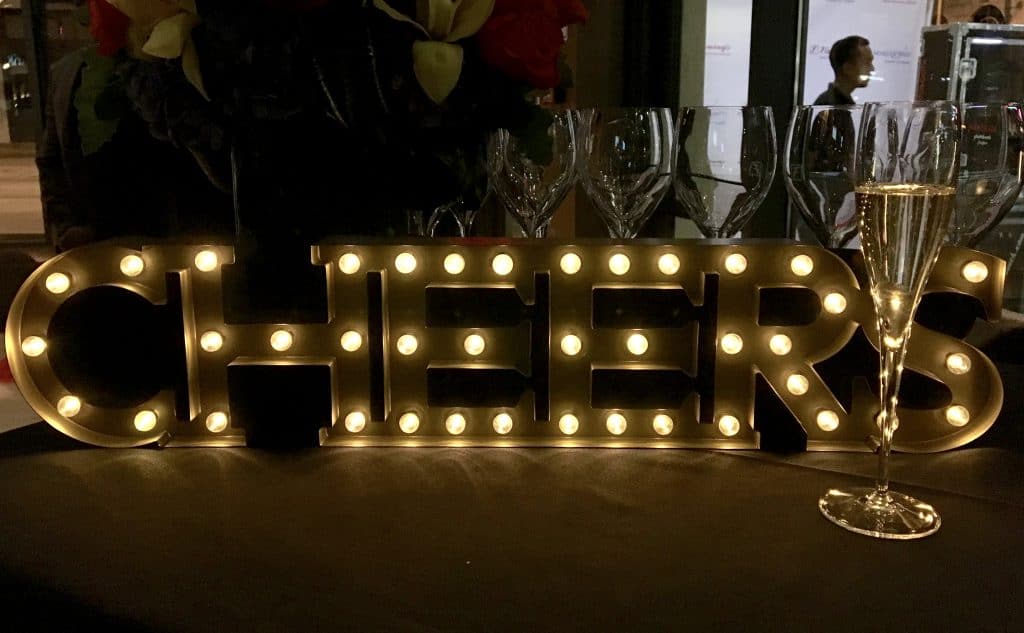 If you have never been to Fleming's, enter the giveaway below for a chance to win a $100 gift card. And if you've already been to a Fleming's restaurant, there's no need for me to encourage you to enter as you already know how wonderful they are. Before we get to the giveaway, let me share this tasty recipe for turkey fried rice from Chef Russell of Fleming's Prime Steakhouse.
As you can see from the photos, I made the leftover turkey fried rice recipe myself before posting it for you. The only thing I personally would omit is the Worcestershire sauce. The flavor didn't seem to blend with the Asian style of the dish, so I'll just replace it with more soy sauce next time. Give it a try and let me know what you think.
It's such a quick and easy recipe to make with leftover turkey after Thanksgiving, and won't taste like a "leftover" meal! You can even use chicken or tofu in place of the turkey!
Fleming's Leftover Turkey Fried Rice
Fleming's Turkey Fried Rice
A great leftover turkey recipe from Fleming's Steakhouse.
Ingredients
2 Tbsp. sesame oil
1/2 sweet red pepper, 1/4" dice
1/4 yellow onion, 1/4" dice
2 small cloves garlic
2 stalks green onions, 1/4" dice
1 1/2 cups cooked white or brown rice
4-5 oz. left-over turkey 1/2" dice
4 Tbsp. frozen peas, thawed
1 large egg, beaten
1 Tbsp. soy sauce
1 tsp Worcestershire sauce (Christina's note: I would replace this with soy sauce)
Pinch of black pepper
Instructions
Heat sesame oil in a wok on high heat. Add red pepper, onion and rice and sauté for 5 minutes until the rice starts to get a bit crispy on the edges.
Add garlic, green onions and diced turkey and cook for 2 minutes.
Add peas and cook for 2 1/2 minutes tossing all well.
Make a well in the center of the wok and add the scrambled egg then stir until cooked, breaking up into small pieces.
Combine the soy sauce, Worcestershire sauce and black pepper the stir into the rice cooking for 30 seconds. Serve hot.
Notes
Use chicken instead of turkey if you prefer.
Nutrition Information:
Yield:

4
Serving Size:

1
Amount Per Serving:
Calories:

423
Total Fat:

19g
Saturated Fat:

4g
Trans Fat:

0g
Unsaturated Fat:

13g
Cholesterol:

201mg
Sodium:

407mg
Carbohydrates:

16g
Fiber:

2g
Sugar:

2g
Protein:

44g
Nutrition information is only estimated.
To enter the Fleming's Giveaway, begin by leaving a comment below (not in the Rafflecopter box) stating what entices you the most to visit a Fleming's Prime Steakhouse and Wine Bar. Is there a location near you? GOOD LUCK!
Don't miss another post! Sign up below for my recipe and travel posts.
CONGRATULATIONS TO TERESA R. FROM BLOOMFIELD HILLS, MI WHO WON THE $100 GIVEAWAY!!
Christina's Cucina is a participant in the Amazon Services LLC Associates Program, an affiliate advertising program designed to provide a means for sites to earn advertising fees by advertising and linking to Amazon.com.