Chocolate Truffle Cupcakes with Mocha Buttercream Frosting are a special treat for Valentine's Day or any other special occasion. Skip the hidden truffle inside if you prefer.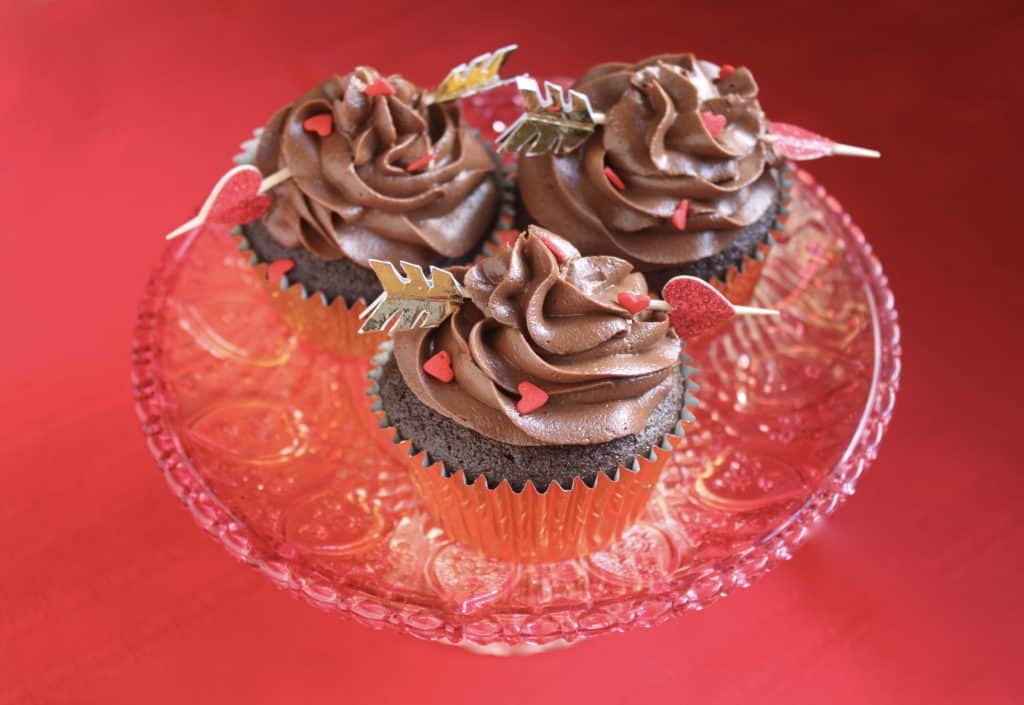 I've had these lovely cupcake liners with arrow heart toothpick decorations for a while now and decided to use them for Valentine's Day cupcakes, of course.
Disclosure: As an Amazon Associate I earn from qualifying purchases.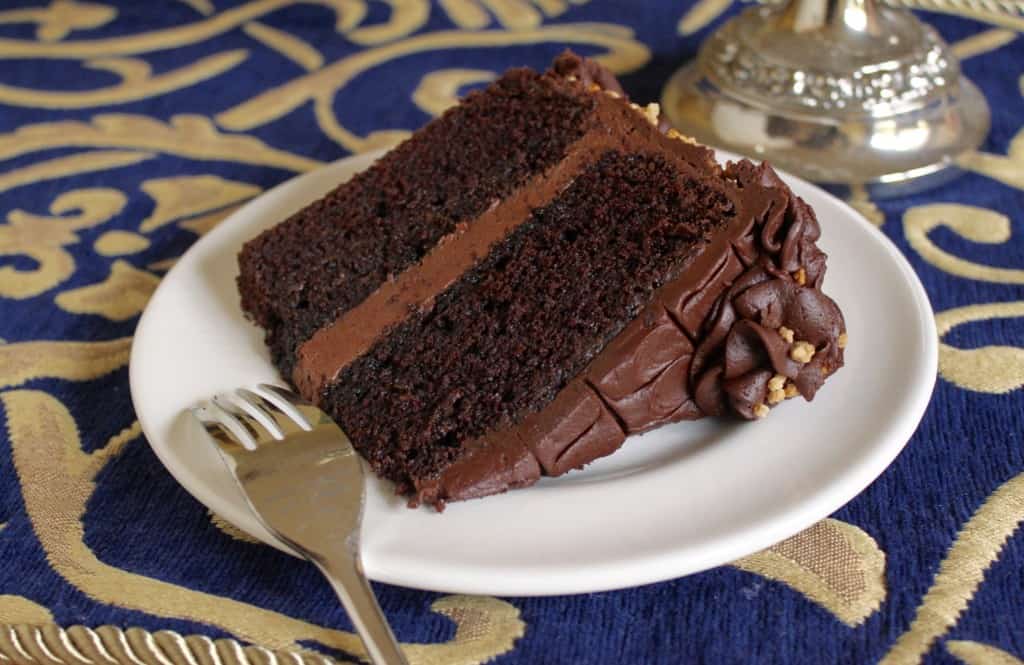 However, I had to decide what sort of cupcakes and frosting to use them with. It didn't take long for me to decide to remake my chocolate beet cake recipe into cupcake form, but I wanted to add a special twist. I thought about adding some liqueur like these White Russian cupcakes with Vodka Buttercream Frosting.

Eventually, I decided against it as I wanted an "all inclusive" cupcake that even the kiddies could take to school for Valentine's Day–if that's still a thing–especially since these are full of beetroot, and actually have some nutritional goodness to them.
So I dropped a lovely chocolate truffle into the batter in the liner before I baked them. Oh my! They are quite decadent and fitting for Valentine's Day! I'd advise leaving out the truffles if you are baking them for children, though, as they truly don't need the extra chocolate and sugar, do they? A couple of sprinkles and they're delighted!
These chocolate truffle cupcakes are really a wonderful idea for a romantic Valentine's Day treat that you can make ahead. They'd also be perfect for a wedding shower or engagement party! Or heck, even for a baby shower! What mother-to-be wouldn't want these chocolate beauties?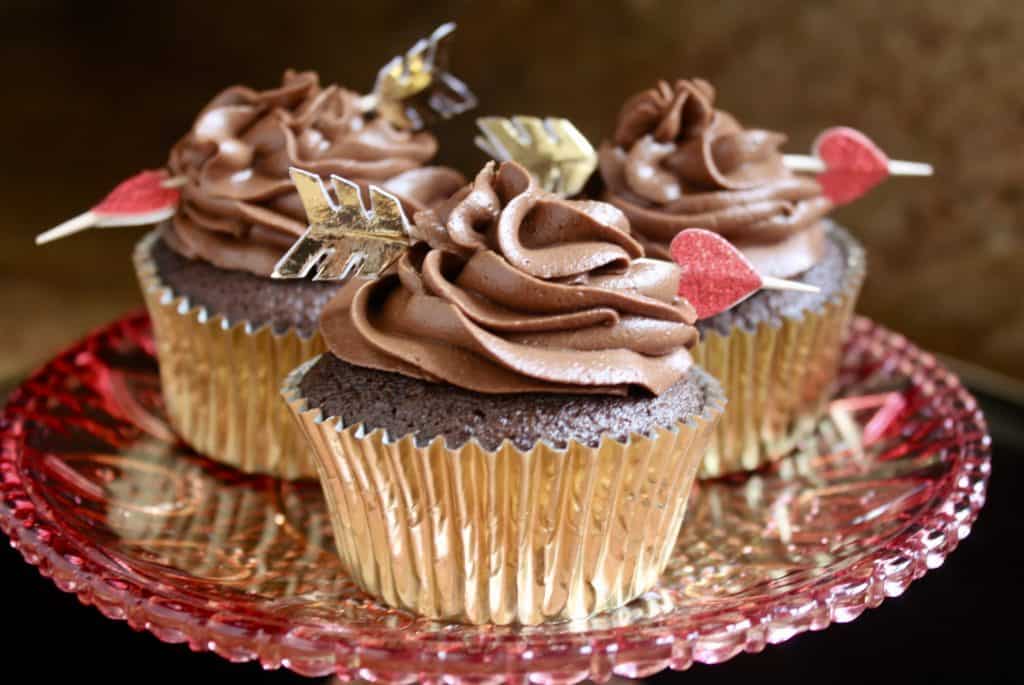 As you probably know, I give a lot of my cakes and bakes to neighbors as there's usually just too much for us to eat ourselves, even if my parents are here, too. Not only are my neighbors delighted, but I get feedback, so it's a win-win. The reviews aren't always this lovely. Sometimes they are simply, "Next time, use less sugar."🤣
I hope you enjoy these cupcakes as much as my neighbors.
Chocolate Truffle Cupcakes with Mocha Buttercream Frosting for Valentine's Day
recipe slightly adapted from my Chocolate Beet Cake (printable recipe below)
Make the cupcake batter.
You can use a food processor or blender. I made these in my Vitamix, then mixed in a bowl.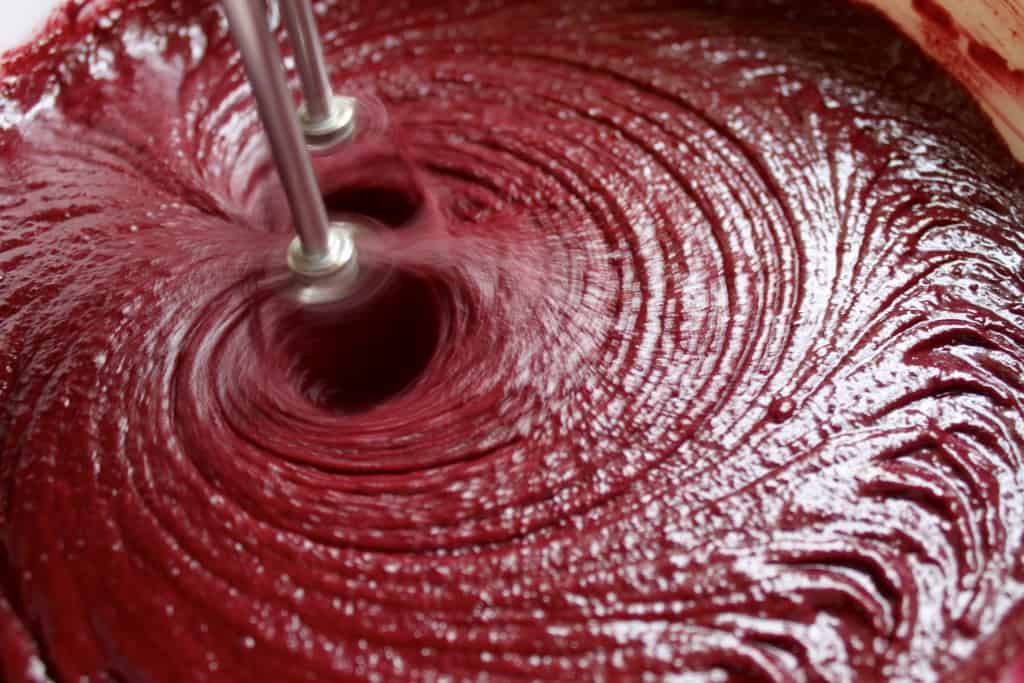 Pour the batter into the cupcakes liners. If using the truffles, pour a little batter in, then drop in a truffle and add a little more batter. Either way, fill the liners about 2/3 full.
Bake the cupcakes.
Bake in preheated350 F (180 C) for about 25 minutes or until a toothpick or cake tester comes out clean.
Cool on wire racks then decorate.
Follow my step by step piping directions on this post.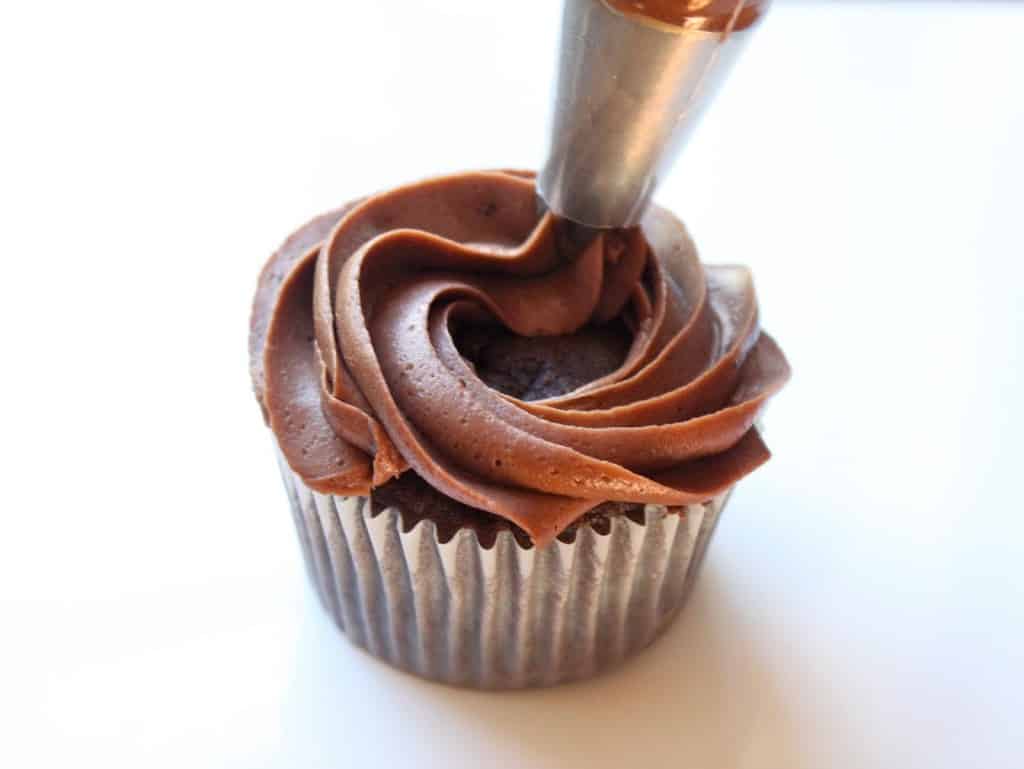 Finish off with sprinkles, toothpicks or leave plain.
Yield: 24 cupcakes
Chocolate Truffle Cupcakes with Mocha Buttercream Icing
A super moist chocolate cupcake recipe made with beetroot.
Ingredients
about 2 small or 1 large (187g) cooked, cooled beets (I like baking them in foil to keep them dry)
1/2 tsp vanilla extract
7/8 cup (200 g) sugar
8 oz (250 g) oil (I used olive oil and avocado oil)
3 eggs
1 1/4 cups (170 g) all purpose flour
1 1/8 tsp baking soda
1/8 tsp salt
25 grams (4.5 tbsp) good quality dark unsweetened cocoa powder (I used Barry)
24 chocolate truffles (if using)
BUTTERCREAM FROSTING INGREDIENTS
1/4 cup (62 g) butter, at room temperature
2 1/2 cups (312 g) confectioner's sugar
3/8 cup (21 g) good quality unsweetened cocoa powder
1/8 to 1/4 cup (30 to 60 ml) cold strong coffee
1/2 tsp vanilla
Instructions
Preheat oven to 350 F (180 C).
Prepare two, cupcake pans by placing liners in them.
Puree the beets in a food processor along with the eggs, vanilla, oil and the sugar.
In a large bowl, place the dry ingredients, then add the pureed mixture. Beat with an electric or stand mixer on low speed until well combined.
Pour a little batter into prepared liners and drop in a truffle. Add more batter, then bake in preheated oven for about 25 minutes, or until a tester (or skewer) comes out clean.
Remove from pans after a few minutes and allow to cool completely on racks.
Meanwhile, make the buttercream frosting by beating the butter until soft, then adding the sugar, cocoa, 1/4 cup (2 oz) coffee and salt, and mixing until creamy and smooth. Continue to add more coffee until a soft, spreadable, or pipe-able consistency is reached.
Decorate as desired.
Nutrition Information:
Yield:
24
Serving Size:
1 cupcake
Amount Per Serving:
Calories:

301
Total Fat:

18g
Saturated Fat:

4g
Trans Fat:

0g
Unsaturated Fat:

12g
Cholesterol:

35mg
Sodium:

105mg
Carbohydrates:

33g
Fiber:

2g
Sugar:

23g
Protein:

3g
Christina's Cucina is a participant in the Amazon Services LLC Associates Program, an affiliate advertising program designed to provide a means for sites to earn advertising fees by advertising and linking to Amazon.com.