Like many of the recipes I've posted, there is often a story behind them.
This story starts at a housewarming party in 1991, after my husband and I had just purchased our very first house in North Hollywood, and had invited a few friends to join us in celebrating the event. Among the invited guests were my husband's good friends, Jon and Dave, who happen to be cousins.
At one point during the evening, one of my girlfriends approached me and asked, "Who is the guy over there with the big hair?" referring to Jon, who had a lot of hair at the time. I told her he was my husband's friend, but I wanted to know why she was asking. She then informed me that he had been advising guests who were just arriving, not to eat the cream puffs as they were bad, or didn't taste good, or something to that effect! Well, you can imagine the earful I gave Jon. And apparently Cousin Dave had been his partner in crime, also dissuading party guests from eating the cream puffs, so they could both have more for themselves!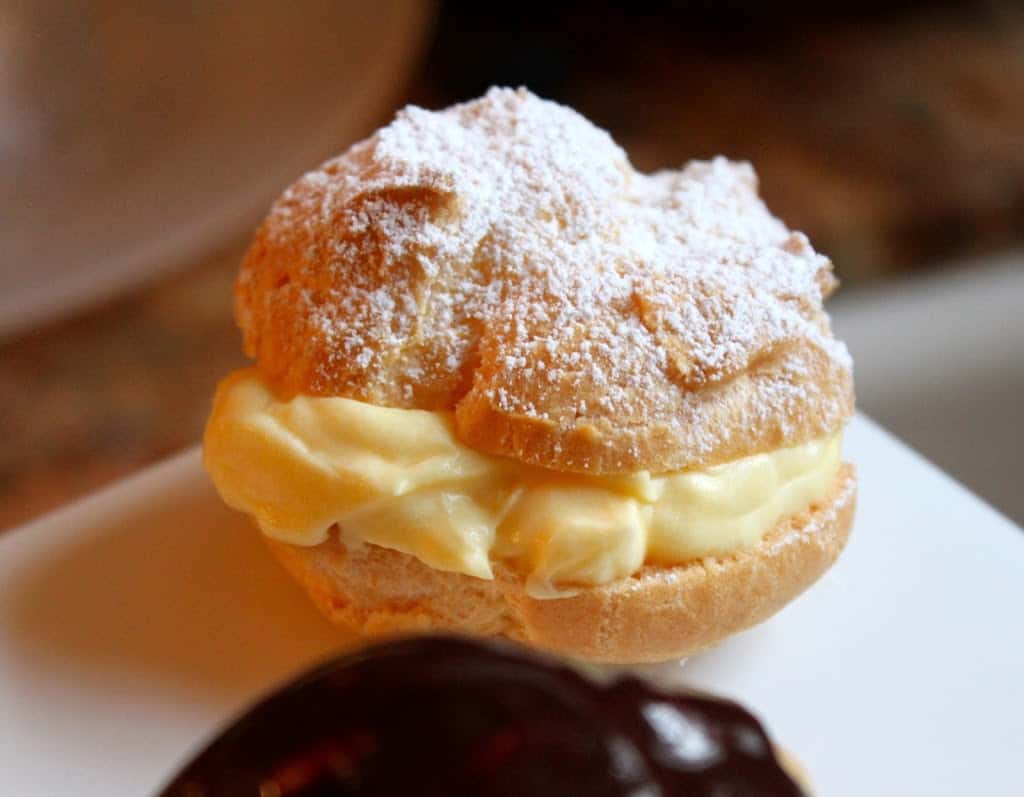 The "cream puff incident" has been a topic of conversation for over 20 years now, and we often laugh and joke about it. Jon likes to call them "profiteroles," emphasizing the second syllable and sounding as if he gets as much joy out of uttering the word as he does from eating them. Dave has been dropping hints about me making him cream puffs for years (since he lives nearby, while Jon now calls Ohio home). In fact, if you're perusing old posts on my Facebook page, you'll see lots of references to cream puffs, from Dave!
Last year I had wanted to make Dave some cream puffs for his birthday. His birthday is a few days before Christmas, and I was so harried and busy, I just never got around to it.  However, this year I did write on my 2012 calendar "make David cream puffs for his birthday," which just happened to be his 50th! So I made it a point to make them!
Here is a photo of Dave with his cream puffs–finally! He was a happy camper!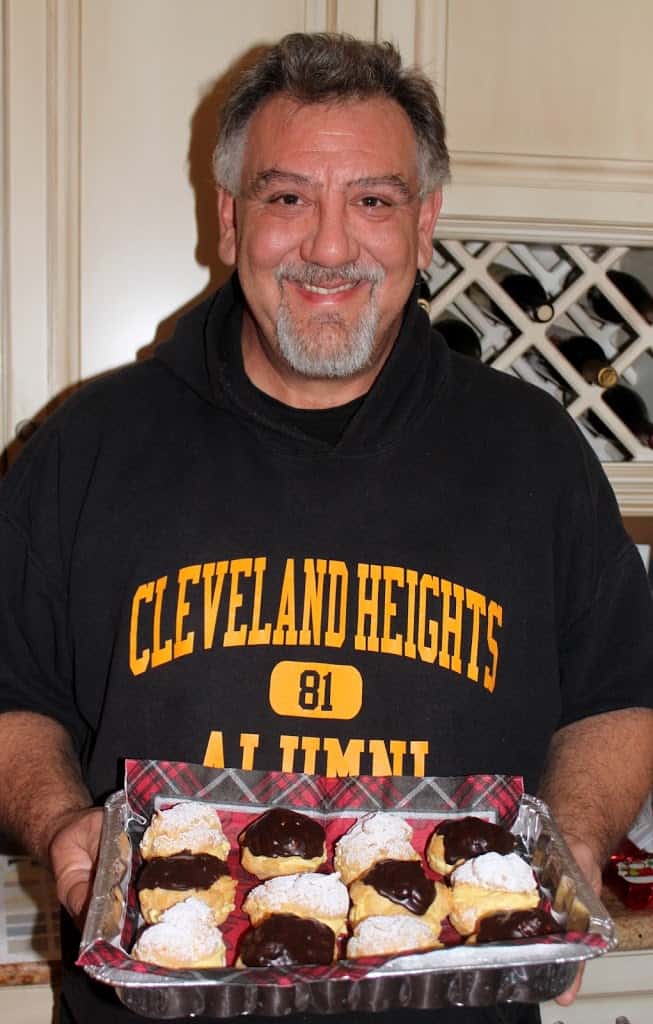 And here's the recipe, especially for Jon and Dave, so they can make their own profiteroles!! (By the way, if you've ever heard the term "choux pastry," (choux, pronounced "shoe") this is what it is.) Also, if you don't want to make the filling, you can substitute freshly whipped cream, instead, but you won't know what you're missing!
Cream Puffs (aka Profiteroles)
adapted from Good Housekeeping Illustrated Book of Desserts
Ingredients
1/2 cup (4 oz) butter
1 cup water
1 cup (5 oz) flour
4 eggs at room temperature
Filling
one recipe of Homemade Custard, using all the same ingredients, but reduce the milk to 3/4 cup (6 oz)
3/4 cups (6 oz) heavy whipping cream, whipped to stiff peaks
2 tbsp Grand Marnier liqueur
Chocolate Glaze (optional)
1/4 cup (2 oz) dark chocolate
1 1/2 oz heavy whipping cream
Confectioner's sugar to dust
 Heat oven to 400ºF.
First prepare the choux pastry, by placing the butter and water in a medium sized saucepan over medium heat, until it comes to a rolling boil.
Add the flour, all at once, and stir vigorously with a wooden spoon for about a minute…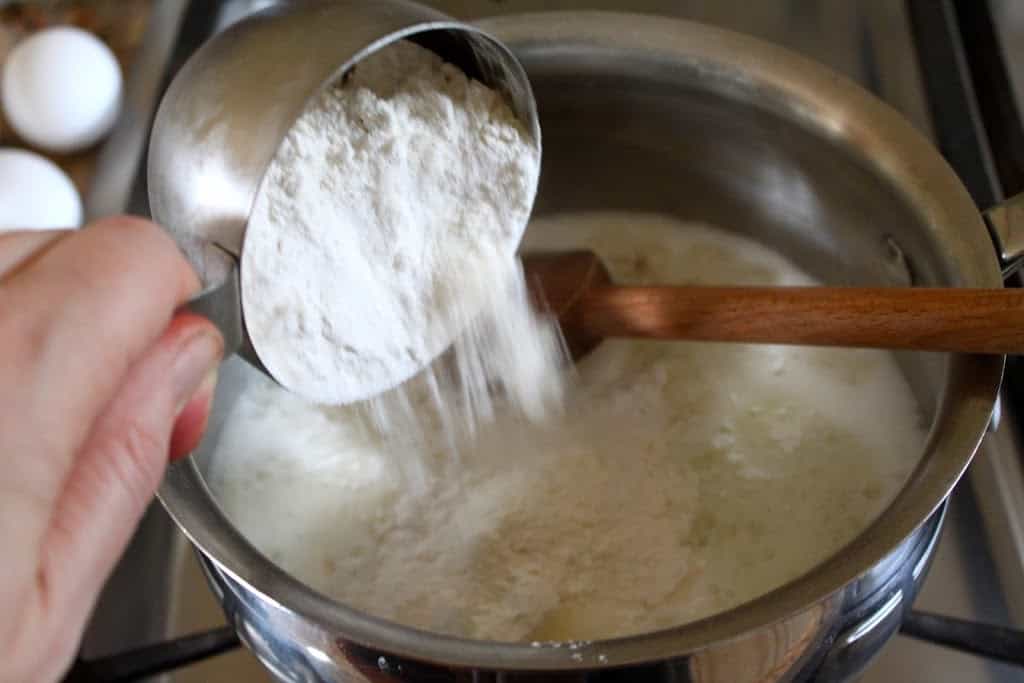 …until the mixture forms a ball.
Remove from heat, and add an egg, beating well, until well incorporated, before adding the next.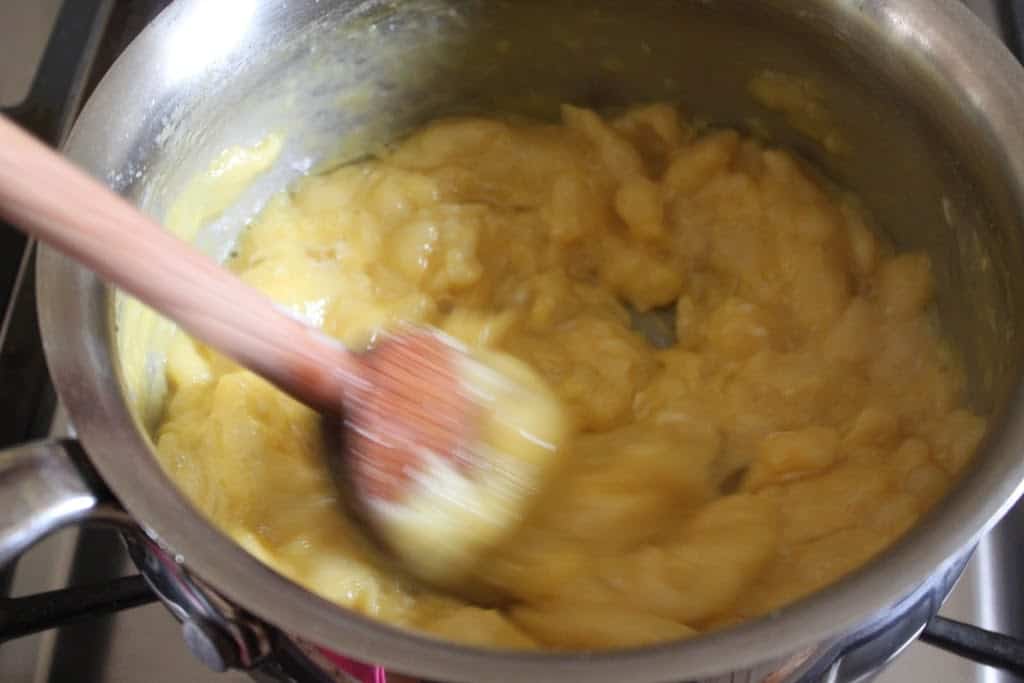 Repeat with remaining eggs, until. the batter is smooth and satiny.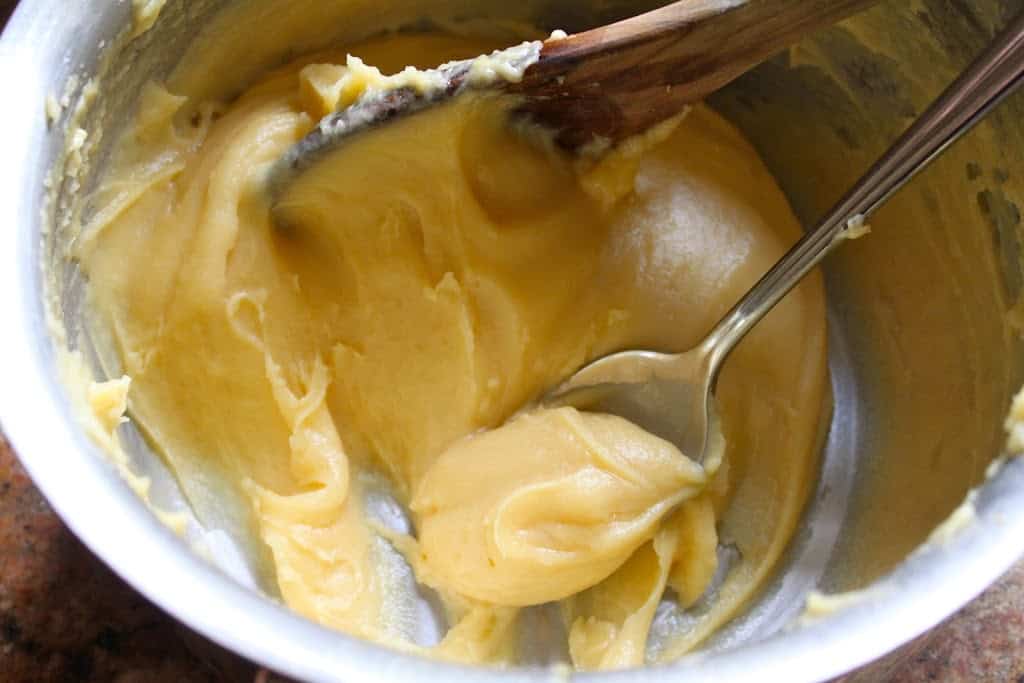 Place spoonfuls of the batter onto a prepared baking sheet, about 3″ apart.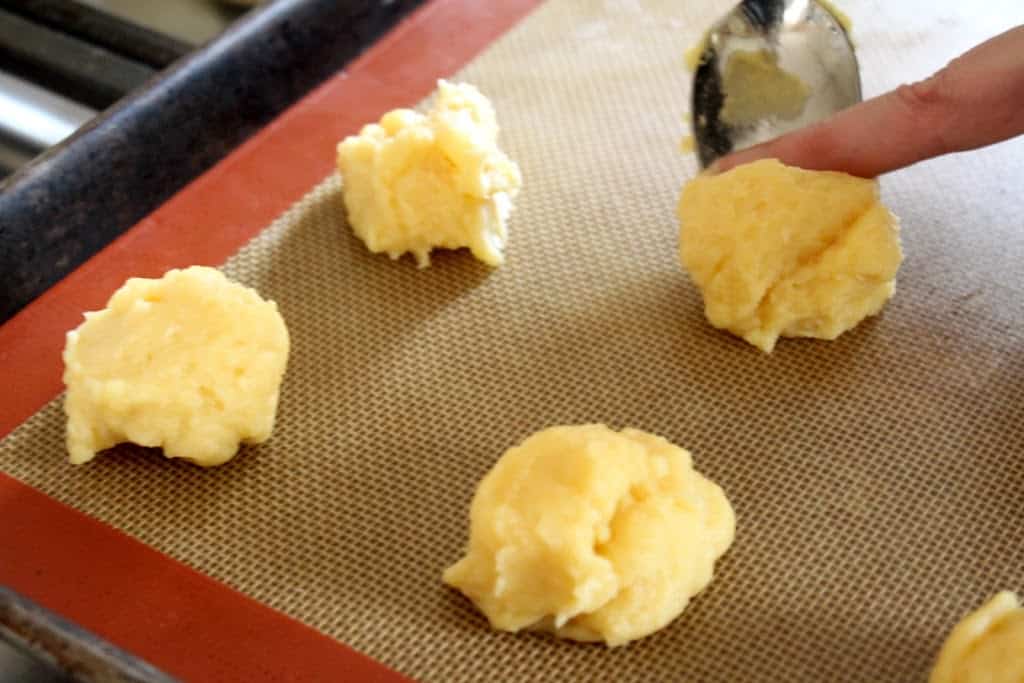 Bake for about 30 minutes. Turn off oven, and leave for 10 minutes, then place on cooling rack. While the cream puffs are baking, make the filling and chocolate glaze (see recipes below.)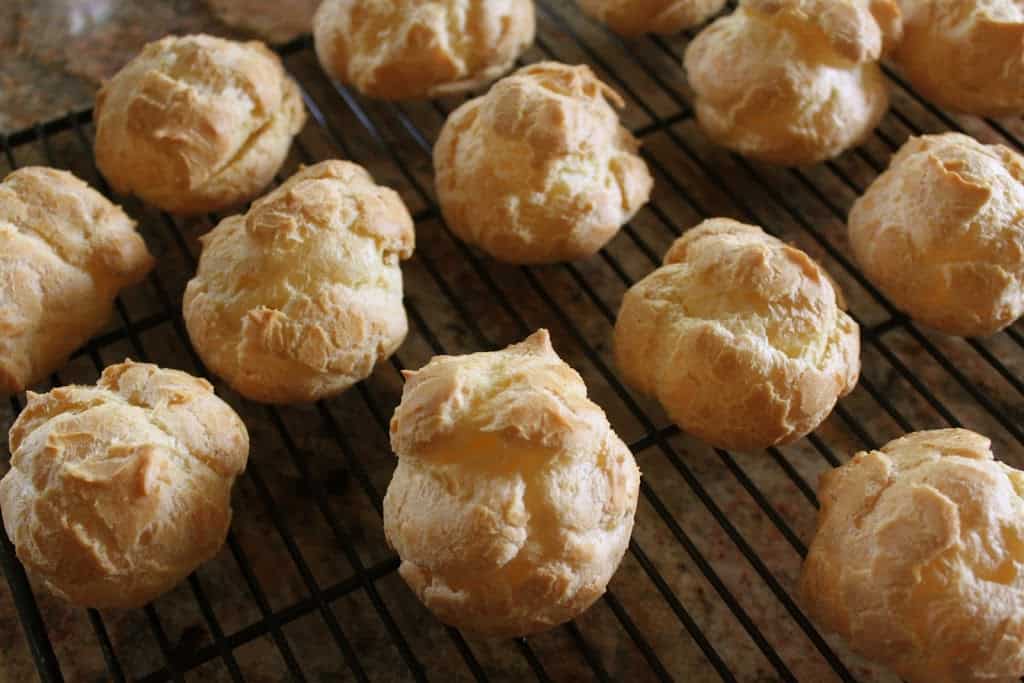 How to make the filling:
Whisk the prepared custard, and allow to cool, stirring occasionally so it doesn't form a skin.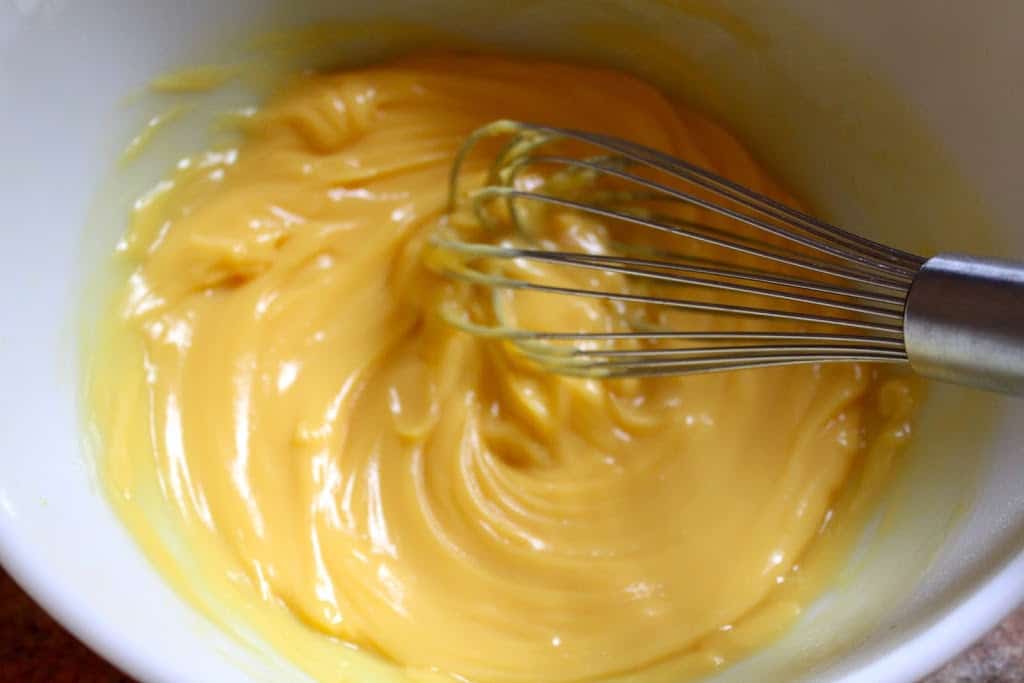 Fold in the whipped cream, until evenly blended. Keep covered and refrigerated until needed.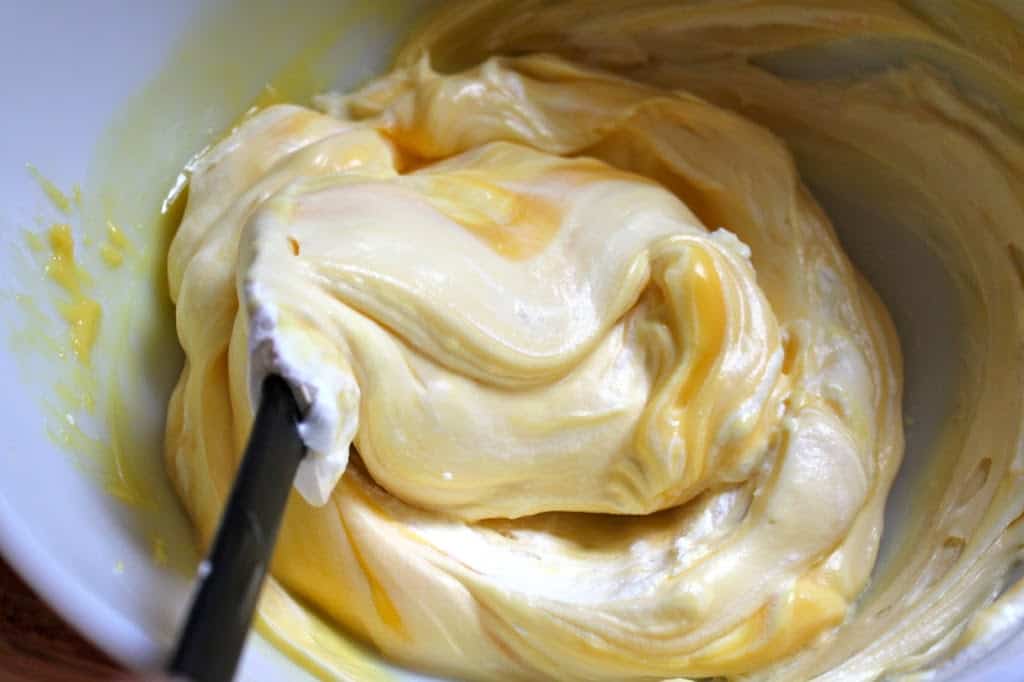 Make the chocolate glaze by placing the chocolate and cream together in a small pot until the chocolate is melted. Set aside.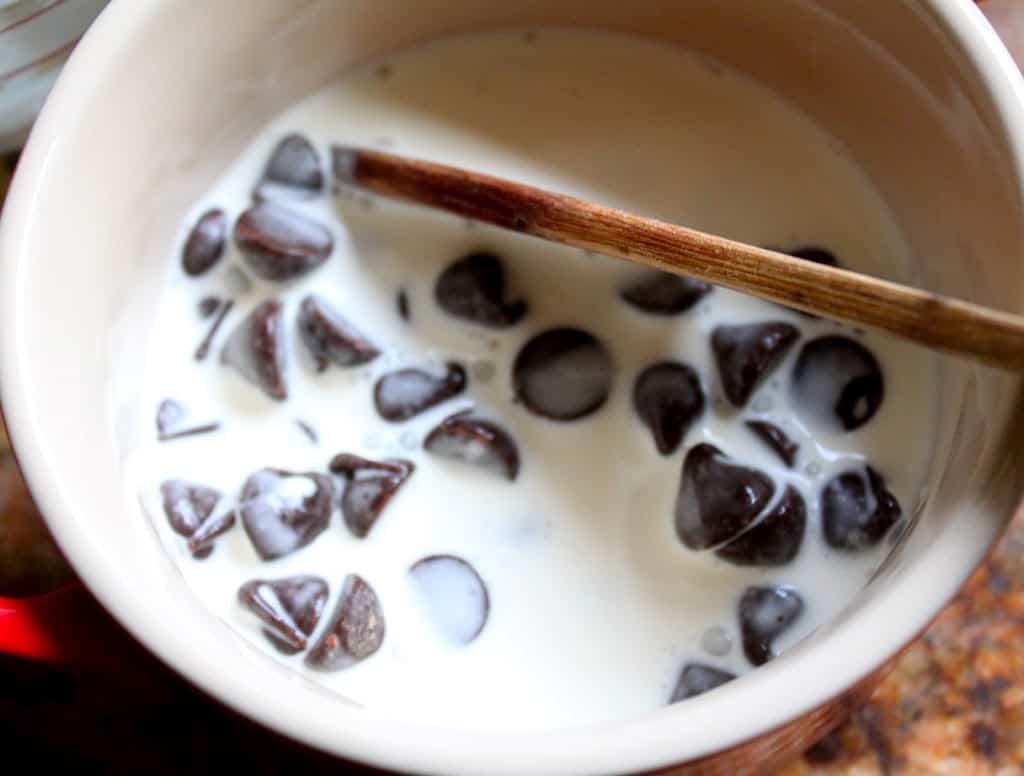 When the cream puffs are  cool, slice in half and remove any filaments of raw dough with spoon.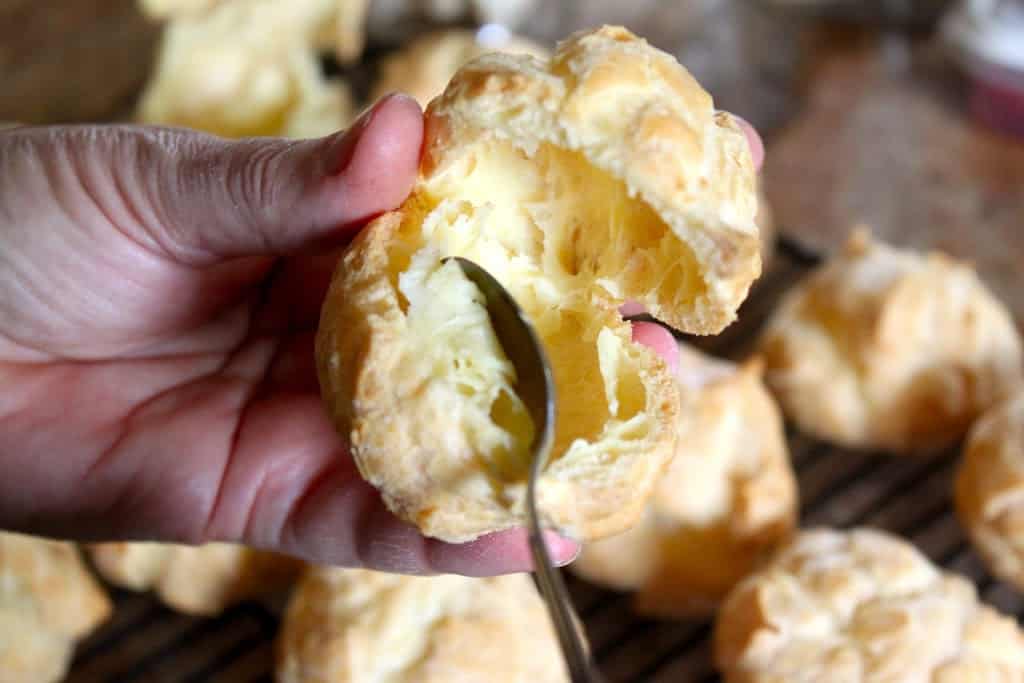 Fill each cream puff with a spoonful of filling.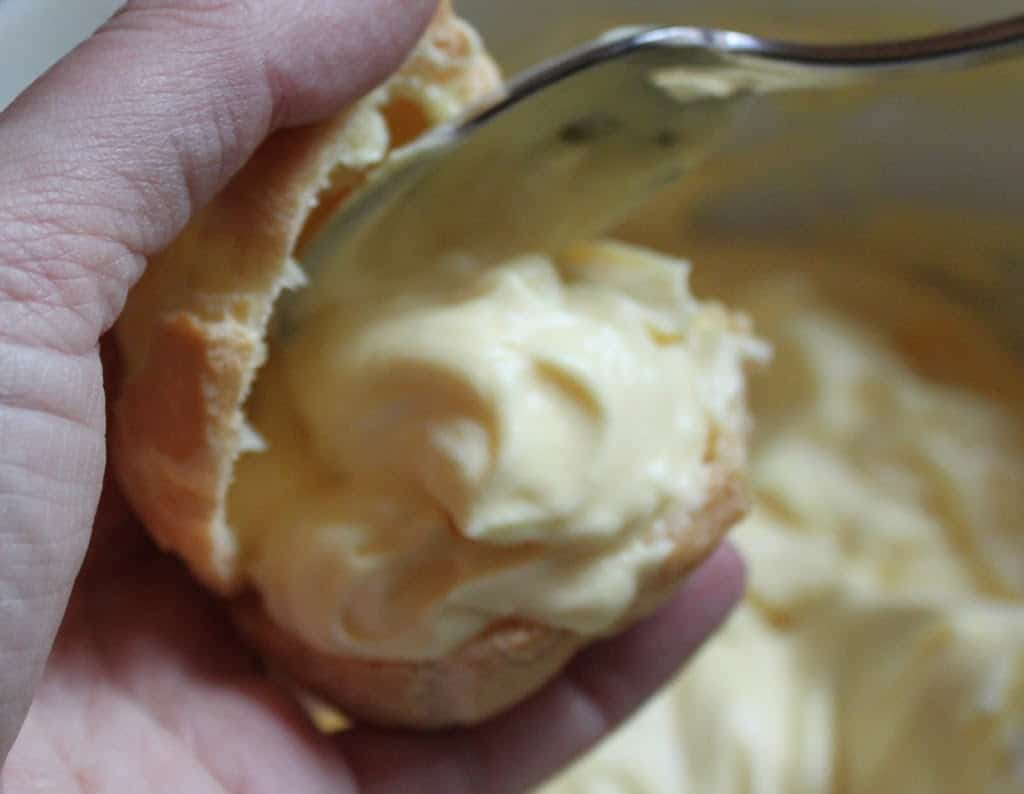 Decorate with the chocolate glaze…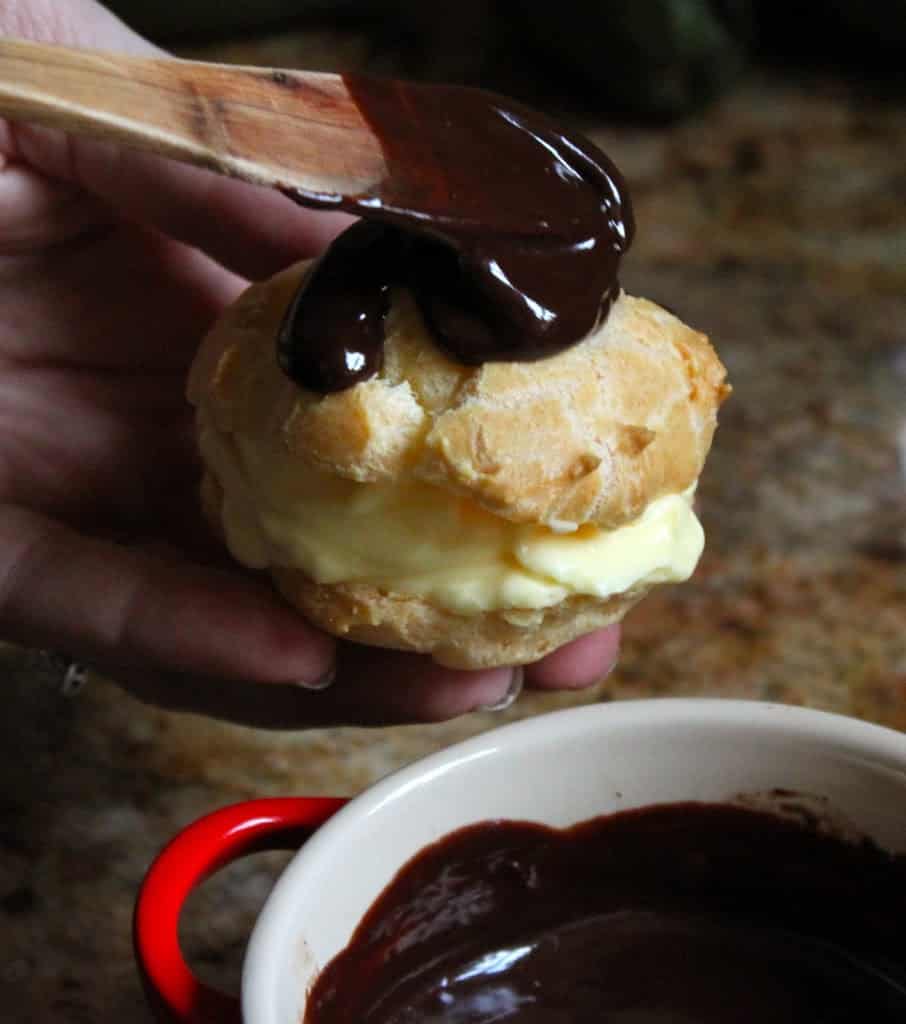 …alternately, you can just dust the cream puffs with powdered sugar.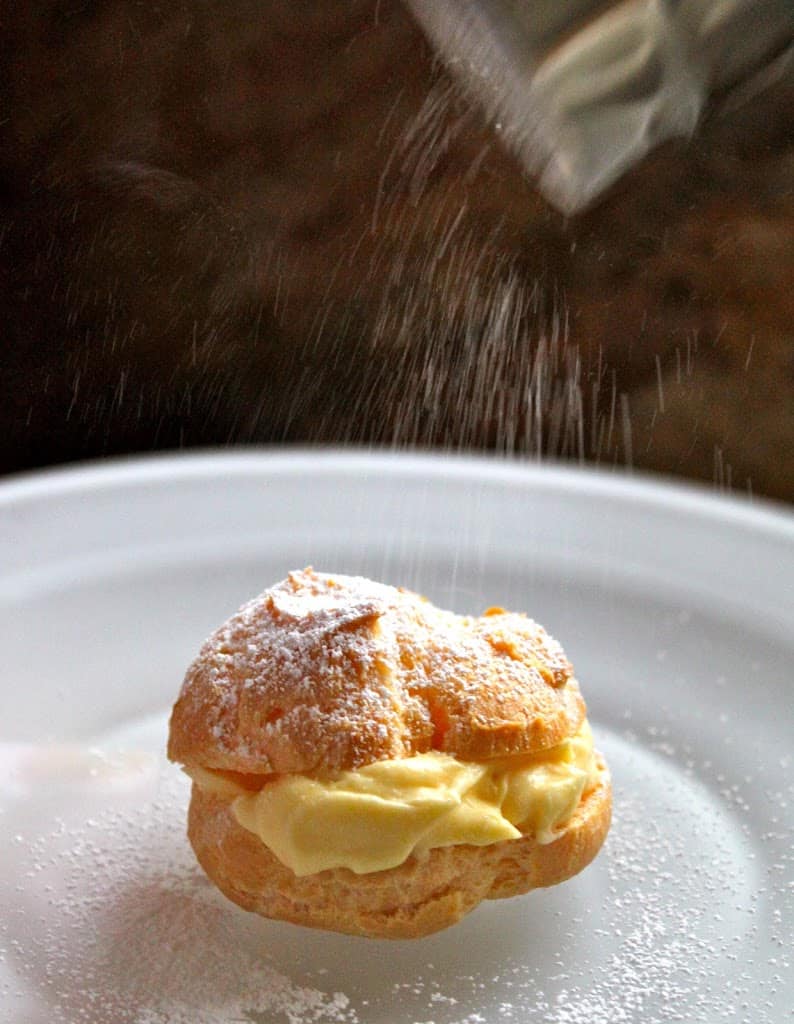 Refrigerate if not serving immediately, but they are best served right away.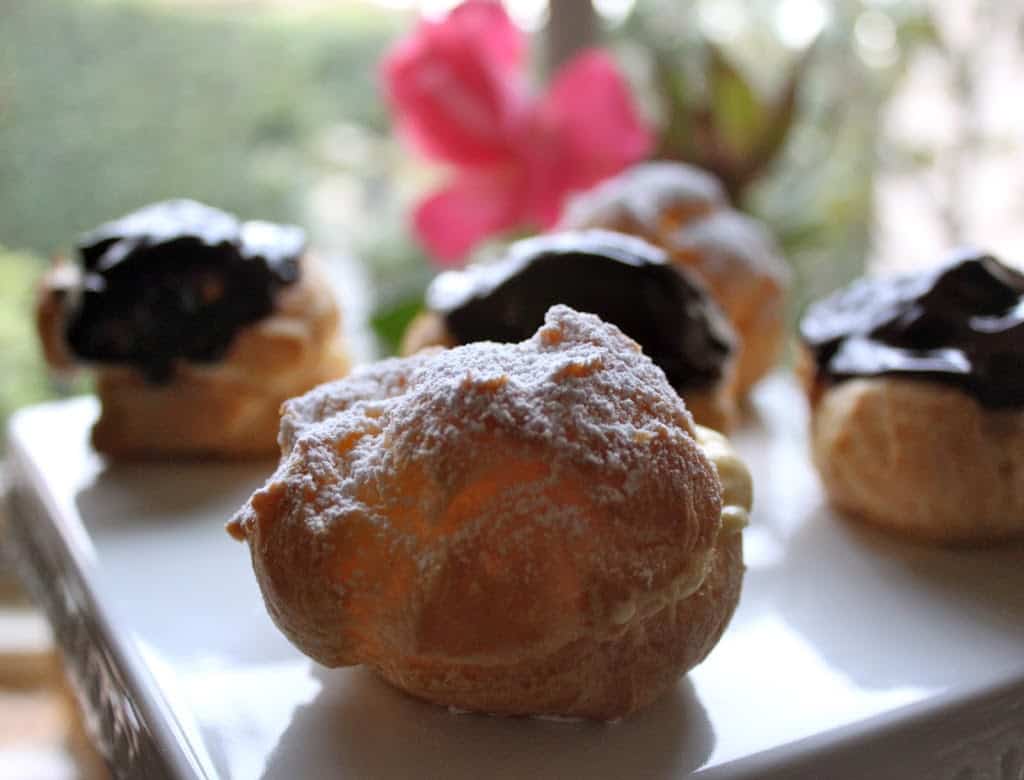 Don't miss another recipe or travel post; sign up for my free subscription below! 
(I promise not to sell or share your info, ever!)