If you are considering whether to visit the stunning city of Geneva, Switzerland, don't be surprised if you are booking hotel accommodations by the time you finish reading this article.



After leaving a cold and rainy Brussels, I was stunned to be greeted by a sunny, and surprisingly hot Geneva.
As an Amazon Associate I earn from qualifying purchases.
It was difficult to believe there could be such an extreme difference in the weather after only an hour's flight. The black turtleneck sweater I was wearing looked totally out of place on such a scorcher of a day.
Disclosure: I was graciously hosted by the Geneva Tourism and Conventions Foundation during my stay. All opinions are my own.
Arriving in Geneva & The Hotel Royal
At the airport, I had picked up a ticket from a kiosk in the baggage claim area which offers 80 minutes of public transportation to all travelers. After a seven minute train ride, I was at the train station in Geneva. Yes, you read that correctly, seven minutes and the ticket was gratis.
Due to the combination of my turtleneck and the heat, the brief four minute walk to the lovely Hotel Royal, one of the six Manotel hotels in Geneva, was greatly appreciated. The simplicity, peaceful atmosphere and decor of the lobby, stairs and sitting areas of Hotel Royal were most welcoming.
Over the next few days, I took advantage of the cosy downstairs areas. Before going up to my room, I'd relax for a few minutes after playing tourist all day, as the spots were so inviting. Aren't those chairs just beckoning to be sat upon?
The Geneva Transport Card
When I checked in, I was given a complimentary Geneva Transport Card. Was I given special treatment? Absolutely not. Every hotel guest in the city of Geneva receives a transport card which provides free public transportation for the duration of their stay! (Did you hear that, New York, London, Paris and Rome?)
The cards are not only for trams, buses and trains, but they are also valid on the water taxis.  The mouettes, as the water taxis are called, zoom guests across Lake Geneva in a matter of minutes. What a wonderful way to make tourists feel that they are truly welcome! Hostel and campsite guests receive the Geneva transport cards, too.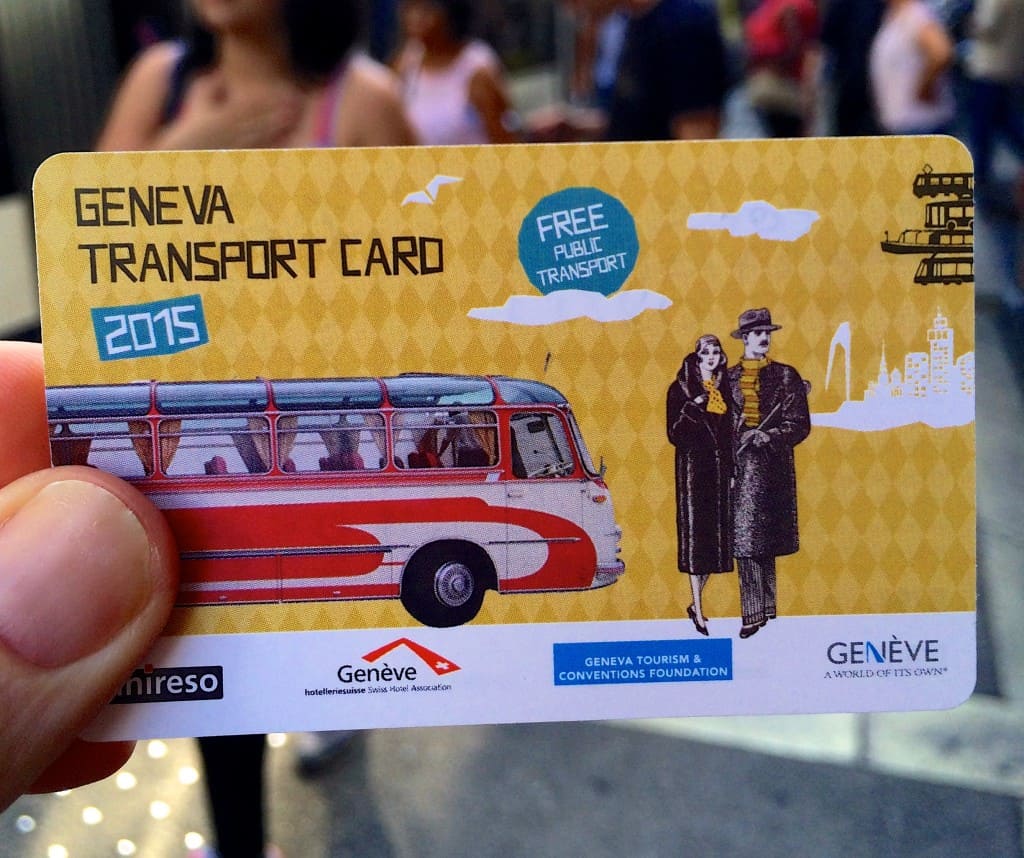 My hotel room was small, but very comfortable. You can discover the six styles of rooms that the Hotel Royal has to offer here. You'll find that there is something for everyone.
Breakfast at Hotel Royal
My first morning in Geneva was just as glorious as when I had arrived. I really enjoyed the buffet breakfast at the hotel. Although they did offer many menu items that you would find at an American buffet breakfast, there was so much more! Breakfast was served in a room just as tastefully decorated and welcoming as the lobby areas.
Many European countries traditionally have meat and cheese for breakfast, and this was only part of the breakfast offerings at the Hotel Royal. I was so excited to discover that authentic Belgian waffles were being served, and they were spot on. (I had just left Belgium, so my standards were high!)
The bread and pastry choices were numerous, but this made it difficult for me to choose as I would have liked to try all of them.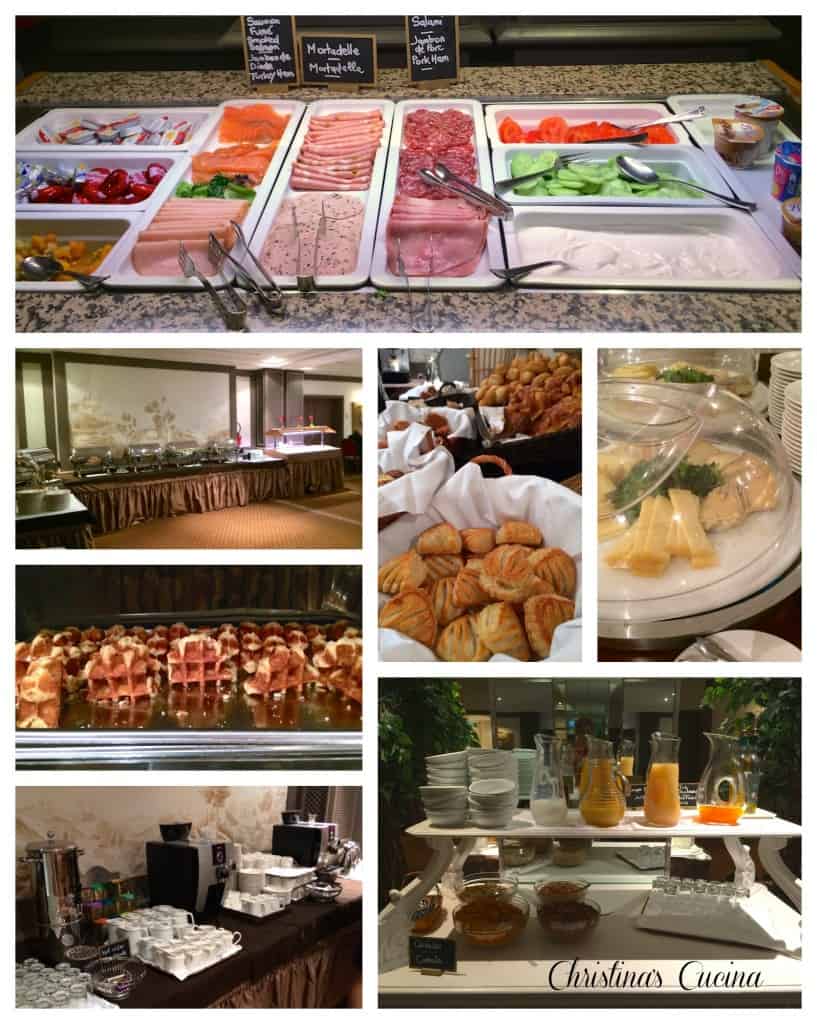 Cooking Lesson at Le Duo with Chef Armel Bedouet
After breakfast the first morning, I was off for my lesson with award winning Chef Armel Bedouet, who had kindly agreed to teach me one of his signature dishes! The lesson was going to take place in the kitchen of Le Duo restaurant, located right inside the Hotel Royal. I was a little nervous, since I'd only ever taken one other cooking lesson earlier in the year: Jamaican Jerk Chicken with Chef Dwight Morris. However, Chef Bedouet was an absolute delight!
I learned all about the local ingredients he used, right down to the fish (a whitefish called fera) from Lake Geneva from a fisherman he knows. The carrots were locally grown, and so sweet and fresh. Chef Bedouet could tell me so much about each ingredient and where it was sourced that I knew without question, that the end result would be marvelous!
After Chef had filleted the fish, I was instructed on how to remove the bones. They were practically invisible, so it was all done by feeling the bones, then pulling them with tweezers. It was actually quite fun, but I realized it wasn't as easy as I thought when I didn't get one of the bones out completely! Oops.
Chef Bedouet had already prepped some of the dishes. He explained in detail how each of them were made. I then tasted them, and to use one of Chef's seemingly favorite words, they were all sublime! There was a pungent lemon sauce which was phenomenal; a saffron infused sauce made with fish stock and a beautiful carrot puree.
Within my recipe posts, I always stress the importance of quality ingredients, however, the flavors in the sauces and puree were just incredible. All of our food should taste this good. I truly believe our standards in the US are so much lower than Europe's standards. Americans not only accept food that is often substandard, but even very poor quality; however, I digress–back to the cooking lesson.
Chef Bedouet then taught me how to prepare the delicate carrots and make decorative carrot curls with the larger ones, which I also really enjoyed. I don't make many highly involved, beautifully plated dishes, so this was wonderful opportunity for me to learn something completely new. I scraped and prepared the perfect little carrot.
Then Chef  made slices from the larger carrots on the mandoline slicer. We cut the edges to make them symmetrical and then they were simmered them for a minute or two, just until they became pliable. Then we rolled them–beautiful!
All that was left to do was to cook the fish. Chef Bedouet explained that if the fish is too fresh, it will retract and curl up, and in fact, the fish was quite fresh, so he put a plate on it to weigh it down a little.
Apparently, this whitefish is rather difficult to cook properly without under or overcooking it, but it was a piece of cake for Chef Bedouet. Once it was ready, he sprinkled a tiny bit of demerara sugar and caramelized it quickly with a torch.
Next, Chef Bedouet showed me how to plate the fish in the most stunning way using the sauces, puree, carrots and fresh edible flowers.
The completed dish was simply marvelous, not only visually, but the flavors were just as magnificent.
Thank you Chef, for taking the time to teach me how to create such a phenomenal dish!
Lunch at Le Duo Restaurant
After tasting the fantastic fish we'd just cooked, I was fortunate to be able to enjoy lunch at Le Duo and sample more of Chef Bedouet's exquisite creations. As you can see, each dish was more outstanding than the next. Here is a sampling of the dishes at Le Duo. I didn't eat all of them, but enjoyed the cucumber and cheese dish along with a crisp and lovely Swiss white wine. I chose a light and creamy rhubarb sweet for my dessert.
Walking Geneva.
After lunch, I headed out to explore Geneva on foot. Geneva tourism offers an incredible amount of helpful information; depending on what one's interests are, a trip can have many different options. You can find all the information you could ever want here at the Geneva Tourism website.
With a small city map in hand, I started out towards one of the bridges that cross Lake Geneva. I just had to make a stop by a famous Swiss chocolatier, Favarger, on the way and couldn't resist trying their decadent chocolate ice cream! It was very hot, remember? You can see how quickly my ice cream was melting after just stepping outside
I continued walking towards Old Town Geneva with my ice cream in hand, enjoying the balconies and structure of the buildings and passing many more chocolatiers, shops and even a carousel along the way.
I took a walk into Halle de Rive, which is a large indoor food market where I just wandered up and down the aisles, mesmerized by all the delicious options. However, it was a bit torturous not to be able to buy any the of food to take home and cook! (I did buy a small ricotta at Casa Mozzarella.) Just take a look at some of the splendid displays.
Pulling myself away, I then walked into old town, which is situated on a hilltop, and fell in love with the atmosphere and older architecture of the area.
St. Peter's Cathedral and Tower Views
Soon, I came upon the beautiful 12th century cathedral named after St. Peter, which is now under the Protestant denomination. This cathedral's tower offers some of the best views of the city of Geneva and beyond.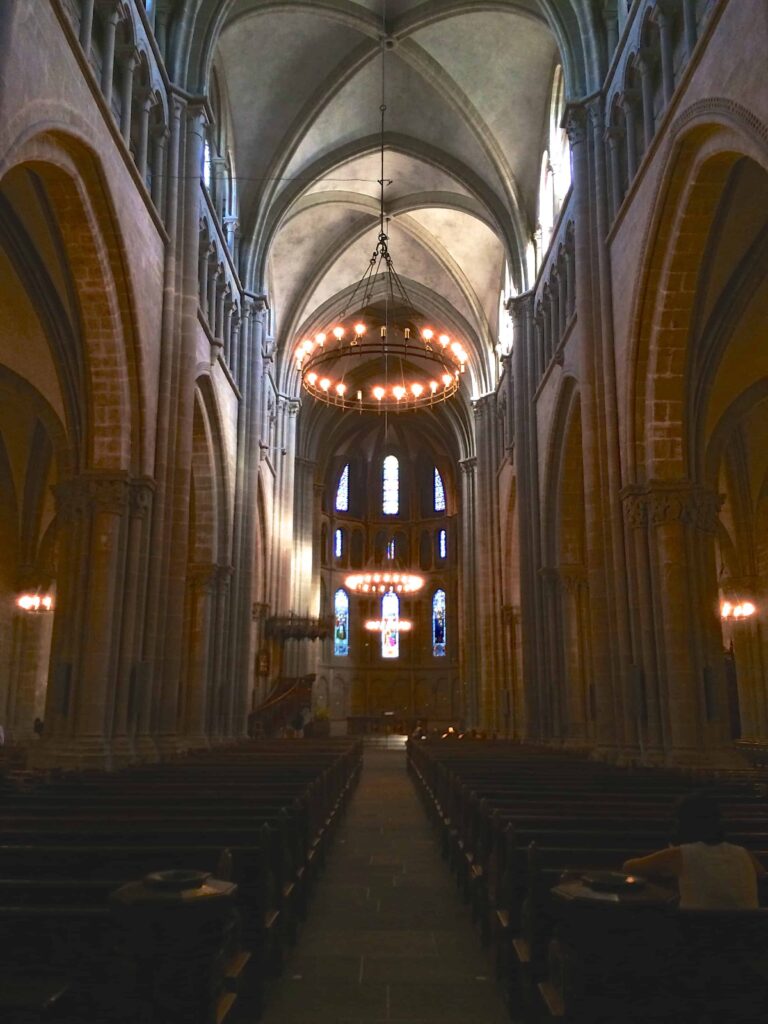 Once inside, I decided to climb up all 157 steps of the north tower to be rewarded with the magnificent views of Geneva. It was truly worth every step!
The views were nothing short of spectacular.
Note: St. Peter's has an archaeological site below the cathedral, if you have time to work it in.
Instead of walking back to Hotel Royal, I made my way to Lake Geneva's waterfront to catch a mouette (water taxi) to cross the Lake. As I noted earlier, this mode of transportation is also included in the Geneva transport card for tourists. I couldn't helping snapping more photos along the way to the lakefront.
The Mouettes
I continued taking more photos on the short trip across Lake Geneva, even capturing Mont Blanc in the distance once or twice. I was in awe of the beauty that I saw in Geneva; it truly is one of the most beautiful cities I have ever been.
I'll leave you with this parting shot of Lake Geneva on a perfect summer evening.  This article will continue with my wonderful dinner at Cottage Café and a photo tour of Geneva (part 2).
Don't miss another travel or recipe post; sign up for my free subscription below!
I promise not to sell or share your info, ever.
More information from Geneva Tourism- CLICK HERE
Disclosure: I was hosted by The Geneva Tourism and Conventions Foundation. As always, all thoughts and opinions are mine alone. I am disclosing this in compliance with the FTC's regulations.
Christina's Cucina is a participant in the Amazon Services LLC Associates Program. This is an affiliate advertising program designed to provide a means for sites to earn advertising fees. Done by advertising and linking to Amazon.com.