Rock Cakes from Harry Potter have a bad reputation. Hagrid made them and they were just like rocks. However, proper rock cakes, or rock buns, are nothing but soft and delicious!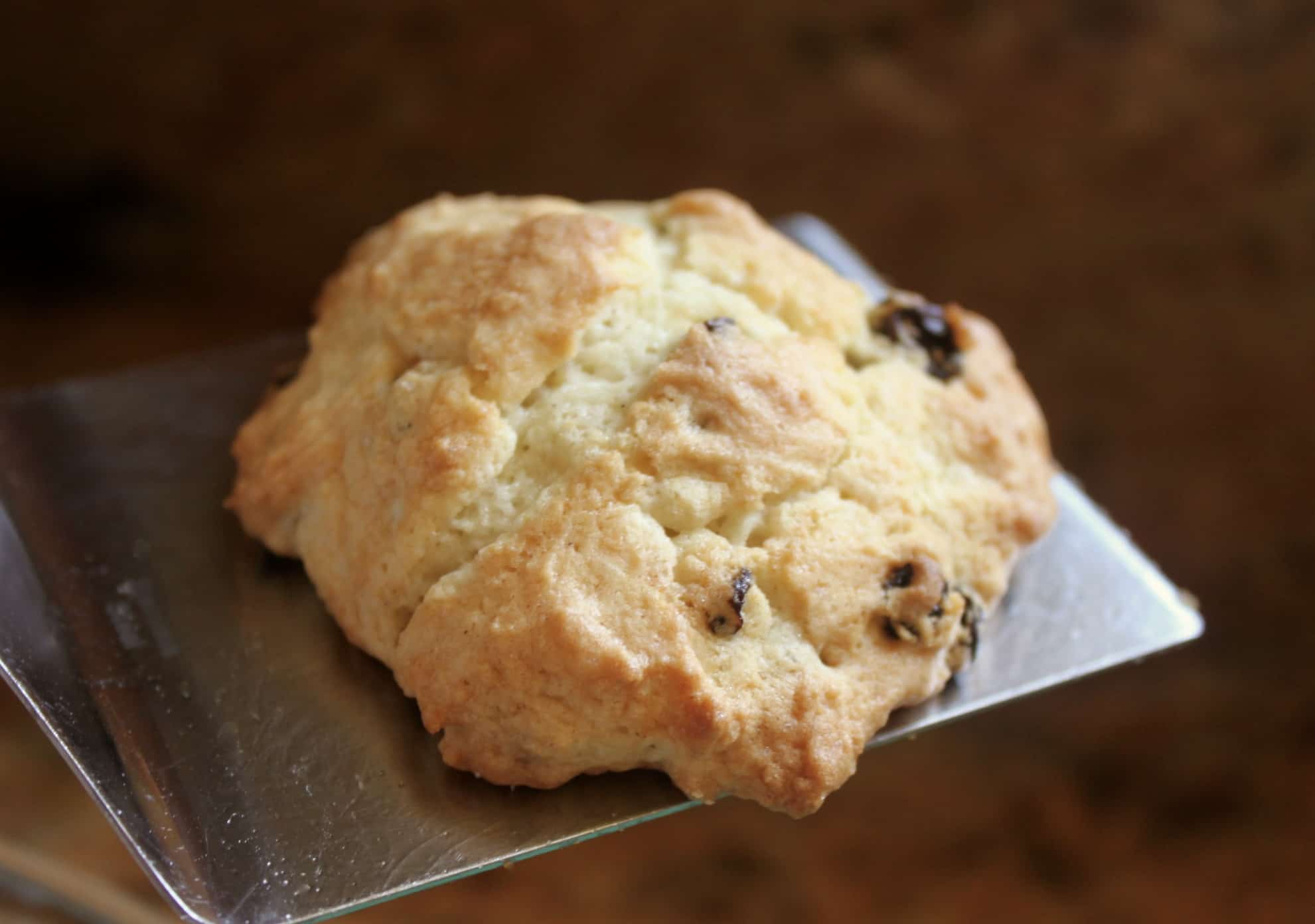 I grew up with my mother making rock cakes all the time.
This post contains Amazon affiliate links for your convenience at no additional cost to you.
I've wanted to share her rock cakes and raspberry buns recipes with you for a long time. Somehow, there just never seems to be enough time to make all the recipes I want to make! However, a while ago I came across a recipe for rock cakes from someone who had never heard of them before Harry Potter. She had made them once and shared the recipe. I don't even want to know where she got the recipe because they weren't proper rock cakes! 😫
Another classic British biscuit: Bourbon Biscuits
What are Rock Cakes from Harry Potter (Rock Buns)?
In the Harry Potter book series, Hagrid makes rock cakes and Harry almost breaks a tooth on one. They are in true fashion for Harry Potter, really hard as rocks!
What are traditional, British Rock Cakes/Rock Buns?
The rock cakes that I grew up with (possibly a Scottish recipe) are like a wet scone dough, filled with currants and baked as is. They are not rolled out as scones, and purposefully are made to look rough. They are very simple and easy to make and taste absolutely wonderful! Unlike the rock cakes from Harry Potter, they are light and soft, and won't break your dental work!
I don't know if there are variations on rock cakes, but these are from an authentic, old Scottish recipe book. Enjoy!
Rock Cakes from Harry Potter (Rock Buns)
 adapted from Lofty Peak cookbook
makes about 2 dozen (depending on the size you make them)
Ingredients
8 oz (1 1/2 cups) all purpose flour
1 1/2 tsp baking powder
3 oz (3/4 of a stick) butter
3 oz (1/3 cup)Â sugar
2 oz (1/2 cup) currants or golden raisins
1 egg
2 1/2 oz milk
(optional: pinch of mixed spice)
Preheat oven to 425°F (215°C)
Line cookie sheets with silicone baking sheets or parchment paper.
Sift the flour, baking powder (and mixed spice, if using) and set aside.
Cream the butter and sugar until creamy and smooth. Add the egg. Next, mix in the sifted flour and milk. As it comes together, add the dried fruit.
Mix just until combined. Do not over mix.
With two forks, make "rock-like" cookies on the tray about 2″ apart. They should not be smooth.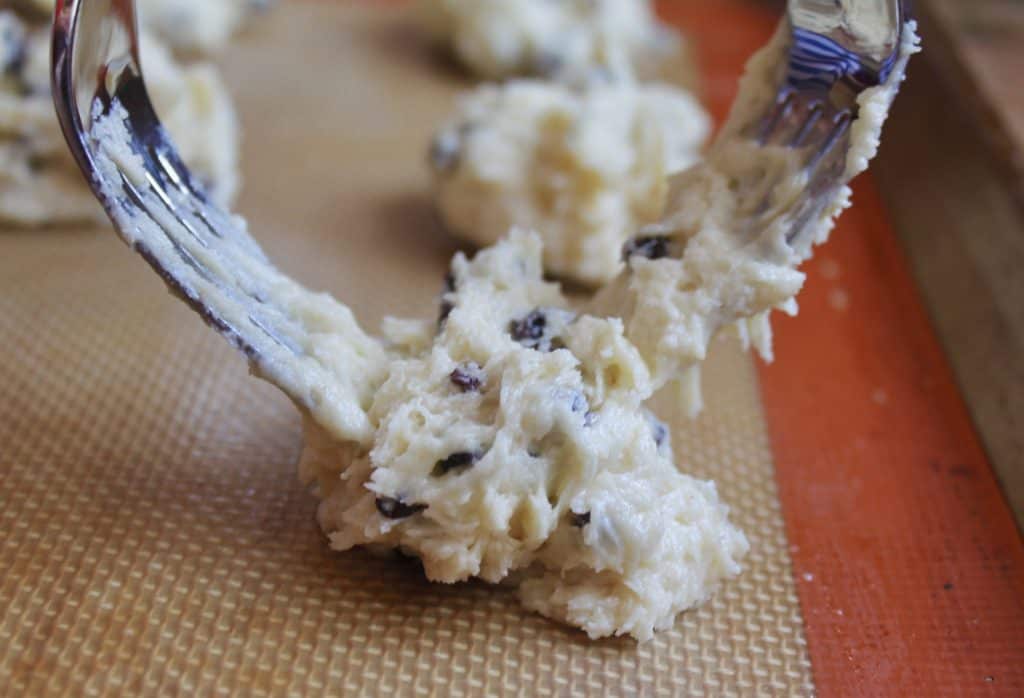 Sprinkle with a little sugar and bake in the upper part of the oven for about 12 minutes. (It could range from 10 to 15 minutes, depending on your oven.)
Remove from tray and place on cooling rack. When cool, enjoy the fruits of your labor!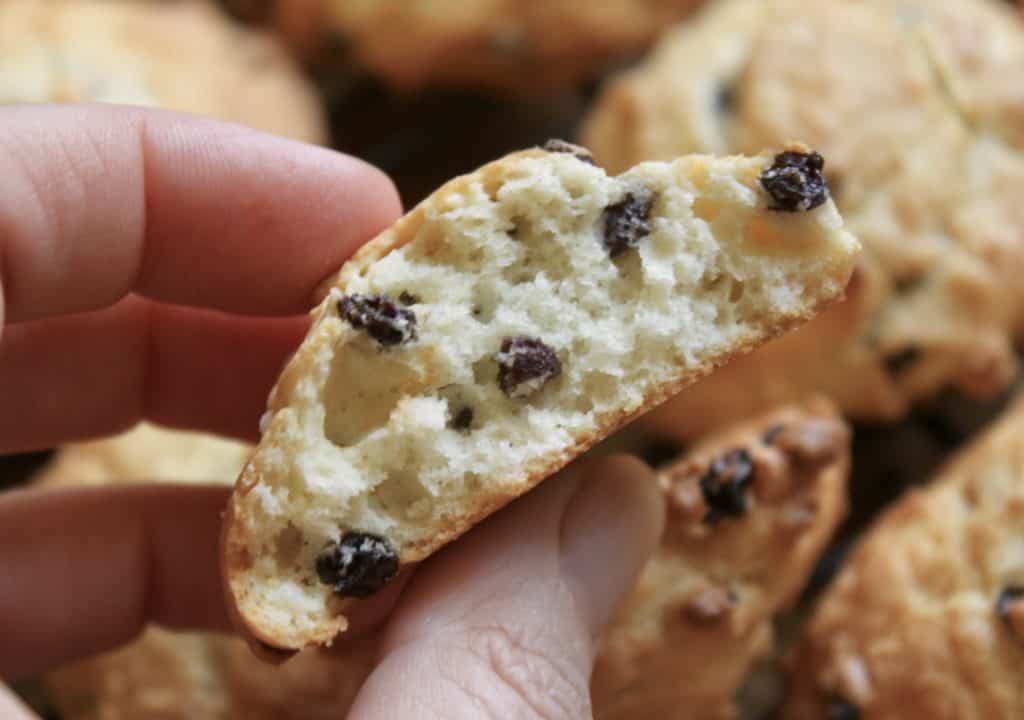 Looking for more Harry Potter baking inspiration? Here you go.
Sign up for my free newsletter and don't miss a thing (below)!
Yield: 24
Rock Cakes from Harry Potter (Rock Buns)
Rock Cakes from Harry Potter have a bad reputation. Hagrid made them and they were just like rocks, however, proper rock cakes or rock buns are nothing but soft and delicious!

Prep Time 10 minutes

Cook Time 12 minutes

Total Time 22 minutes
Ingredients
8 oz (1 1/2 cups) all purpose flour
1 1/2 tsp baking powder
3 oz (3/4 of a stick) butter
3 oz (1/3 cup)Â sugar
2 oz (1/2 cup) currants or golden raisins
1 egg
2 1/2 oz milk
(optional: pinch of mixed spice)
Instructions
Preheat oven to 425°F (215°C)

Line cookie sheets with silicone baking sheets or parchment paper.

Sift the flour, baking powder (and mixed spice, if using) and set aside.

Cream the butter and sugar until creamy and smooth. Add the egg. Next, mix in the sifted flour and milk. As it comes together, add the dried fruit.

Mix just until combined. Do not over mix.

With two forks, make "rock-like" cookies on the tray about 2" apart. They should not be smooth.

Sprinkle with a little sugar and bake in the upper part of the oven for about 12 minutes. (It could range from 10 to 15 minutes, depending on your oven.)

Remove from tray and place on cooling rack. When cool, enjoy the fruits of your labor
Nutrition Information:
Yield:
12
Serving Size:
2 cookies
Amount Per Serving:Calories: 165 Total Fat: 7g Carbohydrates: 23g Protein: 3g