Hotel review of the Horizon Club and suite, and afternoon tea at the Shangri-La Hotel in Sydney. In a nutshell, don't hesitate to stay at this luxurious hotel, and treat yourself to the personalized stay at the Horizon Club. Afternoon tea is a must, even if you don't book a room!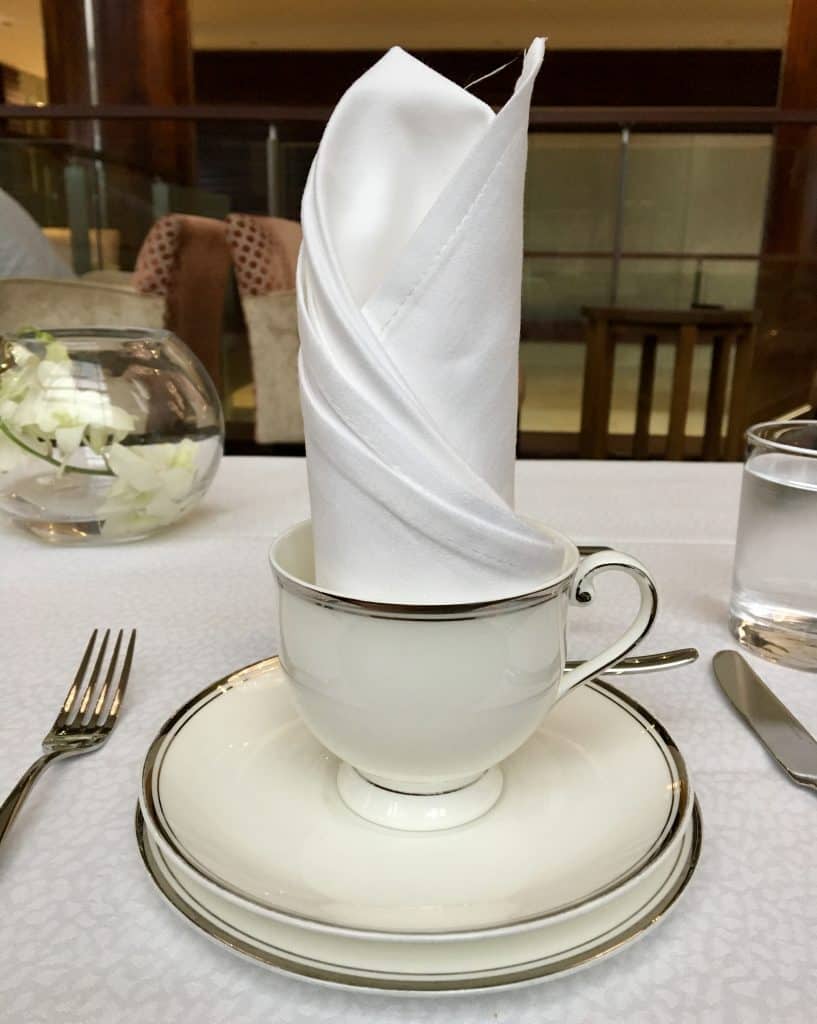 For a very long time, I've dreamed of going to the Shangri-La Hotel in Sydney.
Disclosure: I paid for my own room on the Horizon Club level at the Shangri-La Hotel in Sydney, but was hosted for afternoon tea along with two friends. All opinions are always solely my own.
I've seen so many gorgeous views from this hotel that, suffice it to say, I couldn't get them out of my head.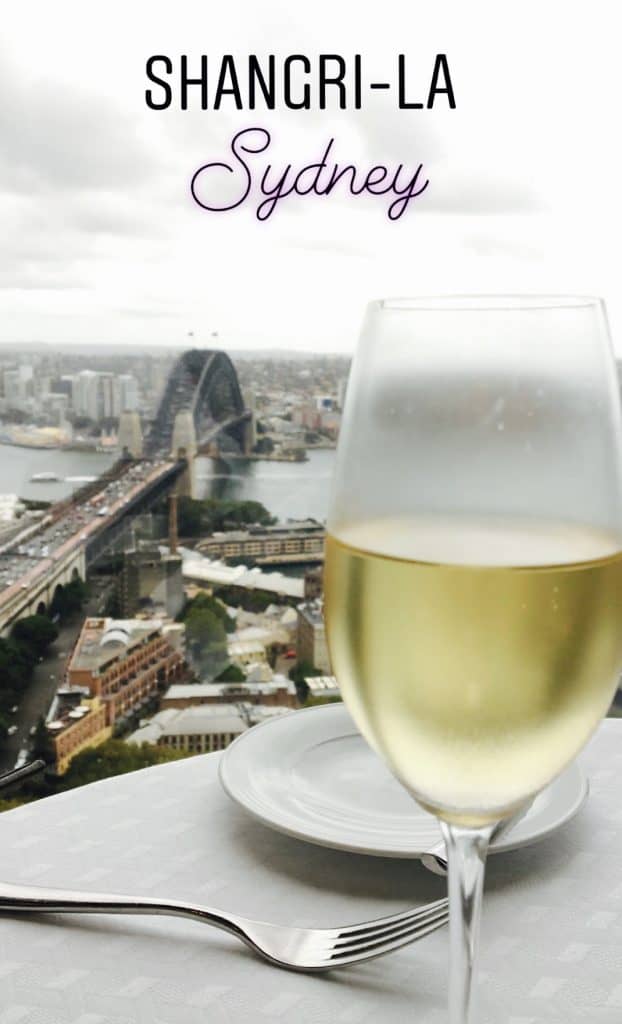 You also know how much I love quality afternoon teas, and hotels where I know the service will be top-notch.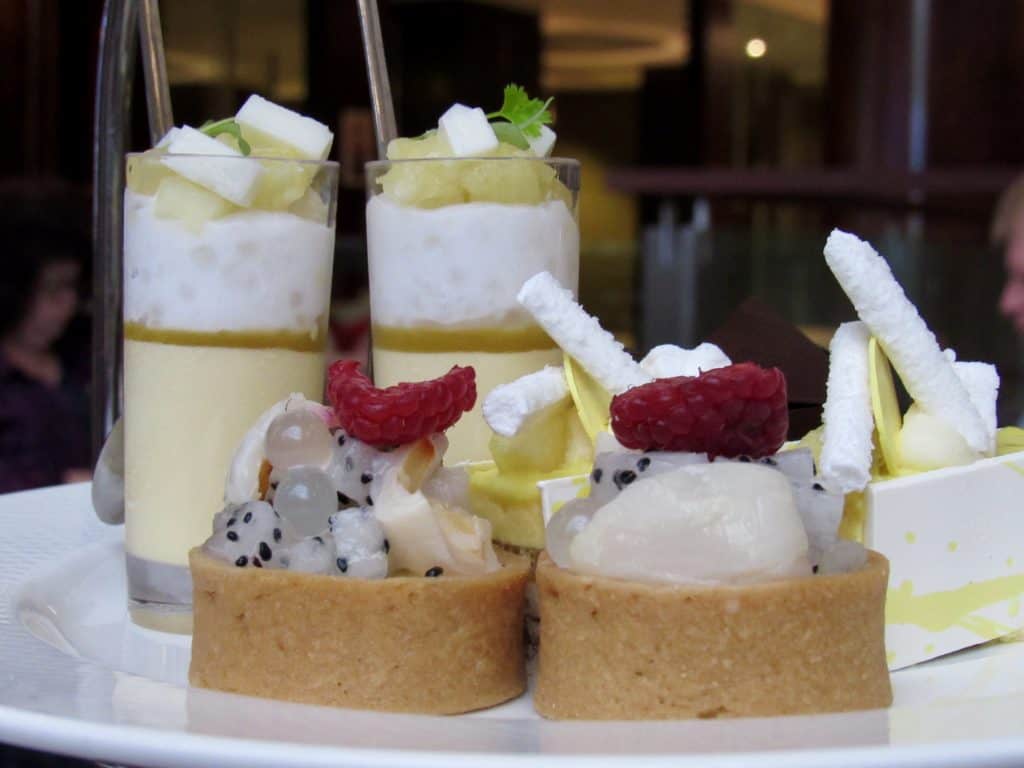 Before I tell you all about the wonderful Chinese New Year themed afternoon tea that my friends and I enjoyed, I'd like to tell you a little about the Shangri-La Hotel in Sydney.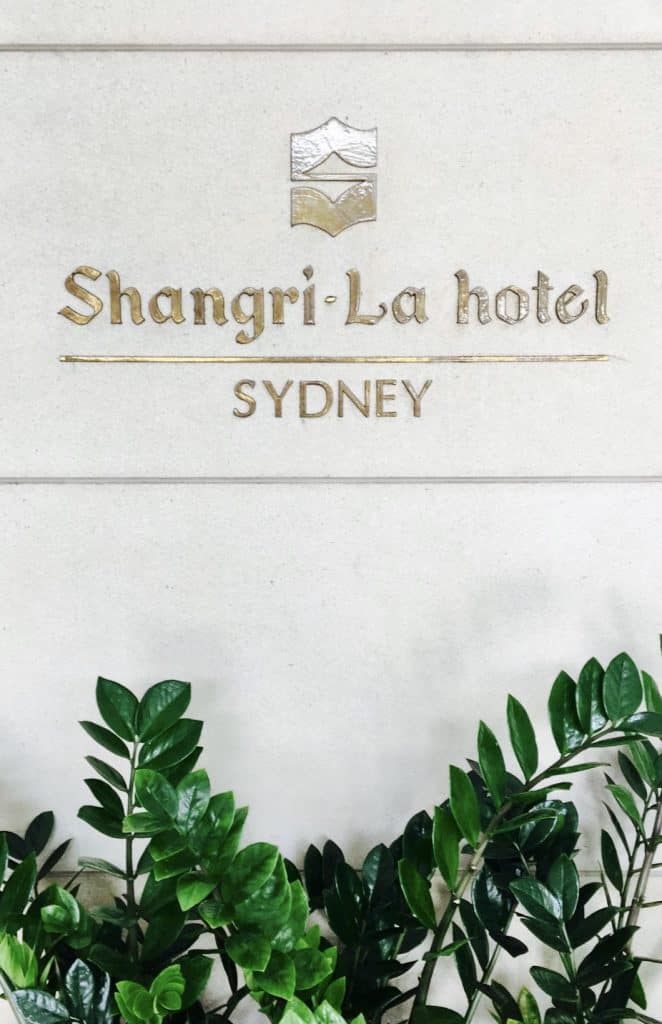 The Shangri-La Hotel in Sydney
I stayed here with my friend Lisa, who is much like me: an Italian born in Scotland living in another country (Australia). She's a mad foodie and traveler, too, however, unlike me, she's gone to cooking school.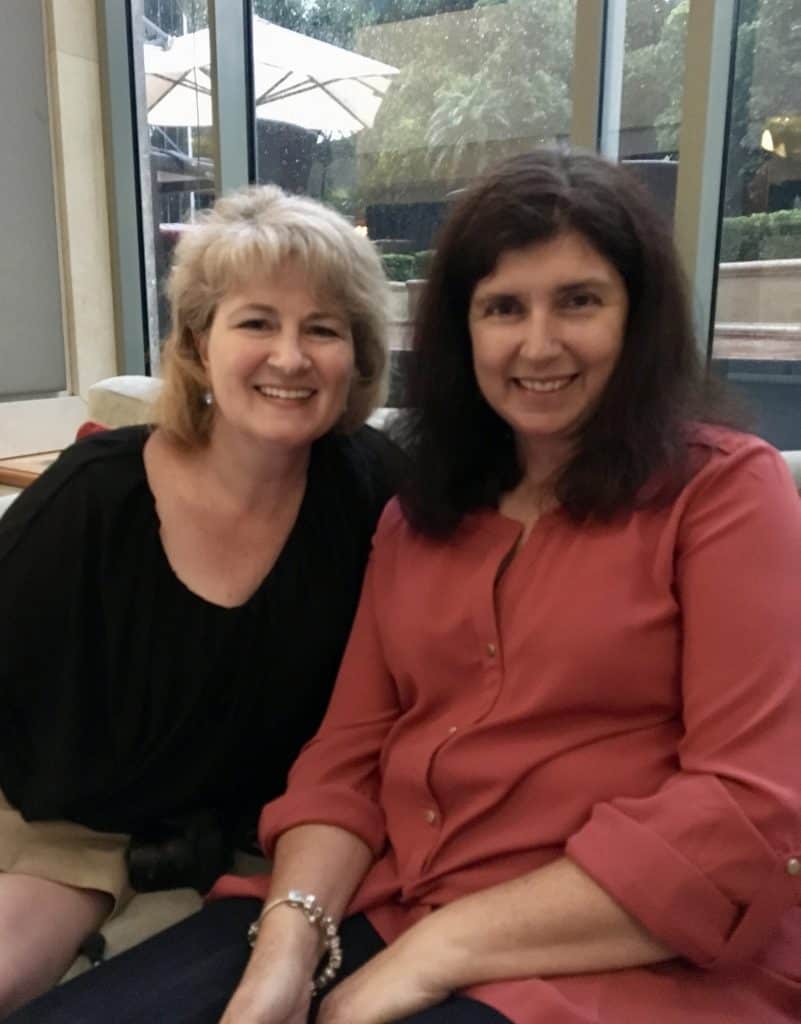 When visiting Sydney, I'd recommend being centrally located as you probably don't want to have a car. Parking rates are very expensive in this city.  Unless you're okay with spending a small fortune on parking, then rely on your feet and public transportation here.
The Shangri-La Hotel in Sydney is located in the historic Rocks District.  It overlooks Circular Quay with spectacular views of Darling Harbour, andSydney's pair of iconic architectural wonders known worldwide: the Sydney Harbour Bridge and Opera House.

From Circular Quay, we boarded ferries and rode the metro very easily. It's less than a 10 minute walk to or from the Shangri-La Hotel which is one of the reasons I loved staying there. The convenience and proximity to public transportation is always something I appreciate when touring a city.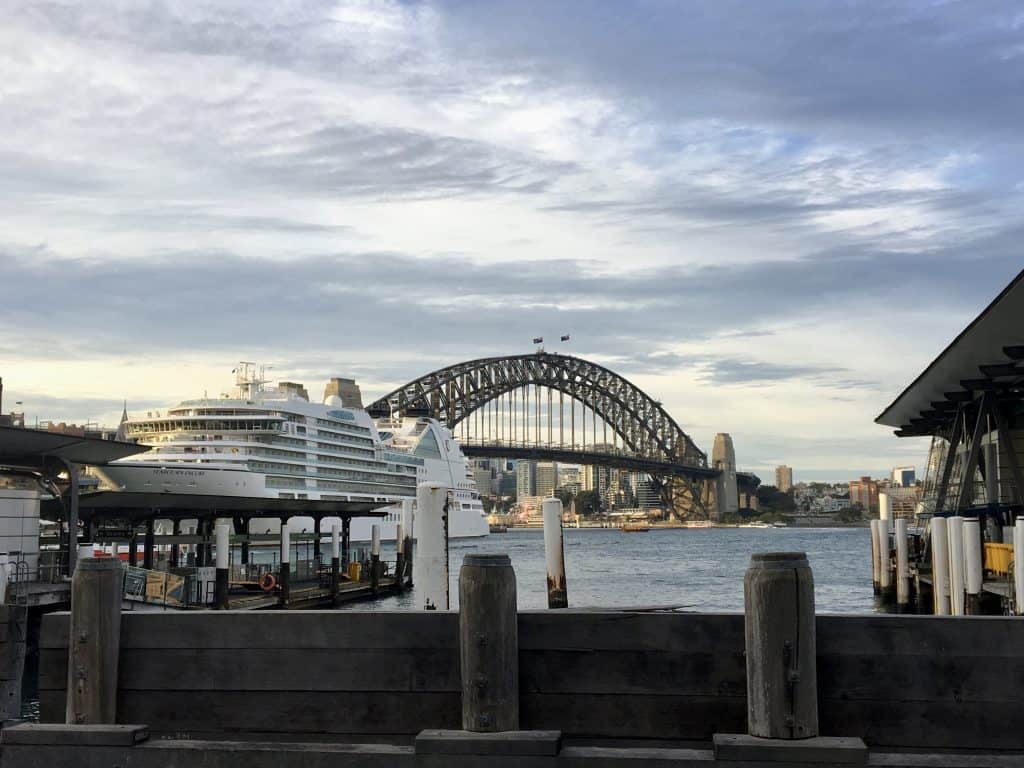 Even closer than than Circular Quay, our walk to the Sydney BridgeClimb was only 5 minutes! You can even sleep in before your morning climb, it's that close!
We took a ferry to Manly Beach, which I'd recommend; it's a brilliant beach.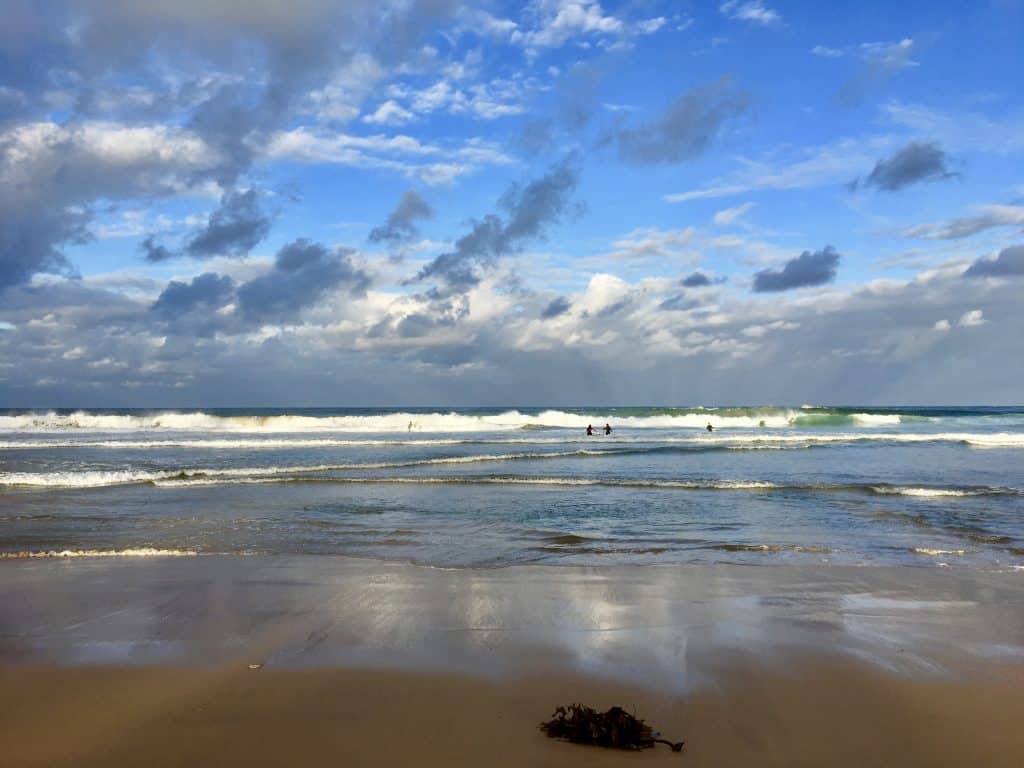 When Lisa and I arrived at the Shangri-La in Sydney, we had some time to enjoy a drink and nibble before checking in as we were a little early. I couldn't resist the hot cross buns!
Shangri-La Horizon Club Darling Harbour Suite
As Horizon Club guests,  my friend, Lisa, and I had access to the private Horizon Club Lounge which features daily breakfast, beverages and canapés, free wifi and suit pressing and more personalized services.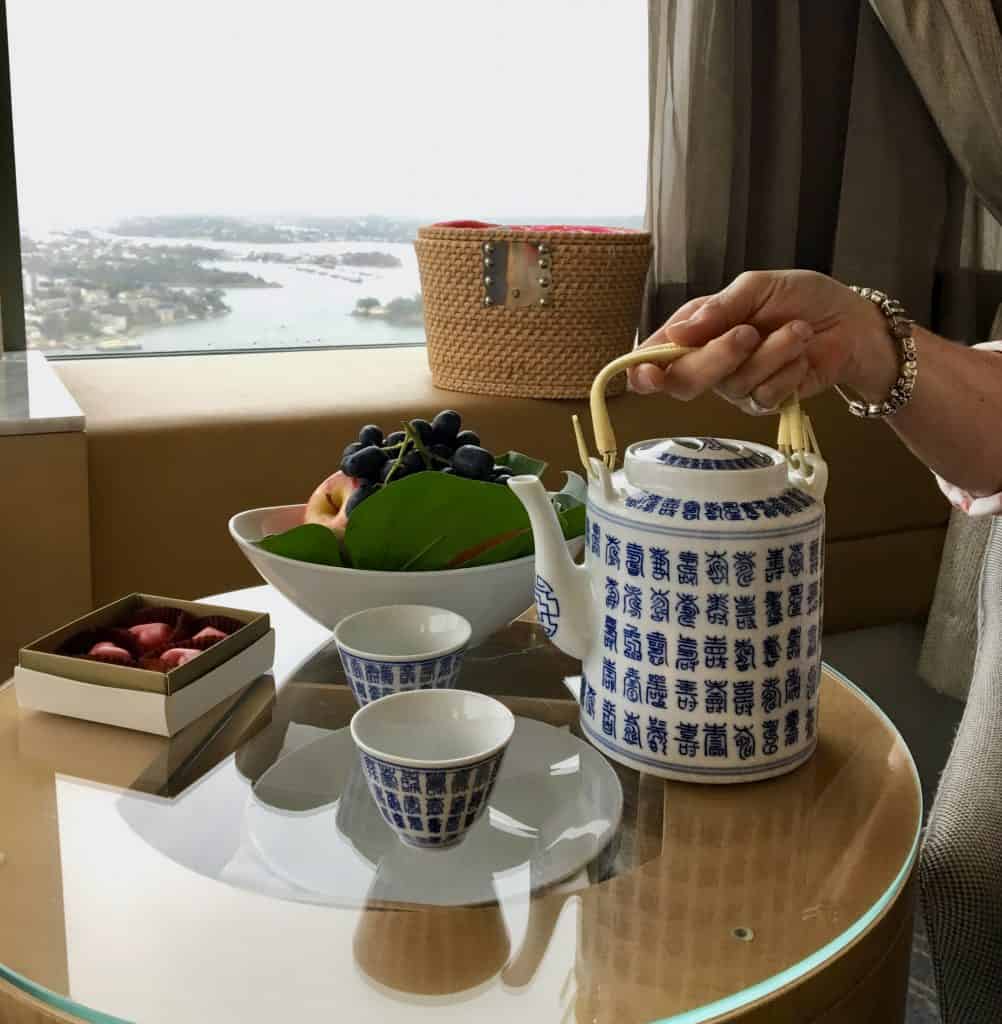 When we checked into our room, we were welcomed by the most wonderful hot Chinese tea which awaited us! The tea was delightful, and there was also a fruit bowl and chocolates to nibble.
Our 829 sqf (77 sqm) luxury suite had a sitting room, hallway which led to the chic and the sumptuous bedroom and spacious bathroom. Everything was meticulously clean and the bed was the kind you never want to leave!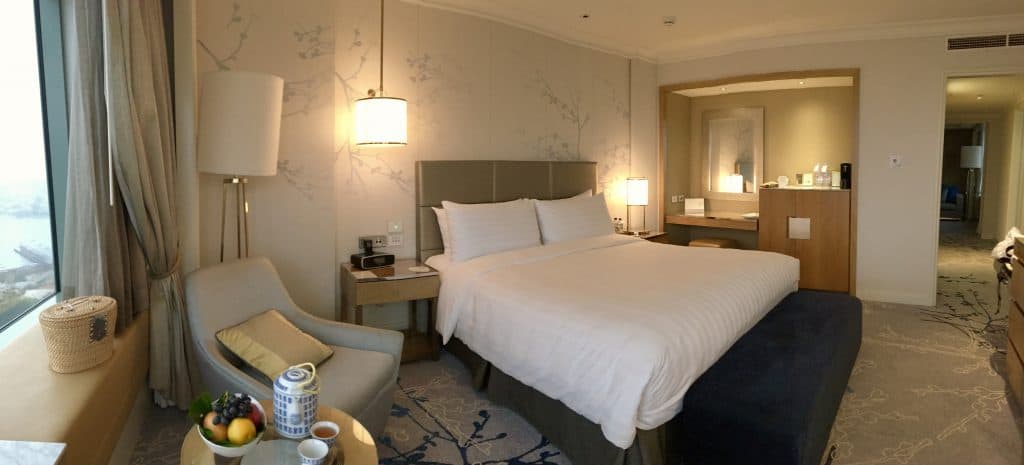 There was soft music playing throughout the suite when we arrived.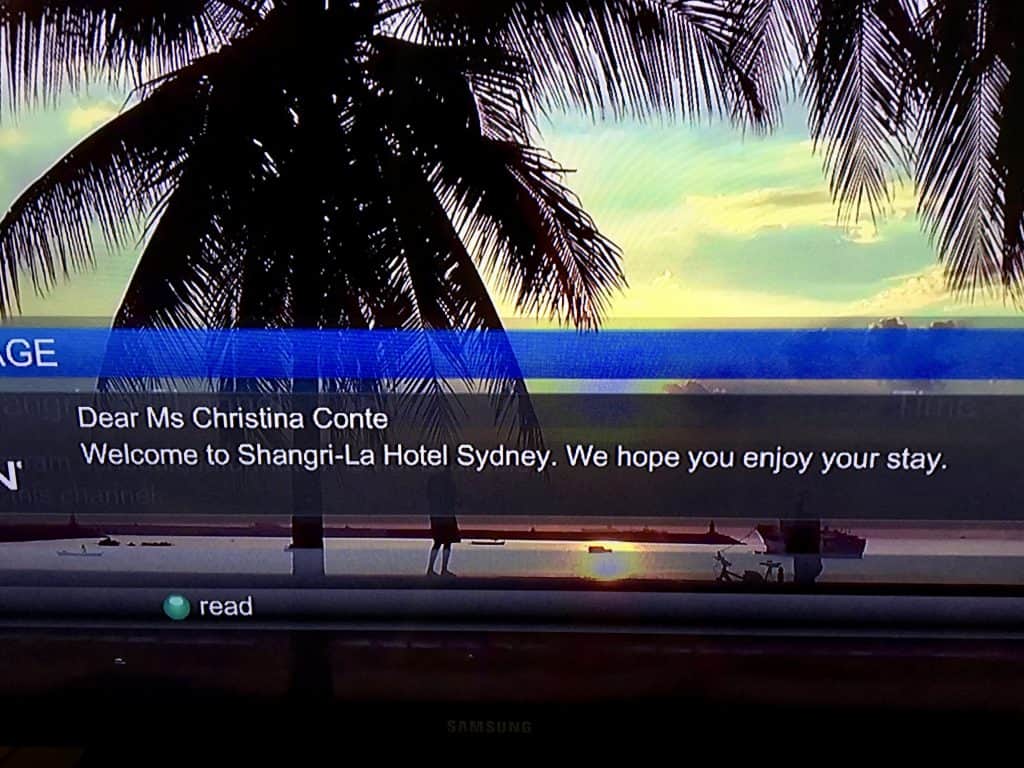 I could only imagine the view from this suite on a sunny day or with a spectacular sky!
Although the room was so warm and welcoming (especially with the rain coming down outside), we had an afternoon tea reservation in the lovely Lobby Lounge downstairs.
We changed and went down to meet our friend Gerry, who was meeting us for tea.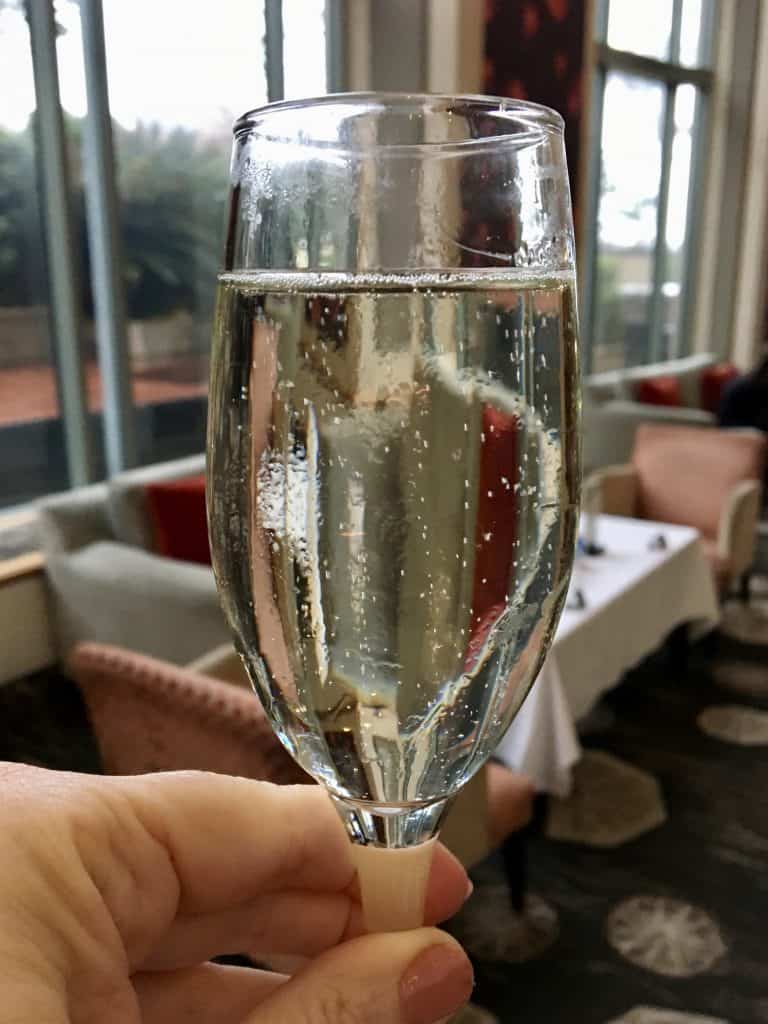 Afternoon Tea at the Shangri-La Hotel in Sydney
With floor to ceiling windows, we were glad to be having afternoon tea in the cosy lounge, given the weather that day. It was a perfect time for afternoon tea.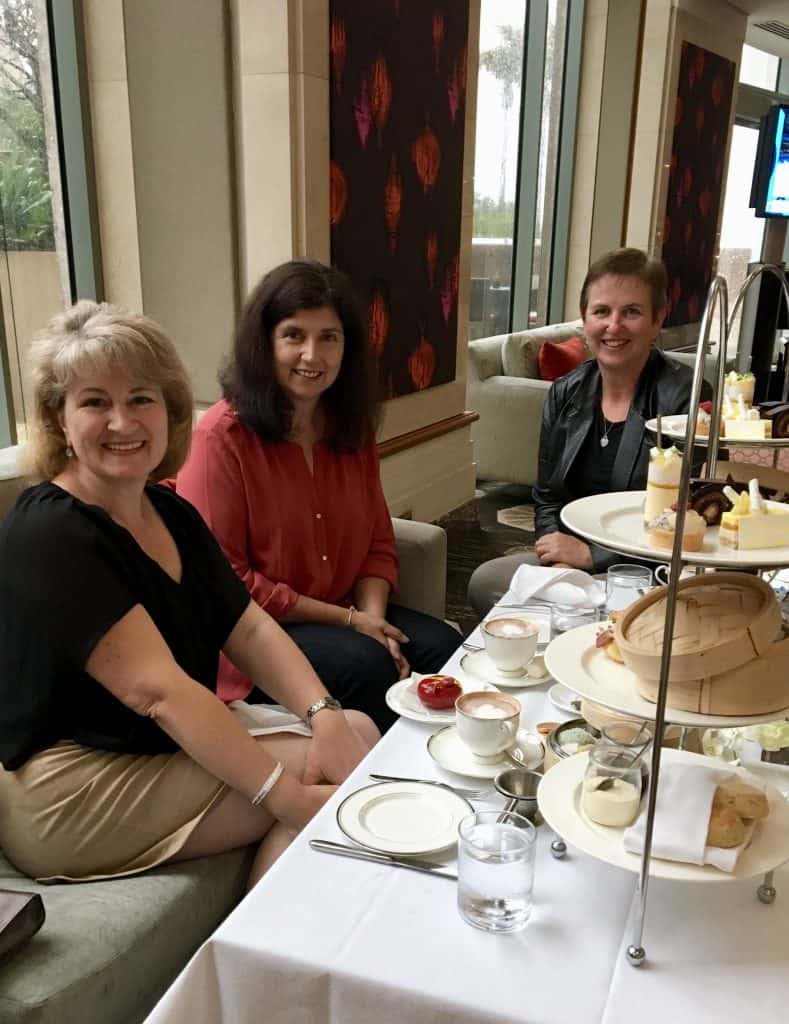 The Chinese New Year themed tea was simply exquisite, but guests may also choose from traditional or chocolate high tea when there is no special theme or holiday, as these are always available.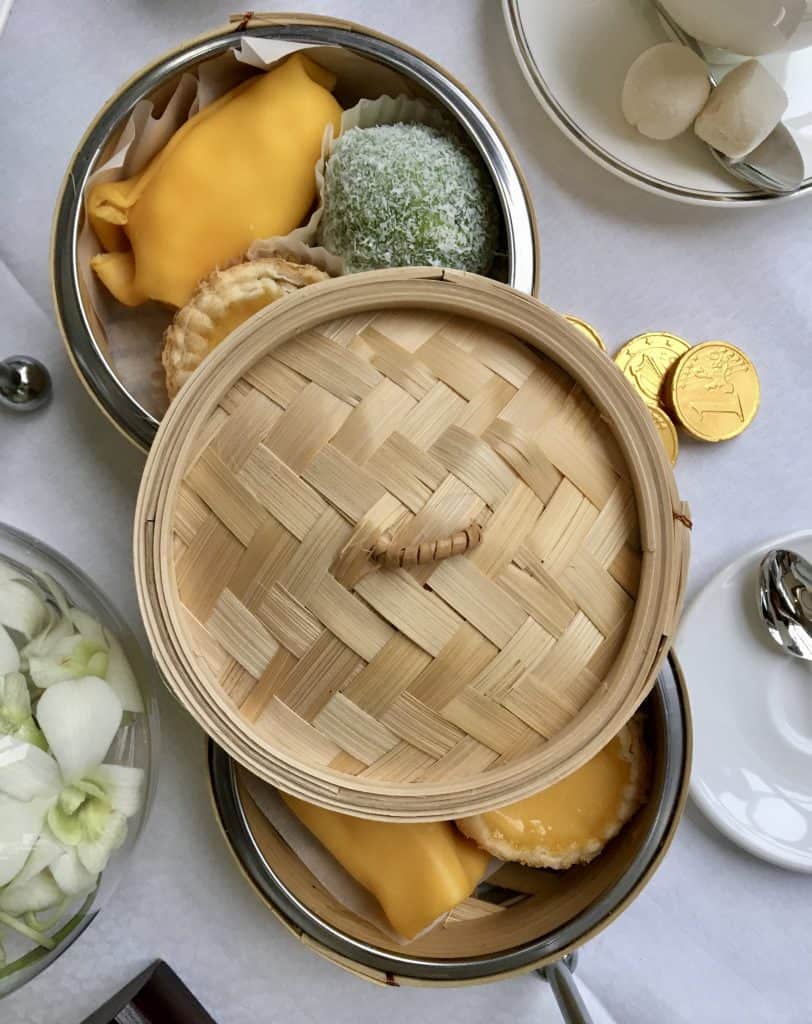 There were so many gorgeously prepared savories and sweets thanks to the amazing creativity of the award-winning Chef Anna Polyviou.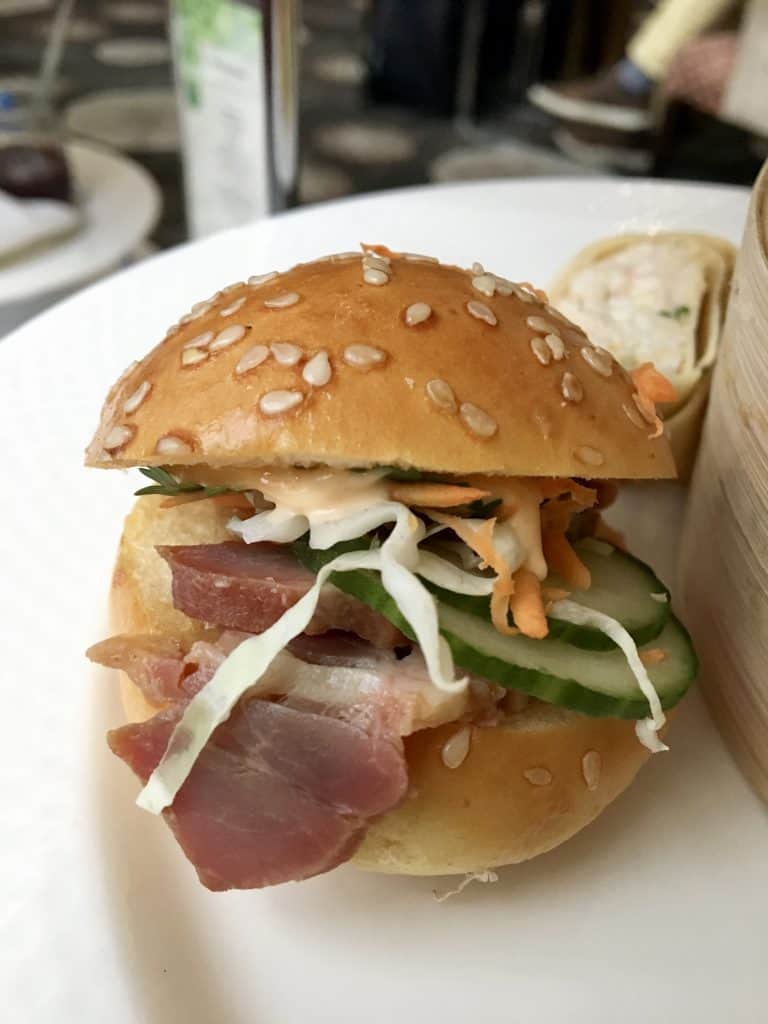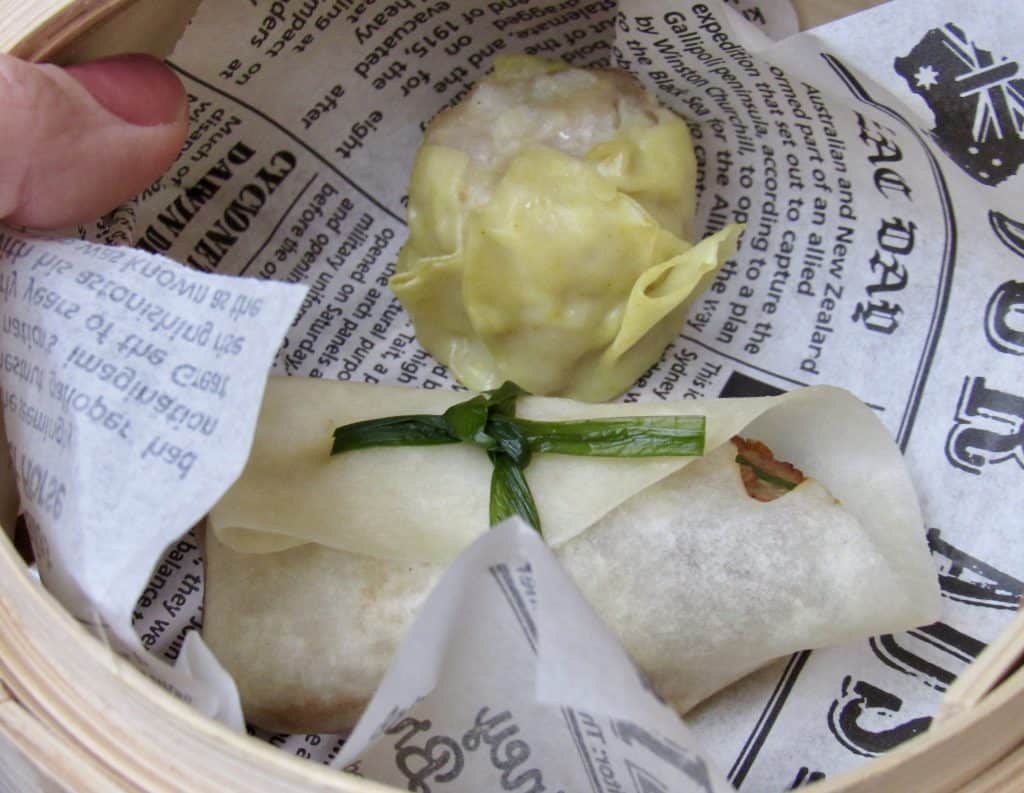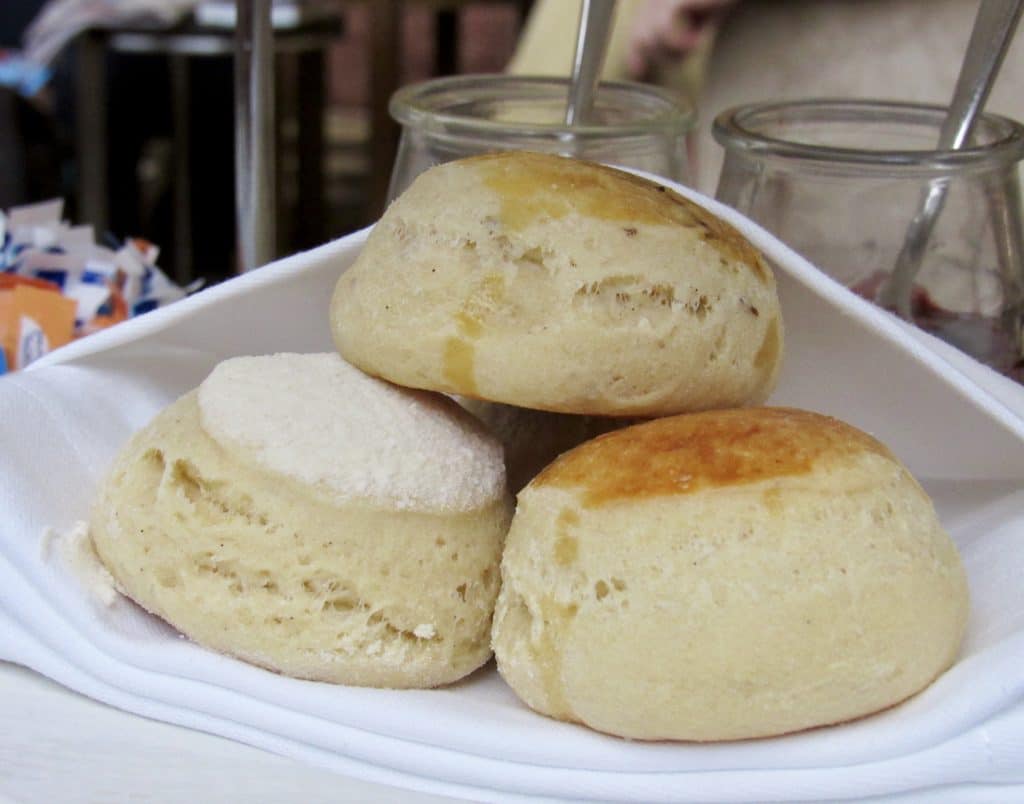 Just look at these incredible works of edible art!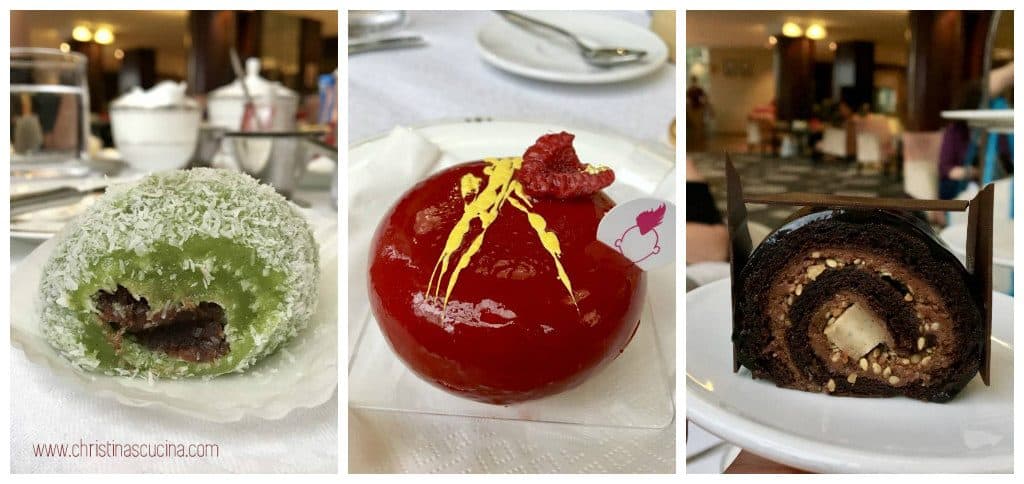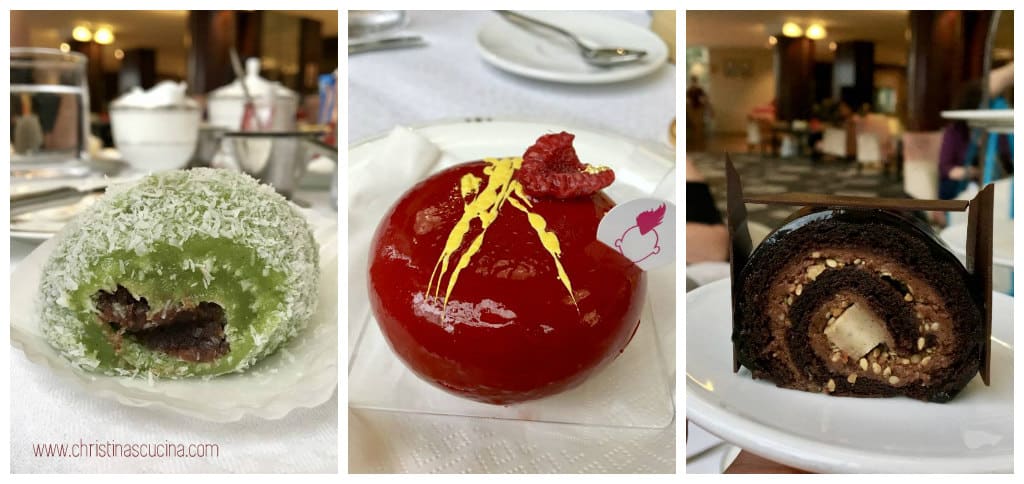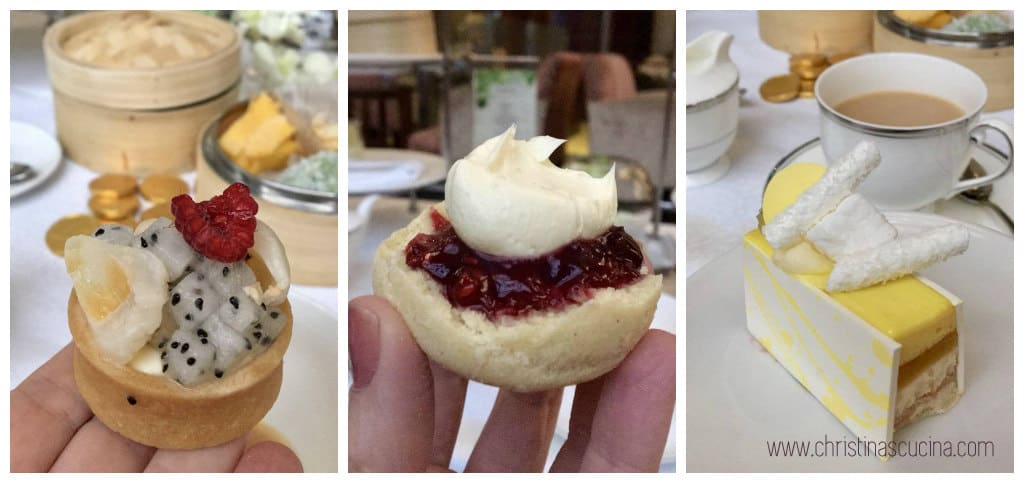 Lisa, Gerry and I had a thoroughly enjoyable time chatting, mostly about the food. What else would three foodies discuss at tea? (Lisa and Gerry met at cooking school!) The fact that all three of us were impressed and absolutely full at the end of our afternoon tea definitely says something! We had a wonderful time.
If you're in Sydney, don't miss the chance to have a memorable afternoon tea experience, no matter what time of year it is. I'm sure you won't be disappointed with Chef Anna's ever changing concoctions!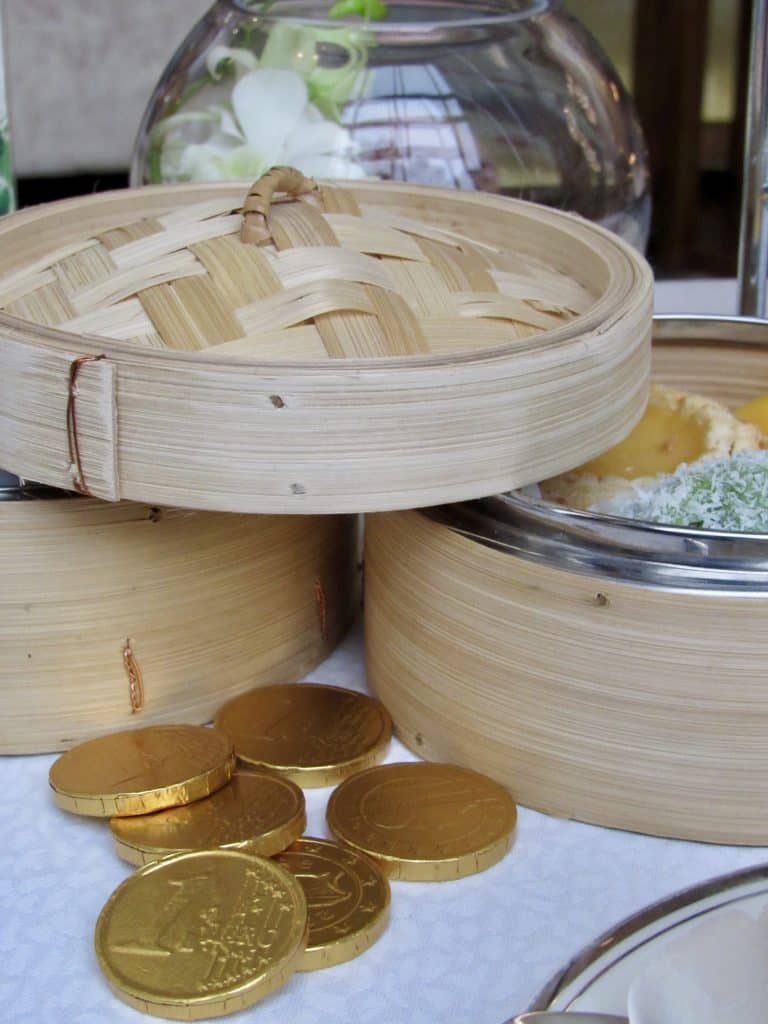 We enjoyed a glass of wine afterwards in the Horizon Lounge which overlooks the Sydney Harbour Bridge and Opera House.
Both Lisa and I slept straight through the night; the room and bed were just so comfortable. Before we knew it, we were back in the Horizon Lounge for breakfast!
Breakfast at the Horizon Lounge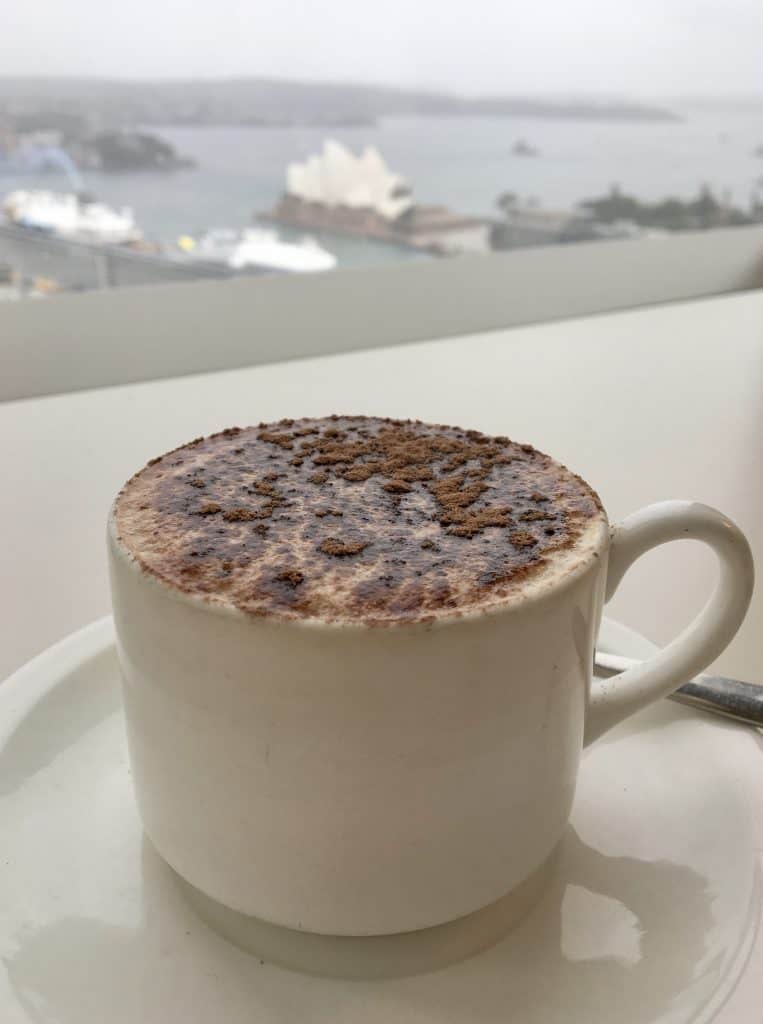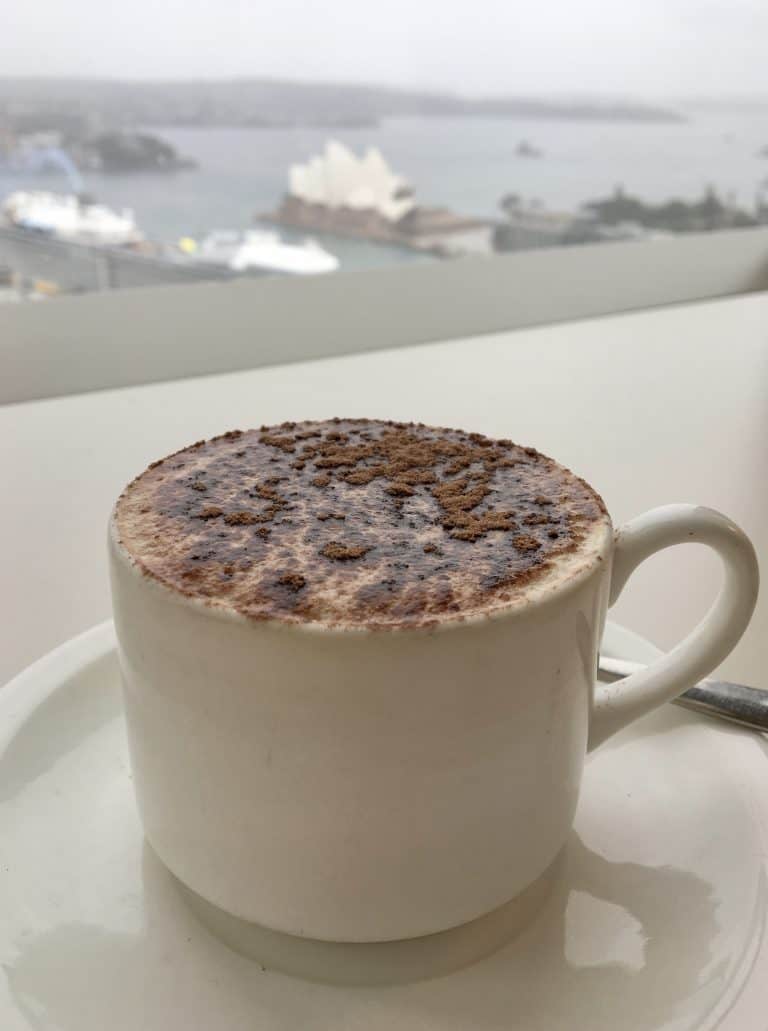 How's that for coffee with a view?
There were so many choices for breakfast, it was difficult to choose. Besides the bread, pastries, European style meats and cheeses, there were also hot options like eggs, bacon, sausages and much more. Everything I tasted was excellent.

There was one thing which caught my eye and I just had to try: Vegemite! Who goes to Australia and doesn't try Vegemite, right?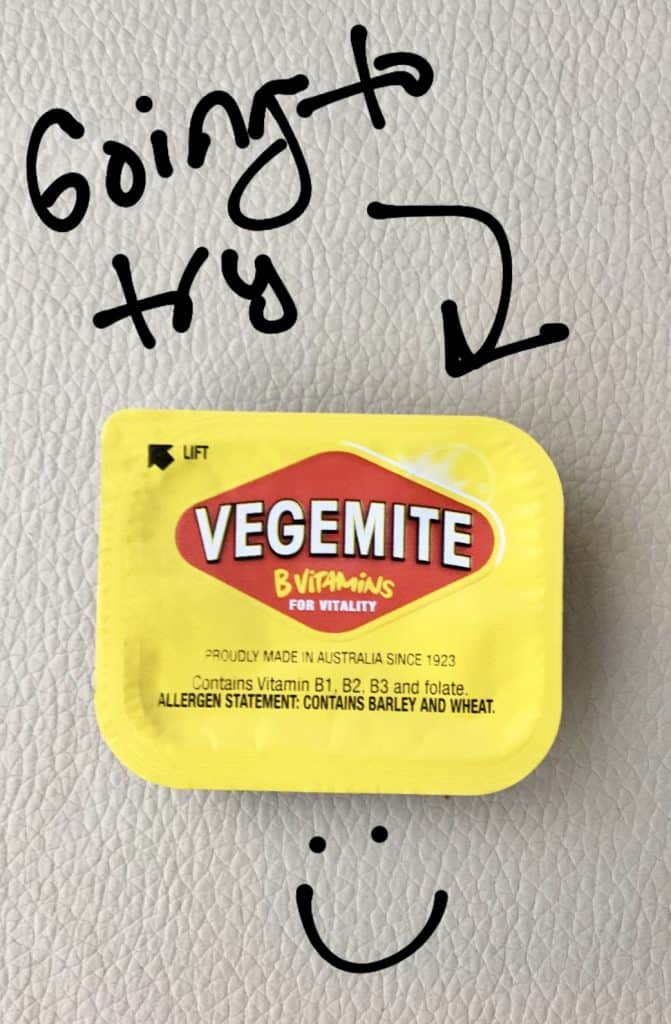 I'll admit that I'm not a fan of Marmite, so I didn't have my hopes too high. Unfortunately, Vegemite was a thumbs down for me. It was the only thing I didn't like at breakfast: it was so strong! Definitely something you either grew up with, or it's an acquired taste. Have you tried Vegemite? Yay or nae?
Unfortunately for me, this was the day of my departure! We didn't even have time for the spa or swimming pool (or the gym and sauna) at the Shangri-La Hotel. Although I'd done and seen many of the things I'd wanted to do and see,  five days in Sydney was simply much too short. Not to mention it rained for some of that time, so I'll definitely be heading back!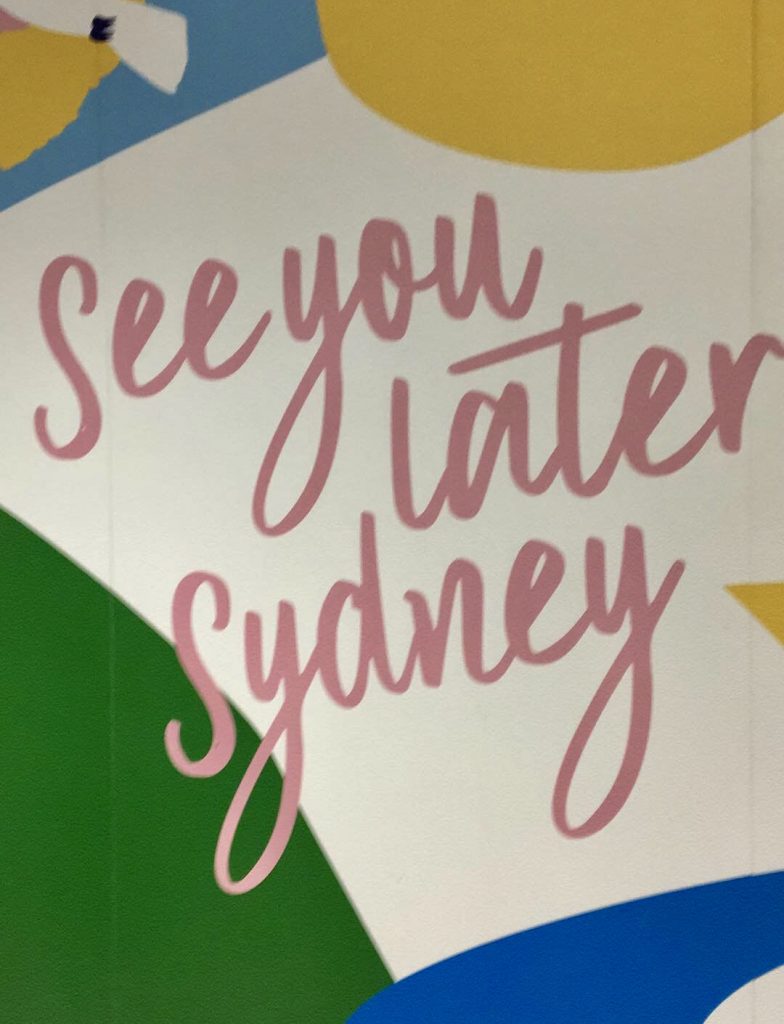 Overall, the Shangri-La in Sydney is a top-notch, 5 star hotel which I would recommend without reservation. The staff were so friendly and helpful, no matter whether I was asking a question, being served a cup of tea or checking in. It felt like a home away from home. For more information or to make reservations for a room stay, afternoon tea or dinner at Altitude, click the link below~

Don't miss another recipe or travel post, sign up for my free subscription below!
I promise not to share or sell your email address, ever.