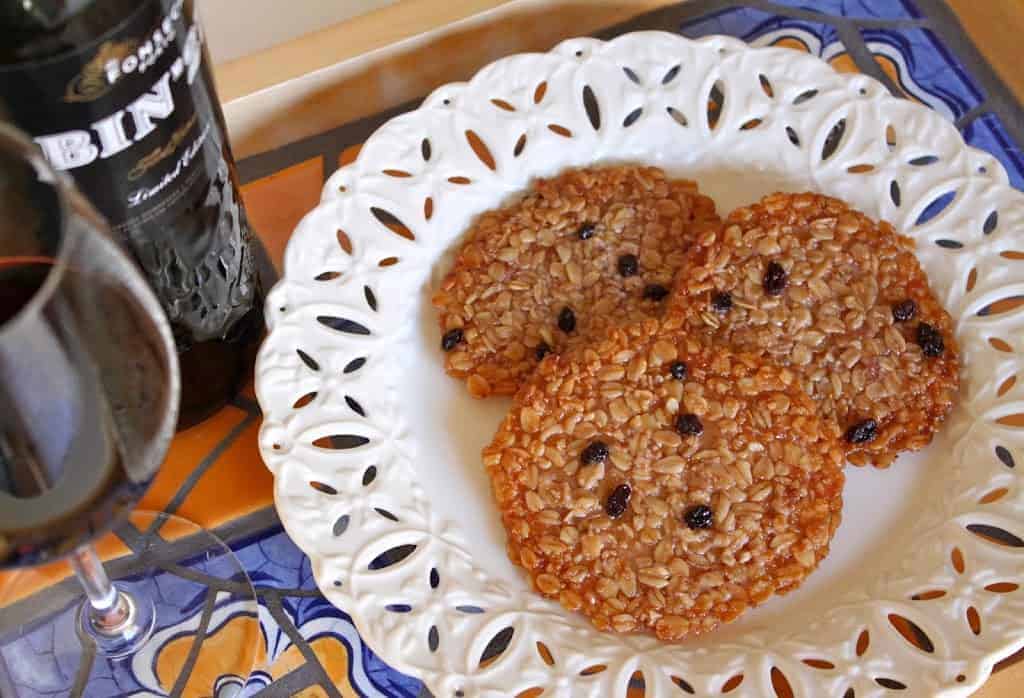 Do you ever have a "sign" that you're supposed to do something you may not have done otherwise?
My blogger friend, Susan, from Create Amazing Meals, sent me the link to the 2013 Fonseca Bin 27 Cookie Rumble with a message saying, "You've got this!" and when I went to open my liquor cabinet, the first thing I saw was a bottle of Fonseca Bin 27 Port, I knew it was fate! This is what made me decide that I was going to enter the competition; and if you think that it was just coicidence, you have no idea how many bottles are in my liquor cabinet!
Because I have such a sweet tooth and always have some sort of dessert or cookies on hand, I also always have a bottle of Fonseca Port on hand (but it's not always in the very front of my cabinet). I know I constantly repeat how important it is to use quality ingredients in recipes, but the same applies to what one serves with those delicious treats and dishes.
When I created this cookie, it was to be the perfect pairing with Fonseca Bin 27's Port, so I didn't want a heavy, overly sweet result, and decided to make a light and crispy, yet chewy oat crisp cookie, dotted with a few currants which mimic one of the flavors in the port. I also decided to gild the lily, by spreading a thin layer of port-flavored buttercream between two cookies, just enough to sandwich them together, and I must say, the result is a fabulous and rather unique cookie combination.
*Update (11/19): these cookies tend to be addictive…I ate five in a row before dinner the other evening! Yikes!
Caramel Currant Oat Crisps
(with Port Buttercream Filling)
Ingredients
2/3 cup (5 oz) unsalted butter
1/3 cup ( 2 1/2 oz) sugar
1/3 cup (2 1/3 oz) brown sugar
1/4 cup (1 oz) all purpose flour
1/4 tsp salt
2 tbsp Golden Syrup or honey
2 cups oats, old fashioned
1/3 cup (1 3/4 oz) currants
2 tbsp  Fonseca Bin 27 Port
Preheat oven to 375º F (190 º C)
Place butter in medium saucepan over low heat, then add sugars and stir until butter has melted.
Add the flour, salt, Golden Syrup or honey, oats, currants and stir well.
 Remove from heat and add the port and mix well.
On a Silpat or foil-lined cookie sheet, drop half-teaspoonfuls of the mixture onto the tray, flattening a little and shaping into a round form, about 3″ apart.
I'm not one to eat cookie dough, but I tell you, the aroma of port emanating from these is almost irresistible; and if you find yourself breaking, at least there are no raw eggs!
Bake for about 5 to 7 minutes or until edges are golden brown. Remove from oven and let cool on tray until firm.
Remove cookies from Silpat using a metal spatula (or peel from foil), and place on cooling rack to cool completely.
 Port Buttercream Filling
Ingredients
1/4 cup butter, softened
1 3/4 cup confectioner's sugar
1 to 2 tbsp Fonseca Bin 27 Port
Cream all ingredients together until a smooth consistency is reached.
Spread a thin layer of buttercream onto the bottom of a Caramel Currant Oat Crisp, and sandwich with another similar sized cookie.
Store cookies in an airtight tin until ready to use, then sandwich together just before serving…with a glass of Fonseca Bin 27 Port.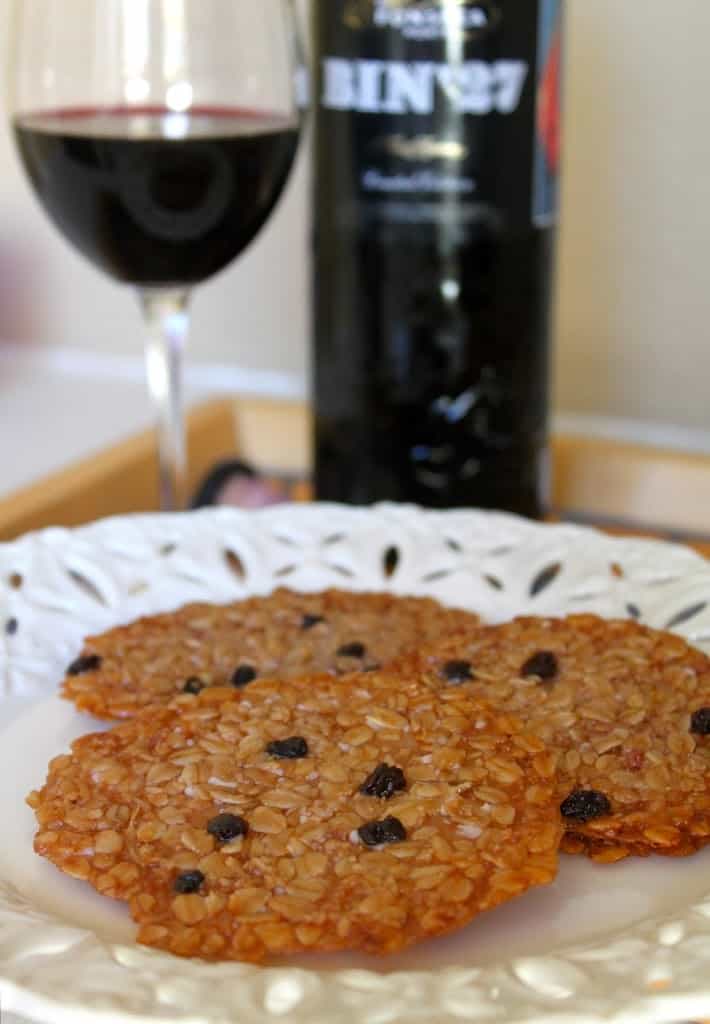 Don't miss another recipe or travel post, sign up for my free subscription below!
I promise not to share or sell your email address, ever.