Chocolate petit fours are perfect for Valentine's Day if you're thinking of making something a little different. They are bite sized treasures of goodness, and I've made them three different ways using one cake. Enjoy!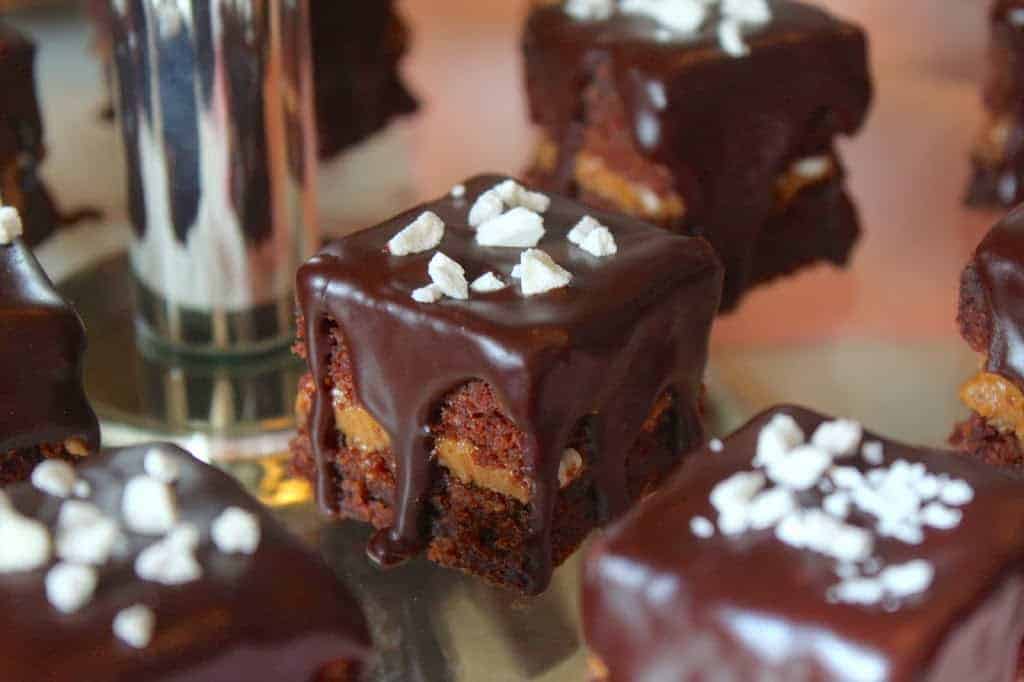 Just what are petit fours? (Pronounced "pehtee four", with your best French accent!)
As an Amazon Associate I earn from qualifying purchases.
Well, in this instance, they are tiny little cakes, drizzled in chocolate ganache and white chocolate. There's no need for any special molds, cake tins or paper cups, because these are made from a normal chocolate cake baked in a 9 x 13 pan. Although, you will need a special cake slicing tool for best results. It's rather inexpensive on Amazon.
Individual Lemon Raspberry Trifles are another delicious idea for Valentine's Day!
Of course you can make these!
If you follow my simple step by step directions, you can easily make these lovely creations in your own kitchen. You can also mix and match flavors of cake, fillings, coatings and toppings to make your very own personal masterpiece(s)!
I made these chocolate petit fours for a Food Bloggers of Los Angeles meeting last Sunday, where the theme was Chocolate and Champagne. Bummer, right?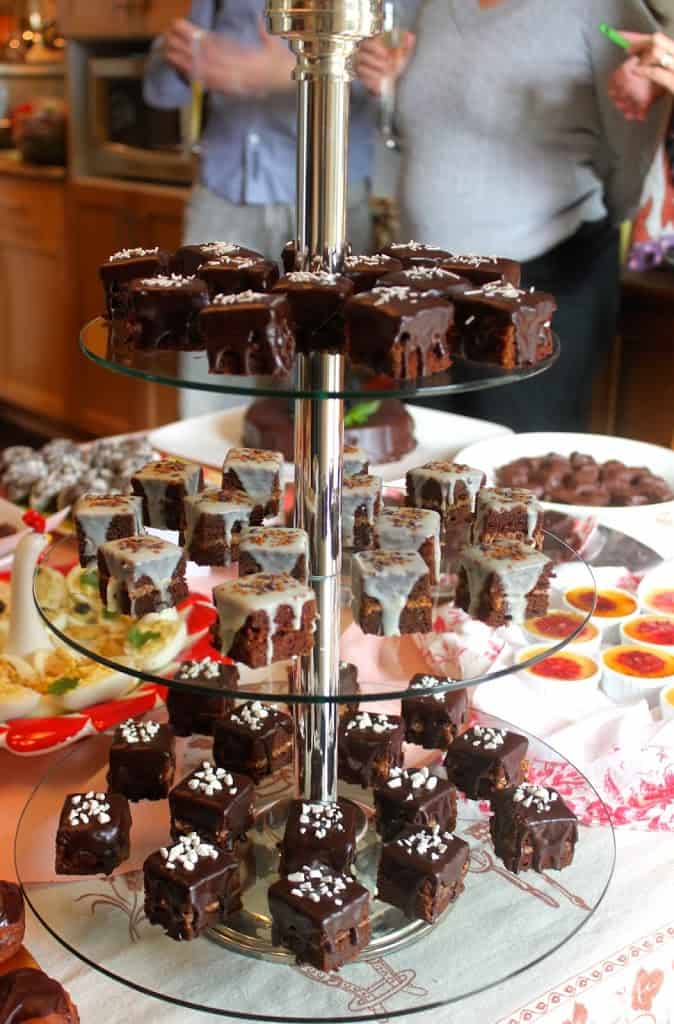 You can find all the Valentine's treats which were brought to the event at the bottom of this post; like my friend, Valentina's, heavenly Blood Orange-Champagne Creme Brûlée, from Cooking on the Weekends.  Leslie's Lemon Pudding Cake from Bake This Cake was wonderful and would also be perfect for a Valentine's Day meal.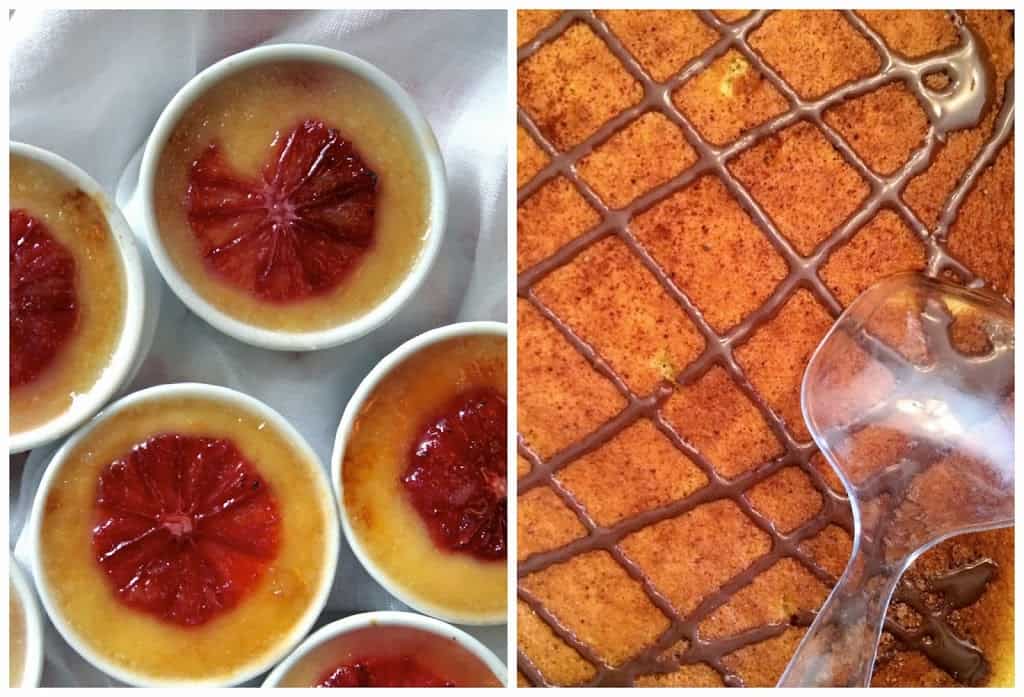 Here are the photos and instructions on how to make the lovely chocolate petit fours.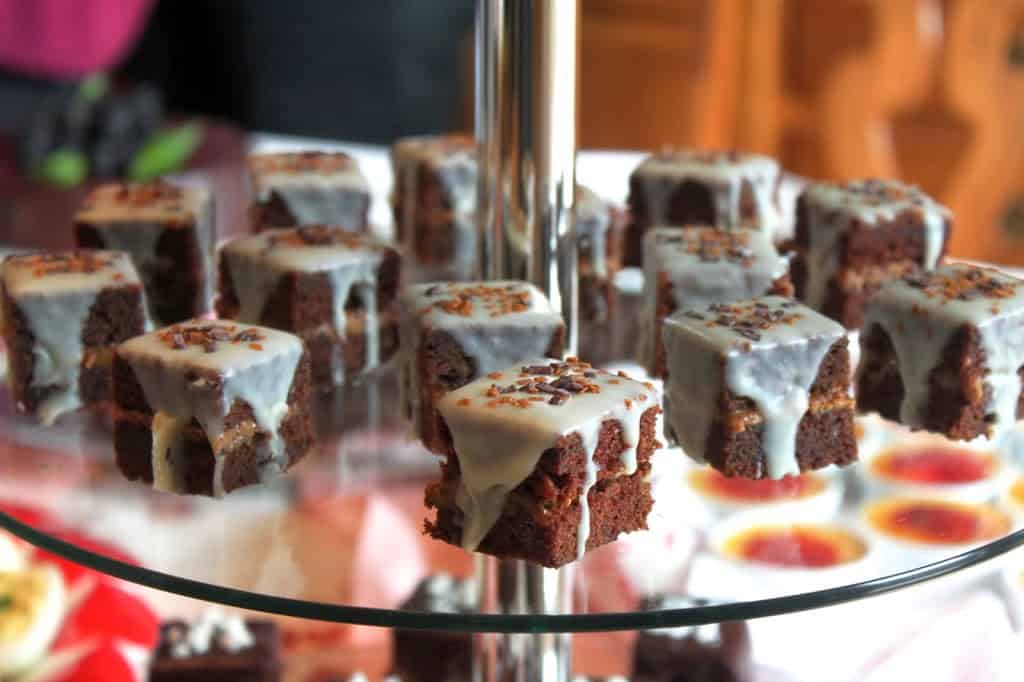 Chocolate Petit Fours
makes 54
Ingredients
one 9″ x 13″ buttermilk chocolate cake (use this cupcake recipe but bake it in 9″ x 13″ pan buttered, and lined with waxed paper, then buttered and floured on top of the paper and sides = easy removal)
whisky cream liqueur (like Magnum) or your choice of liqueur (optional)
speculoos spread (smooth and/or crunchy), chocolate hazelnut spread, or your choice of icing/filling
1 cup (8 oz) chocolate chips, I used dark, but use your favorite, as long as its good quality
1 cup (8 oz) whipping cream
1/2 cup (4 oz) white chocolate (DO NOT USE Wilton candy melts)
1 tsp sunflower or similar oil
sprinkles, chocolate curls, flakes, etc. to decorate the top of the petit fours
Remove the cake from the pan, by turning it upside-down onto a layer of waxed paper sprinkled with powdered sugar and remove the waxed paper from the bottom of the cake.
Using a cake slicer cut the cake in half, lengthwise.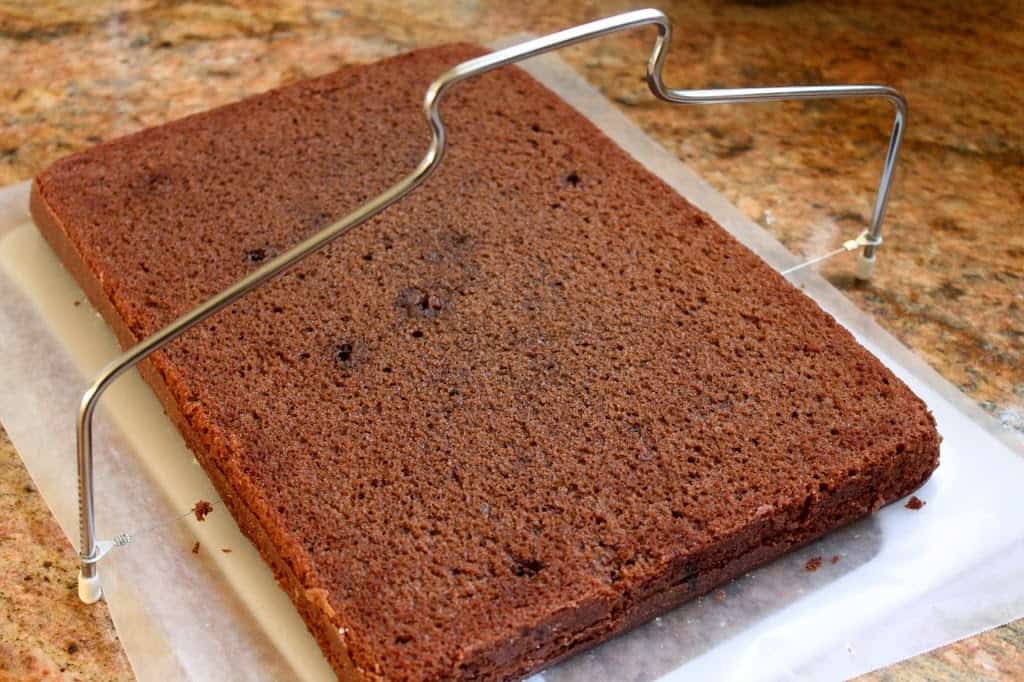 Then cut the cake into thirds, remove the top layer and spread with your choice of fillings.
These were my choices:
Sprinkled the base with whisky cream liqueur, chocolate hazelnut spread and sprinkled with crushed meringue.
Covered with crunchy speculoos spread (cookie butter from Trader Joe's).
Covered with smooth speculoos spread (I added crushed meringue on this one too).
It was hard not to "taste-test" along the way!
Now, place the top layer back on the bottoms, and cut each third into 18 squares. Use a knife dipped into hot water and wipe with a paper towel in between cuts, to keep the cake "clean".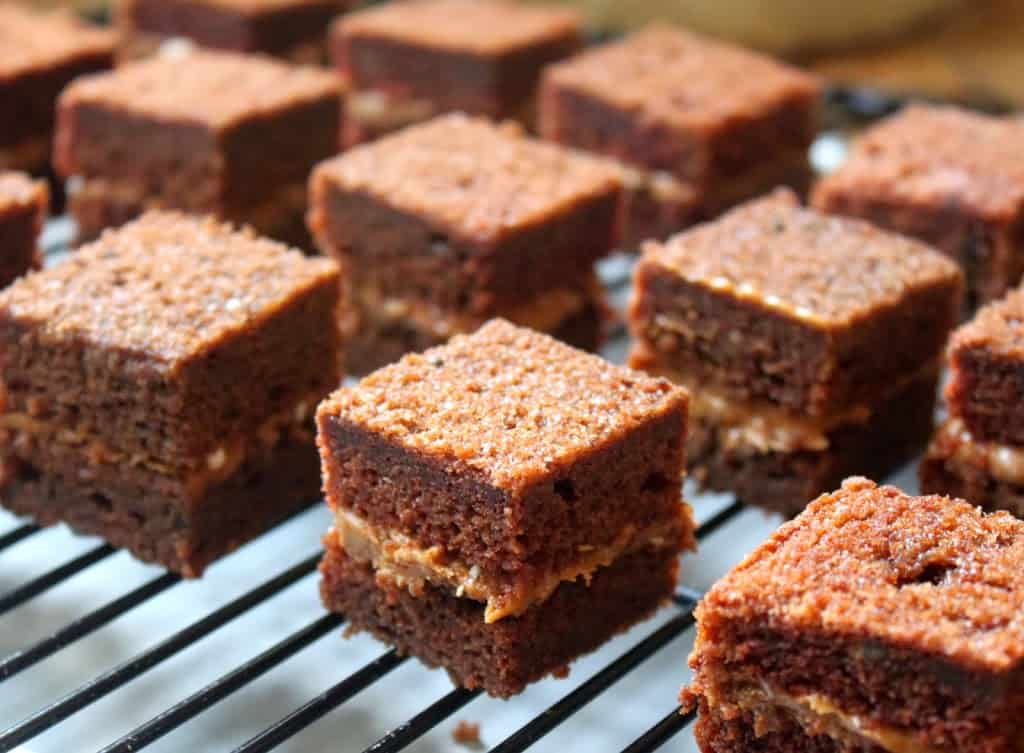 Melt the dark chocolate and cream in a small pot, but don't overheat or the ganache will be too runny.
When it pours, and drips easily over the top without all running off, it is the correct consistency.
Using a teaspoon, partially cover two-thirds of the petit fours.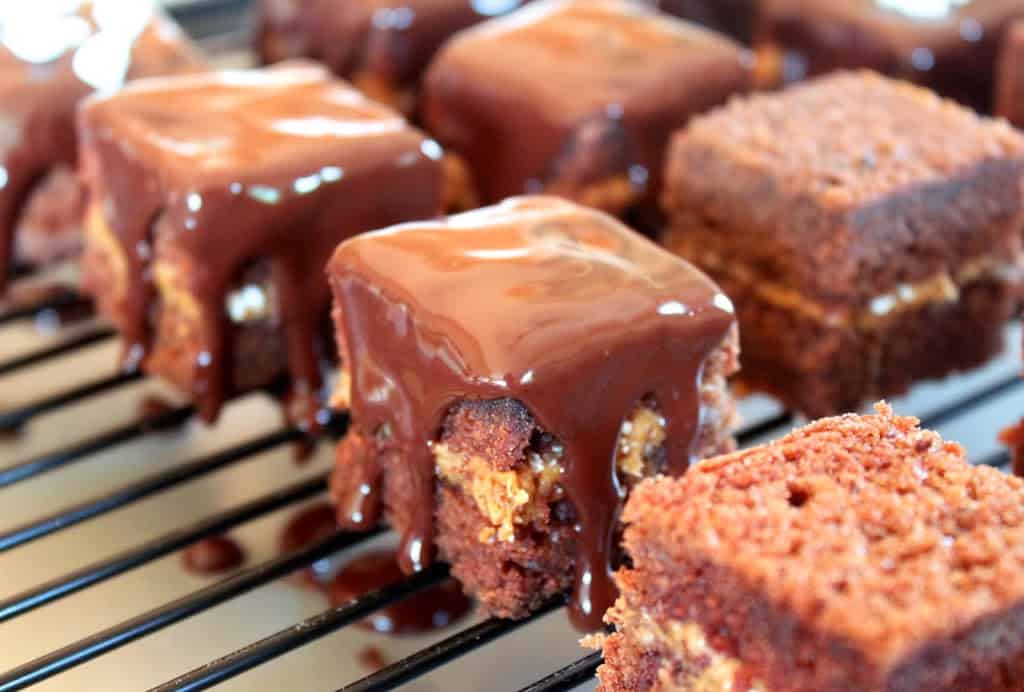 Top them with crushed meringue, sprinkles, grated chocolate or whatever you desire. I only used three toppings, that way I could tell which filling was in each chocolate petit four.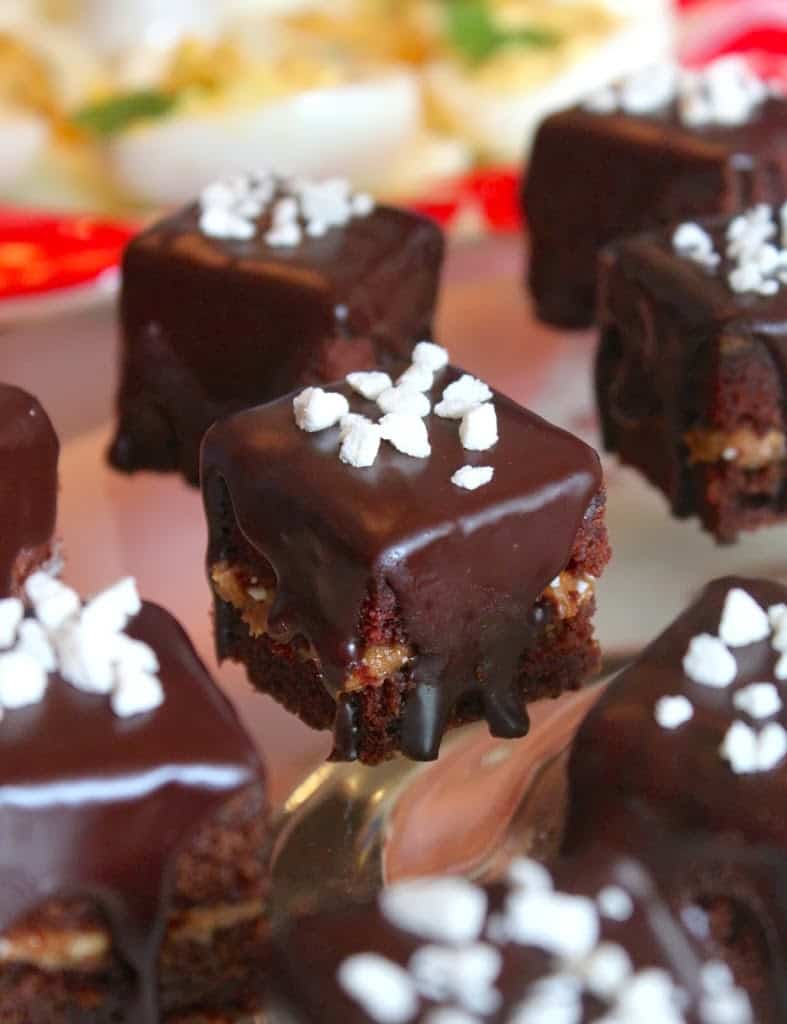 Melt the white chocolate with the teaspoonful of oil, and partially cover the remaining squares. Top with your choice of decoration.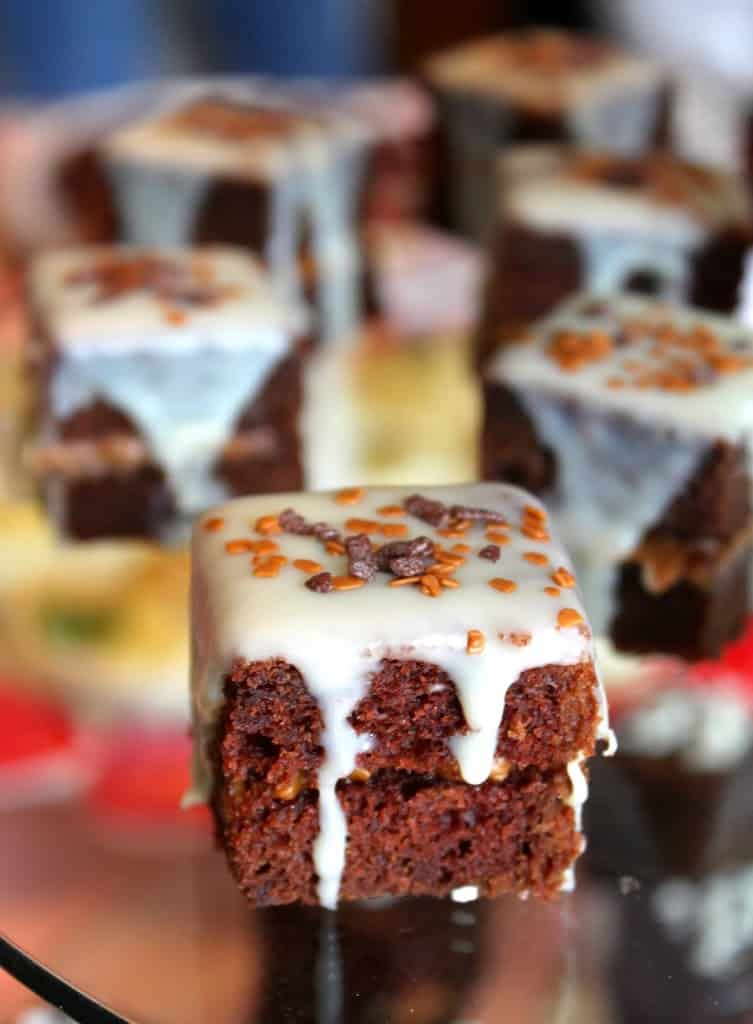 Refrigerate until the chocolate and ganache are set.
If the food bloggers were any indication of how good these chocolate petit fours tasted, you'll be very happy with the outcome!! I must say, my personal favorite was the whisky cream liqueur/chocolate hazelnut spread/dark chocolate combination!
Happy Valentine's Day!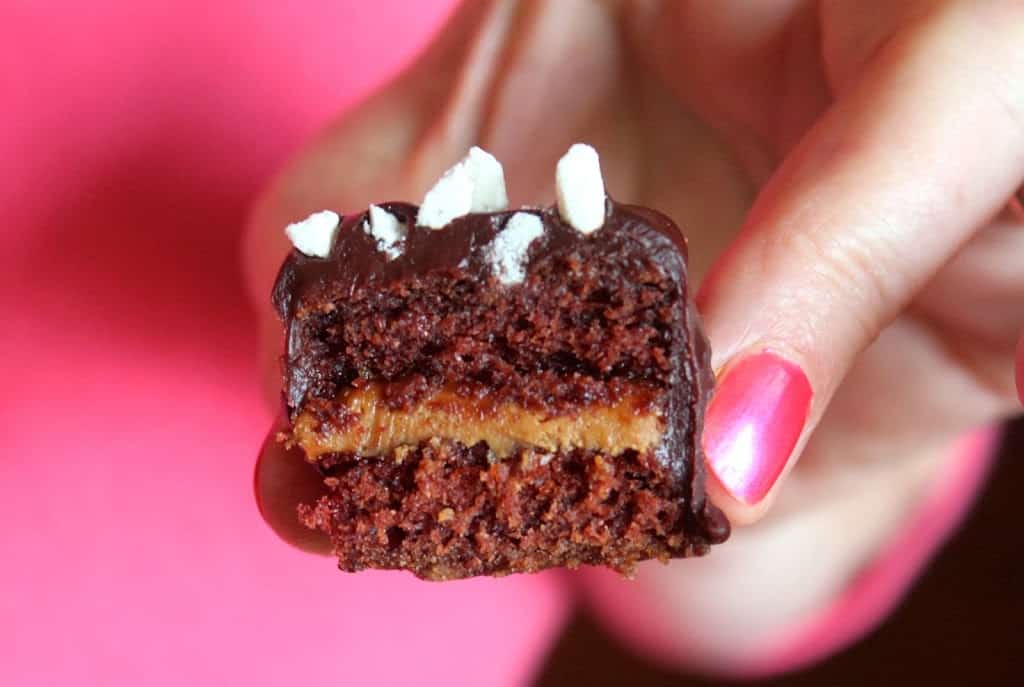 Don't miss another recipe or travel post, sign up for my free subscription below!
Here is a photo I took in Hollywood when driving home after the Food Bloggers of Los Angeles meeting.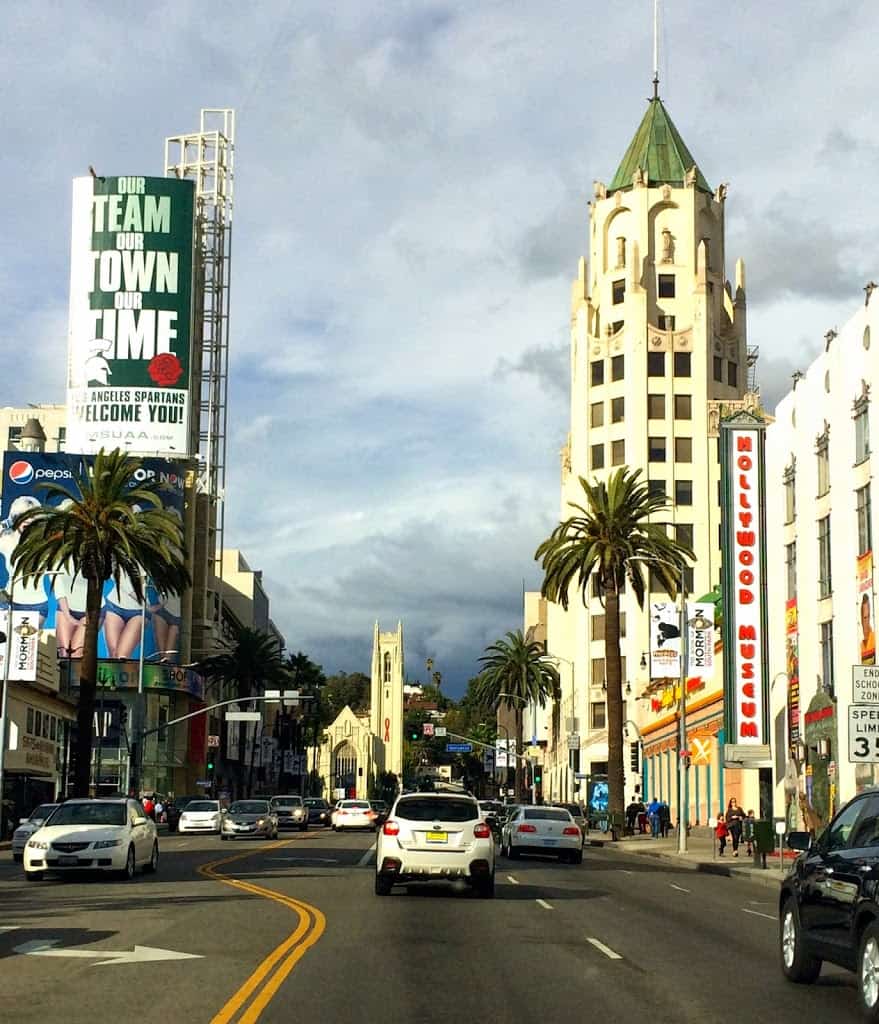 FBLA Chocolate Party 2014 Recipe and Resource Links
Desserts
Savory Dishes
Christina's Cucina is a participant in the Amazon Services LLC Associates Program, an affiliate advertising program designed to provide a means for sites to earn advertising fees by advertising and linking to Amazon.com.