The Italian American Museum of Los Angeles (IAMofLA) held their annual Taste of Italy event in downtown Los Angeles on a perfect October evening, last Saturday.
Disclosure: I was given two tickets to the Taste of Italy in exchange for social media coverage. I was not compensated in any way. I am writing this post as I feel strongly about informing my readers about this event and I want to highlight the IAMofLA's mission to foster the Italian American heritage and history in Los Angeles. 
In its eighth year, this fundraiser which is held at the historic Pico House and surrounding area, benefits the Italian American Museum of Los Angeles.  However, Taste of Italy also continues to be a wonderful event to raise the awareness of the amazing Italian food and culture which is available to Angelenos and visitors to our fabulous city.
In addition to the booths with mouth-watering samples of authentic Italian food and wine, there was a great line up of up entertainers, including a performance by the LA Opera, and Nick D'Egidio. Nick is a Frank Sinatra impersonator who wasn't just impressive, but a nephew of a friend of mine! (See photos at the bottom of the post.)
Those of you who follow along and "know" me, will completely understand that I was a bit overwhelmed with so much authentic Italian food and wine, all in one place! I didn't even manage to make it to every booth; there were so many choices and fabulous Italian cuisine (50 vendors)! The Taste of Italy was very well organized and had a great variety of both food and beverages.
Let me highlight some of the people, restaurants and companies that I encountered at the Taste of Italy event. My husband, Bob, and friend, Marina V, a talented singer/songwriter, joined me for the evening. See all the links to the websites below.
LAMBRUSCO
My first stop was to sample some Lambrusco. No, not the sweet, fizzy, low-alcohol Lambrusco you know, this was a genuine Lambrusco. In order to be considered a proper Lambrusco, the percentage of alcohol needs to be 11% or higher. Wine Stop, a new wine store coming to downtown LA will begin carrying the "real deal" Lambrusco. I'll be checking it out.
CLARO'S ITALIAN MARKETS
My favorite fresh Italian sausages (hot and mild) can be found at Claro's Italian markets. They weren't sampling their famous salsicce, but a pasta salad and marinated mushrooms. Definitely go to Claro's for your fix of Italian foods; you won't be disappointed!
APERITIVI and DIGESTIVI
Continuing with the Fernet-Branca booth, Bob, Marina and I sampled some amari and Vermouth to whet our appetites. The gang from Infinium Spirits were happy to get the party started! I was excited to taste some aperitivi I'd never had before, and really enjoyed them.
VINO TECA
Inside the Pico House, Sandro from WineHora Distribution introduced us to the Vino Teca brand. Distributing wine in a "bag in box" is his thing. Sandro explained that bad quality wine does not happen from having the wine in a box. Good quality wines can be put into a bottle or a box, and noted that air doesn't ruin an open box of wine as it does in a bottle. Here is Marina tasting the wine with Sandro.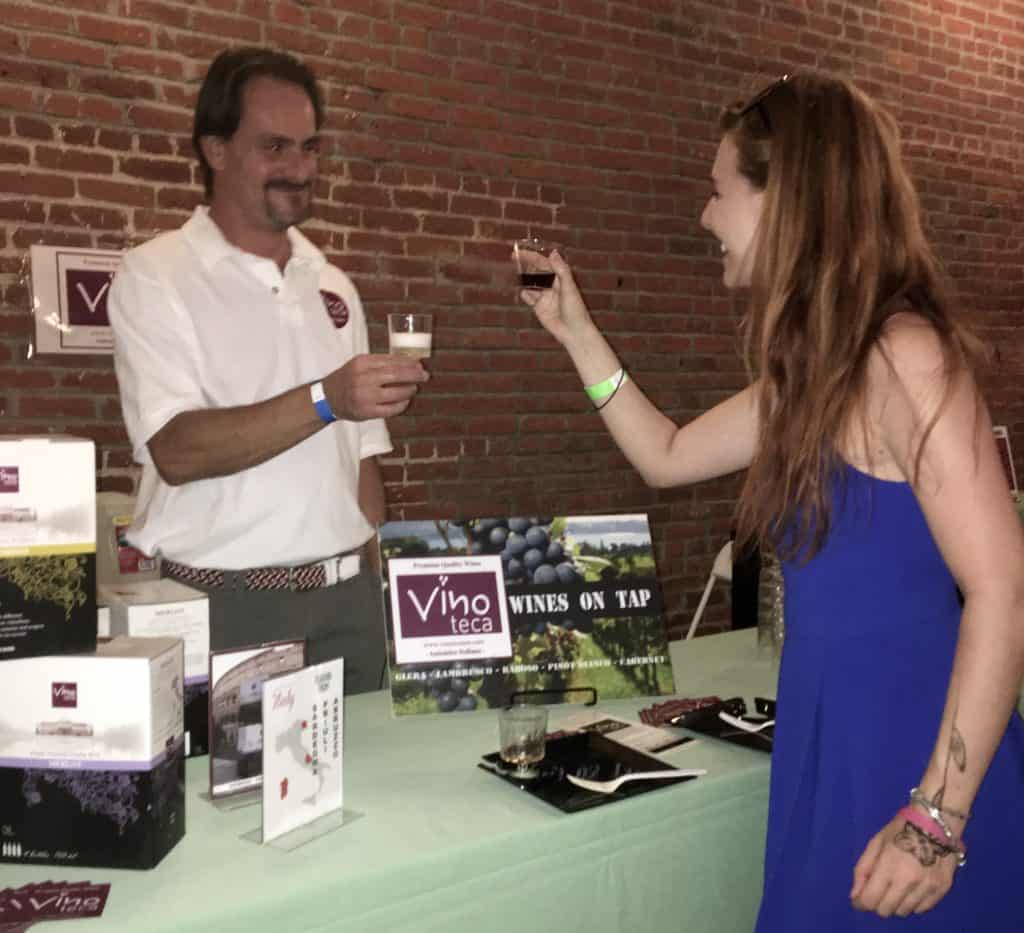 AURELIO BARATTINI – ANTICA LOCANDA di SESTO / TRAVELING NATIVE
Unfortunately, we had just missed the food demo on the Pavilions stage by Chef Aurelio Barattini who flew in from Italy for the IAMLA event. Despite this, we were just in time for samples! Chef Aurelio was ladling out a farro and bean dish he'd made, and Andee from Traveling Native was drizzling the samples with extra virgin olive oil before serving them to attendees.
My first taste of the extra virgin olive oil told me it was very special. Aurelio's face lit up when he heard my compliments, and announced, "It's my olive oil!" He was so happy to hear that I appreciated his exquisite oil that he presented me with the bottle! Then I was the one who was elated!
In this day of many fraudulent companies and faux foods, it was fantastic to meet the actual person who was responsible for this phenomenal extra virgin olive oil.
Chef Barattini has a farm with a restaurant called Antica Locanda di Sesto near Lucca, Italy, which I'm now dying to visit. Not only does he make his own olive oil, but he also produces wine! Andee from Traveling Native arranges small food tours with Aurelio. So far, there are two upcoming tours in March and July of 2017, although she can make private arrangements, too. I was delighted that they were at the Taste of Italy event.
TOSCANA
Although I was crestfallen that I had missed the pasta which was being prepared and served in a huge Parmigiano wheel from Drago Centro (understandably, it was all gone by the time I made it there), I had a surprise with ristorante Toscana, from Brentwood. They were sampling a white lasagna which the server described to me. In his Italian accented English, he explained that it was a vegetarian eggplant and zucchini lasagna, so I politely declined. I told him the only way I eat eggplant is pickled!
In true Italian style, he put some on my plate anyway, so I had to try it. The trio had a laugh when my eyes gave it all away–I thought it was incredibly delicious! I then requested a "real" piece, and of course, I asked to take their photo as they had converted me!
PROVA PIZZERIA
Prova, from West Hollywood, brought their own beautiful, mosiac wood-burning oven and let's just say, the oven wasn't only for style. It was really good pizza. I'll have to give them a visit to taste more than the two or three kinds that they were sampling that night!
DELUCA TRATTORIA
Provided wine samples; which was very much appreciated.
PROSCIUTTO DI PARMA 
Sliced bits of heaven for everyone to try!
DI STEFANO CHEESE
One of my favorite booths was the di Stefano Cheese company. They provided samples all of my favorite Italian soft cheeses, such as ricotta, mozzarella, mascarpone and burrata–oh my!

Suddenly, I spotted what looked like caciocavallo ("horse cheese", translated literally, but it has nothing to do with horses–go figure)! In fact, I then saw the label and I might have done a happy dance in public as the di Stefano staff noticed that someone recognized their cheese!
Caciocavallo isn't a "look at me", show-stopper of a cheese by any means. However, I grew up eating this cheese when I'd visit my family in Italy and it has such a mild, yet wonderful flavor, it is one of my favorites.
Marina didn't know what all the fuss was about, but then she admitted she'd never tasted burrata before! I was happy that she had the right kind of burrata (a really tasty one) for her first try, and she's now among the ranks of the rest of us "burrata lovers".
We were fortunate to catch the mozzarella cheese-making demo by the di Stefano cheesemakers! They were so much fun to watch and rather than hand out all the samples afterwards, they tossed some cheese into the audience, too! I even got a bocconcino to taste; it was warm and heavenly! These guys are making fantastic cheese! Watch the video below to see them in action!

As you can see from these photos, we stayed until the end of the Taste of Italy event, finishing off with some hazelnut gelato from Dolcenero, and smooth and refreshing Ferrarelle water from Italy. Next year, I'll make it a point to get to more of the vendors, but it won't be easy as there are so many!
Not surprisingly, I met my friend Raffaele from Foodiamo at Taste of Italy. Here is his article, including a mini video showcasing some of the food, from the night's event. Click on the photo below~
Oh, and I can't forget: Marina and I got goodbye kisses from Frank! (Nick D'Egidio)
So why did I tell you all about an event that is over? Simple! So you don't miss it next year! Be sure to follow IAMLA on social media so you'll be sure to put it on your calendar for next October!
Did I forget to tell you what was in the IAMLA bag that you see in the photos above? Each guest received a swag bag with these products inside!
Don't miss another post! Sign up below for my FREE recipes and travel posts delivered to your inbox.
Finally, here are all the websites I mentioned above, and I hope to see you at the IAMLA Taste of Italy, 2017!
The Italian American Museum of Los Angeles
The Wine Stop
Claro's Italian Markets
Infinium Spirits
Vino Teca
Antico Locanda di Sesto
Traveling Native
Toscana
Prova Pizzeria
Deluca Trattoria
Prosciutto di Parma
di Stefano Premium Italian Cheese
Ferrarelle
and last, but not least, Marina V!