Polenta is no longer the peasant food of its past, and rightfully so. It's such a versatile dish; if you've never tried it, I think you'll be pleasantly surprised!
I remember seeing polenta on a menu in Los Angeles for the first time (the first time I saw it, not the first time it was on a menu) about 20 years ago, and chuckling because some food writer was implying that it was "haute cuisine."
Polenta is simply, cooked corn meal, but it is a very popular dish in Italy. It's really a "peasant" dish, and I make it the way my mother taught me, which is how her mother taught her, which I'm sure repeats itself back to Roman times.
I love polenta made two ways, and cannot decide which way I like it more: the first is freshly made, placed in a bowl, topped with caramelized onions (photo above) and eaten immediately. The other way is made with leftover polenta which has set in a dish or container (usually square or rectangular), cut into pieces and toasted under the broiler/grill, until slightly brown and has a crunchy crust (maybe even topped with mozzarella!) and eaten hot (photo below.)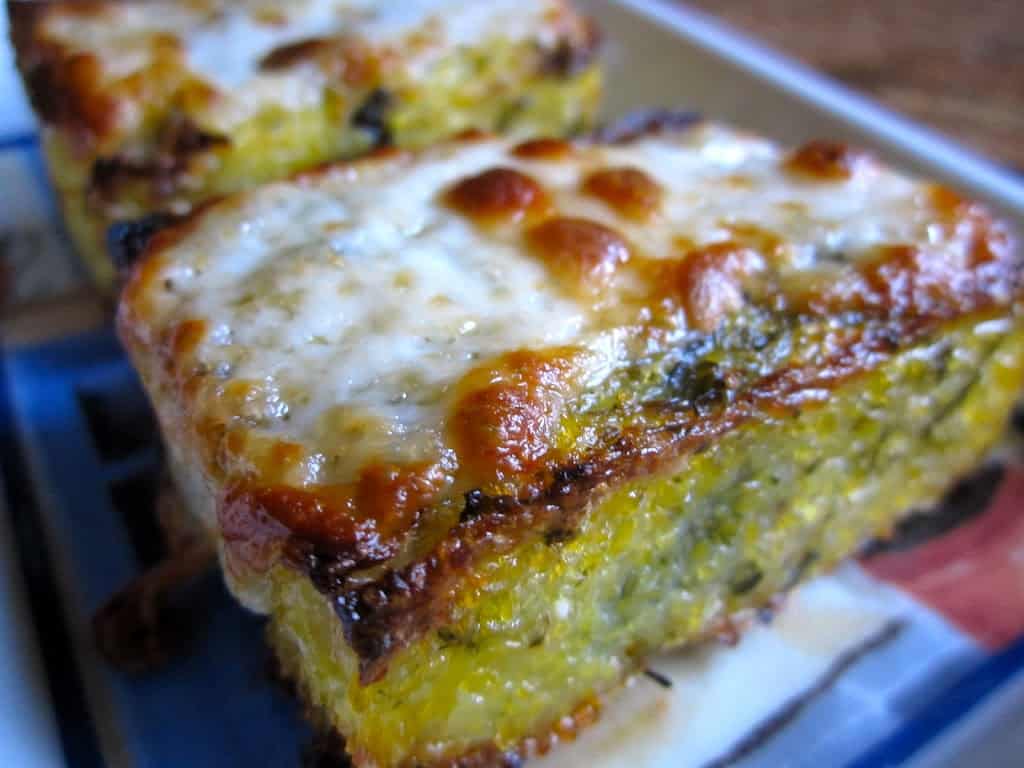 Polenta can also be enjoyed with a tomato sauce topping (using both methods given above,) made into a lasagna type dish with layers of polenta, tomato sauce and mozzarella (recipe below), or cut into little appetizers and topped with cheese, or onion (recipe below), or fried, or even used as a base for pizza…the possibilities are endless!
(Another plus for special diets out there…it's gluten free.)
Various Polenta Recipes
Basic Italian Style Polenta
2 tbsp extra virgin olive oil
one medium to large onion, diced
small bunch of rapini, washed and chopped
1 1/2 cups good quality yellow cornmeal
6 cups water
Kosher salt
Caramelized onions
Fry the onion in the olive oil in a large, heavy pot until  translucent and just starting to brown.
Add 4 cups of water to the pot, (and 2 cups to the cornmeal placed in a large bowl, and stir to moisten.)
When the water is boiling, add the rapini and salt, and cook for about 2 minutes.
Slowly add the wet cornmeal, stirring CONSTANTLY, until it has all been added to the pot.
Continue stirring and cook over medium heat (should be bubbling) for about 20 minutes, adding water if the polenta is too thick. Keep scraping the bottom to make sure the polenta doesn't start to stick. Be careful not to let it boil too fast or the polenta will bubble out of the pot and give you a nasty burn if it touches your skin!
When it has thickened and it looks ready, carefully taste some (this is one of those things that will burn your tongue very easily, so be careful.) Add salt if needed, then immediately pour into serving bowls and top with caramelized onions (or with a meatless pasta sauce and some parmesan cheese, if preferred.)
Polenta tastes fab, is low fat and nutritious!!
In Italy, my family makes their own cured Italian sausages, and one of the best things about having polenta is having the dry sausage in it.
If you can find some dry cured Italian sausage at your local Italian deli, or online, you can add some pieces to frywith the onion when starting to make the polenta, and/or saute some to add to the caramelized onion topping!
Grilled Leftover Polenta
Cut the polenta, which was poured into a rectangular or square dish, into 1″ slices and
cut into similar sized pieces.
Place on a metal rack on a cookie sheet and place under the broiler for about 15 to 20 minutes, until it starts to brown, then turn each one over and repeat for the other side (only about 10 minutes as the grill will be hotter.) These can be eaten as is, hot or cold.
(I prefer hot!)
Sometimes I add pieces of mozzarella cheese (or any cheese you like) and place under the broiler/grill again…
until the cheese is melted and bubbly!
A little tomato sauce on the side…mmmm!
Grilled polenta pieces also make beautiful caramelized onion topped appetizers…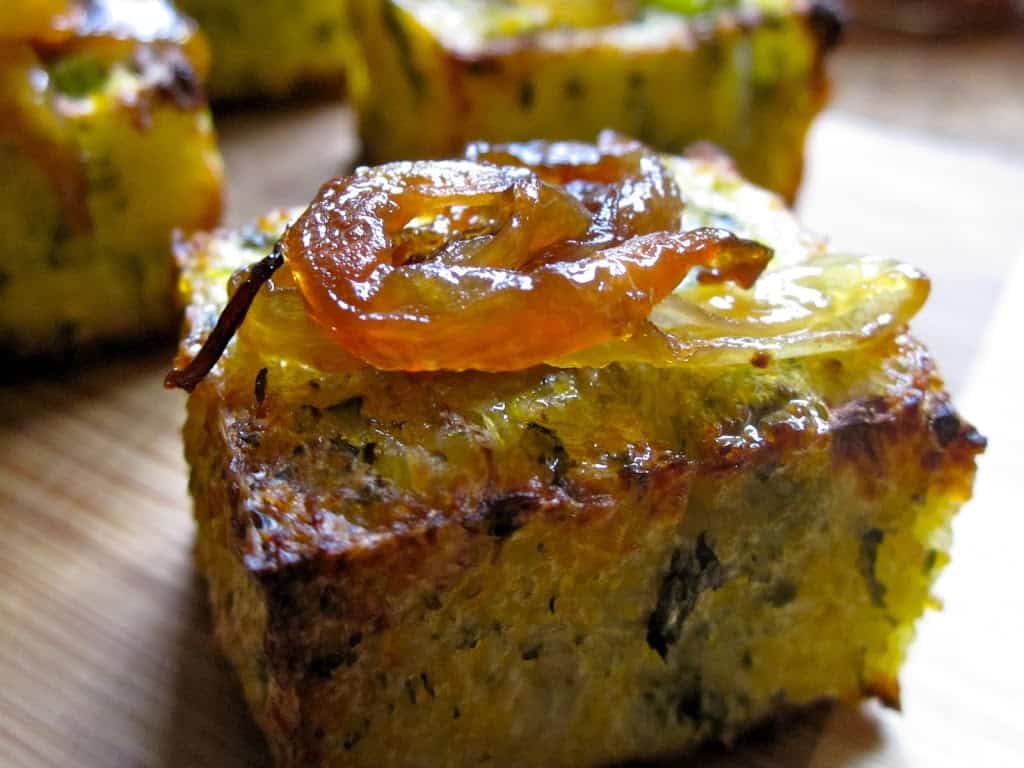 which are perfect for parties!
(Gild the lily and add caramelized onions on top of the melted cheese!)
Okay, so I told you the possibilities are endless!!! Here we go with another meal idea…
Polenta Lasagna
Cut thin pieces of the leftover polenta and place in individual serving dishes or a glass casserole dish or 8×8 pan, for example. Cover lightly with a homemade marinara sauce. (You could even put a layer of besciamella (white sauce) before the pasta sauce.)
Next add a layer of mozzarella cheese and grated Parmigiano.
Repeat this, for one or two more layers, ending with a few pieces of mozzarella and a light sprinkling of Parmigiano cheese.
Bake at 400ºF (205ºC) or until the top is browned and bubbly.
So as you can see, you can do so much with polenta, and it can be made into so many beautiful appetizers, main dishes and more, that maybe that food writer was right all those years ago; maybe it should be categorized as "haute cuisine!"
 Don't miss another recipe or travel post, sign up for my free subscription below!
I promise not to share or sell your email address, ever.