My perfect road trip travel bag idea wasn't mine, but I can tell you what is in it! What do you need to keep you happy in your perfect road trip travel bag?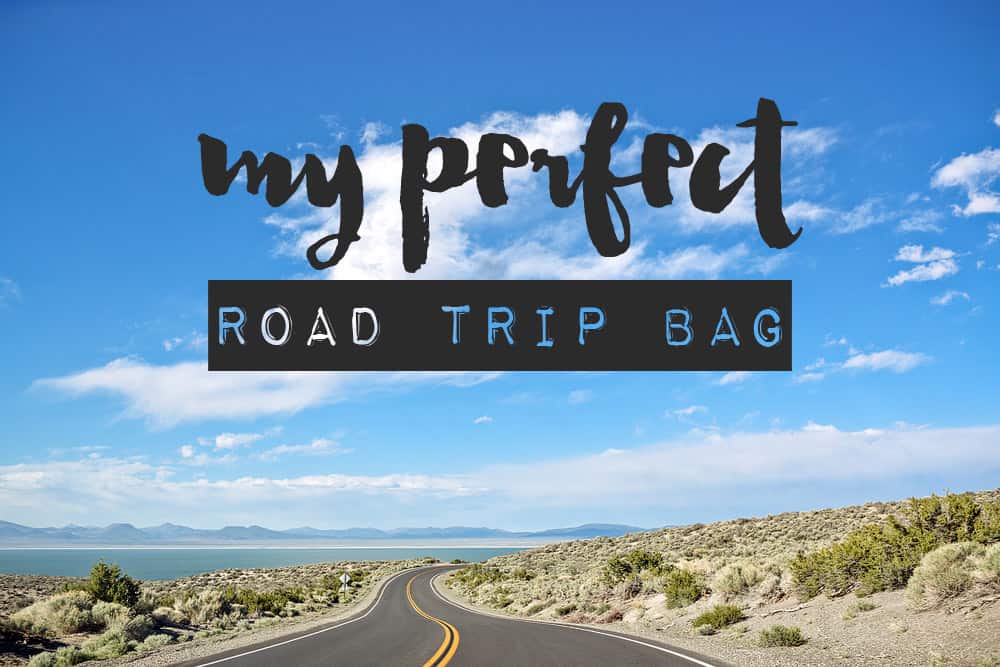 I know road trips aren't for everyone.
This post contains Amazon affililate links for your convenience at no added cost to you.
Road Trips
In fact, I'm sure there are a few of you reading this who have never even taken a road trip before, but I have to tell you–I love them. The best part for me is the independence of not having to be on anyone else's schedule. However, there are so many other great things about taking a road trip; such as going to out of the way places, or staying somewhere longer, since there's no train, plane or bus to catch.
I've taken road trips from Michigan to Florida, Los Angeles to Toronto, Glasgow to London and Frankfurt to Rome, and back–and these are just a handful of longer driving vacations.
Of course, it does take some organizing and you learn the things that you really want to take with you once you've done it a few times. Naturally, depending on who is going, necessities will vary from a young family taking along lots of activities and snacks for little ones to keep them busy along the way, to retirees making sure they have their golf clubs with them. Some items like cell phones, sunglasses and medications are a given.
Travel Prizes
So why am I talking about road trips? Because I've teamed up with some other awesome travel bloggers to give my readers the opportunity to win one of TWO prizes for the perfect road trip travel bag!
(1) Kindle Fire [Fire HD 6, 6″ HD Display, Wi-Fi, 8 GB, Black] AND
(1) Travelon Anti-Theft Classic Backpack This backpack features a locking main compartment and a zippered front pocket that fits an iPad® mini. The main compartment includes two padded pockets to protect your laptop (up to 15.4") and iPad® or tablet. The wallet organizer stores 5 credit cards and a passport. A zippered mesh pocket is also included. The RFID blocking technology prevents identity theft by stopping readers from picking up personal data from your ID, credit cards, and passport. The back side includes a zippered pocket to store your smartphone and other small objects. The back and straps are padded for extra comfort. There is one water bottle pocket on the side.
(1) Kindle Fire [Fire HD 6, 6″ HD Display, Wi-Fi, 8 GB, Black] AND
(1) Travelon Anti-Theft React™ Medium Crossbody Bag.  Built with slash-proof construction and an adjustable, cut-proof shoulder strap that can secure to a post or chair, this bag contains locking compartments, RFID blocking card and passport slots, a rear zip pocket, and a mesh expansion water bottle holder. The main compartment is big enough for an iPad or tablet, and it includes a tethered key clip with LED light.
The Rules:
For the prize #1 you must leave at least one comment on one of the participating blogs to enter. Additional entries via commenting on other blogs in the hop are available to you. This means each person is eligible for 8 entries (because there are 8 participating bloggers).
For the prize #2 you must "follow" at least one blogger on Instagram. Additional entries via "following" the other bloggers in the hop are available to you. This means each person is eligible for 8 entries (because there are 8 participating bloggers).
Finally, there will be one unique winner for the grand prize and one unique winner for the second prize. The giveaway runs trough March 8, 11:59 p.m. PST.
PRIZES ARE ONLY ELIGIBLE TO SHIP TO THE U.S. AND CANADA. Sorry to readers in the rest of the world! 
Yes, each winner will receive a Kindle Fire and a Travelon backpack or bag which will hopefully entice YOU to take your own road trip!
My Perfect Road Trip Travel Bag
A pair of Tieks ballet flats. Perfect for driving, comfortable for walking and so easy to fold up and pop in my bag.

Food stash-packets of HP Sauce, mini Maldon salt container, some Typhoo tea bags, Murray Mints and good quality chocolate bars!
My own pillow. Nothing ruins a trip for me more than not getting a good night's sleep, and nothing ruin's a good night's sleep in a strange bed than a bad hotel pillow. It's so nice to have mine! (This bed was lovely! ~The Mermaid Inn, Rye, UK.)
A pedometer. I walk a lot when I travel, and I just love knowing how many miles I walked at the end of the day. It's especially nice to add up all the miles after a few days (it cuts into the calories spent on baked goods)!
Another kiss of death on a trip (not to be taken literally) is getting sick! I never go anywhere without my Oreganol gel caps which keep my immune system strong, or if it's already too late, fight whatever bug I picked up.


Let me know what's in your perfect road trip travel bag in the comments below!
Good luck!
Prize 1:
Prize 2:
a Rafflecopter giveaway

Don't miss another travel or recipe post; subscribe to my free subscription at the bottom of this post!
I promise never to share or sell your information.